Annual exhibition BaselWorld is the most important event of the wonderful world of watches and jewelry. BaselWorld exhibition has become a kind of "holy" place, where the latest achievements of the watch industry and luxury creations of the jewelry companies are presented. BaselWorld is a unique opportunity to watch, jewelry, as well as companies that manufacture related products, as well as companies engaged in production and processing of precious stones to familiarize the general public, professionals, distributors, partners and potential customers with their latest achievements and novelties. BaselWorld is not just an exhibition, but exhibition - fair, because guests can purchase their favorite watch or jewelry on the spot.
Each year an approximate number of participants is about 1,800, the exact number of participants of BaselWorld 2012 is not yet known. Each year the exhibition is visited by 100,000 visitors from around the world and about 3,000 journalists from more than 70 different countries. At the exhibition there is no judicial staff: anyone can give preference each wristwatch or jewelry in the form of Swiss francs. BaselWorld 2012, as in previous years, will be located in the pavilion with total area of over 160 000 square meters (BaselWorld 2013 will take place in the modernized exhibition center).
The story of the exhibition BaselWorld began 1917. The first Swiss trade fair of samples in Basel MUBA (Schweizer Mustermesse Basel) with a special section devoted to watches and jewelry was organized. In 1925 MUBA organized an exhibition, which was attended by several watch factories, which in 1931 were presented in separate pavilions dedicated to the first Swiss watch fair Schweizer Uhrenmesse.1972 was marked by an important event in the history of the exhibition: MUBA organized an exhibition called "Europe's meeting place", which brought together companies from France, Italy, Germany and the UK. In 1983, this already important event was renamed in Basel, plus two figures, symbolizing the year of the exhibition, for example, Basel 83. Since 1973, the exhibition is held annually in the Swiss city of Basel.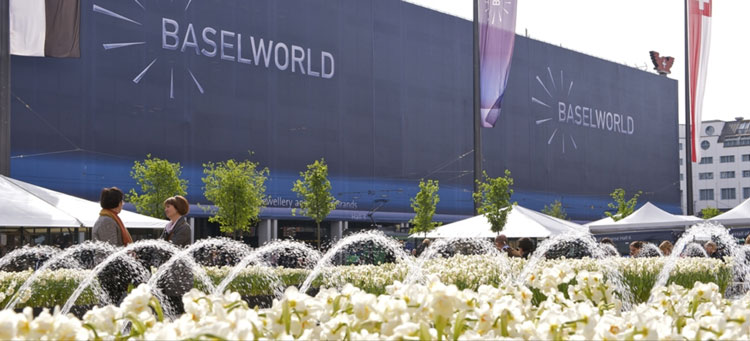 BaselWorld 2012 will take place from 8 - 15 March 2012. Hours: daily from 9:00 to 18:00, 15 March from 9:00 to 16:00. The exhibition BaselWorld 2012 is also organizing Media Day to be held on March 7, 2012 in the official opening day of BaselWorld 2012. Media Day will be held on the following program:
08.30 accreditation at the press center (pavilion 1, hall, 1st floor)
11.00 - 12.00 press conference BaselWorld 2012, Congress Centre Basel,
hall Montreal
12.00 opening of the pavilion (entry for accredited journalists only)
- Hall of Dreams (pavilion 1.0)
- Hall o Desires (pavilion 1.1)
- Hall of Inspirations (pavilion 4)
- Hall of Emotions (pavilion 5)
- Hall of Sensations (pavilion 3)
- Hall of Visions "First Avenue" (pavilion 2.2)
- Hall of Fascinations (pavilion 2.0)
- BASELWORLD Palace
19.00 - 23.00 BaselWorld 2012 Press Party at Restaurant Atlantis Klosterberg 13, 4010 Basel (entrance with the accreditation certificates)
For all those who wouldn't be able to get the annual exhibition BaselWorld 2012, our website will provide a unique opportunity to learn about current events of the exhibition with videos, which are posted on our website.