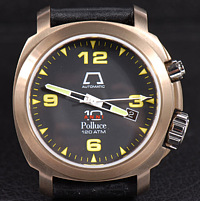 One of the greatest advantages of Anonimo is crafted original watch cases. For example, besides original forms and constructions, Anonimo was among the first to make cases of sea bronze, never used in the watch industry before. This kind of bronze is unique by its resistance to corrosion, not less safe than steel and can be used in the most aggressive conditions: at high temperature, with oxides and other chemical substances. These features are very important, taking into consideration the fact that Anonimo watches are produced also for professional divers and used for military purposes. Anonimo collaborates with Cooperativa Nazionale Sommozzatori (C.N.S) – one of the biggest companies in the world specialized in diving.

Also Anonimo is one of the few to use a safer method instead of nondurable PVD cover for making a beautiful dark watch case. OX-PRO is an oxidation process on the watch case surface. After 14 steps of production, the process modifies the surface molecules of stainless steel. First this process was developed for military purposes to make steel more resistant to corrosion and scratches. Until now OX-PRO was only available on specific military optical tools or on cold steel weapons such as knives designed for Italian military assault teams.

OX-PRO's advantage for the watch case is to obtain dark or almost black cover, like PVD. However, the OX-PRO cover is more perfect than PVD that is associated with the history of Florentine watch making. The OX-PRO cove is more resistant to scratches while in everyday use the PVD cover becomes scratched and light steel can be seen. Therefore, as it concerns to style, function and more safety, OX-PRO is the right decision for making the dark watch case.

March 19th, 2010, Baselworld.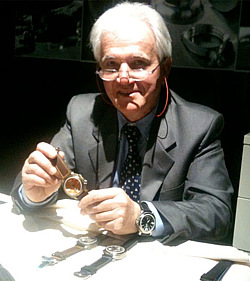 Interview of TopperJewelers with Alessandro Lari Head of Anonimo's Case Manufacturing:

TopperJewelers: When did you start working in the watch business?

Alessandro: In 1965 I started working for a family owned company of Antonio Bucci, manufacturing watch cases and submarine equipment. In the 1960s, watches with the high levels of water resistance (1000m) didn't exist, however the Italian military set us a difficult task. We came down to business as workaholics: we were trying to develop watch case that would be used in all military applications, but not only at depth. The building which we worked out of became the central Anonimo building, where we currently produce cases for Anonimo watches. Antonio Bucci currently works with Anonimo and he is the chief designer of cases.

TopperJewelers: Have you ever worked with another famous Florentine watch company – Panerai?

Alessandro: From the 1980s until Panerai left Florence in 1997.

TopperJewelers: What was the annual production of Panerai during the mid to late 1990s when Panerai made watches for the civilian market (1992-1997)?

Alessandro: Panerai made about 1,500 cases during the period from 1992 to 1997. They all passed my hands. I did the finish on all the Slytech models which Sylvester Stallone had his signature on the back.

TopperJewelers: How would you compare the quality of the cases of past years to the current Anonimo cases?

Alessandro: The watches we make today for Anonimo are more comfortable for wrist and have a better finish. Today Anonimo watches have much more labor intensive finishes, and greater depth ratings. Panerai of course reached these features, but without us.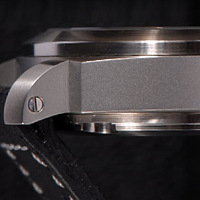 TopperJewelers: How do you make a sandblasted finish in steel?

Alessandro: Every wristwatch has three steel components: the caseback, bezel, and the case. In order to get that sandblasted look on the case, you have to achieve a shiny and perfect finish first. I.e. it's a double work: first you polish all components, and then you make a sandblasted finish. While we have machines to help us get it even, the half of all work is done by hand. This process requires a great experience, and as far as I'm concerned, no other watch company does it with its cases.

TopperJewelers: You produce bronze watches which in due course obtain noble patina. How can you keep such cases polished for patina appeared not for sale but during the watch wearing?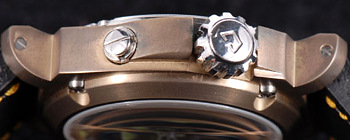 Alessandro: Our bronze watches have received a special pre-treatment when they leave the factory. Because of this, they arrive in stores a particularly dark shade of bronze, but this treatment slows down the patina process – this is the secret. While you wear the watch, this layer is removed and the patina appears on bared bronze. If anyone doesn't like this patina, he can polish the watch case, but then he will remove the treatment that we added, and the patina will come back faster the second time.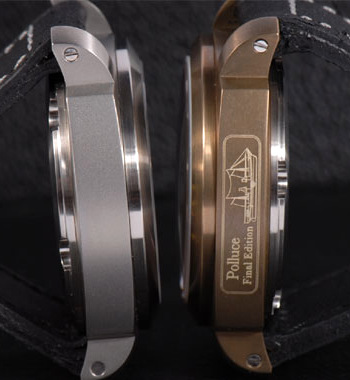 TopperJewelers: Does working on Bronze call for any special processes?

Alessandro: We use a lower pressure because of the softer material, but our bronze is not very much softer that steel, so we are still able to achieve the same finishes that we use for steel watch case. If you compare our bronze cases to steel ones, you can see that we can achieve all the finishes.

TopperJewelers: Anything to say to Anonimo Collectors?

Alessandro: Please, notice the little details when you look at your watches. You wouldn't notice it at fleet glance, but if you really study the watch carefully, you can imagine how many special touches we put to create the watch case. With the help of all possible automatics and hand labor making each watch case takes about two hours. Even our simplest watches have about 20 different steps. Each plane of our watch case is a result of a labor-intensive and high-tech process.