Military watches — only for real men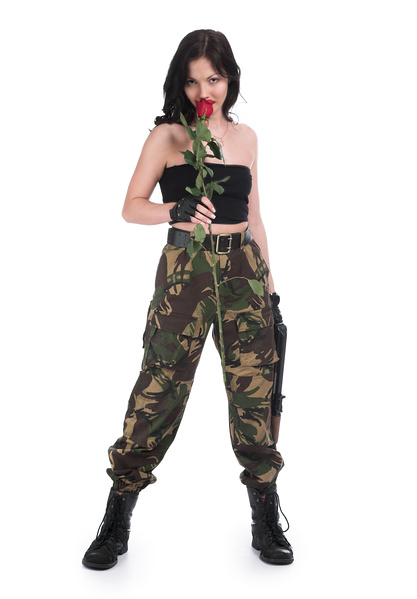 Over the world history people faced many paradoxes and inexplicable regularities more than once. Sometimes things or actions lead to quite unexpected results. What do I mean? Now I will explain.

This article tells you about trends in the watch industry, specifically the Military style. You may ask: "What's the paradoxical point in the watches?" Generally, not the watches are paradoxical, but their style and its origin.

Let's refer to the history of modern Military trend appearance and to the word's etymology. According to Oxford Dictionary the word "military" (ˊmɪlɪtǝrɪ) relates to or is a characteristic of soldiers or armed forces. The military fashion style? Is it a paradox? This style appearance and development are more interesting. The war… The war never changes; it takes lives and test real men for strength and courage. It brings distress and change the way of life, change everything. Even fashion.

At the end of the World War I Europe and half of the world were on the decline. The civil plants and fabrics were destroyed, people didn't have anything to eat or wear, anywhere to go and spend an evening. Fortunately, the functioning fabrics, sewing military uniforms in a great number, solved the clothes problem. Soon the military uniforms replaced civil dresses and suits as they were cheaper and more practical. The dressing gowns, shirts and clothes for kids were made out of men uniforms.

Over the years as the light industry recovered, the new casual dress acquired the military features and was produced more and more each day. It was the first accelerant to the fire of Military style, rather forced by existed situation than fashion trends.

At the end of the World War II the Military style penetrates much more into everyday life. In the 60s a youth trend of hippies protesting against war and any violations appeares. The military uniforms are renewed. The wide khaki trousers are on hips, the shirts are unbuttoned, and the symbol of peace is everywhere. The best designers catch up the idea and release the fashion lines with military notes. Military is the only style, which is always popular during many years. And it doesn't refer only to dress.

Fashion trends of the 60s had a great influence on the watch industry. Austerity and practicality won the market in seven-league steps. Taking into consideration the wrist watches history, one can note a great role of army in their penetration to civil society. Comfort and reliability indeed became the watch industry's new criterions. The watches ability to sustain extreme loads, to be unpretentious to water, sand and strikes, the readable dial are features very necessary not only in military time, but also in usual, everyday life.

The Military style became the most popular trend in the watch industry recently. How can one make a statement in the country, where already two generations live in peace and men are infantile as it concerns to the war? How can one show his man power and will? In the world of glittering trinkets, it's getting more and more difficult to prefer something simple and elegant, functional and ascetic, safe and brutal, it's more and more difficult to stay a real man, to be yourself, don't be responsive to influences of variegated parrots' syndrome and frivolity. Who said that simplicity was not sexual? The military romanticism penetrated into our lives through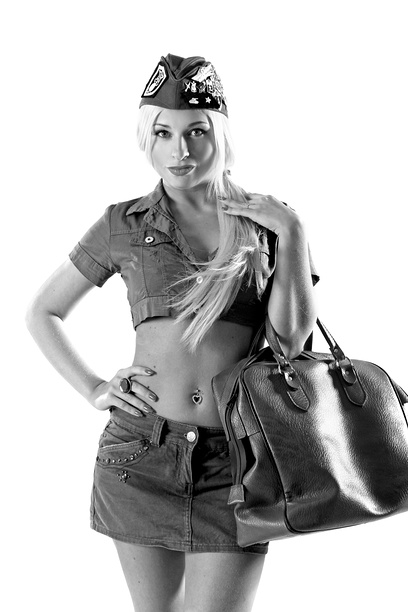 cinematography and literature and was realized in dress, wrist watches, and cars, made in Military style. More often we can see such noticeable and aggressive cars like Hummer and Gelentwagen on the city streets.

To challenge the society? Now you are noticeable, unconventional, if you wear simple watch. Is it a paradox? Well, what can we do if there are fewer strong and confident people in modern world? The covert aggression of men is suppressed by the society, it is hidden as something dishonorable, and the competitiveness gives place to the humility – a feeling which was not peculiar for our ancestors. The real man chronographs are replaced by ridiculous watches in unisex style. We are leaded by fear, fear to be misunderstood. Unconfident people try to stand out with the help of some complicated attributes, gold trinkets. They are afraid to stay in the shadow as they have nothing to say except visual pathos. Not everyone can afford wearing a simple watch! The Military watches are for those who buy watches indeed, but not a shallow adornment. Such people appreciate the concept, the time and the practicability. Why do I need watches, which I'm afraid to wet when I wash my hands?

First of all the Military watches are comfortable for time reading. There's no need to overburden dials with unnecessary frills, therefore the case will contain fewer fragile mechanisms and the price on the Military line watches will be more real as compared with other watches of the same brands. Why would you overpay for unnecessary buffoonery, "nice" engravings and flowers? Are you a self-sufficient man? The Military watches will show you just like such man, will draw attention of people worthy of you. As this style admirers are strong people who chose strong things. Cars, clothes, watches – everything corresponds to a real man image. Ask yourself if you could wear a simple watch. The answer on this question will be the answer on another one at the same time: "Do you belong to the narrow circle of people, the circle of really confident men?"

Many famous watch companies have wrist watches of the Military line in their range, because it's a fashion trend that wins attention of more and more admirers of perfect style and logic decisions, of people who don't make thoughtless purchases. Such famous watch brands as Panerai with the Luminor line and the legendary Radiomir, Roles with the Submarinen, Azimuth with the ascetic Bombardier and B-Uhr, Anonino with its Military and Marlin lines, the elegant Big Pilot of IWC dictate the wrist watch trend in the Military style at the world market.

That's the paradox of the Military style – the war, which was a great disaster and loss for many people, gave birth to the possibility to show you as a real man, to show your firmness, self-confidence, and self-sufficiency in peace time.

I hope you, having read this article, will decide to add the elegant and simple Military watches, watches for every occasion, to your watch collection.

Further we will make examples and describe the latest wrist watches, made in the trendy Military style, of the leading watch manufacturers today.

Anonimo Militare Crono è Militare Automatico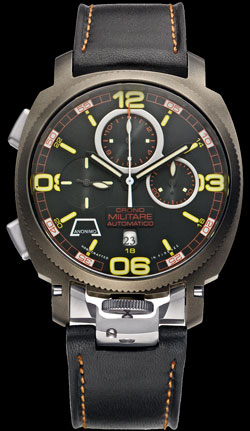 The Military style, which appeared at the end of the World War I,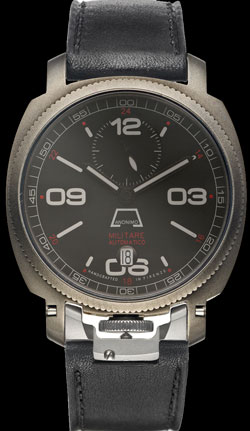 is one of the outstanding phenomenons of modern fashion. The military watches are very popular among civil population: the watches of "military" format are characterized by precision and reliability which are necessary in difficult and extreme service conditions. Today many watch companies produce "military" watches, paying attention to stylistic features of previous military models. Among manufacturers of military watches the Anonino watch brand is very popular. The company was founded in 1997 by the engineer and the entrepreneur Federico Massacesi. Dino Zei, who made a great contribution in the development of the military watch industry in Italy, played a special role in the creation of the Military line.
The Militare Crono watches are characterized by a brutal design, which accentuates the strong character of their owners. The model is equipped with the manufactory caliber 2035, developed jointly with the watch masters of Swiss company Dubois Depraz SA, which is specialized in manufacture of high-quality watch mechanisms, chronographs and complications. The case is made of stainless steel, polished and sand-blasted. The experienced watchmakers of Anonimo make hour indexes of steel AISI 316L, containing 20-27% of chrome and low percentage of carbon. The black dial is characterized by the three-level indication system: central hands, date window at 6 hours, chronograph counters. The leather strap is finished in patented Kodiak system that allows for extended immersion in sea water. Due to the patented Crown Vanishing LoDevice system, the crown between strap and case protects the mechanism form wet. The watches are very practical and reliable: water resistance of the model enables diving at 500 meters.
The Militare Automatico watches are equipped with caliber Anonimo 03.1 based on ETA-Valijoux 7750 13 ½, providing 42 hours power reserve. The model case is made of stainless steel of 43 mm diameter, polished and sand-blasted. The superior glass is made of sapphire crystal, the strap – of waterproof material DINEX with LORICA lining. The black dial has small seconds counter at 12 hours and date window at 6 hours.


Azimuth Bombardier IV
Time measuring devices for military men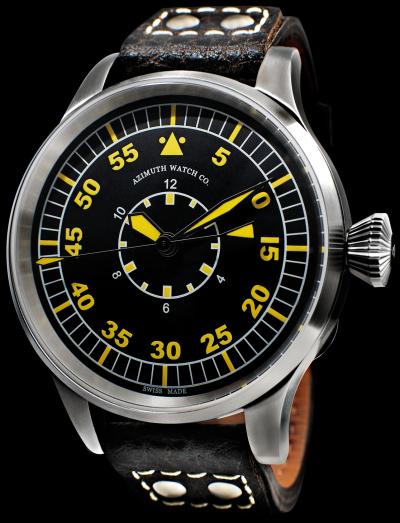 are characterized by complicated technical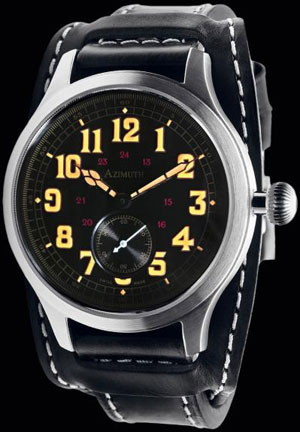 parameters and higher performance, achieved by adherence to technology of assembly. Durable, reliable and water-resistant devices for time measuring, resistant to negative magnetic effects, became irreplaceable companions of both military and civil men. The young Swiss watch company Azimuth created "Militare-1" collection, guided by a great demand on military watches. The "Military" collection prototype was aviator watch models B-Uhr, used during the Second World War. The designers of Azumith recreated accurately the stylistic features of prototype watches – massive cases, readable dial, crown-bulb. All models of Militare-1 are equipped with antique rare movements. The specific feature of this collection is black dials with Arab digital indexes with luminescent treatment. The light indication provides easy reading at night time. The designers of Azumith carefully develop the watch design, adapting it to functional features of time meters. The "Militare-1" collection includes 9 models: Bombardier IV, Bombardier V, B-Uhr Inner Hour, B-Uhr Standart, B-Uhr Original Luftwaffe Specification, Officer-Squelette Art Deco, Officer-Squelette Art Deco (Rose God Dial), Jagdbomber and Jagdbomber PVD "Blacknight".
Let's go into details on the model "Bombardier IV". The watches with "combat" name are made in style of antique pilot time meters. The case is made in accordance with general principles of "military" style: massive steel case, readable dial and wide strap of buffalo leather of calfskin. The massive case of 48 mm diameter creates a halo of attractive aggression, brutal perfection, true man style. The watches are based on rare caliber Vintage Marvin Caliber 700. An extremely laconic design of dial enables easy reading of indications. The central hands count hours and minutes, the second hand is taken out in small dial at 6 hours. Durable and reliable time meters are capable to endure any loads under the most extreme conditions. The watches are released in a limited number of 99 timepieces. The Swiss watch company Azimuth also presented the men wrist watches "B-Uhr Inner Hour", a worthy supplement to Militare-1 line. As all Militare-1 models, this model is characterized with rather serious appearance and technical characteristics. A perfectly round case of 48 mm diameter and with rather impressive bulb-shaped crown is made of stainless steel, which provides durability of this luxurious accessory. This model is equipped with automatic movement. The dial of B-Uhr Inner Hour is black with an interesting time indication. The yellow hour indexes strike the eyes at the contrast black background. The Swiss watches "B-Uhr Inner Hour" are provided with two time scales. The outer scale on the periphery of case circle points to the current minutes, the inner one – at the dial center – points to the current hour. The water resistance of this reliable chronometer makes up 30 meters. The black strap, perfectly matching the steel case, is made of leather and provided with buckle. Its design is quite laconic, but rather unusual and garish at the same time that makes the B-Uhr Inner Hour watches a real apanage of style and presentable appearance.

Blancpain Fifty Fathoms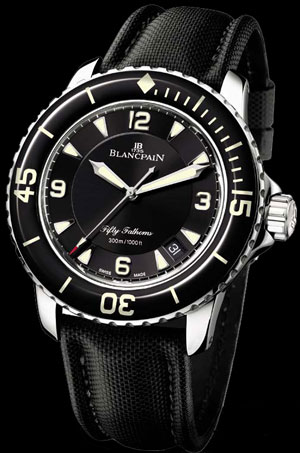 Talking about "military" watches, we can't but mention Blancpain – one of the oldest watch companies. The Blancpain wrist watches were claimed as a standard of technologic achievements not once that provided the company with a special place in the line of "ageless" wrist watches, interest in which is not limited by time. However, now we'll speak about diving watches, produced in 1953 and become true revolution in the watch industry.
The "Fifty Fathoms" wrist watches immediately became "favorite" watches of military divers. This model became a real hit among luxury and high quality chronographs of military departments. The "Fifty Fathoms" watches "accompanied" military men during many secret missions of various special service units of Germany, France, Israel and the USA.
The "Fifty Fathoms" watches became more popular after the movie by Jacques Cousteau – "The Silent World" that won "Palme d'Or" at the Cannes Film Festival in 1956. In many scenes the divers showed just those chronometers on their wrists. After this movie the "Fifty Fathoms" wrist watches became favorite accessory of sea explorers and oceanographers. The new wrist watches provided them with new possibilities under the water.
The main advantage of "Fifty Fathoms" watches is the case, made of stainless steel and screwed up closely. The official water-resistance of model is 50 phantoms, equal to 91.45 meters, the deepest level for military divers, equipped with oxygen and nitrogen cylinders: in 1950 it was an unheard-of result.
The engineers, designing "Fifty Fathoms", excepted the use of the weakest watch part, designed for diving – winding shaft, having created a self-winding movement for that model. No doubt, it became a great achievement. Another advantage was the possibility to "read" time in full darkness: big time indexes with luminescent treatment on black dial were vivid under glass. But the creators were not limited by creation of just readable dial; they added one more truly practical detail: the model's limb could be used for diving time keeping by setting it at "12".
After 50 years, in November 2003, the watch company marked "Fifty Fathoms" watches anniversary by producing collection in a limited edition. Those watches were named "50th Anniversary Fifty Fathoms".


IWC Big Pilot (Ref. 500401)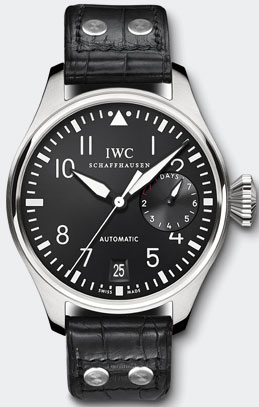 IWC is one of leading manufacturers of "military" watches. In the beginning of past century the Swiss brand manufactured time meters for the British Royal Navy and the German Imperial Navy. In 1940, it started collaborating with the German Air Forces, supplying soldiers and military aviators of the country with watches.
The watch company "IWC" revolutionized the aviation watch manufacture, providing watches with special antimagnetic movements, which endure active electromagnetic fields, created by aircraft navigation devices. The IWC aviation watches are manufactured in accordance with all requirements, established for professional time meters. They endure strong vibration, sudden temperature and pressure drops.
The watches "Big Pilot" were manufactured in 1940 by order of the German Air Forces. They were of priceless service to military aviators during difficult combat operations. Shot down and killed pilots were often identified by them. Making new models of Big Pilot Watches, the IWC designers tried to recreate the historic models' design that was inspired by resemblance with control panel in cabin of Junkers-52. The new models represent an improved version of historic ones. Big Pilot is based on self-winding caliber 51110, which was created on idea base of accurate and reliable pocket mechanisms. The caliber is complicated by self-winding system Pellaton, which accumulates power reserve for seven days in a short time. The movement is shock- and magnetic-resistant (according to NICHS 91-10). The case of new models preserved contours of historic Big Pilot. A massive case of 46,2 mm diameter is crafted in satin steel, perfectly corresponding to strict requirements of professional aviation. An additional inner case of soft iron is installed inside the steel case. The small case protects movement from electromagnetic effect. Technical innovations resulted in dial changes. The central hands and digital indexes are covered with luminescent treatment. The light indication ensures easy reading not only in darkness, but also in pilot cabin, transfused by dazzling sunshine. The dial of modern watches is characterized by three-layer indication system: central hands, date aperture and power reserve indicator. The front sapphire glass is covered with antiglare treatment. The screwing up transparent back case, made of sapphire crystal, allows watching the movement. The watch case matches wide two-layer strap, made of calfskin and stitched by black silk threads. The strap is fixed to case with steel riveting.

Panerai 2005 Special Edition Luminor Marina Militare (Ref. PAM 00217)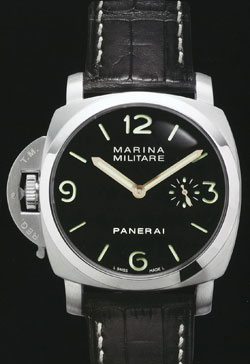 Officine Panerai is a brand with rich history of "military" watches manufacture. Since 1860 the company has been supplying Italian army and navy with accurate measuring devices and chronometers, and in 1936 it became the official supplier of time meters for department of the Navy in the Italian Ministry of Defense. The manufactory produced watches for secret division of the Italian underwater forces "Gamma force", so the key features of time meters were reliability, accuracy and uninterrupted move. The outcome of secret operations depended on time meters accuracy, the smallest mistake in time could be fatal for special unit officers. To provide easy conduct of secret operations Panerai started experimenting with luminescent substance, used in light indication of measuring devices.
The self-luminescent watches "Radiomir" appeared in 1936. The model is named after luminescent substance – mix of zinc sulfide, radium bromide and mesothorium. Since 1949 Officine Panerai has been developing the luminescent treatment. In the beginning of 1950s tritium was used for dial illumination in new watches "Luminor". Since 1998, Officine Panerai has been producing improved watch models "Panerai Luminor".
In 2005, the watch company released limited watch series "2005 Special Edition Luminor Marina Militare" (Ref. PAM 00217). The model is based on manufacture caliber Panerai OP XI. A massive case of 47 mm diameter is crafted in stainless steel. The black dial is characterized by simple indication system – central hands and second hand, taken out on small dial. The black dial serves as a background for easy reading at night time: green light of cut-in-dial digital indexes contrasts much with black color indeed. The crown, protected by cramp with lever, which hermetically presses the crown in case, is provided at left side part of case. The patented crown system ensures a maximum water-proofing and prevents moisture penetration into movement. You can wind the watch by unfastening the lever. When the lever returns to its place, it protects the crown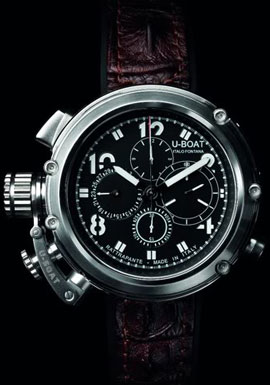 from mechanical damages and reliably presses it in case. The black strap of alligator leather perfectly matches whole aesthetics. The water-resistance allows diving at 100 meters. The watches were released in a limited edition of 1000 pieces.


U-Boat U-51 Rattrappante
The history of U-Boat is inseparably linked with military theme. First time meters of the brand were designed in 1942 for the Italian Navy, but they were not in mass production because of unstable military climate. In 1999, the company launched "military" watches, based on archive drafts. The design of time meters is made in accordance with stylistic features of "military" watches.
U-Boat released several models of military watches. We will go into details of U-51 Rattrappante. The watch is designed in military style: massive case of 51 mm diameter, matte bezel with five visible fastening screws, crown and chronograph buttons at left side of case surface. The technically improved time meters allow an owner to measure intermediate indications without countdown stop. It is provided by "rattrappante" function (means "flying back" in French; in English it is called "split-chronograph". Measuring time periods without current countdown stop is achieved by superimposing two independent second hands, moving simultaneously. The secondary central second hand allows visually distinguishing split-chronograph from simple chronograph and "flyback". The split-hand is run by additional third button (simple chronographs and "flybacks" have two buttons); the odd button provides right identification of rattrapante. To read the split-chronograph indications you need to press the additional button, which stops the first hand. By chronograph additional button double press the stopped hand catches up the first one. A professional team of U-Boat watchmakers designed crown sealing system, which provides full protection of watch from moisture penetration into movement. The crown, situated on the left side of case surface and "framed" by hinge, which snaps to one side of bezel, preventing the crown from scrolling. Absence of staples is a stylistic feature of this model. Such design solution creates an effect of leather strap close contiguity with case. The strap is made of alligator leather and strengthened with rubber fringe at both sides.