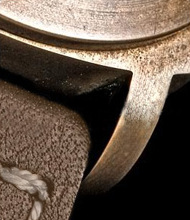 The bronze case watches age with you. Such watches keep an individual print of their owner forever. Unlike glossy gold, which covers only with scratches in time, the golden yellow bronze watches acquire a beautiful patina in a month of wear. If you touch bronze with your fingers, it is covered with patina more quickly, but as each person skin pH is unique, the pattern of patina created by you will always be individual.

Due to the effect of patina, the bronze watch case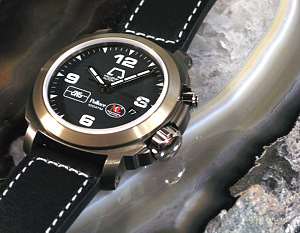 becomes an exclusive personal work of art. Besides its surface beauty and originality, the bronze watch also has perfect "practical" characteristics, because the special alloy UNI 5275, also called "sea bronze", is used in bronze watch cases. It is more resistant to corrosion, especially to sea-water corrosion, that's why this kind of bronze is used for making shipping screw propeller.

Thanks to the warm house fireplace, bronze penetrated into the watch industry. First bronze watches appeared in France in the middle of XVIII century. They were the fireplaces watches, which cases were made of bronze of the same hue of fireplace.

Let's compare the elementary mechanical features of bronze and such a traditional watch material as steel.

Bronze UNI 5275:

Ductility 300 MPa;
Resistance to rupture 680 MPa;
Hardness 200 HB (at Brinell)

Steel 316L: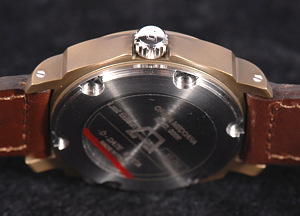 Ductility 290 MPa;
Resistance to rupture 558 MPa;
Hardness 217 HB (at Brinell)

I.e. bronze is not less safe material for the watch case than steel. Bronze is more durable to scratches than steel.
Steel
Besides surface beauty, patina on the bronze case makes watches more durable to scratches – a corrosion layer covered on bronze is considered to be main advantage of this metal as this layer is harder than the metal itself.
Today the bronze watches – so called tanned watches – have taken the stable second place in industry. Bronze is especially good for watches with military history, as due to the unique process of patina formation, bronze makes watches look noble and vintage.