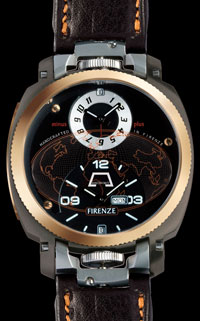 The Florentine watch company Anonimo is famous for its series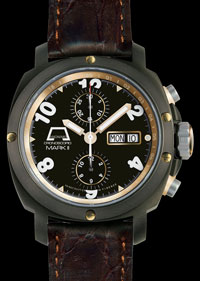 of know-how in watch cases. The first know-how is making cases form sea bronze, which is unique for its stainless and oxidation stability properties, it is not less strong than steel and can be used under the most aggressive conditions: at high temperature, with acids and other chemical substances. In 2010, the watch company introduced three models: Firenze Dual Time, Cronoscopio Mark II and Notturnale, which cases for made in accordance with another innovative development of Anonimo – Drass Gold. Drass Gold is a unique combination of two types of materials – gold and specially treated stainless steel. Drass stands for "Double Refinished Anonimo Steel Surface". After double refinishing, the steel acquires a dark color, like titanium. The process of case processing is based on previously used technology "OX-PRO".
OX-PRO is a process of case processing, preventing an oxidation process on the watch case's surface. It is created through a 14-phase process of molecules change on the steel's surface. This process was initially developed for military purposes, to increase corrosion and scratches resistance. Until now OX-PRO could be found only on certain military optical devices or on cold steel, for example, knives of Italian Special Forces. The Drass case processing is more advanced than Ox-Pro and one step ahead. Drass also includes the case sandblasting, which requires much experience of watchmakers. Few companies use such a complicated system of case processing.
The innovative technology "Drass" was developed in collaboration with the Italian Navy. Due to this technology, the watch cases become
more resistant to corrosion and oxidation.
After Drass-processing, the watch case is treated with gilding. The case gold-plating has two aims – to make watches aesthetically perfect and to prevent oxidation on the case's surface. As it is known, gold is a perfect anticorrosion material thanks to its physical and chemical properties. The keystone in new development for Anonimo watchmakers was a combination of functionality and aesthetics, as functionality is important for Florentine company as well as beauty.
Let's remember that Anonimo makes exclusive cases from steel AISI 316L, containing 20-27% of chrome and low percentage of carbon. The case is crafted in metal, undergoing 16 various operations under digital control. Anonimo is the only brand in the world that manufactures watch cases by cutting them out of in house designs. Each phase of case processing requires quite complicated and accurate operations with the use of special high-technology equipment. The watch company uses the latest technological achievements of watch industry while making cases.
One of the main advantages of Anonimo watch brand is crafted original cases. A whole range of patented creations allows the young watch company to compete with many industries, existing for centuries.