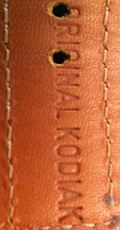 During 14 years of life, the young Florentine watch company made a revolution in watch industry at all three levels – aesthetics, technique and choice of materials for watch making. The watchmakers are mainly focused on the development of innovative projects and new technologies.
The company's innovative developments are following:
- The Crown Vanishing Locking Device – used in the Militaire line watches which allows to protect the winding crown from moisture penetration into the mechanism.
- U-Lock System – waterproof locking system that allows opening the watchcase without tools.
- Making case from steel AISI 316L, containing 20-27% of chrome and low percentage of carbon. The case is crafted in metal, undergoing 16 various operations under digital control. Anonimo is the only brand in the world that manufactures watch cases by cutting them out of in house designs. Besides, the company has started using the sea-water bronze of UNI 5275 brand, known as aluminum bronze.
One more patented development of company is the Kodiak solution, which the leather straps of are treated with. This important part of watch "complex", made of natural leather, is rarely resistant to the salt sea water. Many watchmakers use waterproofing treatments, which reduce leather porosity and compromise the transpiration properties. The genius creation of highly qualified Anonimo specialists makes the straps water resistant and maintains unchanged their features of porosity and transpiration.