Watches for men
The representatives of stronger sex know: the matching details, such as man watch, tie, belt,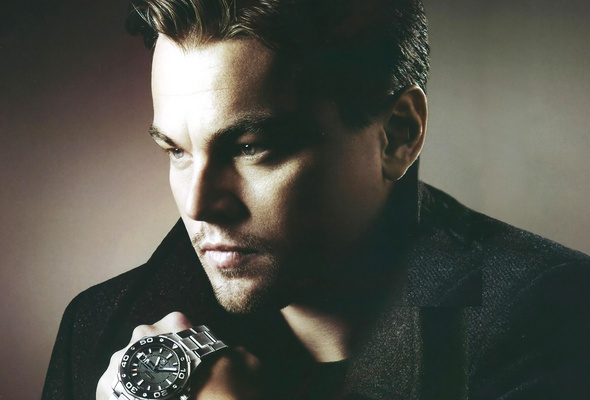 create an image and help to make an impression on surroundings. But you shouldn't go too far, as they say about clothes and accessories "everything is good in its own place and time". Usually these words are disapprovingly applied to someone dressed up like a parakeet. And the crisis played its role – under conditions of prudence and economy a rave of colors is "far from the mark". Such accessories, as Swiss watches, which are considered as something very exclusive and luxurious, are mostly difficult to confine within these strict limits. However, today the designers, rather tired of necessary creative restraint, decided to give free play to their fantasies. The most fashion trend of this year – bright colors and striking combinations. At that such approach is applied not only to clothes, but also to men wrist watches.

"Without courage, all other virtues lose their meaning" (Sir Winston Churchill)


The crisis broke up, people finally want to forget about depressed mood and surround themselves with bright beautiful things. Of course, it's easier for women to choose clothes and accessories, either adornments, or wrist watches, they want. Men should always look serious and respectable, however, they also want brightness and good mood.
The most famous designers place the emphasis on colors in their new collections for men. Alexander McQueen, Giorgio Armani, Gianfranco Ferre, such famous fashion houses, as Burberry Prorsum, Brioni, Bottega Veneta, Prada, Kenzo, Gucci and many others actively struggle with bright clothes against grey week-days. They offer grey and its variations as a base color. One would think how it touches the brightness… This neutral background indeed perfectly accentuates the colors of decorations and details (including belts, scarves, wrist men watches) and doesn't make men look like parrots.
Bright pictures and inscriptions on clothes or decorations of accessories, such as wrist watches, for instance, are novelties from fashion houses. And you can choose an ornament which you like: ethnic, geometric, animalistic and even flower patterns – fashion has everything today. Now the men are allowed to array themselves in clothes with strict graphic patterns, like in the latest collections of Versace, as well as in clothes decorated with Japan water-colors, offered by the designer of Yves Saint Laurent, Stefano Pilati. The famous watch manufactories also follow this way, so even the men Swiss watches of famous brands become fields for color and texture experiments.
The young men are in higher favor with fashion – T-shirts with bright prints are recommended: the more ridiculous and funny the more fashionable. You shouldn't hesitate to use bright details – stitches, laces, and other accessories of "red-eye" colors: belts, wristlets, men watches.
The equipment of sportsmen also acquires specific colors. The designers give two main recommendations to active way of life adherents. First, the neon is at the peak of fashion, that's why you need to buy some clothes with neon stripes. Second, the dandies in sport competitions don't think about how to win, but to show off with bright accessories – sunglasses, wristlets, Swiss wrist watches from sport collection – frightening their rivals and keeping the opposite sex in awe. By the way, in this case a rave of colors in clothes can have a quite specific and practical purpose. The bright colors will draw the attention of ladies as well as of rescue service, if some kind of emergency happens.
The white collars were not passed by designers either. The bright colors are also used for classic clothes, newly designed. The traditional coats, one-colored or with thin stripes, have become a heritage of past times. Now they are more cheerful: combination of many colors, geometric patterns. If you like one-colored coats, you can wear them by all means, but only next to your skin. For faint hearted a scarf or a shawl is allowed, but only of rich colors. And for those who prefer clothes of local colors, there are amazing Swiss men watches of bright colors.
The experimental field really has no limits. If only men have enough courage or time for an hour shopping during their busy schedule.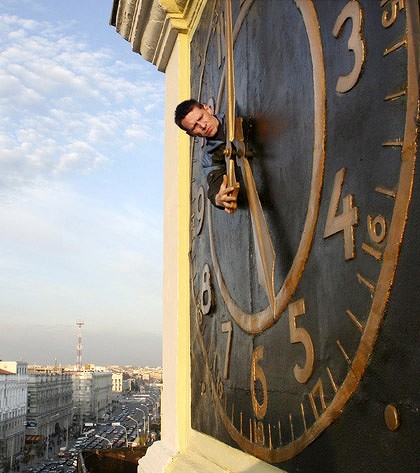 Exclusive watch for a unique man

Wearing garish accessories is the simplest and the most logical way for men to look bright. Especially since the romantic accessories, like shawls, scarves, bright belts, leather mittens, original hats, are at the peak of fashion today.
The wrist watches remain an indisputable leader among the men accessories. They are also subject to changes, according to modern trends. But the designers have to take into consideration the fact that unlike jeans and T-shirts nobody will buy wrist watches for one season. So the color experiments are often limited by use of changeable multicolored straps or bright stitches and adornments of small details, like hour marks or hands.
Recently a new trend has appeared in the watch industry – such extraordinary materials, as plastic or acryl, which earlier were good only for children watches, are used for manufacture. Some years ago plastic was used for the manufacture of sport watch cases. That material was preferred thanks to its lightness and practicality. Now the aesthetic component is more important. The men watches acquire all the rainbow colors, encrustation and bright pictures on dials. However, such bold experiments are mostly the prerogative of young watch companies, which are intend to draw the attention to their brand with an "epatage" design.
However a businessman, obliged to follow the dress-code, can't wear scarves, T-shirts, laces and wrist watches of rich colors with crazy pictures always, as otherwise he risks making a bad impression on his business partners. At the same time, the wrist watches are the only adornment for a man, which will not compromise him, if they are rightly chosen.
A difficult task faced the designers of leading watch manufactories: to add colors to men watches, so as the men wouldn't look like punkers, dressed in multicolored clothes. As a result some delicate decisions, which allowed combining the brightness of this accessory with the respectability of its owner, were found.

Men watches of Ulysse Nardin and Azimuth – both spot and zest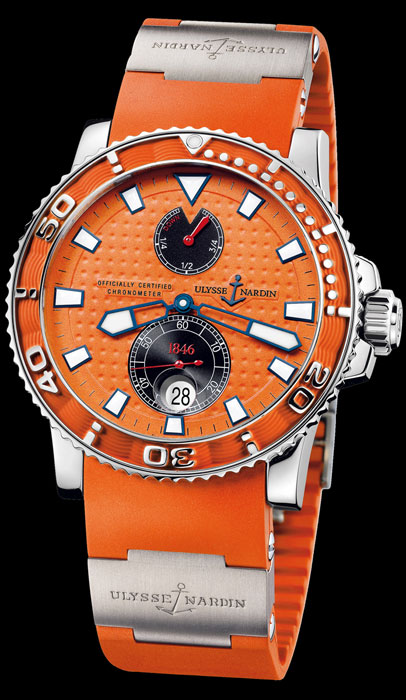 Recently the style "Total look" becomes more and more popular.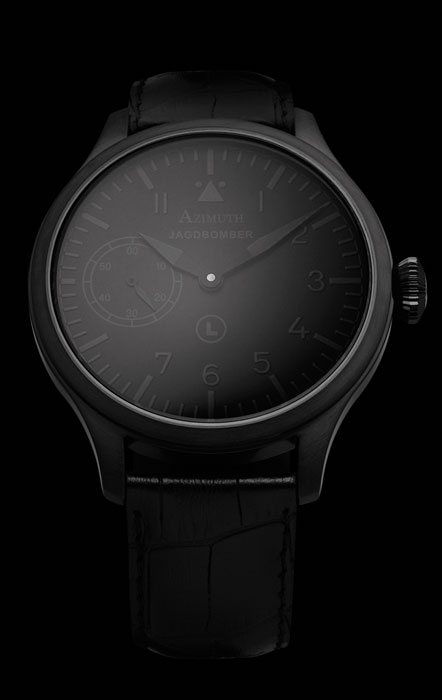 It means that a person wears clothes of only one local color without any adornments. Such image is not easy to obtain, but it looks impressive. The modelers recommend choosing the style "Total look" to "stretch out" the figure – a man, dressed like this, looks taller and slimmer.
However, with this style you have a chance to become a fuzzy spot and lose any zest. That's why the designers advise to combine the "Total look" suits with some bright accessory.
The Swiss watch company "Ulysse Nardin" offers men to become brighter without losing seriousness and presentability. The "Maxi Marine Diver" collection is created just for this purpose. These multifunctional men wrist watches will be good for the owners in everyday life as well as in unusual conditions, as they are protected from scratches or bad weather. One can wear them while both diving with a mask up to 300 meters and visiting a social event.
The watches of "Maxi Marine Diver" line draw the attention most of all with their colors. Besides the classic combination of black and white, they are presented in yellow, orange and pink colors. The bezel and the rubber strap, keeping the "Total look" style, have one garish intense tone, stressed by finish and inputs of jewelry steel.
It should be noted that the men wrist watches "Maxi Marine Diver" are not just bright accessories. They are as much functional as garish. The "Maxi Marine Diver" watches are provided with power reserve indicator, date aperture, second hand. Such watches will perfectly match the image of practical and self-confident man.
If you are not ready to wear on your wrist an accessory of funny orangeade colors, don't get upset. The designers rehabilitated the men wrist watches of monochrome colors with only one reserve: if they are black and white, let them be local. The steel "Jagdbomber PVD "Blacknight" of Swiss company "Azimuth" is a perfect example of "Total look" watches. Its dial and strap as well as case itself, hands, hour marks are black. Even if it doesn't make the watch readable, it makes an indelible impression. If you have Jagdbomber PVD "Blacknight" on your wrist, you can easily say that you took it off from Batman or legendary Agent 007 – nobody will doubt.

Men watches of Franc Vila and Azimuth – three in one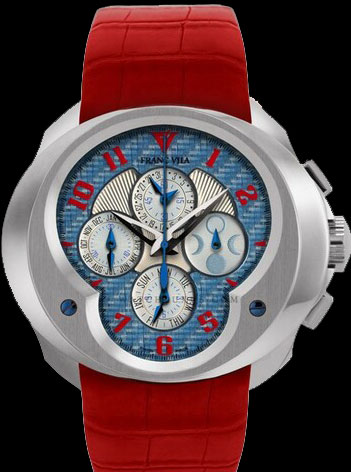 The rule of three colors is one more fashion trend of this year.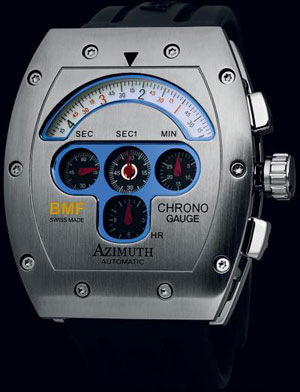 And if possible they should be contrast and have the same brightness to do the job. You need to have a perfect sense of colors to apply this technique correctly, otherwise instead of stylish image you'll get a clumsy motley.
The watchmakers don't want to be behind fashion trends either. The Franc Vila creations are a perfect example of bright colors' good combination. The wrist watches of this brand draw the attention with, first of all, an extraordinary design of their case and dial, having the figure of eight. This is the brand style of Franc Vila, which chose the figure "8" as its mascot.
An unusual design of this brand wrist watches is emphasized by colors. The favorite colors of Franc Vila are black, white, red, blue. The materials used by the craftsmen of company for watch making are also quite extraordinary. Besides jewelries, such materials, as titanium, mother-of-pearl, carbon, surgical steel, representing a special alloy, are used in the manufacture. The main features of surgical steel are special durability and light tone. Thanks to these specific features, the surgical steel looks as good as the white gold.
An extraordinary design of Franc Vila wrist watches partially arises from their unique movement FV1. It also has a figure of eight, as the case. Each detail of movement is engraved. But the Franc Vila craftsmen are not limited by that. They also created a unique movement, adjusting the frequency of gong strikes. It is called "Absolute Isolated Sound System". If you feel sympathy to chronographs, the one-button model "Monopusher" will not leave you indifferent. Such men wrist watches draw the attention with their bright and contract colors as well as with the movement's peculiarities. You can see tourbillon and chronograph through the glass, as they are not at the bottom, as it usually happens, but in the upper part of case.
The wrist man watch of Franc Vila is for the man who enjoys his life. It concerns the unique movement, set in the beautiful multicolored case. Any man, either a technician or a fashion guy, will like such unusual toy.
The "Mecha-1" collection of Azimuth is good for those who like original things. An unusual structure of counters draws the attention to these watches. Making this unique design, the watchmakers tried to be free from traditional design. The appearance of "Mecha-1" reminds speed and race. This is a completely new structure, equipped with a new movement ETA 2836-2, some models – with Valjoux 7750. The wrist watches of "Mecha-1" line are an advantageous combination of futuristic design and innovative approach to technique. The cases are crafted in whole steel blocks. However, they are peculiar with their additional intensive colors to base black, white and steel colors. The bright yellow, light-blue and red accents make the "Mecha-1" watches garish, but not flashy. And a notorious rule of three colors relates to these watches, so we can say that they are at the peak of fashion. It's the manner of Azimuth – since 2003, when the company was founded, it hasn't stop amazing with its innovative technological developments; as for the design, it sooner anticipates the whims of fashion, than follow it.

Men watches of Rolex and Anonimo – in the morning mountains, in the evening fountains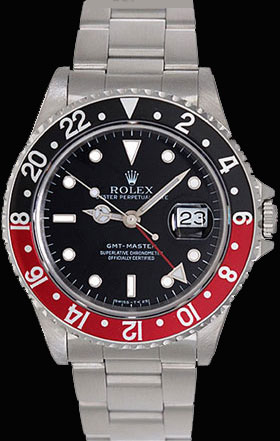 There are men who can't take the liberty to wear too bright and bold accessories. What should they do? As the pink wrist watch seen under the sleeve of strict suit won't help a serious businessman to look respectable.
Rolex came to the rescue of dress-code prisoners. If all colors of rainbow are not good for this accessory, one color, at least, can be enough. The wrist men watches of Rolex from the "Submariner" collection, reserving their traditional strict appearance, are adorned with bezels of blue and green colors. Some models are decorated with blue dial or black color, which looks quite brightly in combination with gold or silver steel of strap and case. Obviously, the color choice is connected with marine theme. Besides the functions of self-winding and date indication, the "Submariner" wrist watch is water-resistant even at 100 m depth, that's why you can wear it both on business negotiations and swimming in the sea.
Rolex offers one more unusual variant of wrist watches – GMT-Master – for those who love colors and extraordinary decisions. This masterpiece of steel with metal bracelet is provided with bezel, divided into two semicircles of black and pink or blue and pink colors. Besides aesthetic function, the bezel ring of these watches has a quite practical sense: it helps to get oriented in time zones.
One of the "Basic" line models of Italian company "Anonimo" can become a perfect decision for men, who prefer a more restraint design. This Florentine company manufactures completely mechanical wrist watches of high quality stainless steel with chrome and carbon content. Such accessory can become an unshowy, but stylish supplement to the image of successful,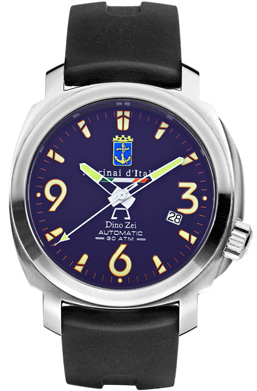 independent man. Those,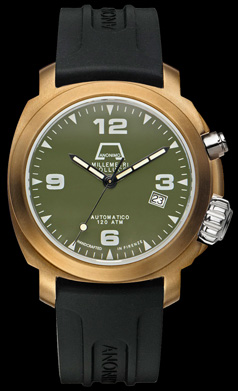 who don't want to be behind the fashion, can chose the models with bright color dials: D-Date Bronze, Polluce 10 anni and Cronoscopio chronograph (orange tones); Millemetri Polluce Bronze (kchaki), made of special aluminum bronze; limited Marinai d`Italia, Polluce Steel Bracelet and D-Date Deep Blue (dark-blue). The colors for design are rather rich and not too bright at the same time – it allows combining them with a strict classic suit. Such wrist watches will make your image not motley, but lighter.
By the way, if you have owned a piece from "Anonimo Polluce" collection, you can think that you've got not only a bright wrist watch, but also a part of rich story about sea treasures. In 1995, a vessel of the same name with treasures was found at 100 m depth. Up to 2005 the divers had an opportunity to become personally certain that unlike many legends and tales this sea treasure was absolutely real. The treasures were being robbed, and the artifacts from sunken ship came to light at auctions. However, in 2005 under the patronage of some social and state structures as a result of large-scale operation the treasures were lifted from the bottom and, finally, became the property of Italy. In honor of this event Anonimo created its own treasure – the wrist men watches "Polluce". You can wear this watch both everyday in the office and on the voyages – it will be suitable everywhere. An impressive size of case (46 mm) and hands, covered with luminescent substance, make the dial of Anonimo Polluce readable; the water resistance up to 1200 m provides you with the opportunity to swim and dive, and its creation history will be always be interested to know.
To be continued...
Men's watch ArtyA Son of a Gun - the personification of courage!
Today wrist watches ArtyA are among the most original and recognizable attributes. Perhaps, no one will argue with that loud statement, as if someone has ever seen ArtyA watch personally, he has convinced of the truth of these words. All this is no accident: the main mission of the talented designer and skilled watchmaker Ivan Arpa – founder of the watch company ArtyA – to change the normal understanding of traditional watch making trough contemporary art. The name of the company itself fully reflects the vision of the company: ArtyA literally means "the art of Arpa". It can surely be said that the mission of Arpa was feasible, as he fully succeeded in changing the perception of ordinary watch art, creating a unique and inimitable expression attribute – wrist watch.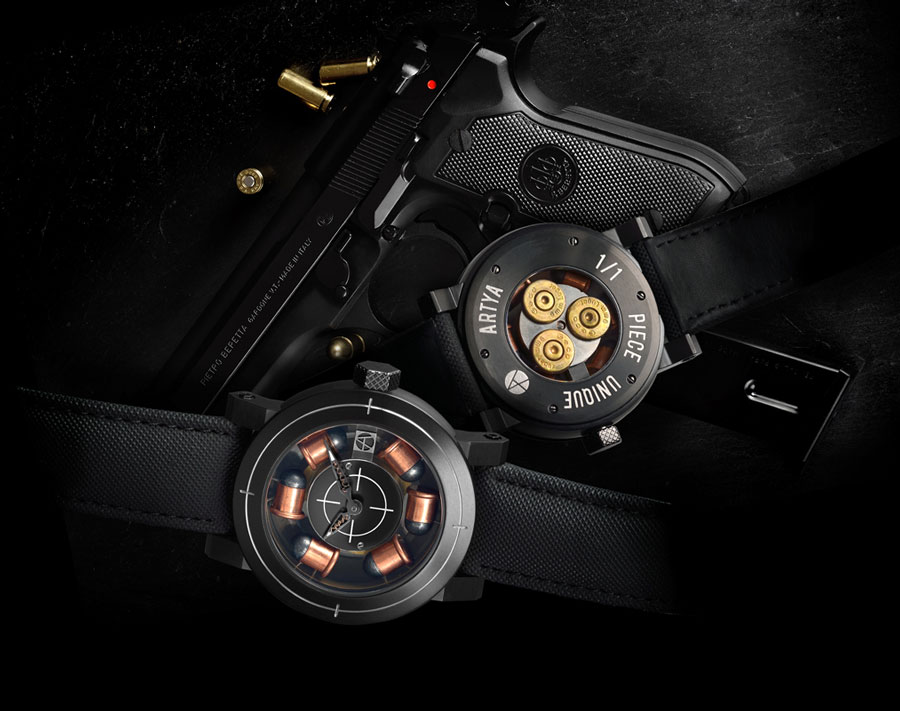 No doubt, any real man, in addition to watches loves so serious tool as a weapon. A skilled watchmaker Ivan Arpa was able to combine these two passions into a unique attribute for real men, creating a union of a real Swiss watch and firearms. The men's watch Son of a Gun, appeared in this way, is now the personification of courage and boundless imagination of the master. The men's watch Son of a Gun has become a bestseller and won great popularity. Time goes by the wayside in the ArtyA watch, opening space for a unique work of art. However, this does not mean that the quality of the watch mechanism to some extent suffer from it. On the contrary, in ArtyA watches are used high quality movement, entirely made in Switzerland. The watch company ArtyA has become the founder of a new trend in the watch industry; the company has won the segment of the avant-garde watches. Wrist watch ArtyA is completely unique creation, as the case, dial and strap are made of very rare and original materials, as well as using the most unusual and long-forgotten technology. Another attractive feature of ArtyA watches, which is fundamental for some people, is their uniqueness, as men's watches ArtyA, as well as women's watches ArtyA are produced in single piece. The owner can be absolutely sure that his ArtyA watch is a unique accessory for a special person. Special in terms of such an unusual choice and single execution, but not the price aspect, because, despite these characteristics, ArtyA watches are very affordable attribute with price range from 2000 -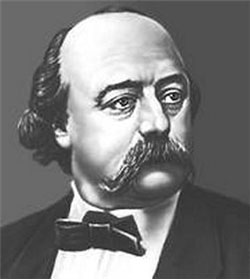 up to 120,000 U.S. dollars. Agree, it is quite reasonable price policy for such luxurious and unique watches.
The main distinguishing feature of the watch Son of a Gun is real bullets, which became the chief ornament of this extraordinary watch. However, this is not usual bullet, but tiny cartridges Flaubert. The story of these bullets is dated back XIX century. In France in 1842 gunsmith Flaubert developed low noise cartridge, which capsule composition was pressed into the rim bottoms of sleeve. This cartridge had a powder charge and bullet was ejected with gas igniter composition. Cartridges were produced in three calibers: 4, 6 and 9 mm. The first two were intended to gauge the training room fire. Along with cartridges Flaubert designed also weapons. His weapon and miniature cartridges had gained immense popularity worldwide for reliability, low cost, as well as the faint sound when fired. After 14 years, the designer Boehringer started improvement the cartridge Flaubert. He strengthened the sleeve, and then lengthening it, added a powder charge. He also changed the shape of a bullet. The Boehringer cartridge was widely used in hunting and sporting purposes.
In our age this cartridge has "crossed" with little or no change. In his watch Son of a Gun the master Ivan Arpa used six round Flaubert cartridges, placing them almost like a gun barrel. To keep them in place, the master used a copper wire, which he sealed with a bullet in a circle outside of the dial. The inner dial is designed as a target. The round watch case Son of a Gun with diameter of 47 mm is made of high quality stainless steel 316 with PVD coating. 42 - hour power reserve is provided by self-winding mechanism with 25 rubies, entirely set up in Switzerland. The rotor of the movement is made of three 38 mm round cartridges, which can be seen through the transparent case back. The dial and case back are covered with durable sapphire crystal, which is extremely resistant to various kinds of scratches. The black watch strap is made in ballistic style. Water resistance of the model is up to 50 meters.