| | |
| --- | --- |
| Anonimo Professionale Crono Titanio Watch at BaselWorld 2012 | |
The watch company Anonimo continues experiments with the usage of different materials and their combinations in the manufacture of watches.
As a result of numerous investigations in this area, watchmakers of Anonimo created three models with a combination of marine bronze and steel, carbon and steel with DRASS-coated, titanium and steel with DRASS-coated.
The last completely new combination of materials was used in the model Anonimo Professionale Crono Titanio, which was presented at the annual exhibition BaselWorld 2012.
The case of the novelty is made of lightweight and durable titanium, bezel – of stainless steel with a DRASS-coated, which is a 14-step process for blackening the surface of steel, consisting of "chemical bath", polishing, sandblasting. These processes are repeated several times in different order and with varying duration. As a result of DRASS process the case takes a darker shade resembling the color of the titanium and scratch resistance. Possible scratches on the surface will not look like a scratch on the color of steel, because DRASS - is not a simple superficial appliqué. Due to the success combining of two durable materials it is able to improve the operational reliability of Anonimo Professionale Crono Titanio diving watch, created in close collaboration with professional divers C.N.S. (Cooperazione Nazionale Sommozzatori - an Italian company, which operates in the seas around the world on ships and oil platforms).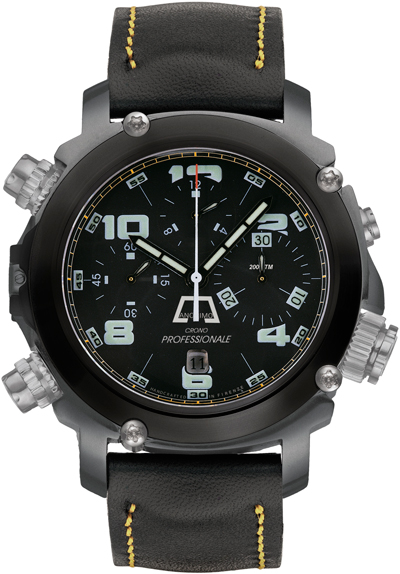 The new watch model Professionale Crono Titanio would be a good gift for the amateur and professional divers, and will be their constant companion in deep diving: waterproof of the model allows you to descend to a depth of 200 meters.
Reading at great depths is straightforward: the dial has large Arabic numerals, increasing the scale of the timeline, thus contributing to an easy determination of the time.
The watch dial has a multi-level display: central hands indicate the hours and minutes, seconds hand is displayed on a small dial at the 9 o'clock position, date display is at the 6 o'clock position, hour and minute chronograph counters are placed at the 12 and 3 o'clock position, seconds, central chronograph hand displays. The black luminescent dial is protected by a durable sapphire crystal.
The Anonimo Professionale Crono Titanio watch is equipped by an automatic caliber Dubois-Depraz with the module 2038. As the basic module are used mechanisms ETA 2892A2 or SW300 (47 jewels, the frequency of balance oscillation is 28.800 pc / h, power reserve - 40 hours, finishing is executed in style Colimaçon, tuning accuracy is produced in the four positions).
The watch is available on a black leather strap, treated with water-repellent Opera Kodiak, imparts to it resistance to salt water.
The novelty is released in a limited edition of 100 items, the recommended retail price - € 8.850.
17.03.2012
New Diver's Watch by Anonimo at BaselWorld 2012
Continuing to develop a line of diving watches, the company Anonimo has released a new model Professionale Crono Oro for professional divers and snorkelers. The novelty was presented at the annual exhibition BaselWorld 2012.
19.03.12 Comments(0)

Anonimo Firenze Dual Time Drass Watch at BaselWorld 2012
The watchmaker Anonimo, known in the watch market as a producer of practical and functional units of time, this year at the annual exhibition BaselWorld 2012presented a watch with a rather complex structure - Firenze Dual Time Drass (mod. 2029).
18.03.12 Comments(0)

Presentation of the Women's Watches by Anonimo at BaselWorld 2012
The young Florentine company Anonimo, known for its practical and functional watches with brutal design, celebrates in 2012 its 15th anniversary. In honor of the anniversary was launched the first women's watch - Diamond Diver, designed for water sports enthusiasts.
14.03.12 Comments(0)

San Marco Bronze Watch by Anonimo at BaselWorld 2012
In 2012, at the annual exhibition BaselWorld the Florentine company Anonimo has introduced a new version of the San Marco watch, named in honor of the battalion that protects Venice during the Great War.
13.03.12 Comments(0)

News of Montre24.com: exclusive video of Anonimo Firenze
Informational watch portal Montre24.com provides a unique opportunity to fans of the complex and amazing watchmaking who monitor its latest trends, innovations and ideological incarnations, make acquaintance with the magnificent novelties of Anonimo Firenze, presented at GTE 2012.
07.03.12 Comments(0)

New dial colors of the watch Militare Vintage by Anonimo
The famous Italian watch company Anonimo in September 2011 has expanded the collection Militare Vintage by models with two dials of black and parchment shades. The line Militare Vintage - a tribute to the days when the first military watch became.
19.09.11 Comments(0)



In 1997 in Florence the entrepreneur Federico Massacesi founded Anonimo. Masacesi's goal was to create unique Italian watches and to stay true to watch making traditions at the same time. And due to Italian company producing high quality mechanical timepieces, he became famous. As a result of torments and hard work, Anonimo realizes its aim in 2008. Speaking about its watch quality, Florentine company underlined that it produced 10 watches for 10 years. It should be noted that the brand's name has not been chosen by chance. This word, meaning anonymous, underlies a philosophy o...
Detailed information Anonimo Firenze