Racer vs speed
Asphalt. Wind. Sound. Kilometers. And time. When you flat out by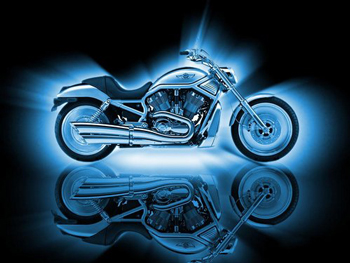 powerful motorbike on earth at supercar's speed and see the world around yourself, so big and wonderful, the time seems to stop.
But the second hand is inexorably moves forward, just like you. Simply being so close to environment and moving so fast, you die away with the same fast course of time. We can talk about motorbikes endlessly: they combine high technologies and sport and present a whole lifestyle for some people. But if we look at the picture on the whole without considering details, we'll see that motorcycle is, first of all, an instrument for uniting with environment, a way to see what we're used to consider only in details. To see scarcely perceptible leaves shivering, when the wind touches trees… Flashing by and being a step from nature, you can feel what happens in a split of second – such a short time interval. But the life itself consists of split seconds, smallest changed, which usually remain unnoticed. Perhaps, the first non-solar watch used sand for a reason: one by one, almost imperceptibly, the grains counted the time. Times have changed, time reckoning methods have changed, technique has evolved. Today motorcycle is an alloy of high technologies, engineer thought and desire. Desire to be more powerful and faster than opponents. But in this energy-arming race we forget that it's impossible to pass ahead of time, but you feel the time. Therefore, such accessory of motorcyclist, as high-accurate wrist watch, is so unnecessary.
The motorbikes, just like wrist watches, didn't become so many-sided, accurate and reliable at once. Although their evolution was rather impetuous: appearance of tourbillon in watches and installation of turbine on motorbike engine; watch "U-boat", water-resistant at 1000 m, and У2k mtt turbine superbike with maximum speed 370 km\h. A few watch companies refer to motorbikes. But you can be absolutely sure the companies, interested in it, issue real masterpieces, as good as high-technological "racers vs speed".

Union of mighty ones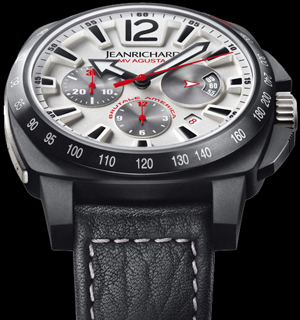 So the Swiss watch company "JEAN RICHARD" presented wrist men watch "Chronoscope MV Agusta Brutale America", having released it in a limited series of 290 pieces. This model is a symbol of collaboration with motorcycle team "MV Agusta", taken part in project to establish new speed record on famous salt plain Bonneville. The partner relations, existing between Swiss JEAN RICHARD and legendary Italian motorcycle company MV Agusta from 2007, were marked by many memorable events. Making model of men wrist watch "Chronoscope MV Agusta Brutale America", glorifying phenomenal characteristics of motorcycle MV Agusta Brutale, combines several complicated industrial operations, requiring maximum attention to details. The steel case of chronograph, released in a limited series of 290 pieces, is fully covered by vulcanized rubber; the titanium bezel, buttons and back case are PVD-treated; only the crown is grey, specific for space metal. The chronograph buttons do not come out the case – thanks to that it's very comfortable to wear the watch in any conditions. The watch "Chronoscope MV Agusta Brutale America" is provided with in-house watch movement JEAN RICHARD JR1000, which you can admire through back case, made of tinted sapphire glass with brand logo "MV Agusta". The strap of chronograph is made of calf leather and equipped with black folding buckle from glace PVD-treated stainless steel and stitched with white kevlar threads, matching the dial. This men wrist watch is provided with mechanical automatic JR1000 (JR1030) caliber 13''', consisting of 63 jewels. The frequency of balance alterations is 28 800 per hour (4Hz). The power reserve of this Swiss wrist watch is 48 hours. The number of unique watches is also predetermined: aluminum watches will be issued in series of 1098 pieces – the number is similar to engine of MV Agusta Brutale. The watches in cases from precious metals will be only 290 – the maximum speed of motorbike MV Agusta.

Motorcycle classics with watches
The famous motorcycle company "Harley-Davidson"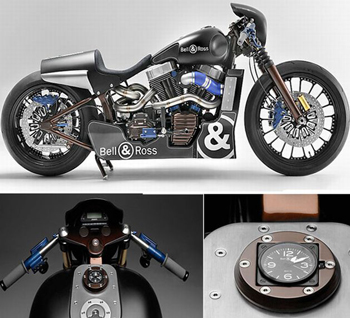 will never tempt its admirers with factory design of motorbike, always radically improving appearance and internals. The company HD joined with French watch company "Bell & Ross" to create unique motorcycle series "Nascafe Racer" for those who were fallen in love with watches as well as with motorcycles. The manufacturer of men wrist watches "Bell & Ross" also designed "BR 01-92 Compass watch" to help in navigation of motorcyclists. The unique motorcycle is based on classic Harley-Davidson Softail FXSTB Nightrain. The watch is installed on central console. The polished aluminum was used in its manufacture, and the motorbike itself was specially painted in anodized blue to emphasize more the watch from French watch company "Bell & Ross".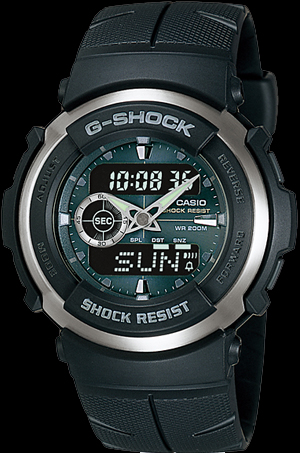 Casio G300 Street Rider – from tracks to open roads
The Japanese watch company "Casio", manufacturing wrist watches and other products, is also one of few watch companies, making special watches for motorcyclists - G300 Street Rider (famous in Europe as G300 Biker). The main thing, interesting for bikers, is high shock-resistance of watch (the model "G300 Street Rider" is based on popular line "G-Shock").
The design will inspire drivers with its style "from track to open road", especially the stop-watch 1 / 100 seconds and split-chronograph. This watch is shockproof and water-resistant at 200 meters. The watch is provided with unique case. G300 Street Rider has fully automatic EL persistent luminescence that makes time reading very comfortable and safe in low light conditions; the world time with 29 time zones (27 cities); the city code displaying; the switch to day-light saving. Up to four everyday alarms set and one repeat – very useful function when you travel and should wake up in time; hourly signal and stop watch 1 / 100 seconds with measuring up to 59'59 .99 ". The Japanese wrist watch is provided with stop watch with past-time mode, intermediate time and counter of 1st and 2nd place. Also there is a countdown timer.
The watch "G300 Street Rider" is equipped with complete autocalendar (programmed till 2039); 12/24 hour format and hourly signal. The watch is accurate at + / - 15 seconds per month. It works on two batteries SR927W with approximate lifetime of 3 years. This blue G300 Street Rider is a real affordable watch for a motorcyclist.
The speed cannot be determined without time and distance. Therefore, when you decide to conquer kilometers of roads, you should take a wrist watch that will become your irreplaceable companion.
Anonimo Firenze and Ivan Basso challenge speed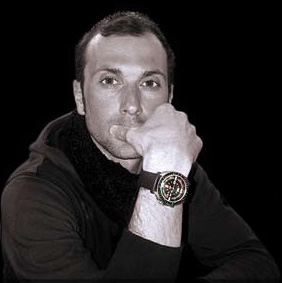 The Italian watch company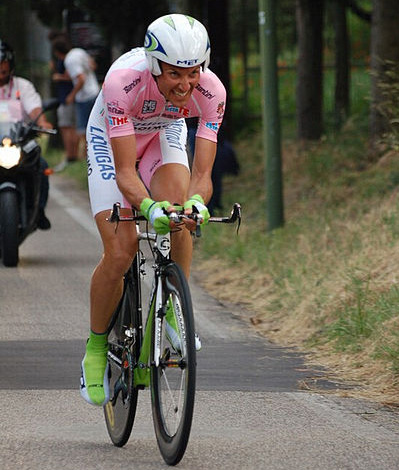 "Anonimo Firenze", which discovered and demonstrated unique connection between horlogerie and sport to whole world, has been trying to keep pace with flashing time since the first day of its existence. The watch company "Anonimo Firenze" was founded in Florence, Italy, in 1997 by entrepreneur Federico Massacesi. Perhaps, it is strange, but in spite of its young age, the Italian watch company has a very rich history, as the best watchmakers, creating watches for Italian Navy since 1939, toiled at workshops of future world-known company "Anonimo Firenze". Thanks to its radical and bold designs in horlogerie, Anonimo Firenze drastically changed traditional concept of Florentine watchmaking. In connection with our theme – "watches and speed" – we're interested in amazing model of men wrist watch from Anonimo Firenze, which are not anonymous at all, unlike the company's name. Let's make it clear. Anonimo Firenze designed and issued exclusive men wrist watch, devoted to cycle racing and particularly to famous Italian racing cyclist Ivan Basso, who won the legendary championship "Giro d'Italia" in 2010, presenting the team "Liquigas-Doimo". Giro d'Italia is one of the most difficult many-days cycle racing, which costs enormous efforts and endurance to win. 2010 became a start for close collaboration between racing cyclist, who was also an avid fan of wrist watches, and Anonimo Firenze. So, in 2010 Ivan Basso, supported by Italian watch company, made a tour through Italy, and all funds, derived from Anonimo Firenze watches sale, were transferred to charitable organization "Bianca Garavaglia", supported by Ivan Basso. The association "Bianca Garavaglia" provides medical products and care for children, suffering from serious deceases. The Florentine company "Anonimo Firenze" connects its activity, full of "adventures" and pursuit of perfection, with world of "fast" sport. The watchmaking, just like cycling or motorbike racing, requires high professionalism, skills and incredible courage. All these qualities are undoubtedly specific to both company-innovator and excellent racing cyclist Ivan Basso.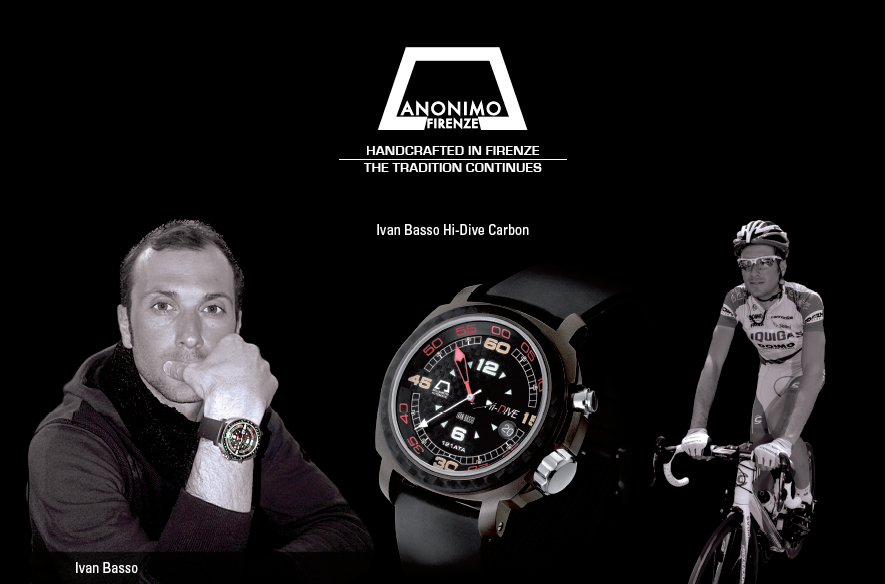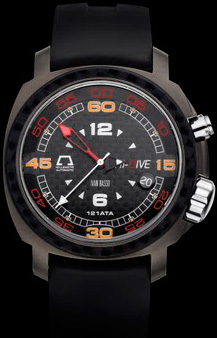 The wrist watch from Anonimo Firenze, devoted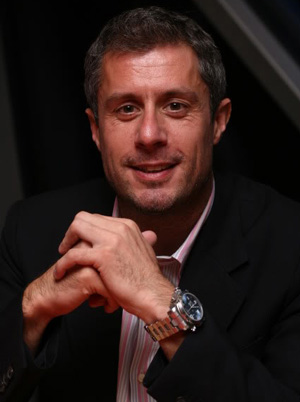 to Ivan Basso, was released in a strictly limited number – only 150 timepieces: each of them represents a result of hard work of best Italian watchmakers and designers jointly with racer-winner. Of course, such limited number of excellent time meter upsets all fans of Anonimo Firenze and cycle racing, as only some of them will become lucky owners of these high-functional watches. The men wrist watch "Anonimo Firenze Ivan Basso Hi Dive Carbon" is made of ultralight and extrasolid materials, supplemented with carbon elements. The materials for case manufacture were obtained by heating at high temperatures. An interesting modern anthracite color and elements of carbon fibers make Italian watch "Anonimo Firenze Ivan Basso Hi Dive Carbon" a unique piece of horlogerie, embodying free spirit of cycle racing and furious speed. It also should be noted that the company "Full Speed Ahead" (FSA), which provided Anonimo Firenze with necessary carbon elements for creation of wrist watches, also supplies special details for sport cycles, participating in international races.
Great Ivan Basso admits that he owns several models of Italian watches from Anonimo Firenze and he is a dedicated fan of Florentine company. According to Basso, a true Italian simply ought to wear excellent Italian watch, especially that watches from Anonimo Firenze are more than worthy. The men wrist watch "Anonimo Firenze Ivan Basso Hi Dive Carbon" is just the model everyone waited for. This watch is distinguished by incredible accuracy of movement and attractive design. As for watchmakers of Anonimo Firenze, they are quite satisfied with made work and proud of their successes, and the collaboration with brilliant racer cyclist gives them great pleasure. David Cypers, Sales Director of Anonimo Firenze, considers Ivan Basso to be one of the most courageous and decisive sportsmen in the world, striving for sensational wins and conquests of all world peaks. Also he claims that Anonimo Firenze is very similar to racer cyclist in its quests, as the manufactory creates men wrist watches with strong character, able to sustain maximum loads, for example, in diving and other extreme kinds of sport. The Italian manufactory risked once again and challenged furious speed and powerful time – and, of course, it won.

To be continued ...