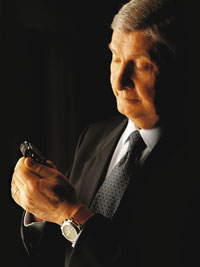 During 14 years of life, the young Florentine watch company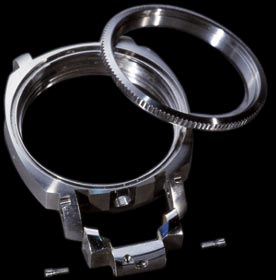 got a toehold in the world watch market and competes with many industries, existing for centuries.
The keystone of incredible success is the quest to excellence, keeping the Florentine traditions and advanced watchmaking standards.
Anonimo opened a new page in the history of watch industry by setting new tendencies in watchmaking, based on the fundamental Florentine values.
Dino Zei, ex-president and CEO of Officine Panerai, played a crucial role in foundation and development of trade mark. The collaboration of Anonimo with Dino Zei was promoted by historical events: in 1997 the famous Florentine watch company "Officine Panerai" joined "Richemont Group", its headquarters were moved to Switzerland, and many talented and experienced watchmakers were left in Florence. Dino Zei used the potential of "old guard" and organized the manufacture of Anonimo watches. The successor to Florentine watchmaking traditions realized all his outstanding projects and unthinkable fantasies in the time counters of new company. A long work experience of Dino Zei in the watch industry provided Anonimo with opportunity to open the new borders in researches and developments.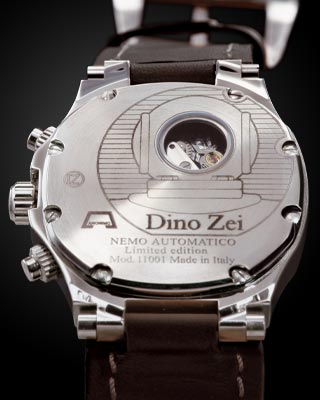 A minimalistic watch design is a specific feature of the "Florentine" style. Organic watch architecture is combined with principles of functionality. In 2005, Anonimo issued the Dino Zei collection as a tribute to talented engineer for effective collaboration. Its slogan says "The Master returns". To maintain the "anonymous" philosophy of brand, saying that the Anonimo watch is created for its owner, but not for the vanity of its creators, Dino Zei even refused from engraving of his portrait on the watches, named after him. Instead the back cases of Dino Zei watches are engraved with diving-suit, through the open illuminator of which a part of movement is seen. This performance is an original brand feature of Dino Zei and the only playful detail in esthetically strict design of this collection watches.
Dino Zei keeps collaborating with Anonimo to the present day, focusing his attention at the development of the company's research team.