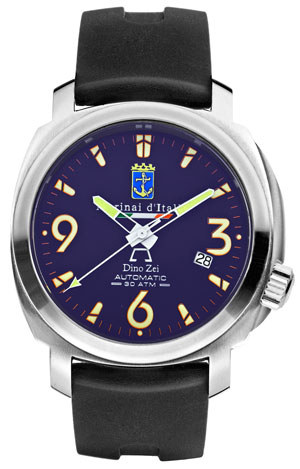 In 2010, the Florentine company "Anonimo" created an exclusive watch collection "Anonimo Marinai D'italia" at the request of the Associazione Nazionale Marinai d'Italia (ANMI), an association of Italian seamen. The model was presented at the Basel Watch and Jewellery Show 2010.
The collectible watches are designed by Dino Zei, ex-president and CEO of Officine Panerai. He used his long work experience in the watch industry, particularly in design of "military" watches. The collaboration of Anonimo with Dino Zei was promoted by historical events: in 1997 the famous Florentine watch company "Officine Panerai" joined "Richemont Group", its headquarters were moved to Switzerland, and many talented and experienced watchmakers were left in Italy. The professional team of Dino Zei knew all the ins and outs of making watches for seamen, as Officine Panerai had been the official supplier of measuring devices for the Navy department of Italian Ministry of Defense for many years.
The name of Panerai is closely linked with the time measuring in navigation. And the name of Dino Zei is linked with the Italian Navy by hundreds of ties. Having graduated from the Naval Academy and Industrial Engineering at the University of Pisa, many years he worked in the Centre of Studies of the Navy Commandos and Divers Headquarters. In 1972 Dino Zei took up the management of the watch company. He was the first man who didn't belong to the Panerai Dynasty but ran the family company, as in 1972 he accepted the helm of state from Giuseppe Panerai. Dino ran the company until 1997, when Panerai was purchased by Richemont Group.
The watches "Anonimo Marinai D'italia" were issued in a limited edition of 200 pieces. The model is included in Basic line. Its design is made in accordance with its purpose: the dark-blue dial with contrast yellow central hands displays the colors-symbols of association of Italian seamen (ANMI), and the ANMI logo and tricolor with vertical green, white, and red strips, symbolizing the Italian flag, make watches thematically complete. The dial is provided with a two-level system of indication – central hands and date indicator between "3" and "4" hours. The Anonimo Marinai d'Italia model is based on automatic caliber Anonimo 01.0. The case is crafted in steel AISI 316L, containing 20-27% of chromium and low percentage of carbon. The model "Anonimo Marinai D'italia Ref. 1989" is equipped with rubber strap. There is also a version with leather strap. With this watch you can dive at 300 meters depth without fear.