Big watches for Big men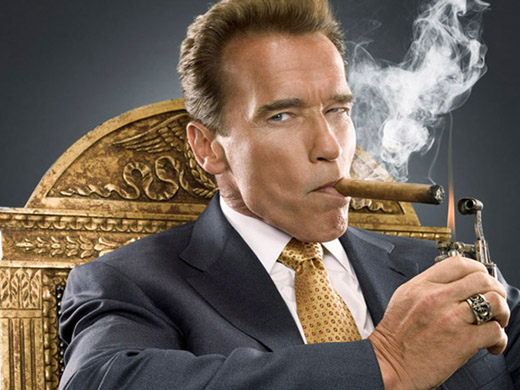 In new millennium the world trend-setting brands are characterized by watch diameter enlargement. Finally the designers have got a full scope for their imagination and details development, even the watch masters can breathe easy as now the cases have more place for complications. The consumers are not deprived either: it has become easier to read exact time on big case in any weather and light conditions. We can't but agree that it's better to count minute points on large circle of dial than to peer into 38-milimeter one.
However, the watch diameter enlargement hasn't limited by 60 mm – we'll tell you about these watches later. Every year before Basel all manufacturers and journalists dispute about possible enlargement of new watches. Basel is ahead yet, but today the SIHH-2011 brands show that in future the watches can be bigger, at least, a little bit.
The watch "gigantism" is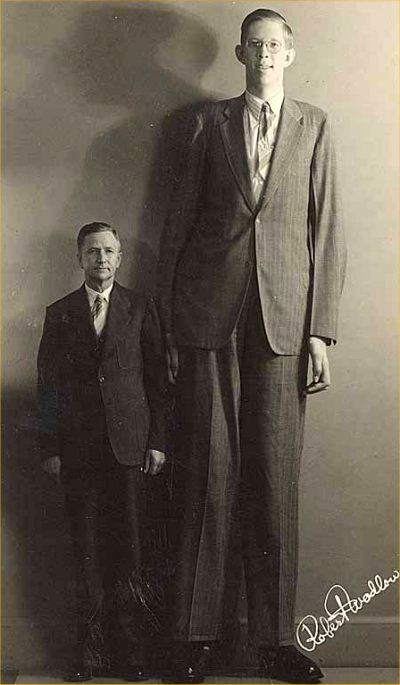 decease, from the one hand, but from the other hand, it's a going back to the sources of the watch art. Why is it decease? Of the main reasons of watch diameter enlargement is modern society illness – excess weight. You see, according to World Health Organization 1,5 billion of people (1/5 of planet population) suffered from excess weight in 2008. By 2015 the number of overweight people is forecasted to reach 2.3 billion – most of them are businessmen, bankers and managers – in a word, those who can afford expensive watches, often buy and collect them. So, why don't the watch brands meet them halfway and make their life more comfortable by watch enlarging? The overweight people have a big wrist, that's why small watches will only emphasize their stoutness. If there are many shops with big size clothes today, why can't we have big watches for big people?
Excess weight is not the only reason why people nowadays are growing. Natural precocity is another reason. In the course of time people become bigger. Once Russian hero Ilya Muromets was considered to be the highest man in Ancient Rus – the chronicles called him giant. However, when the archaeologists excavated his grave, they found the male skeleton of 1.63 m height. If you visit a museum and look at the knight's armor, you'll notice that it's rather small for a modern man.
No wonder watches become bigger over the time. But in the beginning I mentioned that the watch "gigantism" is decease, from the one hand, but from the other hand, it's a going back to the sources of the watch art. Pocket watches lay the foundation, wrist watches became popular during World War I when mobility in getting exact time was highly required. Until that time "watches" were associated with pocket mechanical unit that was always away for 50 mm diameter.
Some brands are in no haste to enlarge the average diameter of their watches though. For example, Patek Philippe and Rolex. But it doesn't mean at all that they hold big watches in contempt. Simply both companies are deeply attached to their brands promotion through auctions and support the market of secondary clocks. The average size of auction watches Patek Philippe is 36-38 mm, Rolex is 36-38 mm. If any of these companies switch to a more diameter, even the most expensive watches of theirs will break. So, watch auctions are a powerful promo engine, from the one hand, and brakes for development, from the other hand: companies always have to put on clothes of which they grew out a long time ago.
Meanwhile, watch diameter enlargement tendency is actively supported. Men of average build do not consider buying watches of diameter less than 42 mm. Let's look at these "armors" for modern Herculeses.

Officine Panerai
The Panerai Radiomir Egiziano 60 mm watches (pam 341), put on the market in limited number of 500 pieces in 2009, seem a bit huge even on big male wrist because they are finished with rather long strap connectors. Arnold Schwarzenegger and Sylvester Stallone are fans of Panerai: big men need big watches.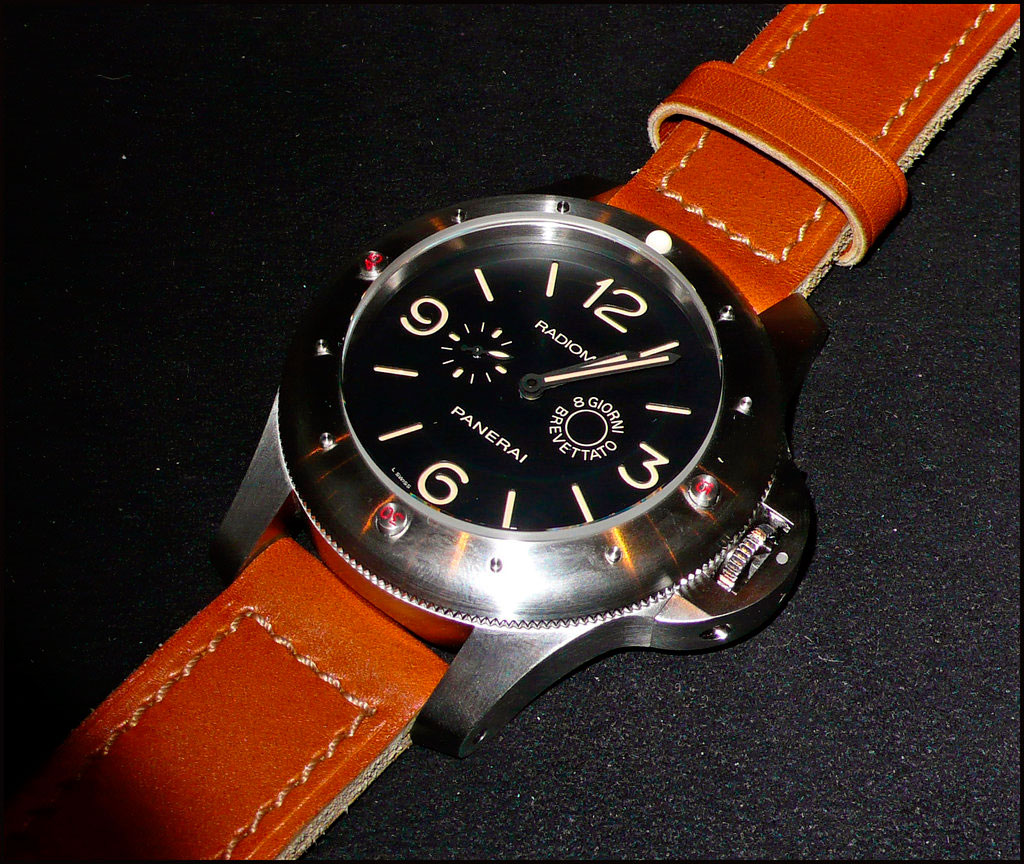 Egiziano means "Egyptian". First these watches were created in 1956 for Egyptian Navy. Officine Panerai was always closely related to the army: back in the beginning of XX century Oficine Panerai became the official supplier for the Royal Italian Navy, and Radiomir were the first watches for underwater saboteurs secret unit. Due to such clients Florentine notes were strongly bred in the brand's bones, although Panerai is produced in Switzerland. It is one of the exclusive brands that succeeded in keeping its own identity inviolable. They are ones of the few watches recognized unmistakably. During several decades the Panerai watches are produced with two kinds of cases: Luminor and Radiomir, however, the company creates something new based on them each year, combining technical progress and respect and love to its own history.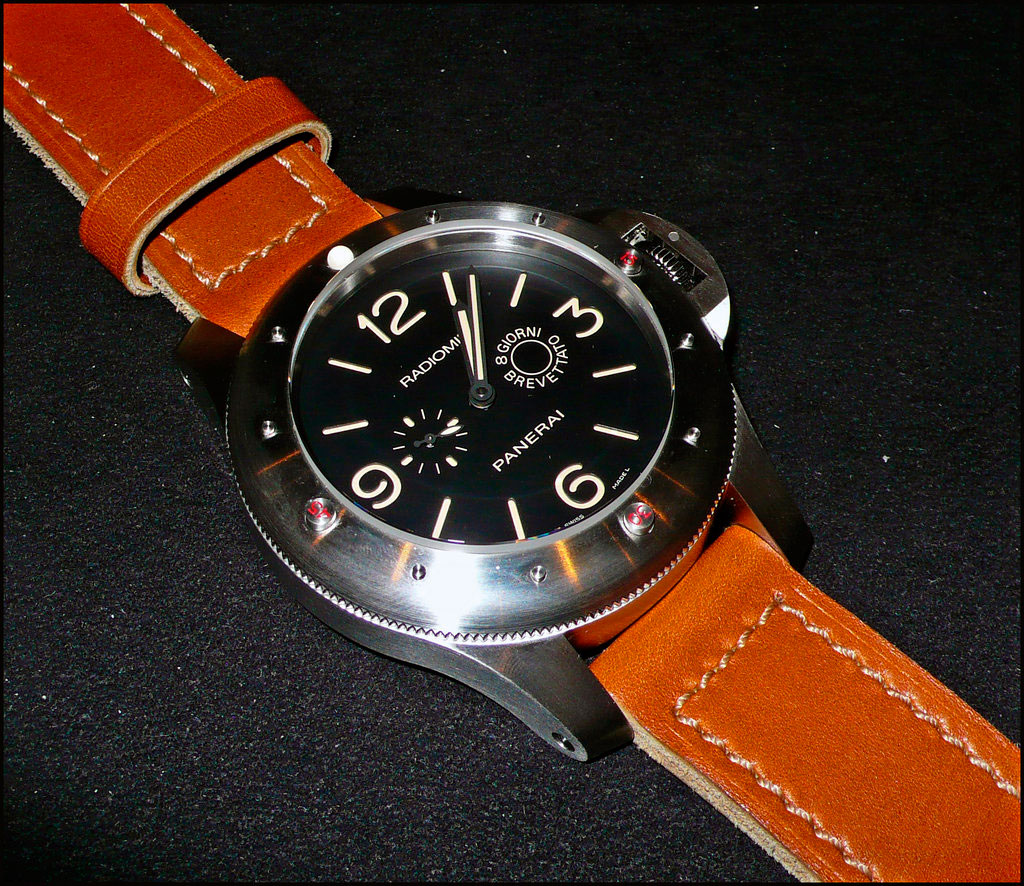 In 1956 only 50 Panerai Radiomir Egiziano watches were issued, but it's not the only difference between two giants: watches of 2009 and watches of 1956. Watches Egiziano of 1956 had gold hands with spraying like Egyptian sand and caliber Angelus with 8-days power reserve.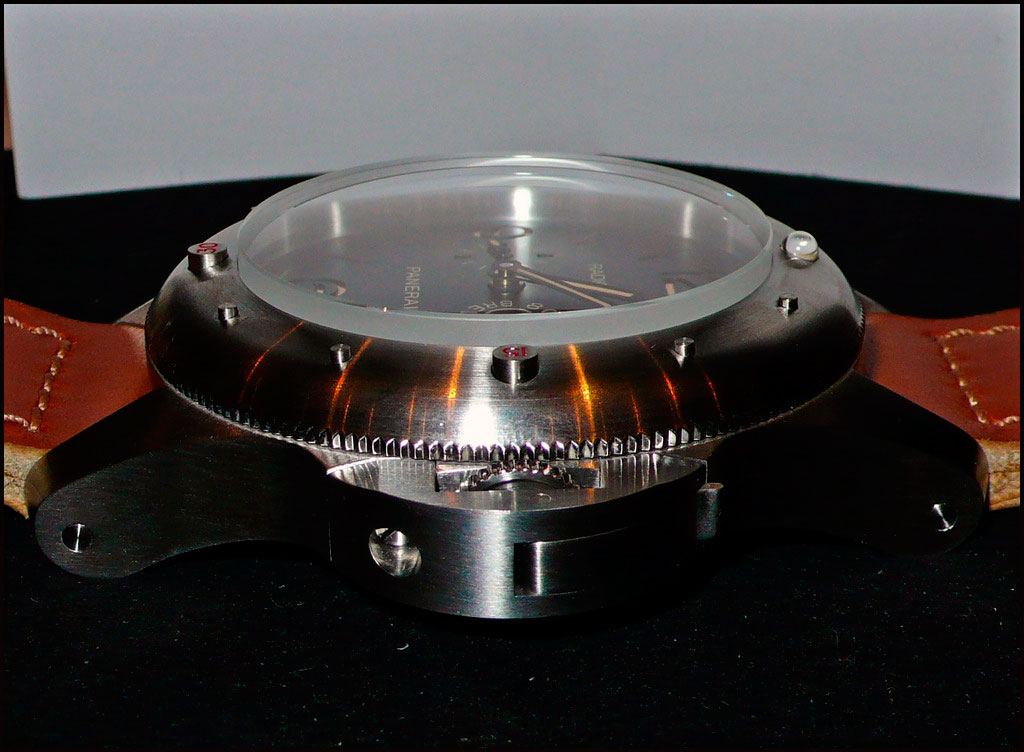 The new edition acquired caliber Panerai P. 2002/7, a simplified modification of P. 2002 without indicator of power reserve, day/night, GMT and date – as a result this mechanism is fitted by 191 details instead of 245 that makes watches a bit lighter. P. 2002/7 also has 8-days power reserve provided by three-spring-barrel system.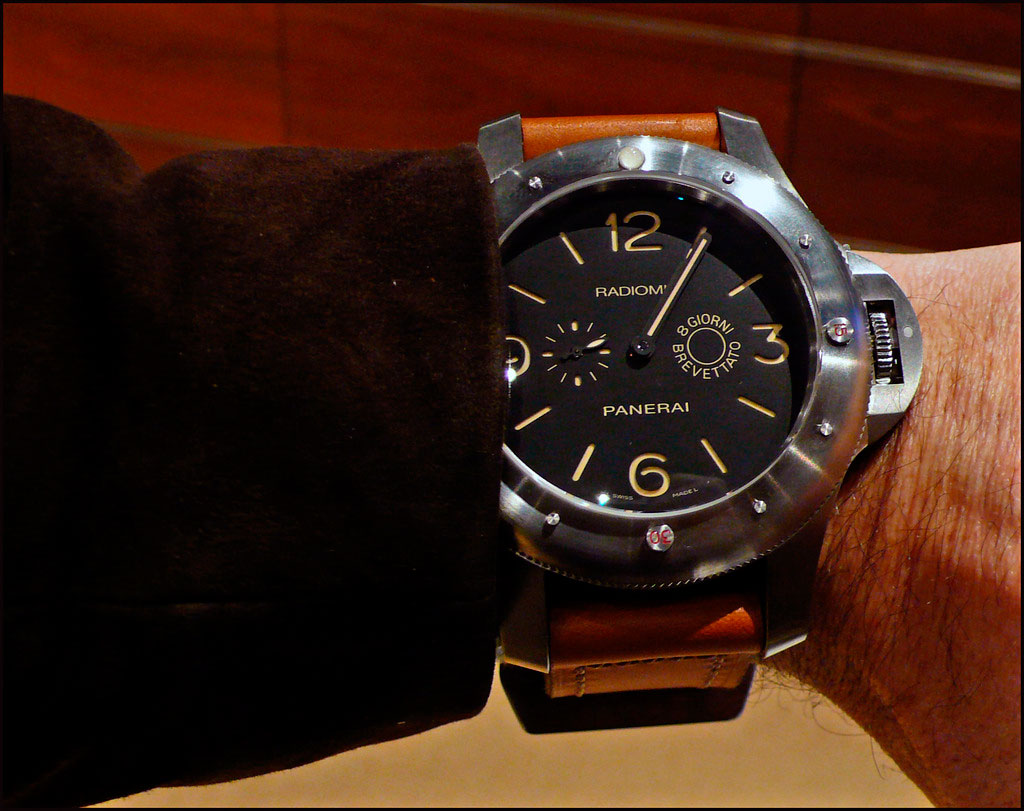 As for appearance, the new Panerai Radiomir Egiziano watches lost gold hands, but changed the titanium case to a lighter steel one. It's a significant change for the 60 mm giant.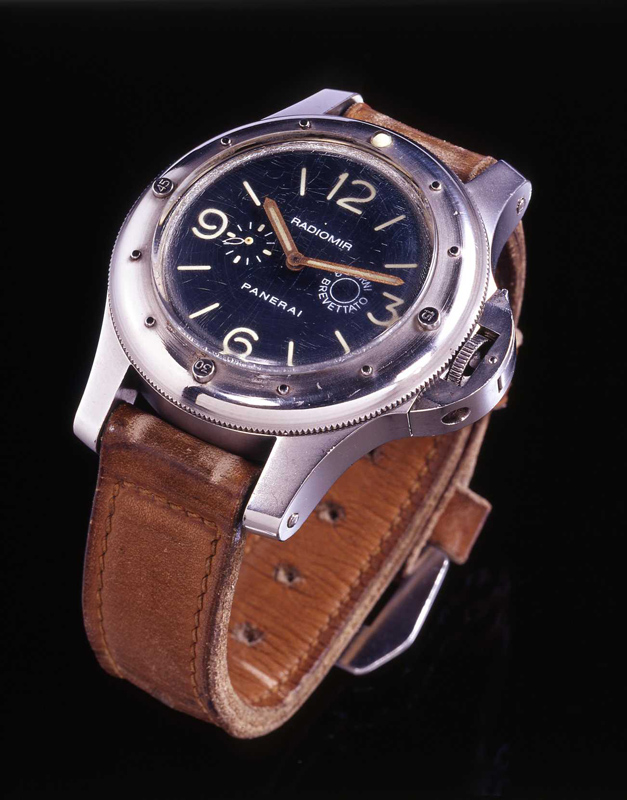 U-boat
Here is one more Italian brand with a more diameter – 65 mm. The U-1942 model (ref. 5837), launched in limited edition of 29 pieces, was personally presented by designer of U-boat Italo Fontana in Moscow in 2009.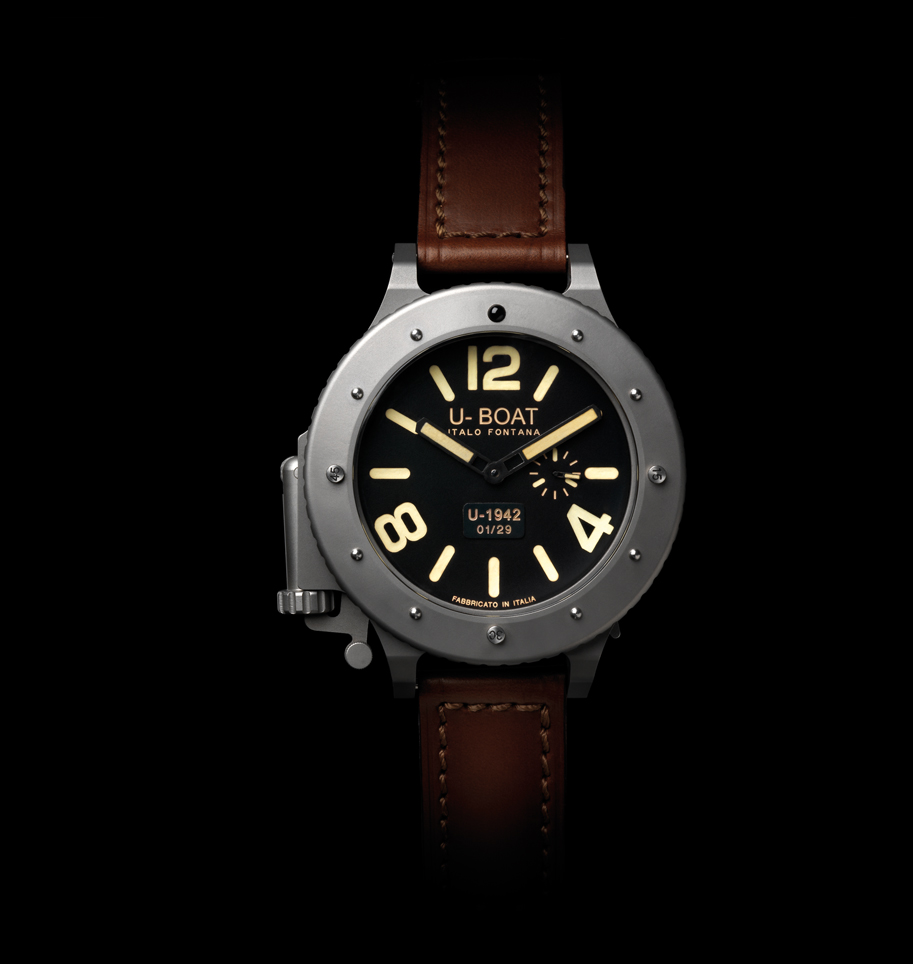 They may be the biggest dive watches. Actually they are big even for divers. Their cases are made of titanium for weight reduction, though the inside mechanism provides "just' 46-hours power reserve. The watch dial has Italian style and looks very much like Panerai, though it's not surprising as the first watches U-boat were also designed by order of Italian Navy in 1942. They totally remind a huge submarine – they even have a peculiar periscope which performs the left winding head.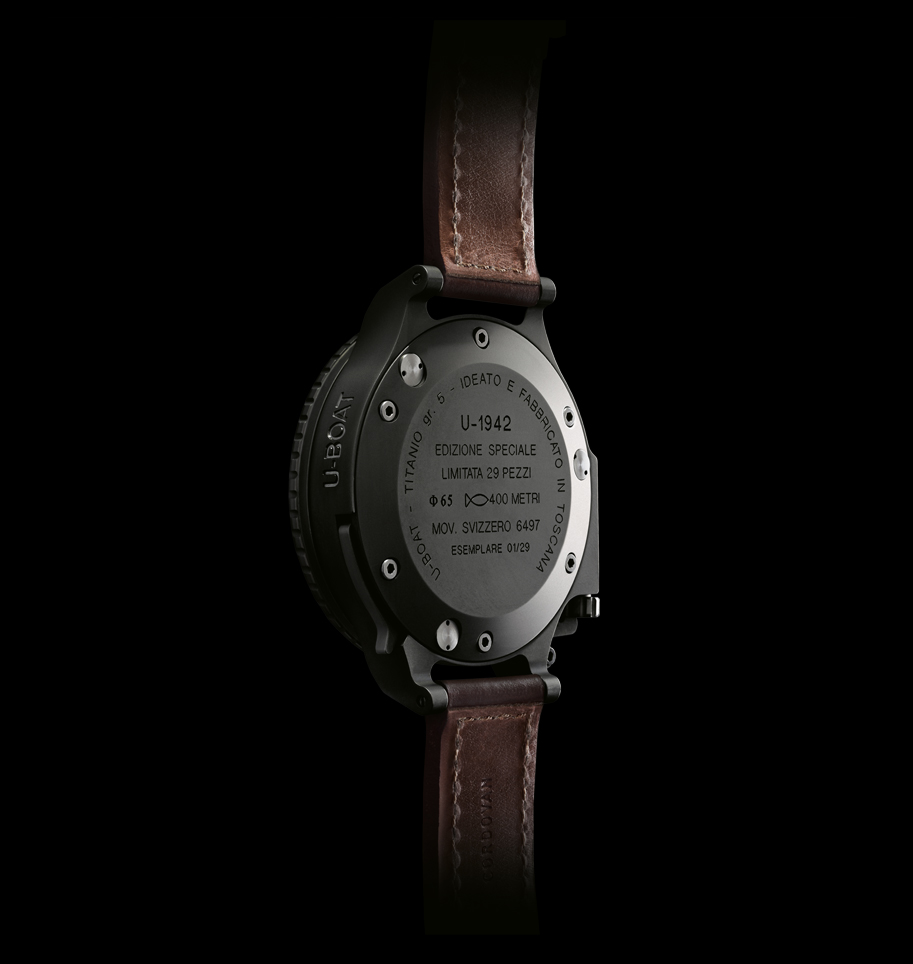 Anonimo
The third Italian watch brand of our theme. The biggest watches seem to be born in Florence, and they are the most famous military watches. By the way, Anonimo has much in common with Officine Panerai: Anonimo designer Dino Zei was director of Officine Panerai Srl from 1972 to 1999, until the company moved to Switzerland. Then he gathered talented watch masters of Florence under Anonimo brand, who had their fingers in the Panerai pie.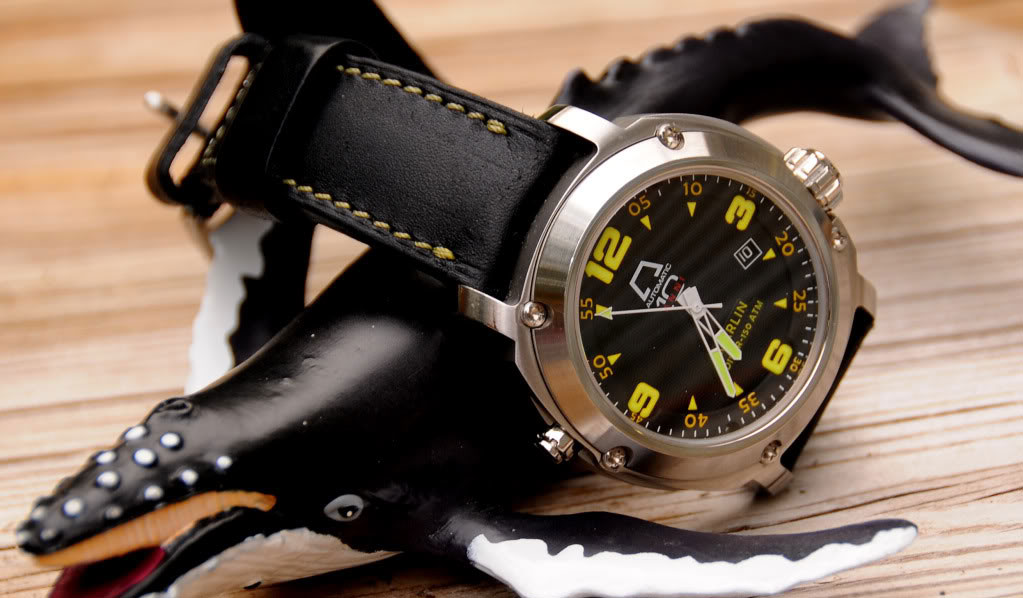 Among Anonimo watches now we are interested in Marlin (ref. 7001) of Professionale Line with a more "modest" diameter of 52.5 mm, not much lighter than the previous ones though as these watch cases are made of steel or bronze. The watch is named after sea fish that grows up to four meters length and 750 kg weight. So, perhaps, titanium is not used for making cases so that the watch owner could feel its pleasing weight on his wrist.

Totally 300 watches equipped with the Anonimo 01.0 caliber based on self-winding SELLITA SW200 with 40-hours power reserve were issued. The watches are equipped with the automatic helium expulsion valve (at 10 o'clock) so that watches could endure high pressure.
Azimuth
And finally the Azimuth B-Uhr Original Luftwaffe Specification – true Swiss watches of 55 mm diameter, issued in limited edition of 100 pieces. Besides its size this watch has a direct reference to pocket watches – hunter caseback with inner exhibition back through which you can see the modified Unitas 6497-1 caliber in Cote de Geneve finishing. Cote de Geneve is an ancient (since 1886) but still the most prestigious insignia.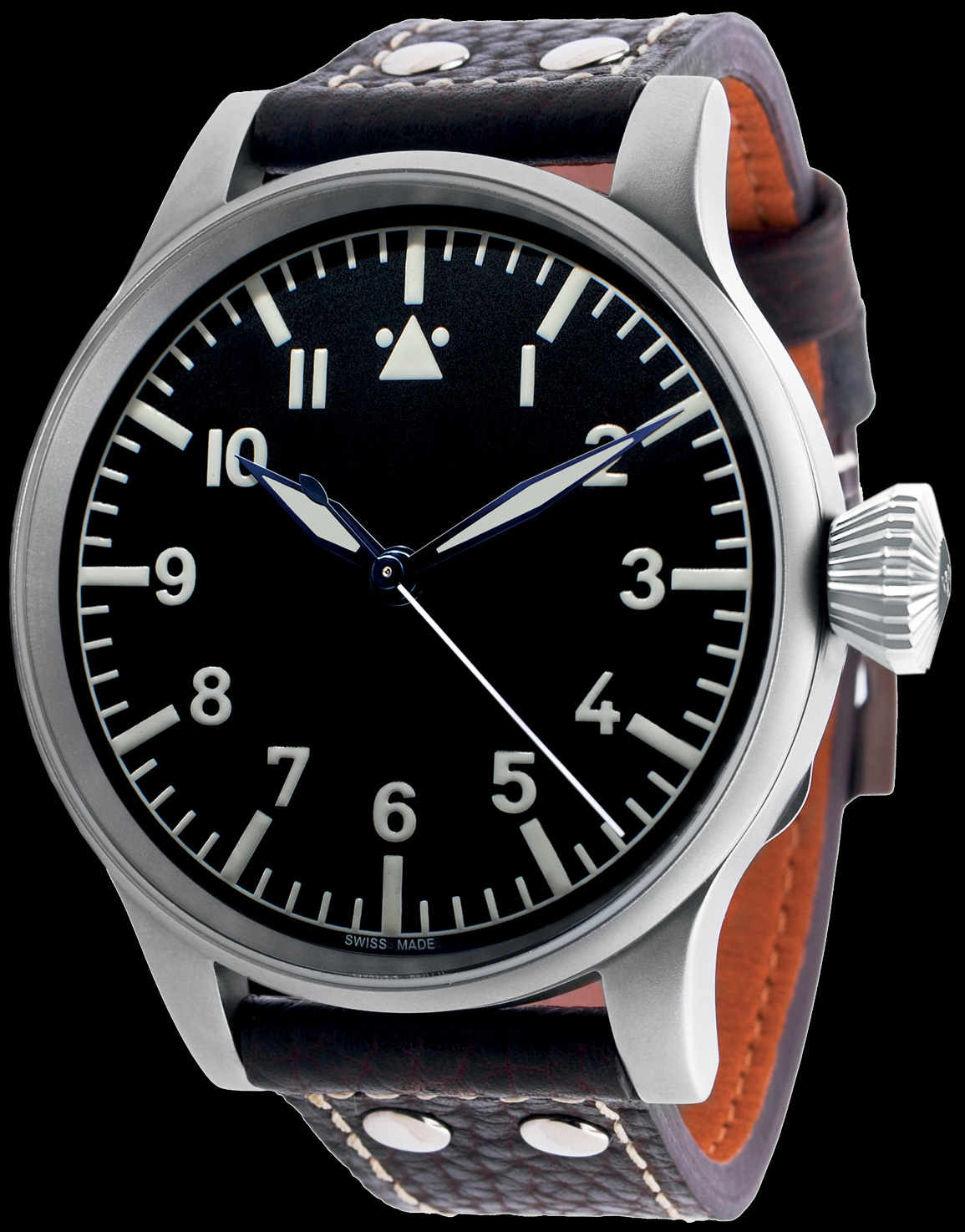 Watches with Cote de Geneve finishing should meet 12 requirements, concerning decoration of platine, bridges, screws, chatons, ratchet wheels, spring barrels and other visible components of mechanism. Companies have to hire at least one jeweler able to decorate the mechanism in several exclusive Swiss styles to get Cote de Geneve finishing.
The double caseback is a kind of fad for those who want to make engraving or keep precious photos like in medallion. It's a perfect gift for many people. As original pilot watches for Luftwaffe, the Azimuth watches are fitted by strap with metal rivets.

Da Vindice
In 2010 the new-born Swiss company issued watches of 54x59 mm size – the only wrist watches with barometer all over the world. The watch case has a button at 9 o'clock, and when you press it, the air is breathed for pressure, humidity and temperature measurement, results of which you see at 6 o'clock. Big size of these watches is explained by plenty of technical filling – the barometer requires a quite large space in case indeed. Besides, the watches are provided with tourbillion, hand indicator of date and indicator of power reserve.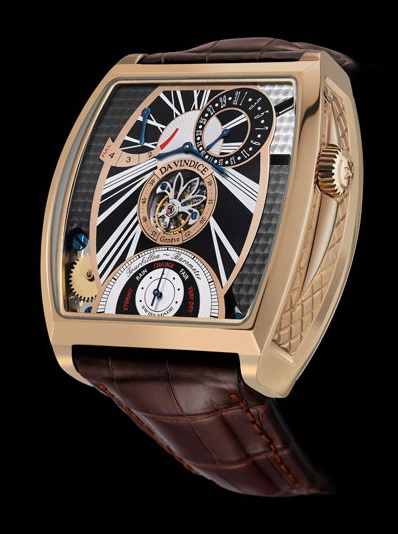 These watches will be issued by 50 pieces each year, mostly for the Russian and the Middle East markets, in white and pink gold with or without diamonds. The power reserve is 42 hours.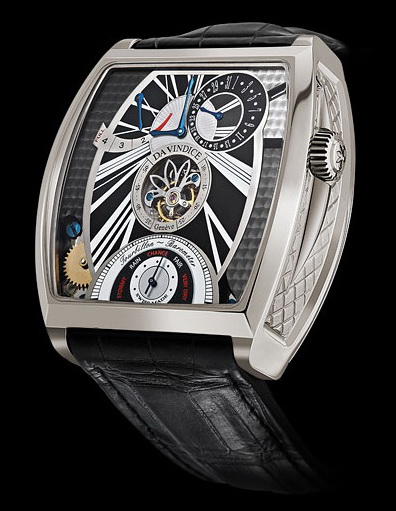 Today watches are not only measuring devices, they are also a status. The oversized watches owners declare their style and status to everyone. The bigger the watch is, the more proud you are. No doubt that during business negotiations the one with big watch has a psychological advantage. Such watches are running the show and always leaving the small watches behind them. Like the popular joke about icons in cars is saying: "the bigger your icon is, the luckier you will be in accident". But jokes aside, the elite watches are a definite immortality sign. You will hand your favorite watch to your children, and they will give it to your grandchildren… So why should this heritage be at loss on your hand?