Bronze or tanned watches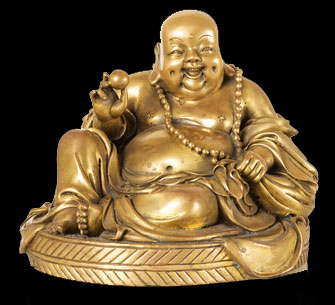 This year watch exhibition "BaselWorld" has demonstrated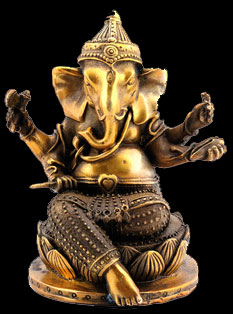 classic and even retro return to fashion trends. The financial crisis has stroke the world and the industry of luxurious watches has turned from extravagant experiments to timeless heritage. The vintage, noble wrist watches, bearing the history image, are in fashion again.

Thereby, no wonder the bronze watches have appeared among some brands: long before the steel was discovered, that material was valued most of all. The bronze is not just spiritless cold metal. In ancient world cultures the bronze was a symbol of the Sun and the main god of heaven. Unlike cold steel, the bronze watches exude warmth when you take them in hand – this metal really has some living features and sheds warmth at your every touch.

However, the vintage trend always returns in a pendulum way, as any serious collector sooner or later refers to the history – in the long run, only vintage things keep their value. The years slide by and the watch hobby slowly turns into a lifestyle. The trendy bronze watches perfectly match an individual style. The bronze is not as trivial as the gold and its unique color is excellent with so popular and universal black dress. By the way, the combination of yellow and black colors is not just stylish, it says about high intellect and success – as it was thought in ancient China.

But the bronze watches are not simply symbolic. Most people like patina, making things noble and valuable. Even an artificial patina covering is very popular today. But the bronze watches with their natural patina are a real treasure for the connoisseurs, as they are incomparable with the imitation. The natural patina pattern on the bronze watch case is even and always different that changes a usual serial model into a personal masterpiece. Such wrist watches indeed will draw much more attention than the shiny steel, drawing the mouth.
Besides patina, one more unique property of bronze watches is high resistance to scratches. The patina at the surface is both adornment and rather strong protective layer. Thus, you can wipe out the patina, covered with scratches, and found out a completely new watch case without any damages. Thanks to such property, the bronze watches keep their trade dress without little scratches, which during regular wearing are formed themselves and spoil the appearance of, for example, polished steel.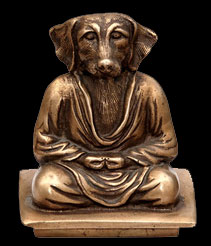 From old times the bronze was a symbol of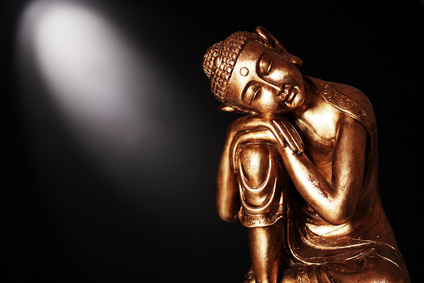 gentlehood and wealth, an attribute of high status in social hierarchy. Thanks to easy fusibility the bronze allowed masters cutting tiniest details in its sculptures. The bronze as a material acquired popularity in the middle of 18th century and achieved its peak in epoch of Empire. And during all that time the bronze was inseparably linked with watches. Of course, with watches of that time: not wrist, but interior bronze watch that was also called "a little country for watch movement" - so luxurious and detailed they were. Rather soon the bronze replaced the wood from aristocratic and royal interiors.

Since the epoch of Empire the bronze watches enjoyed special respect and took the central place at home: at mantelpiece. The watches were placed there not only to be more noticeable, but also to absorb carefully the warmth of chimney air. Just imagine how pleasant it is to touch a watch that radiates warmth. Including a wrist watch that radiates warmth of its owner's body.

Then why was the bronze out of fashion for such a long time, you may ask? The bronze watches were forgotten and started reappearing more like a tribute to history. There is a quite noble reason – other metals replaced the bronze due to its expensiveness and deficit of tin and brass. It's difficult to say when the first bronze wrist watch was created and by whom – maybe it was one of the brands we presented in our article or some little known manufacturer. Of course, extreme necessity wasn't the reason the watchmakers started using bronze – they were simply bored with steel and gold. Moreover, the bronze watches have a perfect advantage, compared to all other ones – their case forms patina that makes each model fully individual. You can't but agree that it's really interesting to see how the case of your favorite watch is being covered with quaint pattern of patina – like a picture canvas is acquiring new dabs.

Officine Panerai

In the contemporary history of Panerai the bronze watches "Panerai Luminor 1950 3 Days Bronze PAM 382", the main discovery for all fans at BaselWorld 2011, have been produced this year for the first time. This metal matches the marine history of the brand best of all, as earlier the Panerai watches were manufactured only for the Navy. During a long period the brand wasn't presented at the civil market at all, being a part of the Italian divers' official equipping. Only after 57 years, after designing of first secret models, the watches of Panerai brand appeared at free sales for the first time.

Panerai Submersible is one of the diving watch masterpieces: minimalistic, practical and effective at most. A unidirectional diver's bezel with diving time scale and an impressive water resistance. And so the bronze watches "Submersible PAM 382" appear. It is probably the best material, as the bronze and the sea have been synonyms since a long time. There is even a special kind of admiralty bronze, resistant to corrosion and sea water. The propeller screws, for example, are made of this material.

Panerai Luminor 1950 3 Days Bronze PAM 382 is limited by 1 000 pieces, so now it's already impossible to get it – all watches are allotted according to advance orders. However, these are great news for the lucky owners – it means that the price of $10 100 on bronze watches PAM 382 will be rising right on their hands.

The watches are provided with automatic in-house movement "Panerai P.9000" with 3-day power reserve. The case diameter is 47 mm, a transparent back case. The water resistance up to 300 meters. The brown leather strap with white stitching.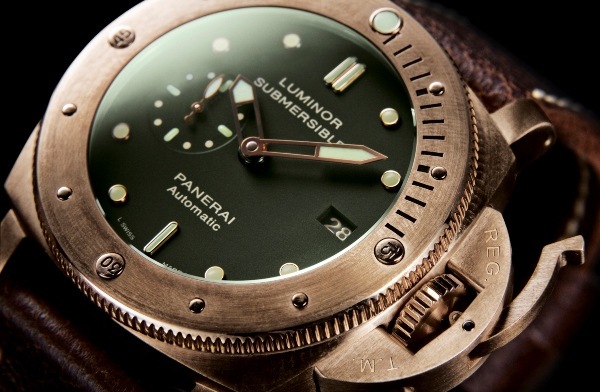 Anonimo Firenze

Anonimo can be safely named a company, which elevated the bronze watches to the art. Instead of making simple expensive completely golden watch cases, Anonimo mounts golden elements into the case, delicately emphasizing elegance, or crafts fully bronze watches. There's no need to put fully gold watches into air, if it's possible to use bronze, which aging as a material will only improve the watch appearance. Since 1997 the company has been producing the bronze watches – a specific feature of Florentine brand. Perhaps, today the bronze is associated firstly with Anonimo watches indeed. It offers a wide range.

One of Anonimo bronze watches for any taste is Aeronauta mod. 11019 from legendary engineer Dino Zei, issued this year and provided with 24-hour time indication and rotating disk with 3-gigit codes of 24 largest international airports in the world for each time zone. The fashionable black dial combined with bronze perfectly matches a business suit. Aeronauta mod. 11019 will be good for frequent flights. The model is inspired by already approved Anonimo Argonauta. Only 50 numbered pieces of Aeronauta mod. 11019 are released, therefore, as the previous PAM 382, these bronze watches will become a rarity soon.

The watches are provided with automatic movement, based on one of the most reliable calibers in the watch industry - ETA 2893-1 with 40-hour power reserve. The diameter of case is 43,4 mm, the water resistance reaches 200 meters.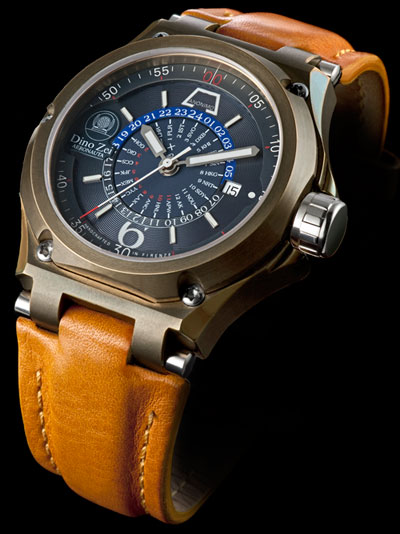 This year original Anonimo Marlin Bronze mod. 7001 with bright colorful marks on dials was presented for those, who like a less strict style. The watches with black dial will emphasize your activity and dynamics at business sphere, and Marlin with its marsh-green face will perfectly fit in summer style and harmonize with colorful aquatic corals: the watches are provided with helium valve and water resistance up to 1 500 meters.

The diameter of case is 50 mm, the movement has 40-hour power reserve. Totally 300 watches Anonimo Marlin Bronze mod. 7001 are produced. Even in winter these watches will remind you of the warmest and most pleasant days with their bronze warmth.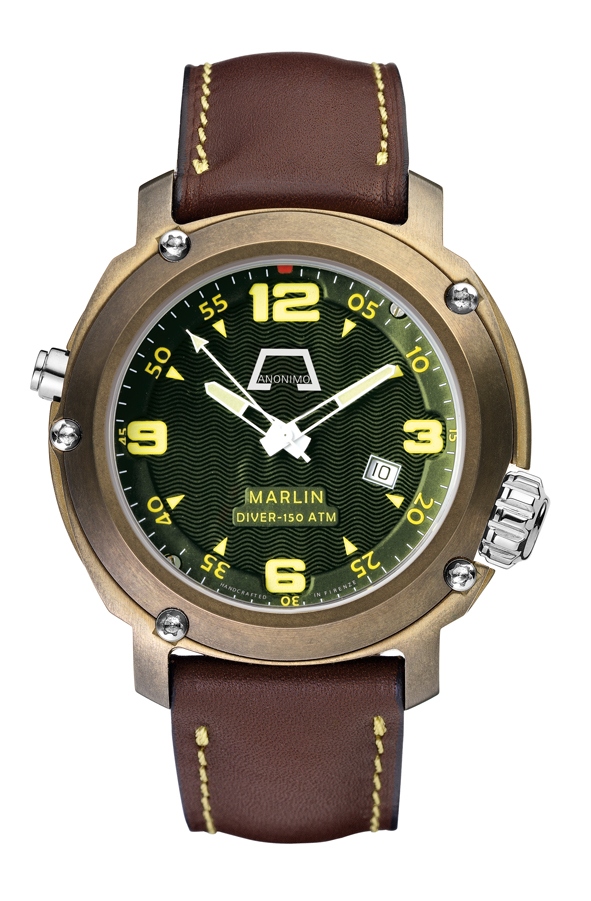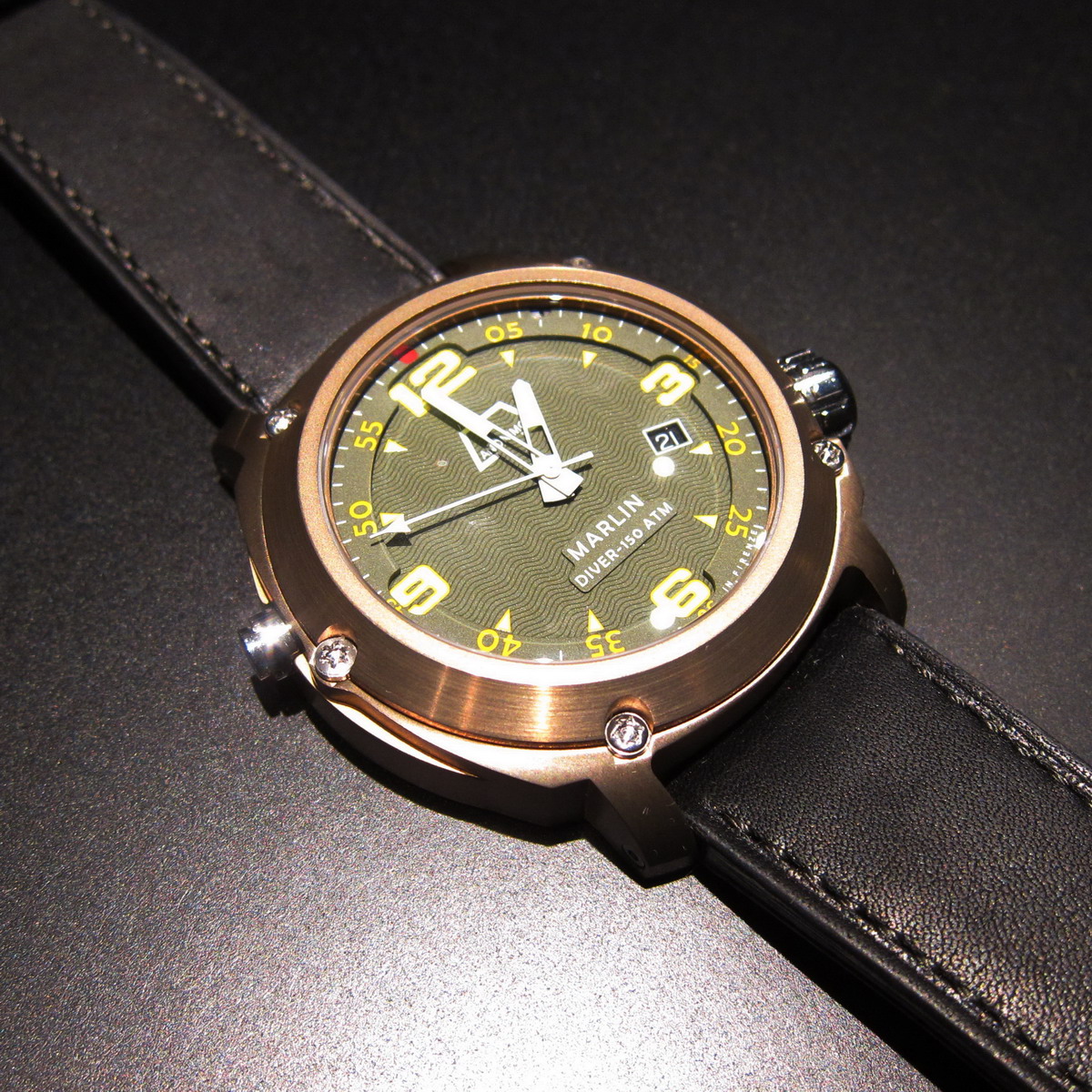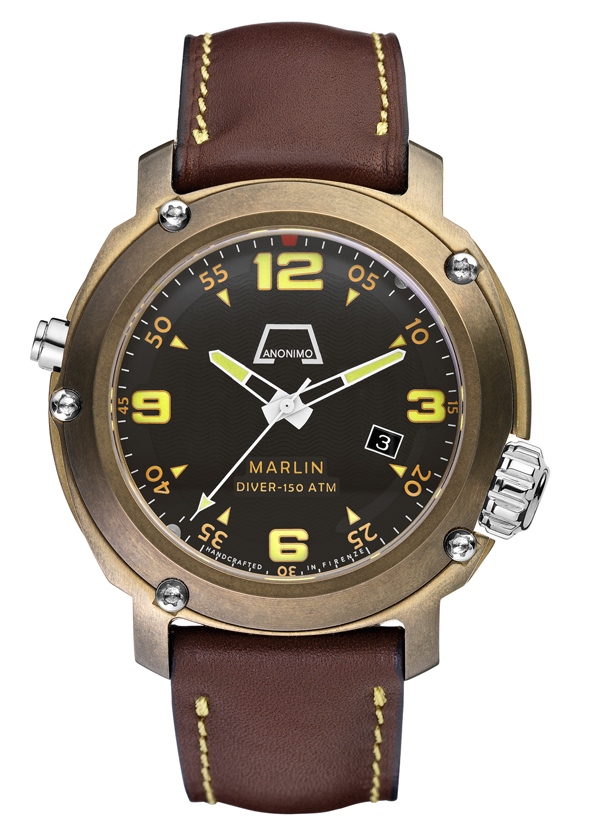 The new 46-mm Millemetri Polluce is as always equipped with completely blank dial without specific inscriptions "10 ANNI" and "CNS, MC". This time the color of dial is like a color of money, billiard table cloth or military grade, depending on the context you will create for this bronze watch. And thanks to impressive water resistance of 1200 meters, this watch can serve as a diving chronometer, perfectly matching the dark suit and green aquatic algae.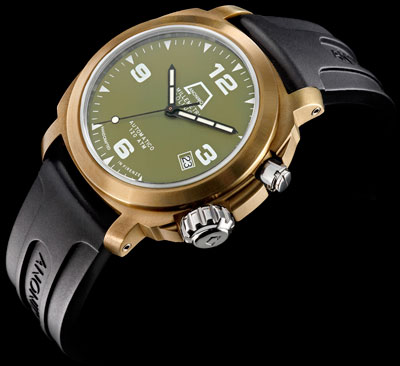 Alain Silberstein

The famous watchmaker has presented a bronze watch for bikers this year. Although Silberstein as always hasn't stopped on it in creativity: the leather strap is adorned with ornate moto hieroglyphs of Japan bikers, whom this steampunk chronometer has been initially designed for.

These unusual bronze watches are provided with self-winding movement ETA Valjoux 7780. The water resistance is 100 meters. The limited edition is 500 pieces.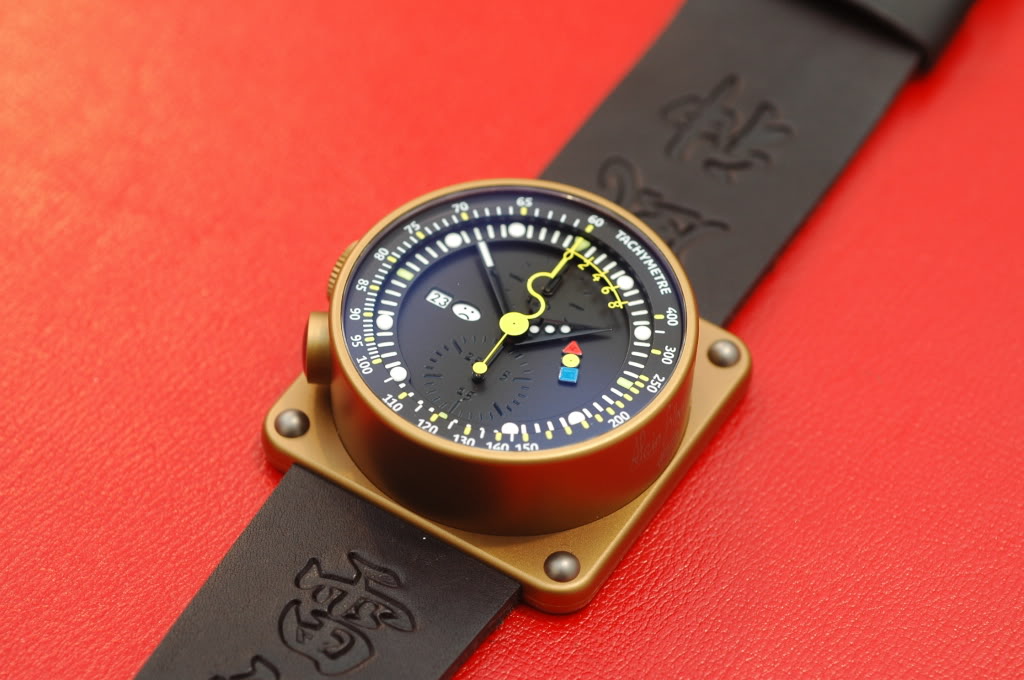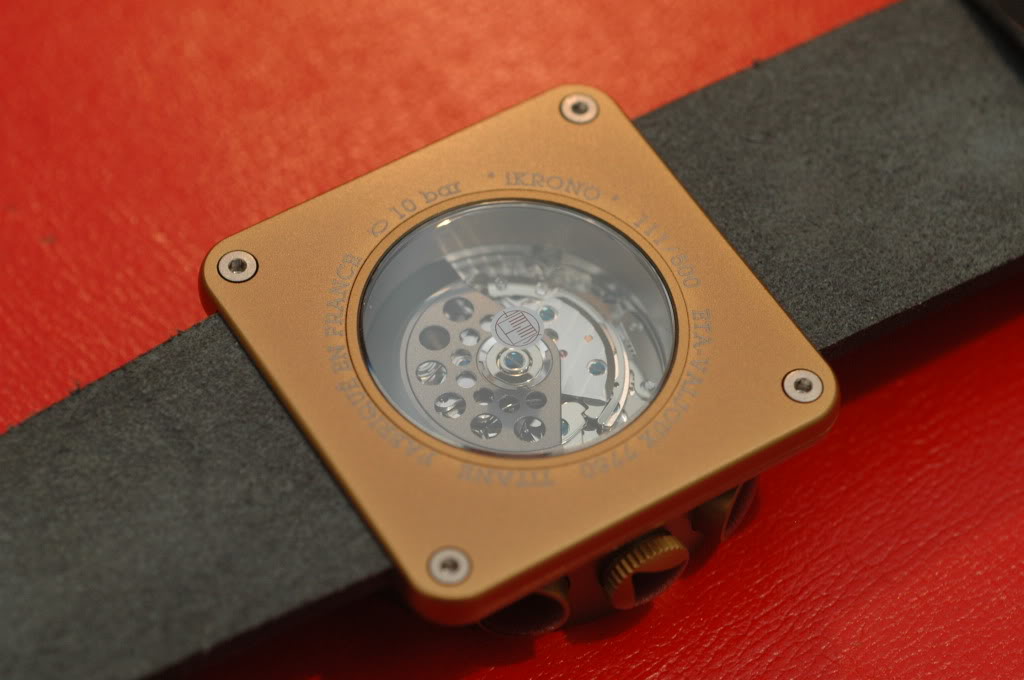 Gerald Genta

The bronze watches "Gefica Safari" were released in 2007, however, they are still popular today. In fact, Gerald Genta designed those watches in 1988, but till 2007 they were available only for his friends, accompanying him in safari trip to East Africa. Here the name "Gefica" comes – from the first letters of their surnames: Geoffrey, Fissore, Canali.

We have listed bronze watches for businessmen, divers and even bikers, but these watches are designed for real hunters. Specially for comfortable hunting, the case is made of bronze, which won't reflect the sunrays not to frighten away the game. Gerald Genta Gefica Safari is provided with folding double back case like a true hunting watch.

Supplemented with jumping hour and retrograde indicators of minutes and date, the movement GP3100 is created by Genta's friend and CEO of Girard-Perregaux – Luigi Macaluso. The power reserve makes up 45 hours. The water resistance – 100 meters.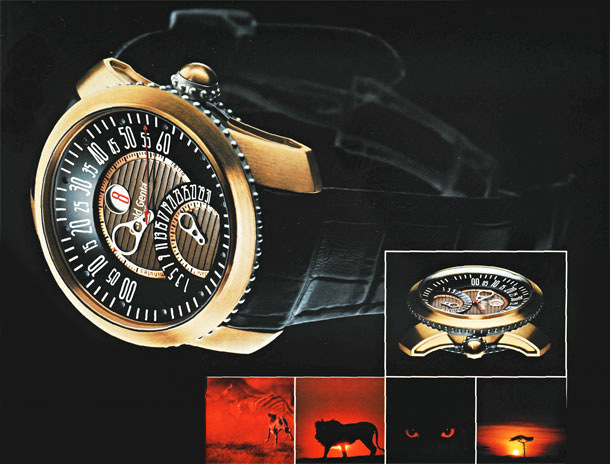 Hublot

The bronze quite harmoniously fitted in watches of great experimentalist with various materials – Hublot. The bronze watches "Bullet Bang Ref. 303.BI.1190.RX" are not for bikers, hunters or even divers (the water resistance is only 30 meters). They are just good bronze watches, which may be universal: both for businessmen and racing cyclists.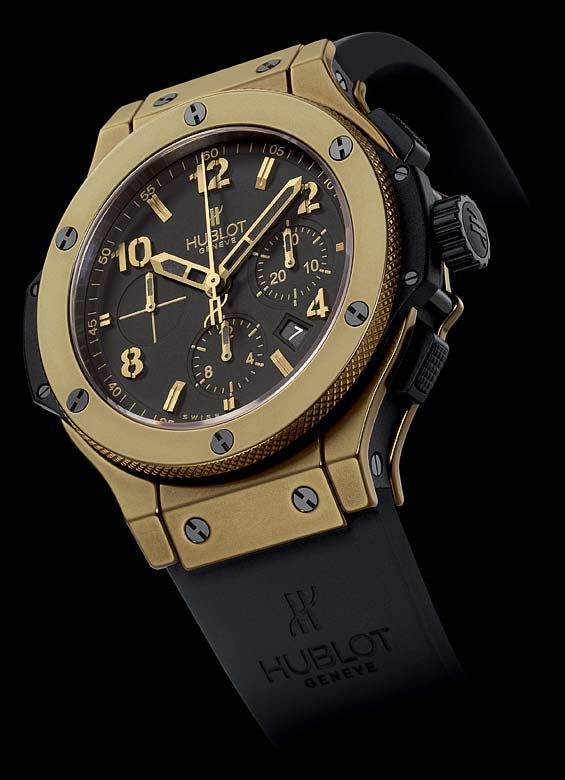 The 44-mm diameter case is equipped with comfortable anatomic curve of staples. There is an automatic movement HUB inside with 42-hour power reserve and functions of hours, minutes, seconds, chronograph and date. The limited series is 500 timepieces.

The bronze watches don't lose their practical properties either. A usual bronze is considered to be a quite soft metal, except the alloy UNI 5275, which is used for making watch cases. Such bronze doesn't yield to the steel in its physical properties, but even excels in some ways:


| | |
| --- | --- |
| Steel 316L | Bronze UNI 5275 |
| Plasticity 290 MPa | Plasticity 300 MPa |
| Maximum strength 558 MPa | Maximum strength 680 MPa |
| Hardness 217 HB (by Brinell) | Hardness 200 HB (by Brinell) |

So, today, when the watch creators seek for new trends and materials, the bronze watches are the most fashionable new trend. The various original metal finishes were always popular: different style polishing, sandblasting and so on. But only the bronze watches have the most unique and natural coating – patina, thanks to which they are like alive. Just imagine what a pleasure to see how your watch acquires a vintage appearance. This process is so interesting that some owners clear away the patina for the oxidation begins again – this is one more way to watch the time effect.

Model "Horas del mundo" from Cuervo у Sobrinos – a unique design with vintage exotics!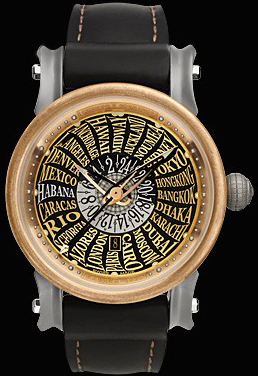 The wrist watches "Cuervo у Sobrinos" are high quality watches with "exact Swiss heart beating". Perhaps, the watches of Cuervo у Sobrinos are ones of few watches with soul – Caribbean soul, warmed by generous Sun and saturated by sea breeze. The watch company "Cuervo у Sobrinos" is rooted in the history of beautiful and careless island of Cuba. Havana, known as a "pearl of Caribbean sea", was a privileged center of luxury and excellence in the end of 19th century. The intellectuals, adventurers and businessmen were visiting the city to attend the parties and active social life in luxurious hotels, casinos, wonderful mansions and gardens. Glamorous life of city lasted 130 years. The brand "Cuervo у Sobrinos" was born in the country of luxury and glamour not by chance. Armando Rio Cuervo and his brother took the run of jewelry company, founded in far 1882 by their uncle, into their hands (here the company's name "Cuervo у Sobrinos" – "Cuervo and nephews" – comes). Soon the company became prosperous, won recognition not only in Cuban capital, but around the world. Only after 50 years the brand expanded its manufacture by opening boutiques all over the world. However, despite the won fame, the company was consigned to oblivion and only several years ago, thanks to efforts of passionate collectors, the brand was revived as a witness of luxury, elegance and old life style. This is the reason the company presented luxurious classic models with elements of vintage in its product range.
The model "Horas del mundo" (ref. 3052.5HDM) from collection "The "Pirate" Caribeño" serves as an outstanding example of aforementioned. At only first glance at this watch one can feel action and, of course, soul. This innovative model allows reading all time zones at 24-hour scale at the same time. A unique and perfectly made dial is divided into outer and inner dials. The outer dial points 24 largest cities in the world. The brand's motherland – La Habana – is especially marked and engraved with a bit darkening. A slanting type of 24 cities' names is a result of long-term manufacture process, requiring advanced technologies and skilful hands. The inner dial with 24-hour marking is presented in black and white colors, which allow defining the day/night time. The model "Horas del mundo" is a unique and very interesting, but the main feature we're interested in is its bronze case, which makes the watch exclusive and breathes a spirit of past epoch into this appanage – a spirit of vintage. The perfect round case of 45 mm diameter is made of bronze, and also completed with details from titanium and polished steel. The exclusive dial and back case are covered with anti-glare solid sapphire glass. The 42-hour power reserve is provided by automatic movement on 25 jewels. The black strap with bronze stitches is made of rubber and equipped with reliable titanium buckle. The water resistance of model makes up 50 meters.