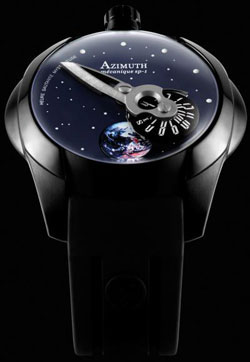 Under the pressure of modern «urban jungles», in the world of computers and information technologies, the time is the most appreciated thing. Over the time the wrist watch becomes an integral part of the hand and a reliable companion for its owner, a marker of style and life values. Only watches can help you to remember the most important thing – time. An amazing modern world of haute horlogerie surprises us by its various creations – a true source of inspiration for many generations of masters. Having only a couple of square centimeters at their disposal, the watch masters keep us surprised at their variations. During 200 years the watches have been working their way up from simple measuring units to complex mechanisms performing incredible functions. The newest scientific achievements are usually used while making the modern chronometers.
Wrist watches are an indispensable apanage of wealthy person
The wrist watch is an indispensable apanage of wealthy person, which identifies its carrier with certain social status, achieved life stage. Therefore, the brand wrist watches always were and will be status accessories. Sometimes these amazing mechanisms with accurate "heartbeat" are so exclusive that they become collectibles. Our website is designed for you to sort out in this complicated and amazing world of watches.
The complete wrist watches catalogue is performed at our site. In this catalogue you will know about Swiss watches that are considered to be the best ones, also German, Italian and other famous watch brands, some of which are as good as Swiss watches.
Our site is also remarkable by its section of watches news that is being updated with enviable regularity. You can know about all the latest watch news, famous owners of various wrist watches. The site is also supplemented by video from many watch fairs.
We also present watch magazine which is constantly edited according to the latest news and trends of the watch market we pay careful attention to. We can also publish your articles preliminary sent us by e-mail in this magazine. Visit Watch Magazine for details.
Our website also contains Advertising – the most effective way of watches buy and sell. Its simple interface provides you with search by any feature you want: either expensive or well-priced, women or men, automatic or mechanical wrist watches including material and case size.
We present pure original wrist watches. And in case of their damage you can visit "Watch Service" and chose the nearest workshop. The modern watch market is enormous, and our watch forums devoted to one watch brand as well as to all brands in general will help you to clear up the difference between Swiss watches and original watches of other countries, mechanical and automatic watches, and what tourbillon is after all.
You can find the complete list of shops, selling watches for men as well as watches for women and various watch accessories (watch strap and winders) at montre24. You can add wrist watches you like to "Favorites", then compare them, make a note, send link to your friend, in a word, you can do anything you want.
If you are a distributor of famous brand watch, you can personally update the information about your brand in catalogue. This service is absolutely free. Out site also contains watch encyclopedia that includes full information about watch terms and wrist watches history. If you dispose any watch photos, you can also upload them here. Also you can watch exclusive videos and interviews from world famous watch fairs presenting various well-known watch and jewelry brands. You will know first all the latest news of various watch companies. Each user can open his personal account and collect his favorite watch pictures he wants to buy or sell, keep a watch blog, upload photos. Also we will make watches and brands quality assessment, carry out comparative tests for famous watch brands and tell about interesting and new watch models.
Our watch site is created for those who truly love and value these amazing mechanisms. Shall we synchronize our watches, ladies and gentlemen?