This article is devoted to the watches Anonimo Polluce,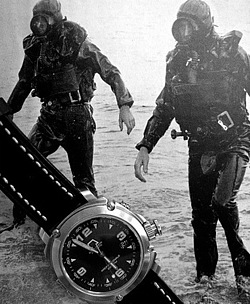 released in commemoration of sunken in 1841 Polluce streamer recover in the Tyrrhenian Sea, not far from Tuscany coast. Polluce streamer, after which the watches are named, carried gold at total amount of hundreds of million dollars. Now let's talk about how these watches are linked with the deep-sea expedition for recover of streamer with treasures.

The story starts in 1998 with the diver watches Anonimo Millemetri (their name doesn't concern millimeters and is translated from Italian as "thousands of meters"). Millemetri watches had commercial success and were highly appreciated by professional divers that provided Anonimo the opportunity to develop close relations with Cooperativa Nazionale Sommozzatori (hereinafter CNS) – an international company of deep-see explorations. Collaboration with CNS provided Anonimo the opportunity to test its diver watches in real conditions, for which they were developed. Totally Anonimo could carry out deep-sea tests of its watches, similar to tests of Sea Dweller Rolex and Omega PloProf in 1960-1970 in collaboration with COMEX. However, CNS didn't only test the Anonimo watches, but started using them during the diving as a part of necessary outfit. Collaboration included collecting of test data for creation of more excellent and available for real conditions diving watches. The testing was performed at 2100 meters depth.

The Polluce streaming was found at 103 meters depth in 1995 and since that time it had been being plundered little by little. The pillage was partially returned to Italy only in 2002. The crafty British people, having dived not far from Polluce, were caught at the auction when they tried to sell gold and treasures carried on this streamer. The British team returned the pillage in a juridical proceeding and then disappeared forever – there are rumors that they managed to keep some part of treasures.

In 2005 the Italians launched a major campaign of Polluce heritage recovery that involved several commercial and state organizations. The treasure and the streamer remains were reached from the bottom of the ocean, and the members of campaign used the Anonimo Millemetri watches, known by CNS tests.

There are latrine rumors about different sunken ships with treasures among professional divers, but Polluce was real, not a legend. To keep the memory of the streamer, having made all divers dreams come true, Anonimo released the wrist watches Polluce Steel & Gold in May, 2006. Their gold parts (bezel and crown ring) are a tribute of gold in the sunken streamer. The newly-designed watch was fully based on the Millemetri model, and at first glance the watches differed only by names: Polluce – after the streamer, recovery of which became a national event.

The Anonimo Polluce Steel & Gold watches were released in 2006 in a number of 100 pieces. Also Anonimo released 50 watches in bronze case with brilliant orange dial and 300 watches with Ox-Pro blackening treatment (PVD improved version). The logos of diver organizations, which used the Anonimo wrist watches while Polluce heritage recovery, CNS and MS are applied on the dials all of all models.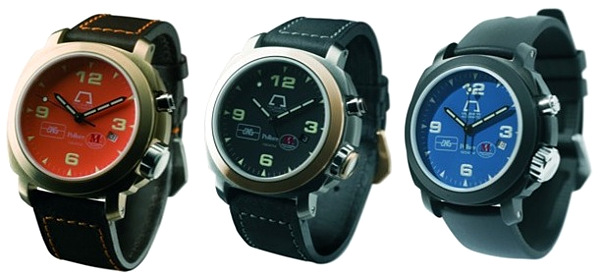 Besides the oversized case diameter (46 mm instead of 42), the Polluce watches differ from the Millemetri in collection concern. For example, their case finishing is made fully by hand, and it makes each Polluce watch unique. Although they imitate Millemetri, the Polluce watches became so popular that a year later Anonimo presented the new model: Polluce Steel Bracelet. The watches are fully (from case to bracelet) crafted in sea stainless steel and released in a number of 150 pieces with blue dial and 150 pieces with black one.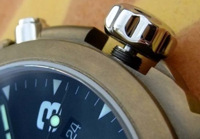 It is amazing but you don't need to have a large wrist to wear the Anonimo Polluce watch with 46 mm diameter. This watch is tend to look smaller than it is in real due to not very thick case, plain caseback and bracelet in 22 mm width. That's why you don't need to have the wrist of Sylvester Stallone to wear them. One more advantage of the Anonimo Polluce ergonomics is the big crown, simple in use even for people with big fingers.

In 2008 for its 10th birthday Anonino chose famous holiday watches Polluce. Besides, the company reminded of its services in 2005 for the sunken streamer recovery. And the main service was the fact that two large world known companies specializing in deep-sea researches chose the Anonimo watches for diving. However, the watch dials, released on the 10th anniversary of the company, were without the CNS and MC logos - they were replaced by the 10 ANNI. The CNS and MC remained on the back case. The watches were produced with orange and black dials in a number of 99 pieces.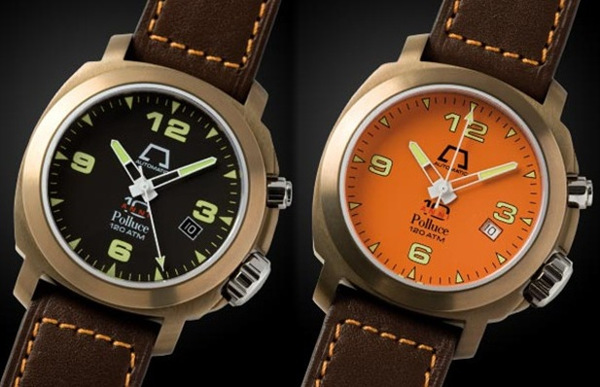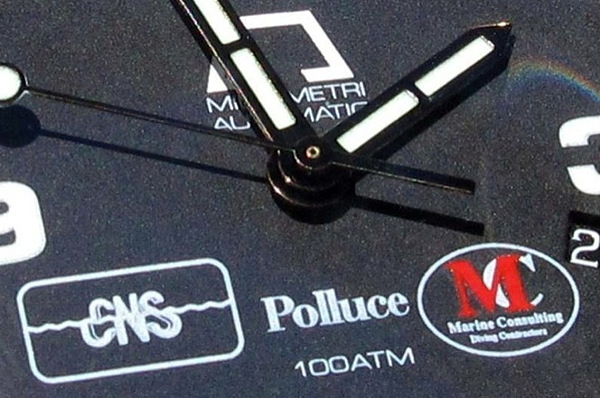 An interesting fact! Some Anonimo Polluce watches have the piece number on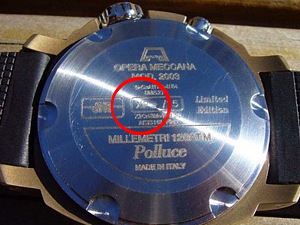 the back case that starts with letters P or XP. They are rare collectible watches. The P or XP marking before the piece number means that these watches belong to the about 10% of pieces out of all line, released as a pilot sample – prototype. The models with P or XP marking usually exist only in a number of 16-10 pieces and are valued at the second market higher than such watches without marking.

Anonimo Polluce specification:
• Extra thick dial, hour indexes and hands treated with luminous coating Luminova. Date window at h. 4
• Large crown in 10mm diameter
• Water resistance: 1200 m
• Case diameter: 46 mm
• Thickness: 14,8 mm
• Watch weight: 135-150 g
• Watch strap: 22 mm

Automatic caliber ANONIMO 01.0 on base Sellita SW200 or ETA 2824-2:
• 21 jewels (ETA) or 26 (SW200)
• Quick date setting
• Adjusted 4 positions
• 28.800 A/h
• Power reserve: 40 hours