| | |
| --- | --- |
| News of montre24: exclusive video clip of Anonimo Firenze book presentation with Dino Zei at BaselWorld 2012 | |
Information watch portal montre24.com presents to all lovers of fine watch making and lovers of original watches an exclusive video clip of the famous Italian watch company Anonimo Firenze, which kindly opened the door of its pavilion at BaselWorld 2012. However this video clip is not quite about the watches, but it is directly related to the complex and amazing watch making world – this is a Anonimo Firenze book presentation with legendary Dino Zei. Dino Zei was honor guest of the company Anonimo Firenze at BaselWorld 2012. Dino Zei is a truly legendary figure – he is a colonel of Italian Navy. After completing his work in the military - naval forces of Italy, Dino Zei had become the CEO of the legendary Italian company Officine Panerai, where he held this post for 25 years. Dino Zei book, presented at BaselWorld 2012, is dedicated to the company Anonimo Firenze, specifically to 15 - year anniversary of the existence of Anonimo in the watch industry. Anonimo Firenze is a young Florentine watch company, which operates skillfully with advanced technologies, innovative designs and new concepts. Italian watches Anonimo Firenze are distinguished by their high potential exploitation, ergonomics, multifunctionality and high water resistance. At the book presentation was also attended the son of the famous Enrique Ambuchi – Antonio Ambuchi, whose family began producing watch cases in 1949 in Florence. Today, Antonio Ambuchi is head of the design department at the Italian watch company Anonimo Firenze. More detailed, intuitive and very interesting presentation of the book Dino Zei about Anonimo Firenze can be viewed by clicking on the following link http://montre24.com/video/96/.
The annual exhibition BaselWorld now is one of the most important events of the surprising watch and jewelry world. BaselWorld exhibition has become a kind of "sacred" place - "Mecca" of watch industry, in which presents the latest achievements of the watch industry and the creation of luxury jewelry companies. BaselWorld is a unique opportunity for watch, jewelry, as well as for companies, producing related products, as well as for companies engaged in production and processing of precious stones to familiarize the general public, professionals, distributors, partners and potential customers with their latest achievements in the field of watch mechanics and various design ideas and new models that are the result of painstaking work of skilled craftsmen. BaselWorld is not just an exhibition, and exhibition - fair, because guests can purchase their favorite watch or jewelry on the spot.
Official site of Anonimo Firenze watches.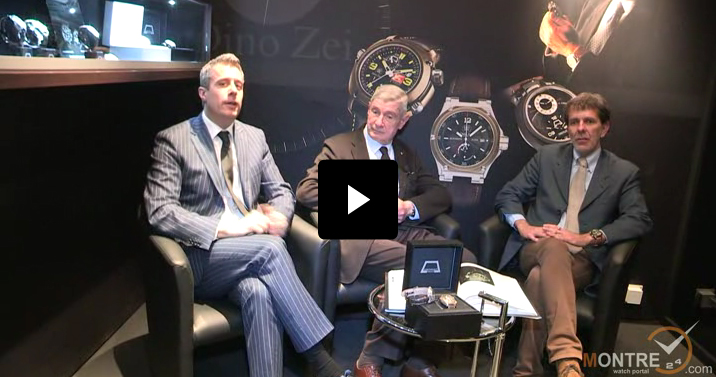 29.03.2012
New Diver's Watch by Anonimo at BaselWorld 2012
Continuing to develop a line of diving watches, the company Anonimo has released a new model Professionale Crono Oro for professional divers and snorkelers. The novelty was presented at the annual exhibition BaselWorld 2012.
19.03.12 Comments(0)

Anonimo Firenze Dual Time Drass Watch at BaselWorld 2012
The watchmaker Anonimo, known in the watch market as a producer of practical and functional units of time, this year at the annual exhibition BaselWorld 2012presented a watch with a rather complex structure - Firenze Dual Time Drass (mod. 2029).
18.03.12 Comments(0)

Presentation of the Women's Watches by Anonimo at BaselWorld 2012
The young Florentine company Anonimo, known for its practical and functional watches with brutal design, celebrates in 2012 its 15th anniversary. In honor of the anniversary was launched the first women's watch - Diamond Diver, designed for water sports enthusiasts.
14.03.12 Comments(0)

San Marco Bronze Watch by Anonimo at BaselWorld 2012
In 2012, at the annual exhibition BaselWorld the Florentine company Anonimo has introduced a new version of the San Marco watch, named in honor of the battalion that protects Venice during the Great War.
13.03.12 Comments(0)

News of Montre24.com: exclusive video of Anonimo Firenze
Informational watch portal Montre24.com provides a unique opportunity to fans of the complex and amazing watchmaking who monitor its latest trends, innovations and ideological incarnations, make acquaintance with the magnificent novelties of Anonimo Firenze, presented at GTE 2012.
07.03.12 Comments(0)

New dial colors of the watch Militare Vintage by Anonimo
The famous Italian watch company Anonimo in September 2011 has expanded the collection Militare Vintage by models with two dials of black and parchment shades. The line Militare Vintage - a tribute to the days when the first military watch became.
19.09.11 Comments(0)



In 1997 in Florence the entrepreneur Federico Massacesi founded Anonimo. Masacesi's goal was to create unique Italian watches and to stay true to watch making traditions at the same time. And due to Italian company producing high quality mechanical timepieces, he became famous. As a result of torments and hard work, Anonimo realizes its aim in 2008. Speaking about its watch quality, Florentine company underlined that it produced 10 watches for 10 years. It should be noted that the brand's name has not been chosen by chance. This word, meaning anonymous, underlies a philosophy o...
Detailed information Anonimo Firenze