Black watch - restrained beauty
Recently practicability, reliability and durability have become the most necessary things for people. The hardest alloys and their treatment are being created. Various antiwear coatings are paid much attention. Most of watch manufacturers use such technology as PVD black coating (short for physical vapour deposition). I'll explain those, who are not well-informed. This coating consists of several layers, and the watch surface is vacuum treated with one of them, titanium nitride. A series of physical and chemical activation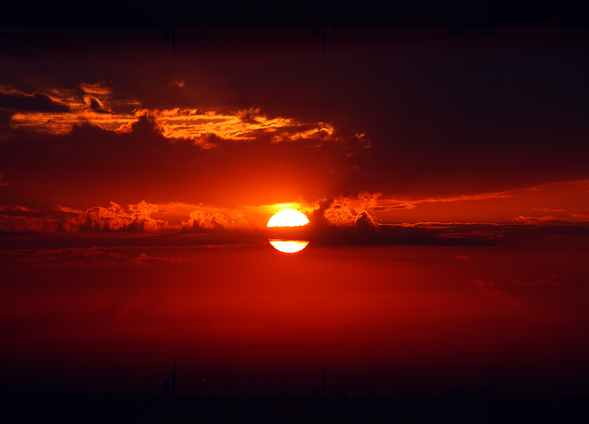 methods are performed while treating, for example, ions bombardment, evaporation-condensation and some other ones, which only qualified physicians know. The curious ordinary mortals may note that apart from black color, this coating protects the watches very well. Undoubtedly, the PVD watches are quite popular with military men; therefore, the manufacturers are focused on the PVD wrist watches in military style. In fact, the black PVD watches got such a breathtaking popularity due to fashionable military style watches, produced by Panerai, U-Boat, Anonimo. At the largest world auctions - Antiquorum, Christies, Sotheby's - the PVD watches are constantly popular, and their prices rise in the course of auction. At one of the latest auctions the Rolex wrist watch with PVD treatment was sold for a fabulous price (up to $35,000). However, it should be noted that this treatment is made not by Rolex itself, but by third-party companies, specialized in these technologies.
The black color is a legend, different for each of us. There are many points of view as for the black color. In the Middle Ages the black color was considered to be a color of maximalism, wisdom and sadness. It was not without reason that the monks in the Middle Ages were dressed in black – that color symbolized power and might. Many nations suppose that the black is a color of evil, but there are also such countries where the black is closely connected with sex appeal: people think that love passion is buried in mystery, so the black maybe a symbol of something forbidden, mysterious, magic and secret. For example, in China the black was the king of all colors, as it was considered to be a Color of Sky, a color of night star sky, full of mysteries, hidden fears and hopes at the same time. And what about the modern world? Just look around. You will notice the black in everything surrounds you. It became so usual in our everyday life that sometimes we don't notice it. And what does the black mean for you? If you are not a convinced pessimist and you don't have associations with mourning (In China, for example, the mourning color is white) or devil, even worse, then you will imagine the wise priests in black cassocks or a presidential cortege of black imposing cars with businessmen, politicians and officials in black suits as well. This color is no doubt preferred by smart, practical people. The black is a luxurious color, which fascinates with its mysteriousness, speaks about restraint and concreteness, it literally devours. An association with black hole appears at once. This unique phenomenon has an incredibly mysterious energy. You can't but agree that it really frightens, but also attracts like a magnet, which you can't come off. The black color, like the black hole, acquires a stationary gravitational field, which absorbs the "trustful objects". Thanks to its attractiveness, the black color can't be named cold; it is so usual and "native" for us, that it is sooner a warm color by all means.
The fashion men of all times have noticed since long time that the black is the most profitable color. It smoothes away and hides all defects of shape and emphasize the beautiful parts. If you don't know what to wear on an event, you will decide in favor of the black dress for sure.
The black is only seems to be unremarkable. In fact, if you are dressed in black, you won't remain unnoticed. The black is good in various combinations with any other color. Just think, the black is everywhere: chessboard and chessmen, colors of animals, flags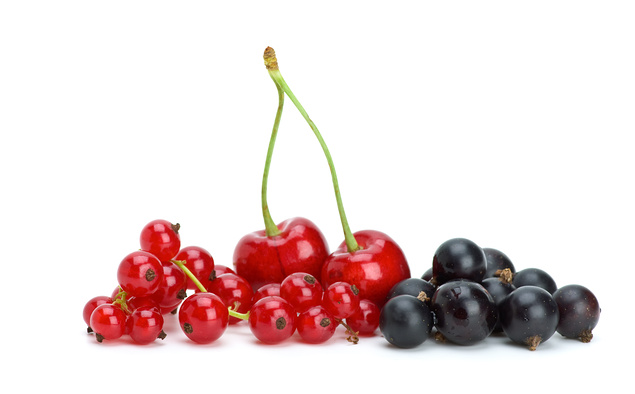 of a number of countries, various emblems; this list can be continued endlessly. It is interesting to notice that the black is used in combination with white most often, contrasting it. Well, we got abstracted from the topic! As for the black watches or watches with black dial, they were noticed on such famous people, as the president of the USA, Barack Obama, or the prime minister of Russia, Vladimir Putin. Also, speaking about watches, we can't but say that the color combinations clearly hint at tastes, preferences of a person, his character and world view. For example, in ancient time the red was considered to be the royal color (remember the king gowns, red carpets). So, such a "hot mix" of black and red may speak about sexual and physical power of the watch owner, and the black watch with gold mountings speaks about some intellectual superiority. One more significant fact: the black watches are winners as they match any dress. Many famous people, choosing something, decide in favor of the black. The famous king of cars Henry Ford said: "Any customer can have a car painted any color that he wants so long as it is black".
The black wrist watches can symbolize an earthy splendor and vainglory denial, the renunciation of world vanities and riches. The black color of watches also can say about reasonableness, self-respect. This color is hard to spoil – even dirty black color remains black. In due course, the fine scratches may appear on the black wrist watches with PVD coating, although it looks even advantageous on the contrary. The watches acquire a noble attrition, and they get worn, but become very "native" and favorite things. The black PVD watches are a perfect variant for active, self-confident people, who are not afraid of being in sight all the time. One of wrist watch collectors said: "According to statistics, most of the people are afraid of black. But we don't care. We are afraid of most of the people".
Now let's turn to most interesting part. We'll tell you about some men wrist watches with PVD coating in details.

Panerai Luminor 1950 Regatta Rattrapante


The Swiss watches "Panerai Luminor 1950 Regatta Rattrapante" were released in 2009 by limited series of 500 timepieces. They were designed specially for yachting sport. The split-chronograph (rattrapante) allows measuring two events of different duration. The watches are irreplaceable for water competitions or in ordinary races. The black dial in PVD treated stainless steel case, blue second hand and luminescent hour marks will look excellent on your wrist. Two additional dials are situated opposite one another; the tachometer scale is provided. These men wrist watches are based on the movement Panerai, caliber OP XVIII. They sustain the depth of up to 100 meters. The glass is made of sapphire. The black leather strap perfectly matches the chronometer. The watch size is 44 mm. Panerai Luminor 1950 Regatta Rattrapante is created to win. The approximate price is $20000.

Anonimo Notturnale Drass/Gold

The Italian word "Anonimo" means "anonymous" and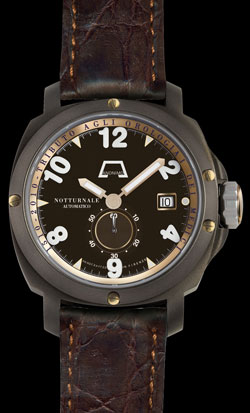 was born from the fundamental philosophy of Massacesi: "Craftsmanship, not a famous designer name, is the basis for an excellent watch". Firenze Orologi, founded in the Italian city, Florence, by a talented designer and entrepreneur Federico Massacesi, has been producing watches under "Anonimo" name since 1997. The Anonimo wrist watches managed to acquire high status of "healthy and strong" brand in a short time, become popular all over the world. Despite its short history, the company managed to acquire enough experience in the manufacture of high quality hand-made watches. The Italian watches, made by hand, had been manufactured by rule of thumb in workshops, existing in Florence since 1939. Using high quality mechanical details and perfect movements, Anonimo keeps the Florentine tradition of watch manufacture. The modern novelties of Anonimo are variations of existing models, made with alternative dials. Florentine is the native city of Anonimo. It is a city with long history of technical achievements and man creations. The Florentine family of Della Volpaia takes its worthy place in the history and traditions of city. With innovative mechanical watches "Notturnale" the Florentine family of Della Volpaia made a revolutionary breakthrough in the history of watchmaking and invaluable contribution to the future development of time-keeping. Due to these watches, a man could first measure the fleeting time even at night on the base of everyday stellar motion. The new model of wrist watches "Notturnale Drass/Gold" (ref. 2028) from Anonimo is a tribute to these accurate mechanical watches, which are kept today in the Florentine museum "Museo di Storia della Sci.". At the same time this exclusive model of wrist watches "Notturnale Drass/Gold" is devoted to the planetary watches "Orologio dei Pianeti" that were created by Lorenzo della Volpeia 500 years ago. These planetary watches are rare sophisticated and complicated instruments, defining the exact position of celestial bodies in relation to the Earth. The creation of such complicated instrument required deep knowledge in astronomy and mathematics, and also outstanding craftsmanship. With "Notturnale Drass/Gold" wrist watches release in 2010 the famous watch brand "Anonimo" marked 500th anniversary of the creation of unique planetary watches "Orologio dei Pianeti". This model perfectly supplements the "Cronoscopio" series – a classic collection of Anonimo hand-made watches. They combine the sophisticated design of Cronoscopio and the new variant of case with double polishing. The wrist watches "Notturnale Drass/Gold" (ref. 2028) are designed in the Anonimo workshop in Florence. Thanks to innovative finish of Drass (double polishing of Anonimo steel case), the watches obtain the black matt coating. According to Anonimo technology, the watch case is treated twice that makes it black, like a titanium coating. Such chemical process is based on the previous Ox-Pro, specially designed with participation of Navy to prevent corrosion and oxidation. The original watches "Notturnale Drass/Gold" (ref. 2028) are also provided with anti-shock function, extremely necessary for "military" watches. The Ox-Pro technology consists of 14 consecutive finish processes for steel case surface with the use of carefully selected acids. The Drass technology made a step forward: the watch case is sand-blasted for upper and less stable layers removal.
The "Notturnale Drass/Gold" dial, black as night, with luminescent Arabic numerals 2, 4, 6, 8, 10 and 12 is protected with solid sapphire glass. Gold inner framing of dial with the words of model's dedication, date aperture at 3 hours, hour hands, indexes, hands and framing of small second dial at 6 hours, luminescent treatment. The luminous hands of Notturnale are an absolute advantage, as they allow time reading even at night. The gold framing of case and crown look very sophisticated. The wrist watches "Notturnale Drass/Gold" (ref. 2028) are presented in a limited number of 200 pieces.

Anonimo Firenze Dual Time Drass Gold (ref. 2009)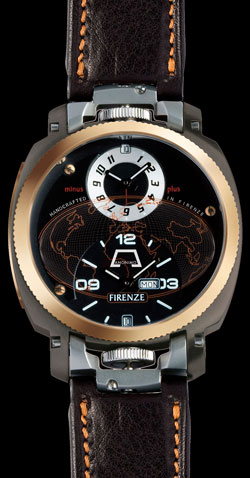 The watch company "Anonimo" won an unshakeable reputation of innovative company, which presents the original watches, combining functionality and aesthetics. One of the latest novelties of Anonimo is the wrist watch "Firenze Dual Time Drass Gold" (ref. 2009) with a rather complicated structure. This model is specific for its two independent movements with caliber ANONIMO 02.1 based on ETA 2678 73/4˝ on 25 jewelries. The balance frequency makes up 28.800 a/h (4 Hz). The hairspring adjustment system is Etachron. The specific feature of this system is exact movement adjustment availability. The adjuster consists of specifically situated thermometer pins (the spacing for balance hairspring is adjusted by simple pins rotation), eccentric screw and thermometer with V-shaped tail. Rotating the screw, you move the thermometer. The eccentric screw is sometimes called a micrometric screw. There are many such systems, including swan neck, various worn, rack, cochlear and wheel systems. The power reserve of this watch makes up 38 hours. These two independent movements show exact time in two time zones. The 43.40 mm diameter case is crafted in stainless surgical steel AISI316 and Drass sand-blasted. The screwed bezel is made of gold. The world map with Italy in the center is painted at the center of main dial. The hour hands and indexes of two small dials are treated with luminescent substance "Superluminova". The model is provided with two crowns for each movement with patented protection system: they are specifically integrated in the strap at 12 and 6 hours. The dial and the transparent back case are covered with solid sapphire glass. The date aperture is at the lower dial at 3 hours. The watch is equipped with a leather strap Kodiak, patented technology of the company. This revolutionary strap isn't waterproof, but it doesn't harm the natural leather at all when it gets soaked and dried. The strap is equipped with reliable steel buckle. The water resistance of "Firenze Dual Time Drass Gold" (ref. 2009) is 12 ATM. The model is presented by a limited edition of 27 pieces.

Ulysse Nardin Monaco YS Maxi Marine Diver Limited Edition Watch

The Swiss watches "Ulysse Nardin Monaco YS Maxi Marine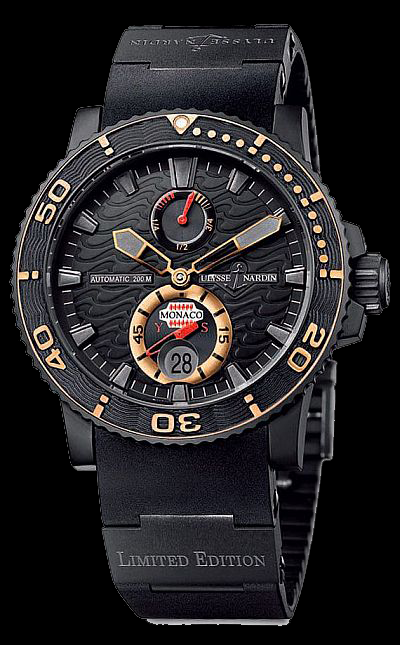 Diver Limited Edition Watch" just say "I love you, Monaco". The CEO of Ulysse Nardin, Rolf W. Shnyder, and the designer Ludwig Oechslin presented a special model of men wrist watches at the Cote D'Azur during the yachting in Monaco. Such chronometers are produced for royal figures, such as Prince Albert of Monaco. The owners of watch company gave a tribute to the Principality of Monaco, having issued these exclusive limited watches in a number of 100 pieces. The watches are made in dark tones with pink gold and diamonds (18 carats) in a stainless steel rim. The hands are grey, treated with special luminescent solution, which allows time reading even in the dark, and there are red hands at additional dials. The diameter of wrist watch is 42,7 mm, its water resistance is 200 m. This is an automatic chronometer with power reserve and UN caliber 26. Also the brand inscription "Monaco" is applied on the dial. The strap is made of rubber with ceramic buckles. The watch costs about $17,500.

Richard Mille RM 010 Italia (Black / Red)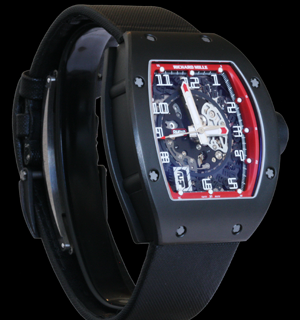 The Swiss watch brand "Richard Mille" is founded not long ago, in 2002. The company has already won the popularity with various categories of watch connoisseurs. The watchmaker Richard Mille decided to create something new, never have been made before. The design of watches is amazing. You can see the whole movement in the Richard Mille watches – it really dazzles. The men wrist chronographs "Richard Mille RM 010 Italia (Black / Red)" are exclusive and released in a limited number of only 10 pieces. The hour hands and numbers of white color, treated with luminescence, are seen in the dark. The case is black titanium. The diameter: 48 mm x 39,30 mm (thickest point) x 13,84 mm (thinnest point). The power reserve – 55 hours. The water resistance reaches 50 meters. Richard Mille RM 010 Italia (Black / Red) will be a worthy supplement to your perfect style. The approximate price is $45,500.

Corum Admirals Cup Black Hull 48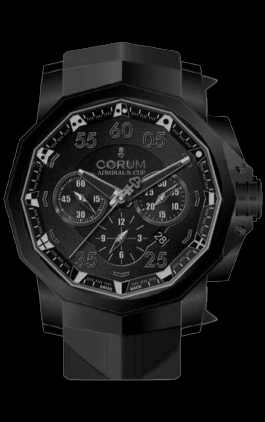 The Swiss watch company "Corum" was founded in 1955 and won the men watch connoisseurs at once with its originality and beautiful design. The company founders Simone Ries and Rene Bannwart joined with the workhouse of Gaston Ries and founded the watch company "Corum". They got down to watch creation with new ideas and technologies. Corum is more famous with its series of unique watches under the name "Admiral's Cup". The wrist watch "Corum Admirals Cup Black Hull 48" is designed with rather tough and muscular lines.
The 12-sides case is crafted in titanium for lightness and covered with PVD. The diameter of chronograph is 48 mm that makes it impressive. The black dial is provided with brand logo "Admiral's Cup". The luminescent hands are seen in the dark. The black rubber strap with titanium buckle is provided with engraved brand's name "Corum". It shows that the Corum owner care about technical characteristics as well as about excellent design. The buckle is equipped with interlock system; the anti-shock sapphire glass makes the watches more reliable and durable. Corum Admirals Cup Black Hull 48 costs about $8,275.

Audemars Piguet Royal Oak Offshore "LAVA"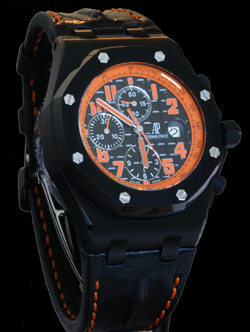 The Swiss watches "AP Royal Oak Offshore "LAVA" are released in a limited number of 99 pieces. It's not so easy to buy these amazing watches. The black dial with orange tachometer scale and the orange luminescent marks of seconds, minutes and hours perfectly match people with a good taste. The chronometer is provided with the date indicator. The case of wrist men watches is made of black stainless steel with white gold. The watches are water-resistant at depth of up to 100 m. The solid anti-shock glass is made of sapphire. The watches are provided with DLC system. The diameter is 42 mm and the thickness is 14,05 mm. The strap is made of crocodile leather and provided with folding buckle. The watches are sold in a special gift box; the guidance and the certificate are applied to the chronograph. The approximate price is $37,930.