Watches and football – squared popularity
Sport and time always kept up to date. Born several centuries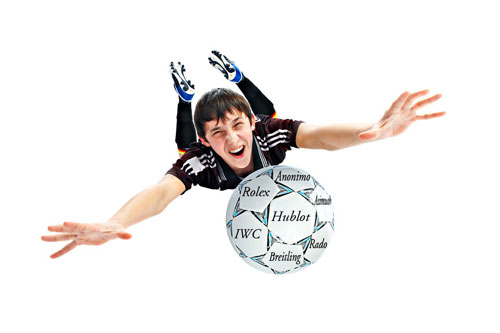 before Christ, they undividedly accompany the humanity right up to nowadays. These two spheres were developing and evolving, improving in both time meters and sport games. Football and watches: how were they?

The excavations, carried out in Egypt, clarified the appearance of interest in observation of heavenly body's movement. In course of excavations the first instruments of time determination – antique solar watches of over 3 thousand old – were discovered. They were rare watches of horizontal type, far from ideal accurate time meters. In 1600 B.C. the ancient people, inhabiting the territory of Central America, played the ball at 80-meter field, enclosed with tribunes. The ancient sport, named "Pok-a-tok" was very spectacle and drew many people. The forefathers of Olmeñs and Maya attached great importance to that game, as it was inseparable from political and religious lives of tribe.

In the VI century before Christ the first solar watches – present of astronomer Berossos from Babel – appeared in Greece. They divided the time into two periods: 12 hours of day and 12 hours of night. The hour duration was inconstant and changed in different seasons of year. Approximately at that time, according to ancient Chinese chronicles, the game "Tsu-chu" was mentioned. "The leather ball game" was devoted to anniversary of imperator. The game's goal was to kick a ball through a hole of 30-40 cm diameter. Late that game became a training for the soldiers of Tsin dynasty.

170 A.D. was notable for Rome with its solar watches, adapted for geographical position of the Empire. Marcius Philippus redesigned the watches from Sicily, according to necessary latitude of the Roman Empire, and achieved a relatively accurate result in time determination. In 300 in Japan a game, named "Kemari", was invented: 8 persons played the ball of soft leather, stuffed with sawdust. The main rule of the game was to hold the ball in the air, and the players, juggling with legs, handed the shell to each other – it required good dexterity and endurance.

Let's transport ourselves to a later time when a conscious attention to watch movements and sport games became playing a certain role in social life.

1228 is considered to be the beginning of mechanic watch era: more accurate, comfortable and moderate watches. That stage was marked by one event, which "brought the time" into ordinary people's lives – the tower clock, mounted in Westminster Abbey by London watchmakers-"ancestors". The life of town changed much with the appearance of tower clock – it became playing an important role in the adjustment of everyday life. Right up to the end of XV century the tower clock was the most complicated movement in the world. In the football world the end of XIII — beginning of XIV centuries is a significant period. And England again, London again! That time the prohibition on football under penalty of jail was decreed. It's interesting that it played a positive role in the development of football. During the ban time indeed it was given the name so usual for us.

In 1657 the watch revolution transported enormous many-tone instruments for time measuring into pockets. Christiaan Huygens, created and patented the first pendulum watch, incredibly accurate in those times, made it real. The movement, which usually situated in big towers or heavy floor structures, went in palm, thanks to pendulum movement. So, the wealthy people could afford to "carry the time with themselves". In time the pocket watches turned into pieces of art, fascinating with their beauty and gracefulness. In that time the originating football world moved from banned status to city streets and country fields, more organized and less cruel kind of sport. In 1660, after Carl II acceded to the English throne, the football became the game of high society too. The court played at large palace gardens by formed teams and organized competitions. That game gained an incredible popularity.

The XIX century is famous in the watch industry for the creation and popularization of wrist watches, more comfortable, than pocket ones. The first wrist watches were made for the wife of Napoleon Bonaparte by a French craftsman-jeweler Niton in 1809. They represented two golden bracelets: one - with calendar, another one - with watch. It was a real jewelry masterpiece! But only in 1850 the watch with bracelet became popular and was considered to be a women adornment for wealthy people. The popularization of wrist watches among all levels of people and following serial production started after the Swiss craftsmen performed the most part of order of The German Admiralty for comfortable and reliable watches for marine officers in 1880. The watches acquire a new appearance, another style and their own philosophy. The football world also gets its innovations. In 1846 England made a serious attempt to create the first common rules for that kind of sport. The first code, adopted at the meeting of representatives of different schools, was named "The Cambridge rules" and underlay the Football Association of England. Later, in 1862, the first football club was created in Sheffield. The players of "Sheffield" played with each other's teams, including 11 persons, while the number of players in other societies of football fans wasn't strictly regulated. Next year the activists from 11 clubs and schools founded the Football Association of England. By the end of XIX century the football has become a game with unified rules, distinguishing it from rugby and cricket.

In the XX century the watches are not hard-to-get instruments anymore and win masses; the collectors and connoisseurs of exclusive watches appear. The number of football fans increases in geometric series, the fan-clubs of certain teams and separate players are being formed.
Some watch models become museum exhibits, and the football players – legends.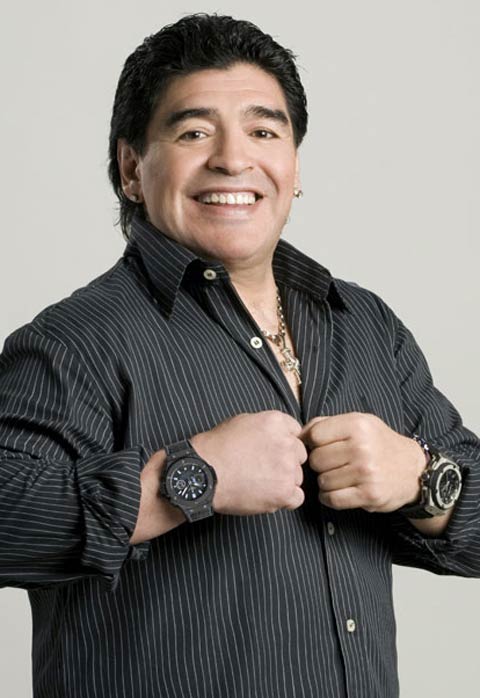 Such football celebrities, as David Beckham, Zinedine Zidane, Diego Armando Maradona, Pele, count millions of fans around the world, and the national clubs they play in gather thousands of supporters at stadiums in different corners of the planet. "Real Madrid", "Manchester United", "Bavaria", "Barcelona", "Milan" – the tickets for matches of these teams are bought up several months before the play. The watch industry has its legends and celebrities too. Such watch brands, as "Rolex", "Rado", "Breitling", "Anonimo", "Azimuth", "Audemars Piguet", dictate the modern watch fashion and become desired samples of the most expensive wrist watch collections.
The collaboration of watch industry and sport became an integral part of many wrist watch manufacturers' marketing, and the football is not an exception. Such marketing methods kill two birds with one stone, a so-called "mutual PR". The famous football players advertize famous watch brands and models, becoming the company's faces and increasing their own ratings. The watch manufacturers find their customers among the fans of these personalities, popularizing its brand.

Many watch companies issue limited series of wrist watches, devoted to football teams and games. Hublot, never indifferent to the world football events, can serve as such example. In 2008 the Swiss company "Hublot" is recognized as the official time-keeper of Euro-2008. All referees of the tournament received presents from Hublot and became lucky owners of the same-named watches.
The watch company "Ebel" concluded long-term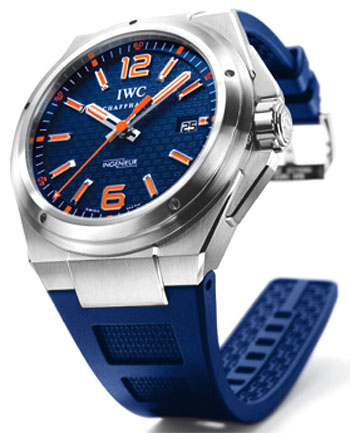 contracts with two largest European clubs at once: "Arsenal" and "Bavaria". It was a very good marketing way, as hardly someone can resist the watches of "London Arsenal" or "Munich Bavaria".
The football club "Milan" concluded a contract with the Italian company "Chronotech" on production of inexpensive watches with its own symbols. All fans of favorite football team can afford wrist watches of $5-15 cost.

The creation of "football watches" supposes certain difficulties. True watches for football players and fans must be provided with chronograph to count two 45-minute times and halftime. It's not very easy, as most of modern mechanical chronographs are provided with only 30-minute counter, sometimes in combination with 12-hour one. The manufacturers of wrist watches have to design new structure of chronometer module in compliance with all requirements of "football watches" fans. The Swiss company "IWC" succeeded: it issued a model of its "invulnerable" football chronograph "Automatic Mission Earth". The legend of France national team, Madrid "Real" and Italian "Juventus", Zinedine Zidane became the first owner of wrist watches, limited by 1000 pieces edition.

Many watch giants keep on collaborating with football clubs and players, deriving two-way benefit from such union. As a result, the series of excellent limited watches, attracting the attention of football and original wrist watch fans, was produced. As it's so nice to see always a piece of favorite team.

Watches "IWC Ingenieur Automatic Edition Zinédine Zidane"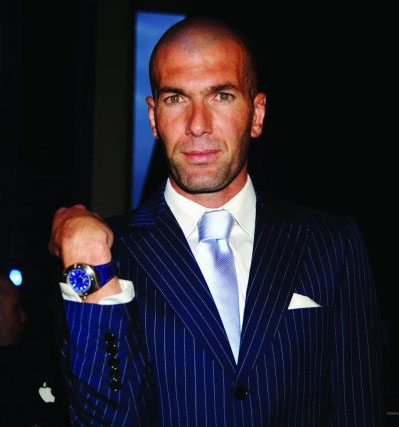 Where the new watches IWC, devoted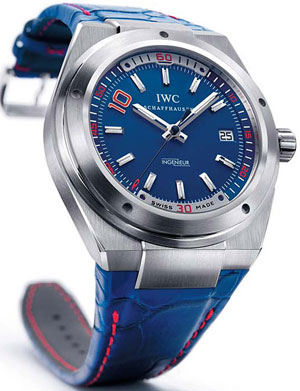 to Zinedine Zidane, would be presented, if not in the capital of fashion and style – France? Especially that France and Zidane became two undivided concepts in the world of big football.
When Zinedine Zidane moved from Algeria with his parents, he got interested in different kinds of sport, but just the football became his element. Everything that relates to Zidane and football can be called "brilliant": brilliant career, brilliant play and talent, brilliant leaving the big game… This is a man, who will be talked in more than one epoch – a football legend. However, leaving the big football, Zinedine Zidane isn't going to leave the social life. So, a recent event, gathered many famous guests in one place, can serve as an example. The manufacturer of legendary watches and the legendary football player decided to release a limited collection, which would be to the taste of exclusive watch collectors and world football fans. The wrist watches "IWC Ingenieur Automatic Edition Zinédine Zidane" were presented in Paris by the CEO of IWC, Jorge Kern, and the "hero" of occasion, Zinedine Zidane himself. The watch embodies an excellent style, amazing accuracy, perfect performance - all that refers to the name of Zidane. The company "IWC" created true "invincible" watches in all relations and provided them with brand movement of caliber 8011 with unique automatic winding system, giving the watch movement a great power reserve. Besides, the watches "Ingenieur Automatic Edition Zinédine Zidane" are provided with anti-shock system and water resistance of 12 bars - a real man chronometer. The watch design differs by a special symbolism: from the color of case to the dial performance style. The watch is designed in white-blue colors and repeats the style of French flag; and at the blue dial with white marks an enormous numeral "10" proudly shows off – that was just the game number of Zinedine Zidane — the best shooter of France national team of all times. The watches are equipped with blue crocodile strap with red stitching, completing whole color design of wrist watches "IWC Ingenieur Automatic Edition Zinédine Zidane". The steel back case is engraved with stylized portrait of legendary player and his autograph. Around of this symbolic composition there is an inscription "Zinedine Zidane – World Champion 1998", saying about pride of France – winning at the world football championship in 1998, in which the decisive role was played by one of the best players of national team – Zinedine Zidane. The massive case of 44 mm in diameter has 44 hours of power reserve with Pellaton winding system. The issue of watches "IWC Ingenieur Automatic Edition Zinédine Zidane" made the famous football player a world ambassador of that Swiss watch brand, symbolizing the style and reliability of legendary series "Ingenieur" of IWC. We can't suppose what feelings you may have wearing the wrist watches "Ingenieur Automatic Edition Zinédine Zidane" on your hand, but we can assert that the watch with a personal autograph of France team's best player is not just an instrument for time reading, it's an opportunity to touch the best moments in the history of world football.

Watches "IWC Portuguese Perpetual Calendar Edition Luis Figo"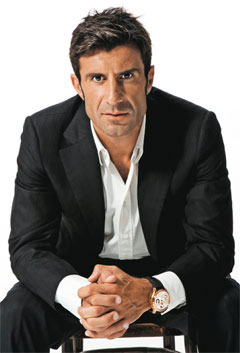 The famous Portuguese football player Luis Figo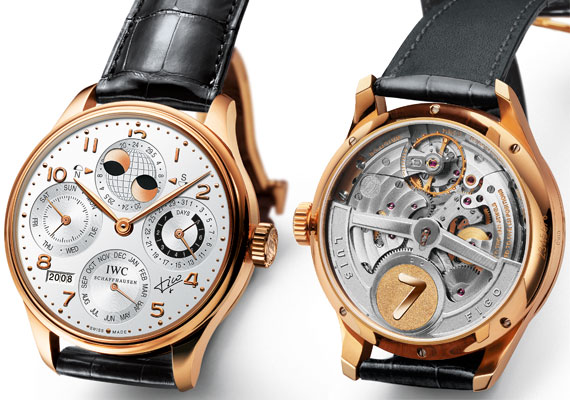 has become one more face of IWC in football field. The watchmakers chose him not by chance, as Figo was born in first historical motherland of watch company "IWC" - Portugal. The especially reliable wrist watches from "Portuguese" collection were issued by IWC in 1939 by order of Portugal Monetary Fund. The famous watch company decided to celebrate its 70th anniversary in Portugal indeed, especially that this country plays a rather symbolic role in the creation of watchmaking. As from the earliest times Portugal has been famous for its skilled navigators, conquering the expanses of world ocean, and the watches for sailors were essential devices, which let them defining the coordinates of their position that was vitally important for not only one ship, but for the whole squadrons.
So the international watchmakers decided to mark originally that significant event and arranged competitions for those who wish. The participants went to the open ocean for 8 hours with only navigational devices of the XVIII century: sextant, compass, pair of compasses with maps and, of course, watches – and had to define their position successfully and return to coast safely. The company "IWC" dated the release of some new wrist watch models, including the aforementioned "Portuguese Perpetual Calendar Edition Luis Figo", inspired by the Portuguese hero of football fields – Luis Figo, to its 70th anniversary. The football player chose personally the watch series that would be proudly adorned by his signature, one can feel that he chose the "Portuguese" line by chance, although, besides the historical background, these watch models have quite many distinguishing advantages. The wrist watches "Portuguese Perpetual Calendar" are provided with the most complicated movement in the range of IWC and, besides, they have a notable complication - perpetual calendar. The watches "IWC Portuguese Perpetual Calendar Edition Luis Figo" were released in a limited number or 50 pieces, and almost all pieces were purchased by the «hero» of watch initiation. The watches are provided with automatic movement of caliber 51614 with the frequency of 21600 a\h and one-week power reserve. In addition, the perpetual calendar is equipped with indicator of Lunar phases in two semispheres. The round case is made of pink gold and makes up 44,1 mm in diameter. The autograph of Luis Figo on white dial at "4:30" hours loudly speaks about connection between great football player and best watch line "Portuguese". Also you can see the rotation of automatic winding wheel with mounted gold medallion with "7" numeral – lucky numeral of Portuguese football player Luis Figo. Limited by so small number, the issue of series "Portuguese Perpetual Calendar Edition Luis Figo" makes these watches a true unique piece for any collection, especially that only one piece was at free market. And we can safely say that soon at the world watch auctions the men wrist watches "IWC Portuguese Perpetual Calendar Edition Luis Figo" will be a desired lot for many collectors of exclusive watches, fans of football and legendary Luis Figo.

Watches "Hublot Big Bang Maradona 2 Limited Edition"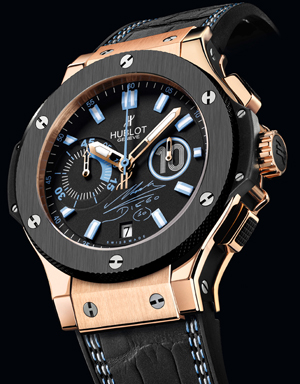 The watchmakers of Hublot just adore outstanding persons, living legends, especially from sport world. And the close collaboration of famous watch brand with genius football player of the XX century didn't shock the world, as the best ones should be together! As a result of fruitful collaboration of Hublot and Diego Maradona the limited watches "Big Bang", devoted to famous football player, were released. They were made of black ceramics with the use of many blue parts, symbolizing the flag of Argentina. The first wrist watches "Hublot Big Bang Maradona" were issued in a limited number of only 250 pieces and had a great success. The watchmakers of Hublot knew the favorite habit of Maradona to wear the watches on two wrists at the same time and presented him two models of their football chronometers with the photo of football master, engraved on the back case.
And, naturally, a great interest in Maradona's watches couldn't but led to the manufacture of another model under the title "Hublot Big Bang Maradona 2 Limited Edition", more serious and noble, made of pink gold with elemens of Argentine flag too. The watches were presented at the roof of TSUM in Moscow, where Diego Maradona accepted the challenge of Hublot at 1 million dollars cost. The legendary football player was to fight with a wall with 10 pictures of foot balls: each ball brought a certain sum of money. The total prize fund made up 1 million dollars, and all proceeds were transferred to Child Hematology and Trasplantology Institute. After a spectacular competition with CEO of Swiss watch brand "Hublot" Ricardo Guadalupe, the star football player Diego Maradona descended to the ground floor of TSUM, to the boutique of Hublot, to present the first gold model of limited "Big Bang Maradona 2", which would become a reminder of noble challenge to the best football player of XX century. The wrist watches "Big Bang Maradona 2" are made of polished pink gold, framed by black ceramics, a perfect supplement for black dial with the beautiful blue signature of Diego Maradona. An additional indication dial with lucky numeral "10" is provided at "3" hours, and a 45-minute counter - a distinguishing feature of all worthy football watches - is at "9" hours. Even the black strap reminds of Argentine flag. The Argentine flag presents even at black watch strap. Made of crocodile leather with rubber lining, it is stitched with blue and white threads, completing the symbolism of case and dial blue elements. The back case is engraved with the silhouette of football player himself with his hands raised up victoriously. The new model of football wrist watches "Hublot Big Bang Maradona 2 Limited Edition" will be limited by only 100 pieces. Each lucky owner of such notable timepiece as "Big Bang Maradona" will get a unique T-shirt with signature of Diego Maradona that will undoubtedly gladden the fans of famous football player.

Watches "Anonimo Chronoscopio Mark II Oliver Kahn"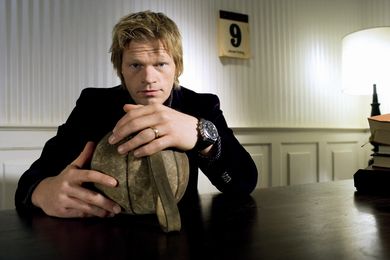 The famous Italian watch company "Anonimo",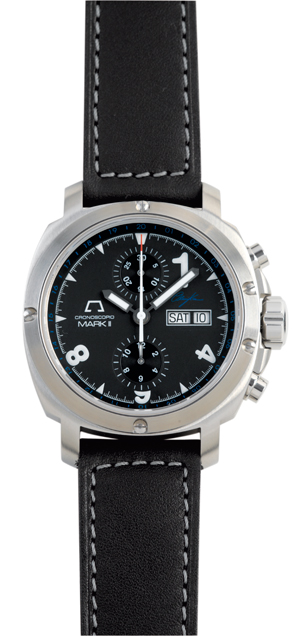 manufacturing exclusive wrist watches, doesn't pass over the total tendency of limited watch issue, devoted to some famous person or important event. And if Anonimo desides to release another "devoted watch", only the most famous persons, worthy of total admiration, can attract its attention. And in connection with total interest in mass games, especially in football, the Italian watchmakers decided to visit that field indeed by choosing, as always, the most worthy candidate for its ambassadors at social events and in sport world. A very talented football player, 4-time best goalkeeper of the world and Europe, 2-time best goalkeeper in Germany, 5-time best goalkeeper of Bundesligi, the best player of Mondiale-2002 became the face of Anonimo. The name of this titled player is Oliver Kahn, best of the best football players of the XX – beginning of XXI centuries. Oliver Kahn is a symbol of the modern football team of Germany. He was born on 15th of June, 1969, and he has decided since his childhood to devote his life to football with the help of his father, a football player Rolf Kahn. The little Oliver differed from his peers by doggedness and purposefulness, and by the age of 18 he has become the second goalkeeper of main team. But one can't say that his career went uphill swimmingly. Olive Kahn faced certain problems: allowed goals, his team was losing – and mere his legendary purposefulness saved the future best goalkeeper from forced leaving the football life. After a train of failures Oliver pulled himself together, and since that time a few players have managed to strike the gates of genius goalkeeper of German football team. Today we can't imagine either famous Munich "Bavaria" or football team of Germany without legendary goalkeeper - Oliver Kahn, who is famous, by the way, for his rather difficult character and passionate nature. An outstanding career of the best goalkeeper in the world is a worthy page in the history of world football. And the manufacturer of elegant-and-ascetic Italian wrist watches "Anonimo" desided to embody all the symbolism of "Oliver Kahn" name in the watch by devoting its famous model from "Chronoscopio Mark II" collection to the legendary football player - collection, famous for its Italian sophistication and extra reliability of real men chronometers. The wrist watch "Anonimo Chronoscopio Mark II Oliver Kahn" is a standard of military style restrained beauty, bearing the spirit of past epochs in modern form. The case of this man chronograph is made of steel, its diameter is 44 mm. The polished bezel is fixed by 5 screws. The blue signature of Oliver Kahn shows off at the black dial near "2" hours. Among all numerals there are only Arab numerals "1", "4" and "8" at the main dial. There are the date aperture with days of week at "3" hours, an additional 12-hour counter at "6" hours and an additional dial with 30-second scale at the opposite side. The chronograph "Chronoscopio Mark II Oliver Kahn" is provided with the movement ETA, caliber Valijoux 775, 25 jewelries, 28800 a\h. The power reserve makes up 40 hours. The water resistance of case is 200 meters. The hands and dial marks are coated with luminescent treatment, providing easy readability at full darkness. The chronograph is equipped with a brand strap, made of veal leather and treated with special Kodiak coating, protecting it from sea salt water. Nevertheless, the wrist watches "Chronoscorpio MarkII", no matter whom they are devoted, are designed in marine theme. So, if the ambassador of Anonimo in football world Oliver Kahn suddenly decides to go info diving, his Italian watches èìåííûå will become an irreplaceable companion in aqua world. On the whole, the wrist watches "Anonimo Chronoscopio Mark II Oliver Kahn" are quite unusual representatives of football chronographs: they are lack of usual for us 45-minute counter, some engraving of foot ball, etc.
However, if to examine this sample, devoted to the famous goalkeeper, it becomes clear that all these "football bells and whistles" take the back seat in compare with the main task – the comfort of reading time, time of real men with serious watches.