Caliber P.2002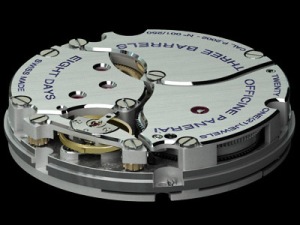 Watch movement Panerai Š.2002 — is the first manually rewind movement created at Panerai manufacture. It was made in a work-shop in Neuchâtel in 2006. The movement was supplied GMT function and installed into Panerai Luminor watch 1950 8 Days GMT and Radiomir watch 8 Days.
In the movement where there were applied many different innovation ideas, there are 247 elements. For example, using of three patented barrels provide 8 days power reserve. It is not a novelty it is Panerai heritage of 1940.
The system of hand f seconds flash to zero stops balance wheel immediately, which ideally synchronize watch.

The movement consists of 247 elements, it has manual rewind, 13 and 3/4 diameter, 21 gem, balance Glucydur®, 28 800 vph. Also it has a shock-resistant device KIF Parechoc® and a line index of power reserve.

Caliber P.2003 is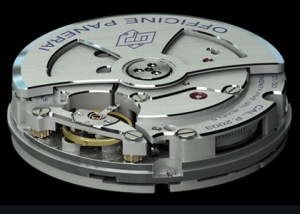 one of the first automatic movements, which was completely made and designed at Panerai manufacture. Its automatic rewind provides watch with independent run for 10 days

As in Š.2002 movement such an increase of a power reserve can be obtained only by using an accumulator – three winding barrels, two of which are placed one above another, the third is connected by a toothy transfer which let to identify power reserve at a suitable scale.

Movement diameter is 12 and 3/4, there are 296 elements in the movement, 28 800vph, balance Glucydur®, shock-resistant device KIF Parechoc®. The caliber is installed into a model Panerai Luminor 1950 10 Days GMT, in a steel case.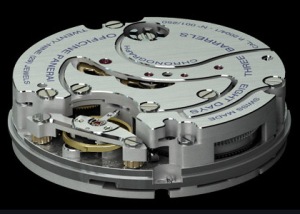 Caliber P.2004 is the first caliber produced by Panerai and supplied with chronograph. This manually rewind movement has a huge power reserve (nearly 8 days). Chronograph has a column wheel which is started up and stopped by a single button at the position of "8 o'clock" which protects the link of a crown as opposed to Luminor watch construction. A second hand of a chronograph is in the middle of a dial, a counter of 30 minutes is in the position of "3 o'clock". The watch has a manual rewind, 321 element, diameter is 13 and 3/4 lines, 29 gems, Glucydur® balance, shock-resistant device KIF Parechoc® and it makes 28 800vph.

The movement is installed into Panerai Luminor 1950 8 Days Chrono Monopulsante GMT watch. It lets its owner to observe the manufacture movement: links, mat surfaces of elements, facet edges and polished screws.

Caliber P.2005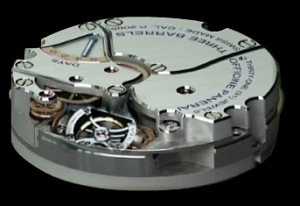 has a release mechanism supplier with a tourbillon – the great engineering achievement in horology world, famous for the complexity of its producing. The uniqueness of release mechanism designed by Panerai is that tourbillon carriage makes two tours per minute around the axle fixed orthogonally to the axle of balance wheel.

Such kind of turning provides the highest accuracy. Tourbillon construction is patented by Panerai.
A breathtaking moving of a tourbillon can be observer through the transparent back lid of a watch and through the second counter placed in a dial at the position of "9 o'clock" where there is also provided a small indicator, which moves in a speed of a tourbillon watch.

Movement is manually-rewind consists of 239 elements, diameters is 16 and 1/4lines, 31gems, balancer Glucydur®, it has 6 days power reserve, GMT function, shock-resistant device KIF Parechoc® and it makes 28 800vph. Such kind of a movenet is installed into Panerai Radiomir Tourbillon GMT Pink Gold watch.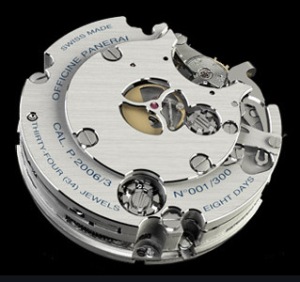 Caliber P.2006 has a manual rewind and split-chronograph function for immediate counting two time periods at one moment. Caliber diameter is 31,8 mm, thickness is 9,6mm, the movement makes 28 800vph. It has 34gems, balance Glucydur®, shock-resistant device KIF Parechoc®, three rewind barrels which provide 8 days power reserve. The movement consists of 356 elements. It is installed into Luminor 1950 8 Days Rattrapante (PAM 00319) watch.

Caliber P.999 is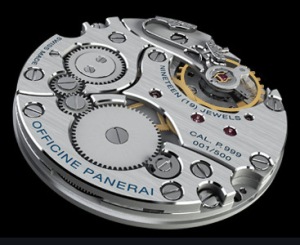 made by Panerai in 2010 for 400-years anniversary of the first astronomic observation of Galileo Galilee

A new movement P.999 is supplied with a manual rewind, caliber diameter is 12 lines, 19 gems, 60 hours power reserve and thickness is just 3,4mm. Frequency rate is 21 600vph. Movement work is regulated by a detail which is called a "swan neck". It lets to tune the active length of spring with an accuracy of one micrometer.

Caliber P.999 is installed into Radiomir 42mm (PAM 336) watch.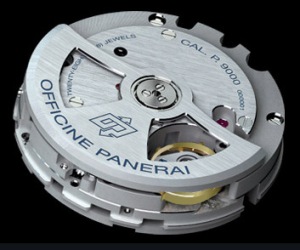 Caliber P.9000 is a manufacture watch movement Panerai Š.9000 which was firstly used in Luminor 1950 watch. It was issued by Panerai in three variations R9000 (consists of 197 elements), Š.9001 (consists of 229 elements) and Š.9002 (consists of 237 elements). All of the calibers has named before have different functions but one principle in common – an automatic rewind of 3 days power reserve, which makes there movements immediately recognized.

New watch movements have 13 and 3/4 lines in diameter, two winding barrels which provide 72hours power reserve. One-part inertial load of auto-rewind is turned in both directions thanks to automatic ratcheting device. Frequency rate of a balance wheel is 4Hrz and is screws regulated.
A device of balance stopping lets to synchronize the registrations of seconds. A calendar indicator has registrant of date.

New calibers are especially installed into a case of watch Luminor 1950 watch which case is protected by less salient crystal a bit rising above the bezel.

Caliber P.3000 is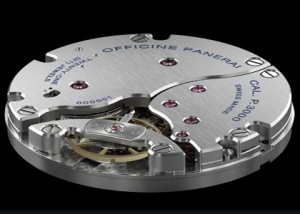 the eight manufacture Panerai movement. It has manual rewind, 16 and 1/2 lines diameter and 5,3mm thickness which remind old Panerai models. A new movement is made of 160 elements, it has 21 gem, two winding barrels, which provide 3 days power reserve and caliber P.3000 makes 21 600vph.

New movement P.3000 is installed into the watches released in 2011 (pam 372, 375 and 379).