The first Panerai logo was created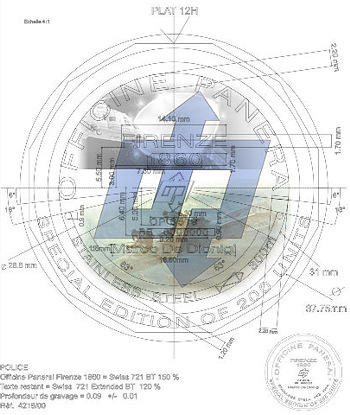 only in 80-s, before Panerai watch didn't have any signs which can give any information about the producer, because Panerai watches were made especially for subversives. The first emblem was round and Dino Zei (the president of Panerai) didn't like it as the the head of another Florance war-watch producing group – Anonimo. The present logo Officine Panerai was created by Dino Zei himself.

The logo can seem just a simple rectangular supplied with tricky hands, but if to look proper it is possible to notice the initials:"Officine Panerai". But what for up and down hands are need? It was Guido Panerai who was concentrated not only on watch producing but also divers equipment creating: compasses, depth gauges and underwater torches. The company was an official deliver of Italian Royal Fleet.
Panerai watch itself became famous as the watch of war-divers supplied with special lightning system, which can be observed even in a dirty water and in a huge depth. So well the down hand is a historic honour the traditions and brand's identity.

The logo would not be harmonic if it had only one hand, pointing down, so well, it would look like not very optimistically. More over Panerai watch has all rights to have two hands pointing up, because lightning is need not only in a deep but in aviation as well. More over, Panerai work at light creation for dummy deck, helicopter and war-aircraft carrier pads.

Besides, the hand pointing up – is a sign of a constant orientation of Panerai company to the future. It also should be mentioned that Panerai watches are famous for that after purchasing they do not become cheaper. Their prices only raise up. However, Panerai watch-makers will never forget about historic identity being overflowed by the latest technical innovations. Having compared the first and the last Panerai watch anyone can be sure that they belong to one and the same brand. The hand, pointing don shows the respect to the ancestors. Panerai watch is one of the watch which was able to save their credo at the world of marketing where everyone wants to achieve a profit.