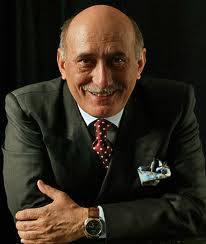 Panerai company calls itself the "time commander" (comandante del tempo) in its advertising campaigns. This title is really flattering for Angelo Bonati, Panerai company's managing director. He's been struggling for his company's global domination for 10 years and has succeeded in it. As a result of this struggle, Panerai company has turned from the most rapidly-developing brand in the elite watchmaking world to the youngest and yet most promising rightful manufacture.
When exactly, since you've been heading the company, it became obvious, that you would manage to turn Panerai into a manufacture?
One day I got a phone call and was told that Richemont Group had bought Panerai and was going to convert the company from a military watch plant into the number one company in elite watchmaking industry. That's what I've been working on for the last 10 years. As a result, we've produced 3 new brand-name calibers. When it all has just started, it was hard to refrain from dreaming.

Do you mean, that you were planning to launch the brand-name calibers from the very beginning?
Yes, I had an aim to transform Panerai not just into a more or less noticeable watch brand, but into a genuine manufacture even at that time. When I took a detailed look at Panerai for the first time, I understood, that we had a lot of advantages. We had good roots, amazing history and a still living dynasty, inextricably intertwined with Florence. As for our produce, I can say, that the watch cases' shapes were considered legendary back at that time and our brand's inventions were known by everyone. Our Luminor crown's protecting device, Radiomir's wire loop strap attachments, and, of course, our dials. Some time ago Panerai had made some discoveries in working with phosphorescent materials. There were no such discoveries in watchmaking. We didn't produce our own watch movements at all. Only having taken the company to the next level of evolution, I could add something to its rich history.
Please tell us how you have worked on Panerai company's technical development for all these years.

The development was gradual. We started with raising the level of finishing and increasing watch movements' sustainability by means of the "swan neck" regulators, then designed our own variants of watch movements with multifunctional sophistications and, finally, started producing our fully custom movements. Nowadays the watches, produced before Panerai's annexation to Richemont Group and the "A" series and its ascendants cost very much. But this is pretty much explained by the role they played in our history. The new watches with high-technology outfit will definitely become a great step forward.

How important is it for your watch movements to pass the essence of Panerai?
They ought to radiate the spirit of Panerai. We have been designing and producing them, according to our best traditions, but not just trying to guess what new functions to include in them. I remember working on the first movement. I sat down, wrote all the functions on a sheet of paper, sorted them out one by one and made sure, that they all comply with our traditions. We even thought out how to put the movement into the case in the best way for the watch's most stable movement. Panerai watches can be elite, but they have to keep an emotional connection with the past. In olden days they were worn by heroes. That's why Panerai is known for its sustainability. You can easily distinguish a Panerai watch movement by its outlook: it spreads power and stability.

And how does the seconds hand zero setting, for example, pass the essence of Panerai?
The seconds hand zero setting, in other words, when the current seconds hand resets back to the start when you pull out the crown, is a very important function. Because when military divers synchronized their watches before the mission, they had to synchronize it as precisely as they could. You can't do without the hand resetting in this case. I told Eric Klein about it and explained him, that this function was totally in Panerai spirit. There may not be the seconds hand resetting function in our older watches, but if we could realize it then, we would never leave this feature unattended.

Why you did you need 3 movement springs for the 8-day power reserve?
I'm not a marketing tricks fan. We needed exactly 3 springs for the most stable movement during all the 8 days. We used to equip our watches with the famous Angelus calibers with 8-day power reserve. Thanks to it we have some traditions in this sphere. So, we were the final result-oriented: if you need a watch with 8-day power reserve, what would be the easiest and the most logical way? Of course, you should make the same construction with 3 winding drums, which you can see today.

And what's the connection between Panerai and the second time zone indicator?
The second time zone in our watches is bound tightly with our clients. Who is our client? He is a traveller and a fortune-seeker. The second time zone indication enables him not to fall out of time wherever he goes. It's totally in the spirit of the compass for night orientation under water, that we made for divers.

It appears that Eric Klein, responsible for movements designing at Richemont Group, is very much inspired by working in cooperation with Panerai.
When you work with me, you have to possess a fiery temper and a passion for watchmaking. Otherwise, nothing will work out. Panerai is a temperamental company. Eric is also passionate about his work. Working in cooperation with Panerai and me, he's got a great opportunity to release his love for watchmaking. Judging by the amount of work we did for such a short period of time, it's easily understood, that our work is going well. Eric works in other companies simultaneously. He really appreciates the fact, that our company's managing director is involved in the watch movements creation process. It really reduces time, spent on everything.
How did your cooperation with Eric Klein start?
I've known Eric for a very long time, for almost 20 years. I knew, that Richemont Group involved him in their watch movements production project. We were just starting to work on our own movements at Panerai at that time. It's notable, that we didn't have any specialists in this sphere. That's why, when we started designing the P.2002 caliber, we had to address another well-known company for advice. I made a sketch of a plan and gave it to the company. They made a prototype, based on it. Everything was just the way I wanted it: it had a linear power reserve indicator (it's more visually readable) and a big power reserve, thanks to the 3 rewinding drums. But there was an insuperable difficulty – it turned out, that it was impossible to launch this movement's production. And when Eric joined us, it was the first problem he started to solve.

Do you take a risk, creating your own watch movements?
We do a lot. The company's reputation depends on its movements characteristics' sustainability greatly. But I take this risk happily: you can't do anything serious without it. Our schedule is occupied till 2014 and we'll present something new every year.
Is it true, that you buy springs from other companies?
Nowadays we use Jaeger-LeCoultre movement springs and A. Lange & Sone hair springs. But I wouldn't emphasize this fact, because you can never know what elaborations we'll have in future. Frankly speaking, we're not planning anything at the moment, but I never stop dreaming. My dream is that some day Panerai will have its own spring production technology. It is extremely important, because springs are the basis of chronometry, the basis of precise time measuring, without which Panerai can't be imagined.

Why did you decide to produce a tourbillon?
Thanks to the tourbillon more people knew about Panerai. One of our activity traditional trends has been special watch lines production. Such lines never have a lot of pieces. But I had a desire to enter the complicated watch movements segment with our own brand-name tourbillon. But the danger is that the failure in this sphere will instantly cause the loss of trust. What do you need to succeed here? You have to make a loud statement and give the watchmaking world something new.
First I want to tell how we came up to this movement. We had been working on different sophistications for a long time at Panerai. At first, other companies' calibers, which failed to go on sale for some reasons, were used as basis. At the same time we were laying the foundation for the future, creating simple and semi-complicated movements. On the crossroads of these 2 ways our tourbillon appeared.
Now a few words about rarity. Panerai has a sufficient number of rare limited edition series under its belt. This time I wanted to create something more prominent, than Luminor Marina with a special dial. Of course, if we produce 300 pieces of some model and stop its production, it will become rare automatically. But I wanted to give our client something greater. I wanted to create something special not only in its outlook, but in its outfit too. That's why we bucked up the tourbillon. Most tourbillons nowadays are pure aesthetics. They cost a fortune, but are indistinguishable from regular watches in their movement. But we wanted to create not only an aesthetically pleasing, but also a truly functional tourbillon from the start. Our traditions are based on precise chronometry and fail-safe operation. These qualities should have been reflected in our tourbillon. We put the tourbillon's carriage at the case back, exactly where it should be, to emphasize, that the main thing is not the way a watch looks, but the way it works.

How did you come up to a truly revolutionary construction – a vertically winding carriage, from a simple tourbillon idea?
I started thinking about a tourbillon in 2002. It was before the watchmaking industry was taken over by the tourbillon rush. Once I spoke to an engineer from Richemont Group. She is a very talented lady and a great specialist in tourbillons. She told me, that she had a great idea. I listened to her, but told her, that the project was really exciting, but it was not suitable for us. I tried to explain her, that our tourbillon had to pass the essence of Panerai. As a result, she acknowledged my rightness and decided to think once more. Some time later she called me and told about her new concept – a tourbillon, that wound not only in horizontal plain, but went through all plains from horizontal to vertical. I liked the idea: that was exactly what we needed to raise the precision of the wrist watch, which Panerai had started with. Any tourbillon would do for a pocket watch. But Panerai had always been worn on wrists and this idea was perfectly reflected in her tourbillon.
Why had you not produced a modern Panerai watch with a black case for such a long time?

Of course we have every moral right to produce watches with black cases, like our early PAM4 and PAM9 models. All the industry was going in for it, besides, the physical vapor deposition method was used in production. Time showed how vulnerable our cases with such a coating were. They are easily scratched and it's almost impossible to get rid of the scratches. For me, it's unacceptable. I consider sustainability one of our watches' fundamental features. Providing sustainability means providing future for your company. Nowadays the physical vapor deposition method is used with gold and platinum cases. But what will happen to such watches in 2-3 years? It's a huge risk and who's at a loss? The collectors are.
In the recent past we used the physical vapor deposition method just once, to produce a watch for a group of collectors (the PAM195 model for Paneristi.com). Before buying the watches, the clients were informed, that the cases were easy to scratch. But you can't launch such watches' serial production. I knew, that a lot of people were waiting for black Panerai, but we had been looking for a way to create a sustainable product for our collectors for all this time.
Why did you settle namely on ceramics?
4 years ago I took note of ceramics just because it was the only super-durable material at the time. When we ceased using the physical vapor deposition method, we continued searching for materials, which give the effect of low-key stylish luxury. That's why we started producing watches with titanium and tantalum cases. But ceramics is the only way to combine the black color with the 100-percent sustainability.

How are such cases made?
There are multiple ways. We don't punch cases, but produce every case on a processing unit. Usually our cases have not simple shapes. For example, the Radiomir's case, which looks like a cushion. A lot of input is needed to create such a shape of the case. But it results in a much more durable case.

What's the history of the diver watch with a depth-gauge?
In the past Panerai was famous for its depth-gauges. That's why it's perfectly logical, that we wanted to create a diver watch with a depth-gauge. This project took us about 5 years. First we worked on a mechanical depth-gauge, but it turned out to be not so easy to provide such a mechanism's sustainability. The point is, if you elaborate a diver watch with a depth-gauge, you have to be 100-percent sure in its sustainability. A person will dive with this watch and all responsibility for its fail-safe operation is laid on your shoulders. Our depth-gauge was approved by one of the independent Subsea Equipment Control Institutes. Therefore, our depth-gauge has an official professional diving equipment status.
Now you are developing the 1950 model with a ceramic case. Will we ever see it asale?
Nowadays I'm testing one of the watches, but I'm still not absolutely sure in the strap attachments' sustainability. This is a massive watch and I need to be sure, that the strap attachments support its weight. Only after this I'll be thinking of releasing it into the market.