Tourbillon
What were tourbillons created for? Today many people think tourbillon is a pure marketing product; however, in due time this complication was necessary condition of evolution. The movement of longcase and tower clocks is balanced independently, while the movement of pocket watches is influenced by gravitation in many ways, resulting in degradation of accuracy. So Abraham-Louis Breguet understood once that keeping watch first in one position, if it is, for example, fast, then in another position, if it is slow, would lead to accumulation of inaccuracy differences and keeping time. The only problem was teaching an owner to do such balancing acts, that's why it should be solved inside the movement itself. And Breguet invented the tourbillon in 1795. After 6 years of tests he patented the carriage with scroll, balance and escapement at one rotation per minute.

Why was it a tourbillon with rotating balance? The balance indeed like a "pendulum" influences on movement accuracy. But the point is that at Breguet's time there was no watch diagnostic equipment, and accuracy of made details was also approximate – laser sensitive metal cutting hadn't been created yet. So, the weight of balance almost always was offset in relation to geometric center, and in watch shifting position it made movement first be fast, then be slow. But tourbillon makes the balance regulator rotate, which means that at full rotation all position inaccuracies are mutually compensated. That's why tourbillon means "whirl".

After Breguet patented tourbillon in 1801, not more than 900 watches with tourbillons were released right up till 1945. To create and assemble this complication is not easier than to invent it. Watches with tourbillons immediately raised the creators to a new high level. Among all complications tourbillon became the main criterion of professionalism among watchmakers. Especially as the movement accuracy left much to be perfect. For example, Danish watchmaker Bahne Bonniksen became popular with its invention in 1892 – tourbillon-carousel. That regulator wasn't provided with carriage, and escapement and balance were mounted at rotating platform. However, he could become popular also with assembling of the smallest tourbillon. By the way, created by Audemars Piguet Caliber 2870 with the smallest tourbillon all over the world of only 7 mm diameter gave birth to trendy open tourbillons that could be seen on the watch dial. This fashion was met with a bang. For open tourbillons clamor about the owner's status at once. And people started playing the game of watch companies with pleasure, "decorating" themselves.

Generaly, the watch industry was carried away by enthusiasm with various fruits of Breguet's invention. Let's give a careful look at the most interesting ones.

Franck Muller
Disputes over tourbillon's effectiveness have been continuing since its creation. Simple outlook is a weighty con: Breguet invented tourbillon for pocket watches, which were kept vertically in a waistcoat's pocket. And the carriage of classic tourbillon is designed for vertical position, rotating in the same space with gravitational vector. You can't but agree that it's not very effective for wrist watches, which an owner keeps often in horizontal space, working on the computer or driving. So how can tourbillon cover inaccuracies, if the position of its details is unchanged in relation to gravitation?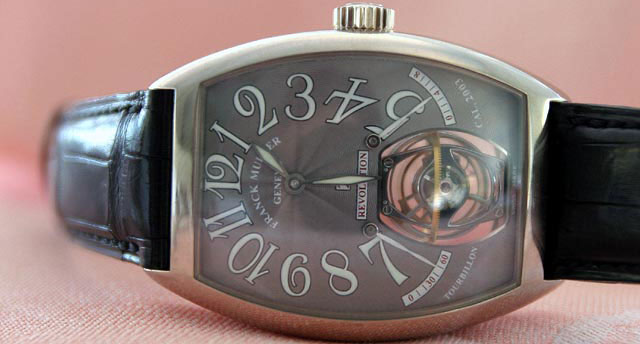 The decision was found by master of complications Franck Muller, who presented in 2003 Tourbillon Revolution 2 (ref. 7850 T REV 2) with the first double-axis tourbillon in the world. It consists of two carriages, put one into another and rotating both horizontally and vertically. Such tourbillon fulfils its functions in any watch position.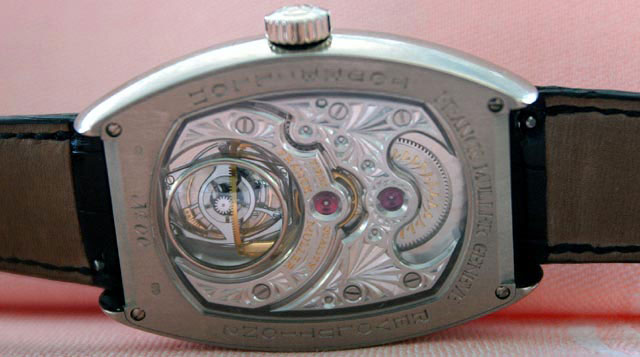 However, innovations of genius Franck Muller are not limited by this. While the tourbillon was double, it was made rotating at two different rates: 60 seconds and 8 minutes. The rotation cycles are counted by two retrograde hands, situated near tourbillon at 5 and 7 hours.

The watch demonstrates amazing evolution of tourbillon on dial as well as on back case through transparent sapphire glass in truly theater decorations of perfectly finished movement.

Speaking about movement: hand-wound caliber FM2003 and, despite the power consumption for double-axis tourbillon, 80 hours of power reserve.

One year on, in 2004, Franck Muller launched Revolution 3 with tourbillon, rotating already in three directions. However, it relates more to technical finesse and intensification, than to effectiveness.

Jaeger-LeCoultre
You'll be surprised but this is one more company, which created double-axis tourbillon first in the world. There is the third one - Greubel & Forsey. The point is that watchmakers had such idea long ago, from the beginning of 70s, but nobody could dare to embody it. And as someone once risked making such experiment, the competitors couldn't stand off and also started developing.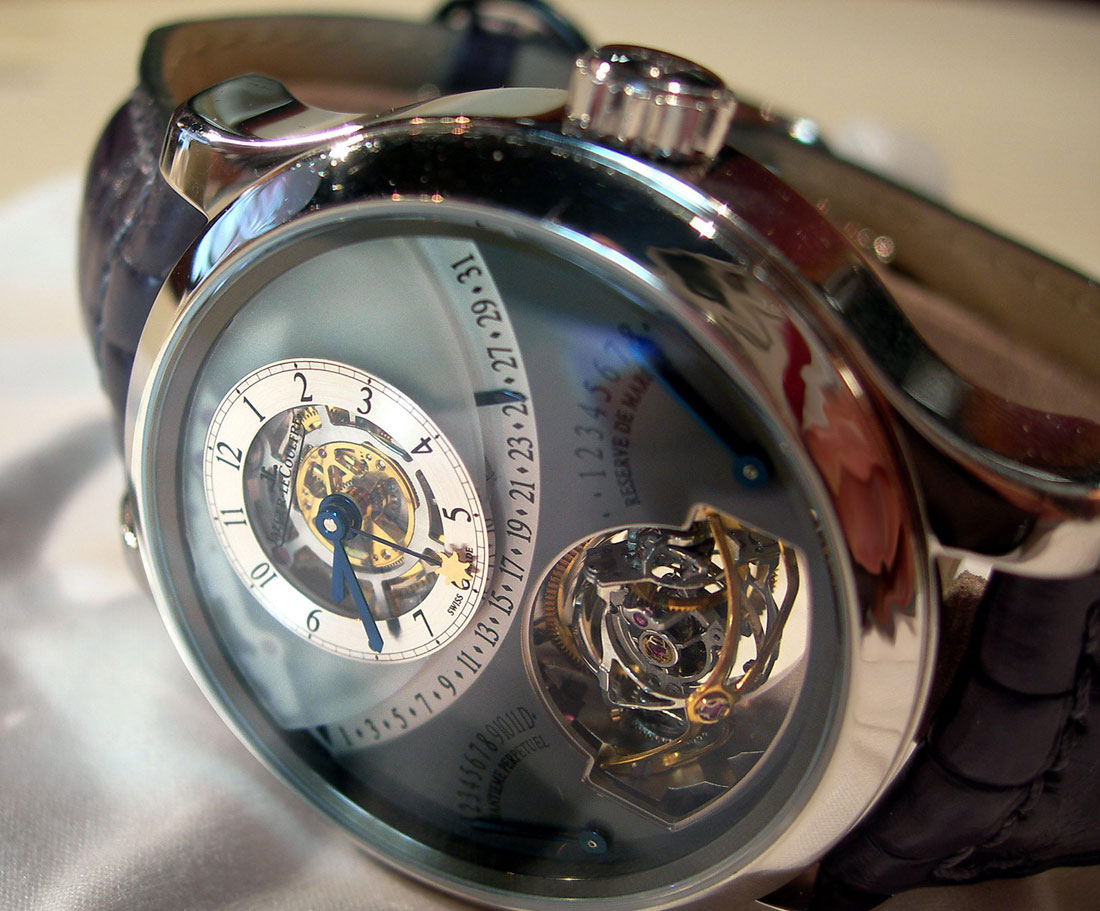 The double-axis "whirl" in watches of Jaeger-LeCoultre Gyrotourbillon I (ref. 600 64 20) is faster than in Franck Muller's one: traditional 1 rotation per minute and in opposite direction 1 rotation per unexpected 18.5 seconds. Reverso Gyrotourbillon 2 (ref. 233 64 20) has the same features, plus balance rim with enlarged diameter, which increases accuracy – the more the diameter, the higher the accuracy.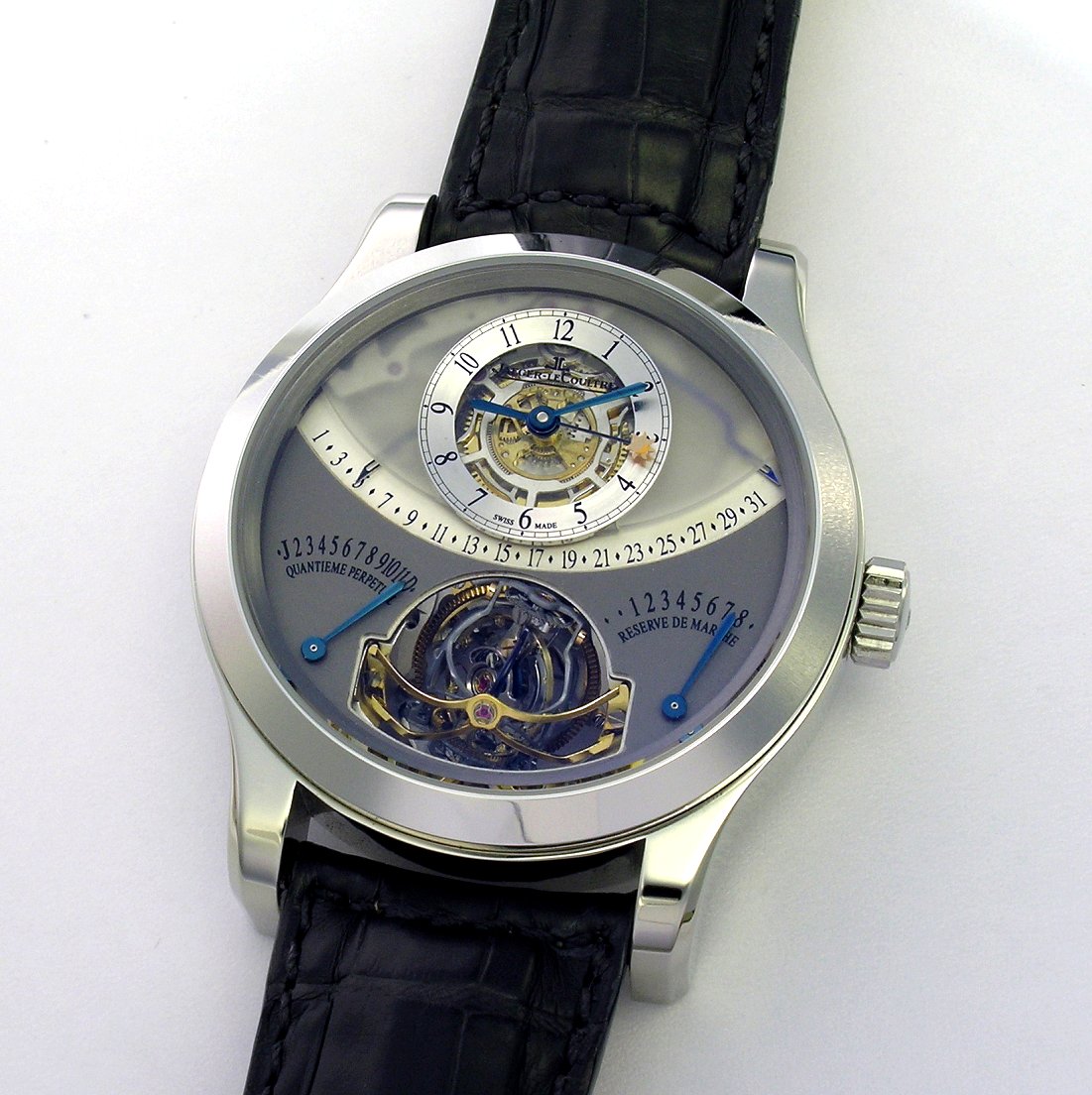 Double-axis tourbillon is protected with as many as 6 anti-shock systems: by one pair per carriage and balance wheel. The winding balance joint in Gyrotourbillon 2 is made of sapphire to reduce the winding spring friction and provided with lock, which prevents the spring from winding too strong and also stops the movement several hours before the power runs out. This sacrifice to reliability reduced the power reserve of model to 50 hours.

In general, the Gyrotourbillon models represent not a conceptual breakthrough, but aspiration for the highest perfection of watches with double-axis tourbillons. For example, Gyrotourbillon 2 is provided with cylinder-shaped Arnold spring, ends of which are fixed by method, created by father of tourbillon – Breguet.
The Gyrotourbillon 2 watches are issued in limited series of 75 pieces.

Breguet

The company added its name to art of tourbillons as a creator of orbital tourbillon, i.e. rotating not only round its axis, but round the dial center.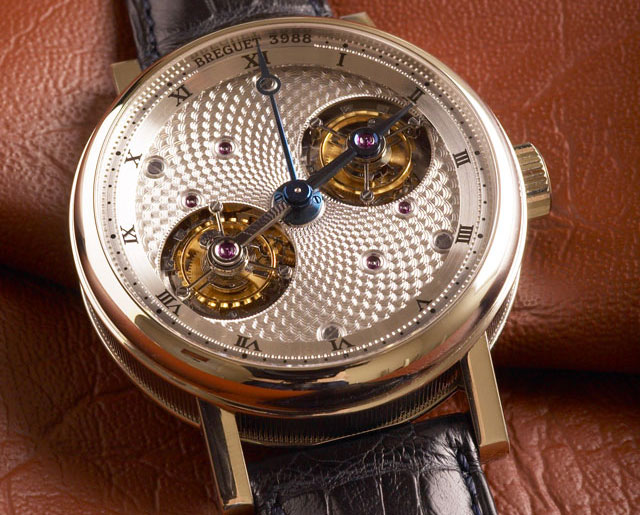 In addition, the Breguet Double Tourbillon (ref. 5347PT/11/9ZU) watches are provided with two tourbillons, connected with bridge, a half of which is watch hand. These two restless tourbillons are situated on rotating dial. Together with watch hand, "keeping" tourbillons, the dial makes one rotation per 12 hours. Both tourbillons traditionally make a full rotation per 60 seconds.
Antoine Preziuso
The creator of "live adornments", as Antoine Preziuso calls them, became popular thanks to his tourbillons and ones of Opus for Harry Winston. Speaking about several tourbillons, we should mention his unique watches "3 Volution Triple Tourbillon" – a true gift for connoisseurs of this irresistible complication.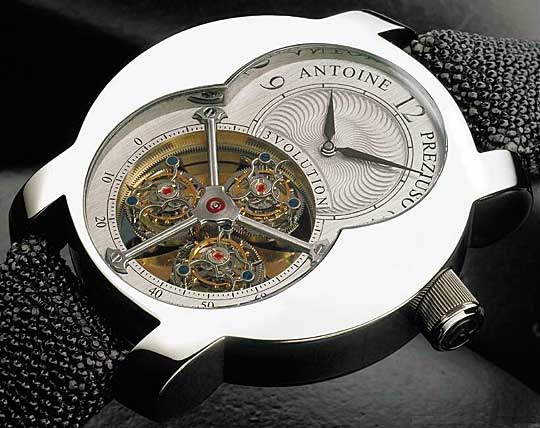 These watches are provided with as many as three one-minute tourbillons, which all together rotate round the double dial axis in addition, making a rotation per 2 minutes and 15 seconds.
The size of double dial watches is 51x34 mm; the thickness is only 8 mm. A hand-wound movement is provided with 72 hours power reserve.

Vacheron Constantin

However, despite all technical contrivances of other companies, the tourbillon of the oldest watch brand Vacheron Constantin, probably, can be considered to be the most beautiful one. Of course, tastes differ… but beauty of that tourbillon was appreciated at Middle East Watches, Jewellery & Pens Awards. The company was awarded in prestigious nomination "Best tourbillon of 2008" for watch "Malte Tourbillon Regulator" (ref. 30080/000P-9357). The awarding was very objective: the laureates were chosen by members of the industry as well as by simple consumers.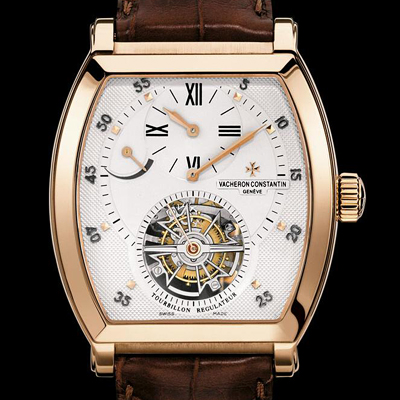 The watch is provided with hand-wound caliber 1790R, platinum or 18-carat gold case of 40х50 mm with strap of alligator leather. The tourbillon is adorned with stylish pattern of the Malt Cross – brand emblem of Vacheron Constantin.

Patek Philippe
The company doesn't release any watch with tourbillon to the market until each of them is observed during several months – perhaps, that's why its tourbillons deserve the status of the most reliable ones. The computer tests are no doubt good, but real life is quite a different thing. Patek Philippe keeps this in mind and, probably, this is one of the main reasons why Patek is considered to be the king of complications (this company indeed produced the most complicated watch in the world).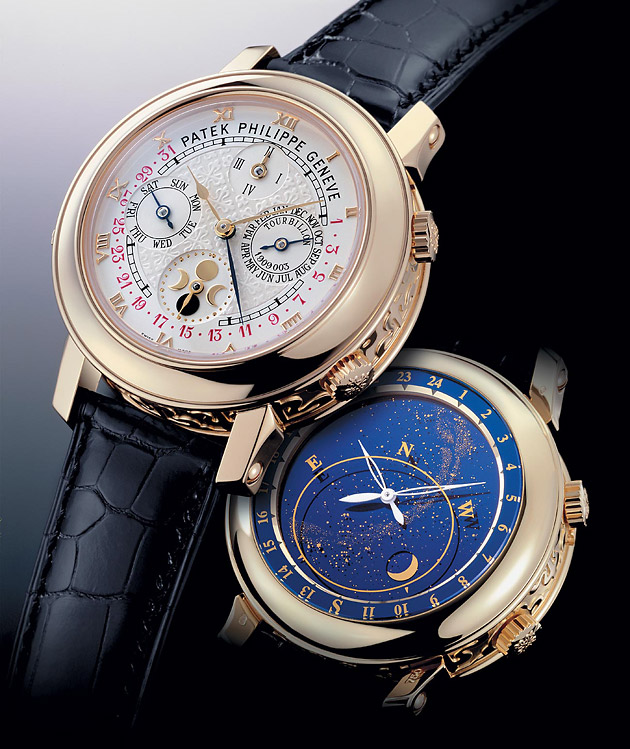 Maybe that's why the owner of Patek Philippe watch with tourbillon is the richest man on our planet – Bill Gates. It is Sky Moon Tourbillon (ref. 5002), released in 2001, at the dawn of new millennium. Its tourbillon looks like to perform only its first purpose, and it is mentioned only in the name of model. The watch is provided with one dial on each side of case: one dial shows the sky map, another one – time indication and calendar.

Sky Moon Tourbillon is also one of the most inaccessible tourbillons in the world. Besides that only two pieces are released per year, you need to get blessing of the head of company after personal talk to buy this watch. If you are a famous collector of Patek Philippe – it's easy, but the novices who want to purchase Sky Moon Tourbillon arouse suspicion of leadership – what if they just want to resell the watch?
Panerai
This is likely to be the most honest, reliable and modest brand of all. Panerai has never demonstrated sky maps or tourbillons on its stylish dial – a window on back case is designed for these complications, if they are necessary at all. Only one model is an exception (apart from 2000 Edition Radomir Tourbillon, produced only in 2 pieces).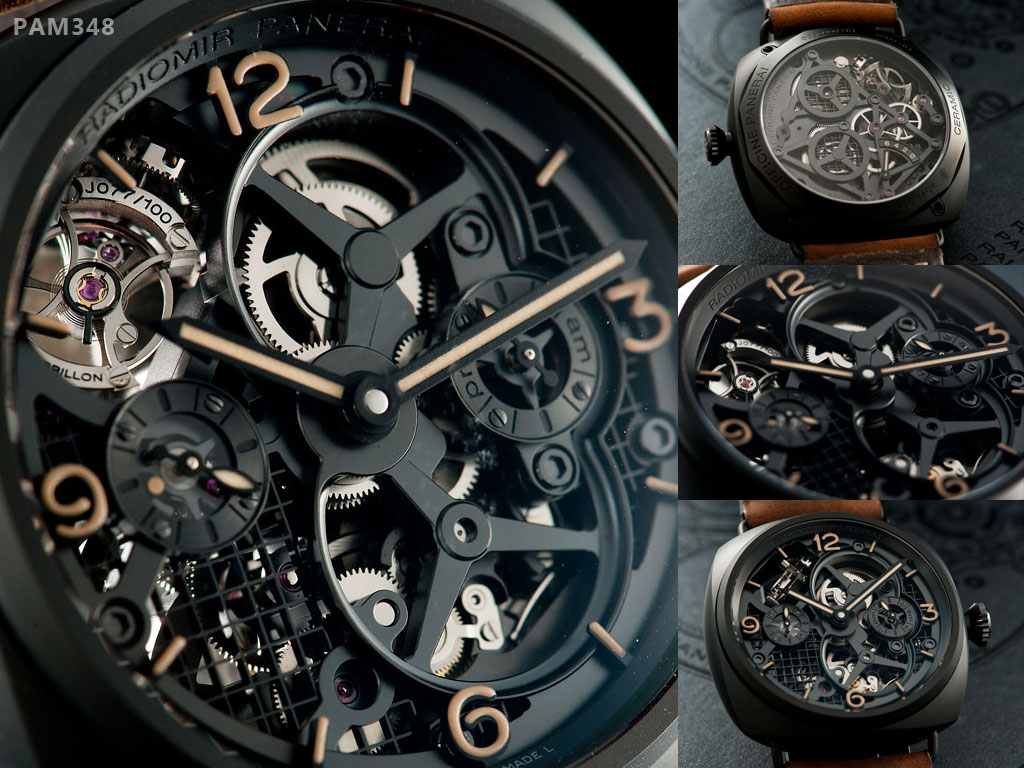 Radiomir Tourbillon GMT Ceramica (PAM 00348), issued in a number of 30 pieces. Its tourbillon is demonstrated as a result of skeletonized watch. It is situated not as a primary element – in depth of movement between 10 and 11 hours. The way this watch is skeletonized – like diving grating – draws much attention. Even in the smallest details Panerai remains faithful to its brand navy style.
And nevertheless, a complicated tourbillon hides near this diving grating: it rotates in two spaces, and the movement P. 2005 keeps 144 hours of power reserve! It's almost two times more than the power reserve of Franck Muller double-axis tourbillon. This is it: always modest, stylish and reliable.
Azimuth
The most unusual tourbillons among aforementioned watches. A sophisticated titanium case reminds the shape of Lamborghini Murcielago car.

The Twin Barrel Tourbillon watch, as the previous one, is provided with two winding barrels, ensuring 120-hour power reserve. The central bridge of tourbillon is made of blued gold; however, the tourbillon is not the main element here – a pair of "fans", floating above tourbillon for minutes indication, competes with it for originality. Besides, the number, nearest to scale, indicates hours. This is one of the most nontrivial watches with tourbillons at the world market.

The series are limited by 25 timepieces.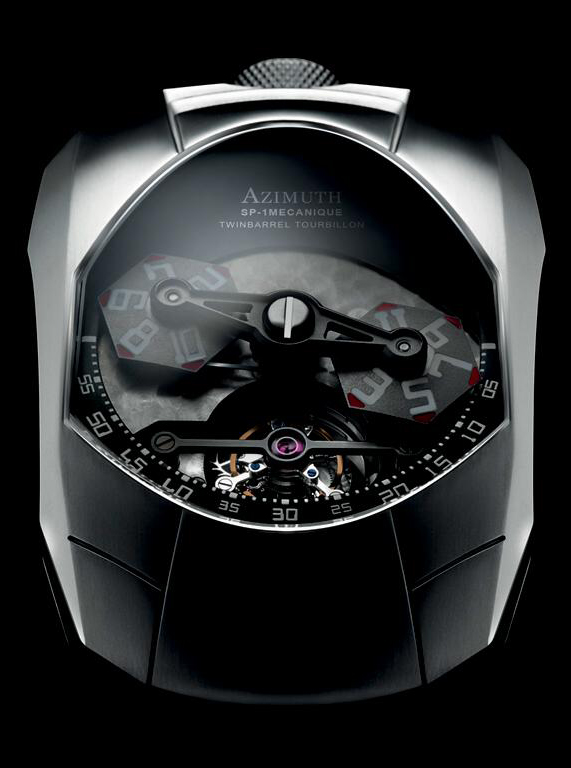 So, is tourbillon a very useful complication for movement accuracy or an aesthetic detail? The presented watches demonstrate all variants. The only question is whether you agree with the phrase that there are four things that could be watched endlessly: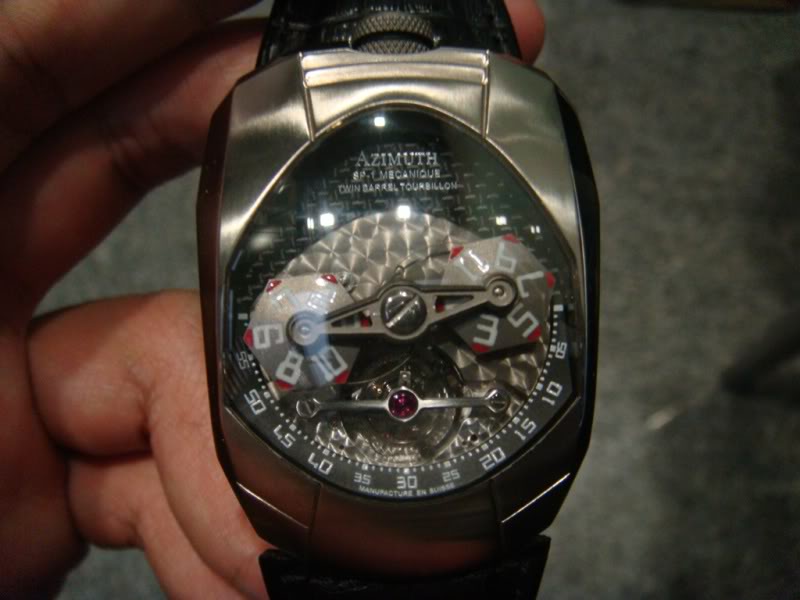 "Fire burning, water flowing, others working and tourbillon rotating".