Wrist watches in the movie: best supporting roles
"Drama is life with the dull bits cut out"
Alfred Hitchcock
Cinema is not simply an entertainment. Even non-documentary movies include features of time. Clothes, cars, articles of daily use. And, of course, the moviemakers couldn't pass by such important accessory, as wrist watch.
"Cross-cutting" watches

The directors often use interior and wrist watches in their films for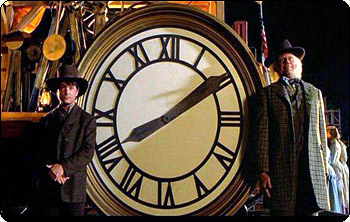 their designated purpose – to show the time. We all have seen movies where a fellow is waiting for a girl and constantly looking at his wrist watch, holding a fading bunch of flowers in his hand… The times of pure romantics sank into oblivion, but such film frames would stay in our hearts forever.
But watches fulfill one more function in movies – the montage. It looks like this way: people meet each other and fall in love, then the moving watch hands appear on the screen, and they are already married and bring up children, then the dial is in frame once again, and our couple has turned into old man and woman with many grandchildren. The Hollywood directors making blockbusters also like to "stretch" the time by means of countdown. A great number of movies end with explosive assembly, set by main evildoer. And any bomb must be provided with a mechanism, which politely informs us how many seconds are left till explosion. Such an oddity for a super hero, who saves the world. The hero of Arnold Schwarzenegger from "Commando" movie uses his own wrist watch to count the time when the criminals, who kidnapped his daughter, will be punished.
The watch tricks are actively used by representatives of other cinema genres. No one gothic thriller can't do without big wall striking pendulum clocks, which strike midnight just at the moment when the main evildoer – ghost, Count Dracula, mummy or other evil spirit – comes out. The spies, saboteurs and even thieves, planning a robbery of the century, always check the time on their wrist watches before doing any action. The people of Wild West are less lucky: the wrist watches for them are unattainable luxury. The cowboys from westerns had to be guided by enormous dial, usually adorning the town hall. This is the favorite place of sheriffs, rangers and local criminals, where they can compete well in accuracy. For example, the heroes of "The quick and the dead", acted by Russell Crowe, Leonardo DiCaprio and Sharon Stone, were competing in shooting many days at such square. The strike of clock at the town hall was a kind of signal for them to snatch their "parabellum" or "colt" out of holster and start to fire off their rivals.

Wrist watches as metaphors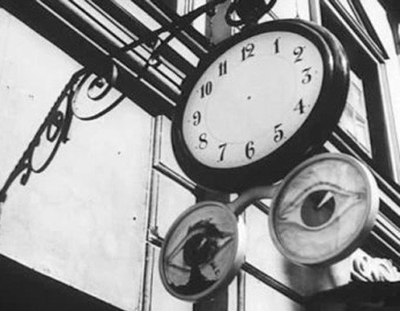 As the cinema is only an interpretation of real life, so the wrist watches on the screen change from utilitarian accessory, counting the time, into metaphor, acquiring new functions. First of all, it concerns art house films, where each tiny detail is important, as the director puts double meaning in everything. The watch acts in such movies as a symbol of eternity, inevitability and irrevocability for heroes. So the watch causes heroes to consider, rethink about past and make conclusions.
The watch, completely deprived of hands, which was used in the movie "Smultronstället" (Wild strawberry glade) by Bergman, is still considered to be one of the most outstanding metaphors in the history of cinematography. Of course, it is a rather surrealistic image, which can bear any sense, but there are quite sustained metaphors. For example, the sand watch symbolises transience of being, and the solar one is taken unanimously by cinematographists as an embodiment of universal order.
The wrist watch is able to reveal the personality traits of the hero, who owns it. Not only the appearance of accessory is important, but also the way the character uses it. Let's take the watch of the Count of Monte Cristo from the filming, based on the novel of the same name by A.Duma. The scene, when the hero crossed the door for a dinner he'd been invited to only after the clock stroke the appointed time, tells us about his punctuality as well as his desire to act only in right way. But at the same time the pocket watch of Mad Hatter from "Alice in Wonderland" is used for anything, except for its intended purpose that gives viewers an idea of chaos, reigning in the character's head.
For Americans the grandfather's wrist watch is one of the most esteemed family relics, handed from one generation to another. Usually such family value has a rich history. The hero of cult movie "Pulp fiction", acted by Bruce Willis, tells his father's story about being taken captive in Vietnam, where he managed to hide his wrist watch, a family relic, during 5 years. The family watch of Dr. Watson became a perfect ground for the great detective to demonstrate his friend the effectiveness of deductive method.
As we've found out the cinema heros wear wrist watches for various purposes. However, the choice of certain model depends on specific purposes of character. Besides, it's a kind of promotion for the watch companies. What wrist watches do movie heros prefer after all?

Panerai — a companion of hero-loner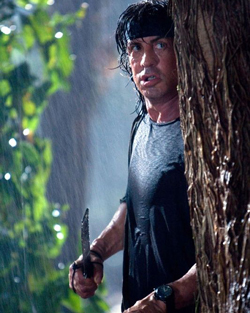 In far war years in Vietnam the Hollywood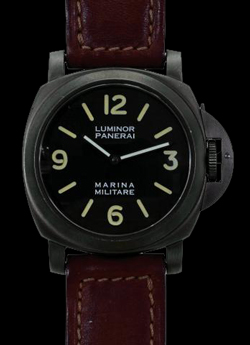 directors found an ideal image for militants: a hero-loner, warrior with no fear or reproach, able to drop a whole army of opponent by means of expedient means and all by himself. One of such outstanding characters was John Rambo, acted by Sylvester Stallone. Though several movies he'd been fighting with public enemy hordes, and, finally, in one sequel he decided to take a breath. He settled down at outskirts of Bangkok in small house at the bank of river and led a secluded life, repairing old boats and caters. But suddenly the Burman militants appeared and captured all Thai villagers together with the missionaries from America that malapropos found themselves there. That unheard-of impudence made the veteran gather a free company and belabor unlucky terrorists, who obviously hadn't seen the first three parts of the movie, as they dared such foolhardiness. The wrist watch "Panerai Luminor Marina" became an Achates of Rambo in the fourth part of his adventures. The director chose that brand and model not by chance. As the wrist watch should reflect the character and status of main hero: a strict and restrained design of Panerai Luminor Marina told us about Spartan character of Rambo. This model has all necessary features: average diameter of case (44 mm), self-wind function, second hand and comfortable leather strap. Besides, its black case and dial help Rambo to keep his camouflage, while he hides in the jungles, as compared to metallic ones these details don't strike one's eyes.
Panerai Luminor also played a supporting role with Stallone in "Daylight". That time it adorned the wrist of ex-fireman, performed by that actor. The cinema hero saved many people from under obstructions when the tunnel in New York collapsed.
By the way, Stallone prefers wrist watches from Italian company "Panerai" in usual life too. They say the company created for him a private timepiece, the back case of which is adorned with the signature of actor.
However, other celebrities don't mind showing off with Italian Panerai either. For example, Arnold Schwarzenegger in the movie "Eraser" wears just that watch. His Panerai Luminor Marina first appears in close shot during opening credits as the first presentation of the hero.

Submarine history from Hamilton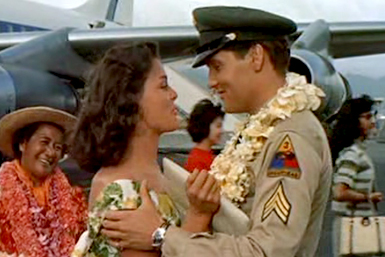 The wrist watches of Hamilton always attracted the attention of leading connoisseurs of fashion and style with their effective appearance. That's why no wonder they have been using these watches for creation of outstanding images of cinema heroes for more than 50 years. The Hamilton watches have an impressive service record – 350 films were made with their participation. A few Hollywood actors could boast of being so relevant. Recently the watches of Hamilton have gained popularity with not only American, but also European and Indian directors. They began their star trek to the cinema from movie about war.
The wrist watches "Hamilton" made their debut in the movie "The Frogmen", 1951, which is based on true story of the Second World War about divers, serving in the USA Navy that prepared safe landings of its armies on the enemies' banks. As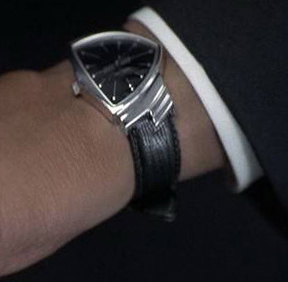 a result, the first film with the participation of Hamilton watches was nominated for Oscar.
Next time they appeared on the screen in 1961. Elvis Presley himself chose the model "Ventura" for the movie "Blue Hawaii". Unlike the debut movie with Hamilton, this is a light and positive film, distinguished with an excellent play-acting of Presley – a rock-n-roll star of 60s. The wrist watch "Ventura", worn by the character, is in the historic collection of Hamilton. It is notable that already in 1997 the same model was chosen by producers for equipping agents from "Men in black". Its futuristic design became its advantage, therefore, several pieces were specially issued for filming of that fiction.
The director Stanley Kubrick yielded to charisma of that watch too. In 1966 he started making "2001: A Space Odyssey", which is considered to be one of the best sci-fi movies even today. The subject is based on contrasting of humanism to perfect world of machines. The original plot and unusual visual imagery made "2001: A Space Odyssey" a cult movie for representatives of counterculture. The designers of Hamilton helped Kubrick to create outstanding images of favorite heroes. For that purpose they created original wrist watch and table clock, perfectly matching overall picture. Over 60 years of "work" in the cinema, the Hamilton watches acted their roles in the movies of various genres – from classic comedies to action movies. And their many-sided talent let them perfectly fit in any conditions, offered by directors.

Watches of Mister and Missis Smith: G-Shock, IWC, Tissot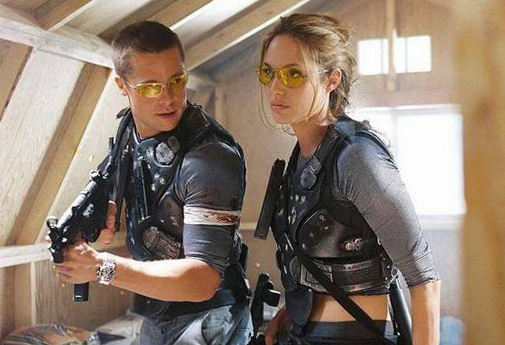 Special agents, spies, killers, secret officers of various special services – one more beneficial theme for cinematographers. The distinguishing features of movies about such characters are enormous budget, increasing its box office many times, most famous actors for main roles and incredible number of sequels, oftentimes repeating success of the first movie.
"Mister and Missis Smith", released in 2005, became a real present for fans of risky adventures and romantics, who prefer wonderful love stories. John and Jane Smith, acted by Brad Pitt and Angelina Jolie, are just married couple, hiding the same secret about their profession from each other. The point is that both of them turn to be colleagues – killers. In the upshot, they separately got an order to kill each other. Then the classic family scenes follow, sprinkled with firing from absolutely every kind of gun.
A few wrist watches can bear such tests. That's why the director Doug Liman put G-Shock G2310 on the wrist of John Smith. This is a very useful sport accessory, combining original design with excellent technical characteristics. G-Shock G2310 is shock-proof and water-resistance at 200 m depth. It is provided with unique technology of solar charge "Tough Solar", keeping it working during 6 months, even if the solar rays don't touch the dial for all this time. G-Shock G2310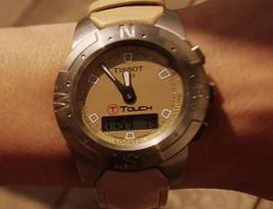 shows the world time in 27 cities. Its data base includes up to 30 notes. This wrist watch is equipped with 5 multifunctional warning signals, automatic electric luminescence, 29 time zones, second counter, power saving mode and battery charge indicator. On the whole, functions of G-Shock G2310 are more than enough even for a killer. No wonder the hero of Tom Cruise from "Mission impossible" also chose the watch of that brand. It is notable that Brad Pitt appears with the watch from Swiss IWC with metallic strap in the same movie. Obviously, the killer saw the true value of its accuracy and reliability. This wrist watch differs from its Japanese brother first of all by its design – it is closer to classics, so it matches both summer equipping and strict suit.
Missis Smith wasn't deprived of watch either. The model "T-Touch" from Tissot adorned the wrist of Jolie's heroine. It is a quartz chronograph with titanium case of 41,5 mm diameter. The battery of Tissot T-Touch is designed for 24 hours of work; there is an indicator of battery charge. This watch includes functions of barometer, altimeter, thermometer and compass; besides, it is equipped with alarm and stop-watch. All these functions are activated by touch of dial. The phosphorescent hands and hour marks makes it readable. Tissot T-Touch is considered to be a perfect watch for ladies, who are fond of tourism.

On the ground of aforesaid it can be concluded that the wrist watches perform not only a decorative function in the movie, but also help the directors to transfer certain tones of sense to the viewers or simply to reveal the characters in better way.
To be continued ...