In order to have Ferrari there is no need to be a participant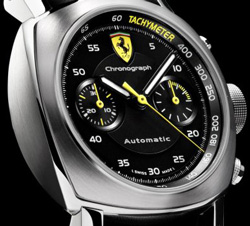 of Formula-1 competition! It is not a joke! For extreme and sport style lovers famous brand Panerai has released a new line of male watch Ferrari which speaks for itself. The speed, heat, luxury and quality – everything which Ferrari cars possesses is in Panerai watch model. High quality watches produced by a famous watch producing brand were released for the honor of racing drivers. Design and functional peculiarities were processed in order to coincide with needs of drivers. Because the feeling of speed and secure – is everything which a real racing driver need to feel. So that is why watch producers decided to embody everything in their Ferrari watches. Every driver knows the quality of Swiss watch and can value them.
When new series of sport Panerai watch appeared any professional could feel oneself comfort in any conditions.
However, if Panerai Ferrari watch is an indispensable thing for racing-drivers, for just those who like sport it is a beautiful and fashionable accessorize.
Do not loose your chance! If you are active in sport, you to hurry up even now. So, well: ready, steady,.......!