1860: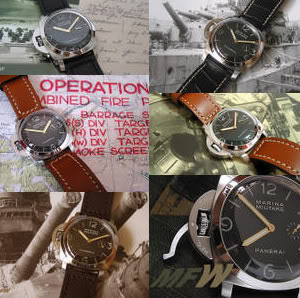 35-year-old Giovanni Panerai opened the first watch shop in Flirentia - Orologeria Svizzera at Ponte alle Grazie. The most amazing thing is that it was the first Florentine shop in history which came out as one of the most successful and which had military watches in stock. However, in far 1986 it was now wildly known and Panerai watches were not produced because Giovanni was just getting contacts with some Swiss colleagues.

1890-1900:
the fame does not come fast. Only when a grandson of Guido became the head of the company, the business experienced a new period of development and success. The company started to process movement of a high accuracy and afterwards it became an official company supplying the Royal Italian Fleet.

1990:
In Florence at the main market place was opened a new watch-shop Panerai, which was finally named as the best place where in the city the most reliable watch can be bought. At the same time Panerai started to collaborate with Ministry of Defense which supplied Panerai watchmakers with high quality optic tools. However according to the order of a military minister, Florence shop closed because the an absolute anonymity and secrecy were need.

1910:
Panerai make experiments with luminous coating that made the company famous. A special shining in the dark paint (Radiomir - a compound of zincsulfide and sodium bromide) was made. It goes without saying that for such military watch these inventions were priceless, however they served best for Panerai future watches.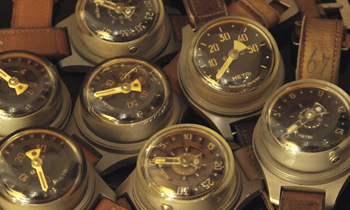 1915-1918;
High quality tools created by Panerai were sent to the Royal Italian Fleet. The quality of produced items was inspected during the First World War. Generally there were luminous tools for sea-weapon and some tools for torpedes aiming.

1934:
The sun of Guido – Giuseppe Panerai aimed on the collaboration with military fleet in order to take a credit for the first own watch producing which would be soled in their watch shop Orologeria Svizzera, which was managed by his sister Mariya.

1936:
it was the year when the first watch Panerai Radiomir was created. Finally this model did not appeared in the counter, because reliable, well-red watches were irreplaceable part of military man equipment, that is why their producing as top secret. The first Panerai watch at the same time because of the secrecy did not have any logo at the dial so the anonymity was their fist symbol or a kind of a "logo". Panerai watches of today are issued of the same style as they were before, they do not loose their historical identity. It is hard to mix up their cases with some other models of other brands.
The name Panerai is just a second name of the family of company founders.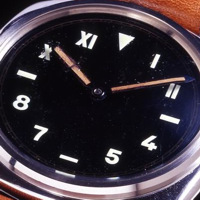 Italian fleet even organized special examination for Panerai Radiomir watches in order to compare their characteristics with some other chronometers of this time.
It goes without saying that the winner's name is easy to tell. Panerai were secret military and diver watches for a long time and were included into the list of their necessary equipment.

The first Panerai watch model has Rolex movement and a black dial ("sandwich"): a plate coated by a special composition shining in the dark. Above it there is a dial with tiny cut hour marks. The case-pillow Panerai had a huge size this time – diameter was 47mm – for military watch it was a very important characteristic because miniature watches were unfavored. Se, the watch has a special strap – some inches longer than ordinary one – in order to put on watch over the diving suit or ammunition.

1936-1938:
Panerai created own tool for crown protection. Sometimes crown can be screwed not very properly, in this case watch could be damaged getting into the water. At the same time for military needs some hundreds of Radiomir watches were issued. These watches became the witnesses of some subversive operations. By the hands of these watches the last seconds of enemies life were measured.

1943:
thanks to collaboration with military men, Officine Panerai did not have any difficulties during the time of the Second World War. The company created a chronograph for sea officers - Panerai Mare Nostrum.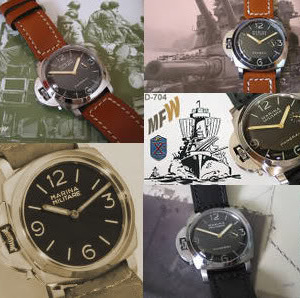 1949:
It was the time when Luminor watch was made. This model watch named in honour of a new luminous coating. The coating which was used in Rodiomir watch was neglected because it came out that it was radioactive but absolutely safe for a humane because watch crystal completely absorbed bad radiation. However it is not just a single feature of the company's progress. New Luminor watch has an amazing power reserve – up to 8 days. The watch became a real professional tool which does not need to be rewind every day.

1956:
The changes in politics after the second World War let Panerai company to give once production way to other markets. Egypt fleet ordered a series of Radiomir watch supplied with Angelus caliver and 8 days power reserve. Their diameter was 60mm – there was the biggest watch diameter in the World.

1972:
It was the year when the last representative of Panerai denastion – Giuseppe Panerai died. During the time of company guidance he gathered a huge and reliable team, afterward he handed his place over to a talented engineer Dino Zeii, who continued a close collaboration with Italian fleet and supplied it with Panerai watch-production and measuring tools and equipment for sailors.

1980:
It was the year when Panerai watch model which was able to stand more depth tan a humane was invented (up to 1 000meters). At such depth the pressure is very high and it can tear the body to pieces. A new watch model was an ancestor of a legendary Panerai Submersible. Instead of dial-sandwich the model had tritium inner vessels instead of hour marks, titan case and a movement with automatic rewind ans a firm real rubber strap.

1993:
Panerai watch were sent to a a free trade. The following models: Luminor, Luminor Marina and Mare Nostrum were designed in far 1943 - the "top secrets" models hidden at some far shelf in 1993 brought a real success to Panerai.

1995:
In order to firm Panerai success,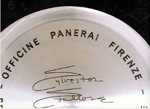 their models appear from time to time at a cinema screen. Sylvester Stallone saves his life and lives of other people having Panerai watch at his wrist ("Daylight"). In reward for "international advert" of Panerai production, watch-company issues " Daylight" watch with Stallone autograph in the lid. Stallone himself chose this very model Mare Nostrum which was top secret for 50 years.

1997:
Panerai was bought by RICHEMONT, having placed it in a moment at the save range with Cartier and Vacheron Constantin. Dino Zeii left the company in 1997 which mooved to Switzerland and was busy in Florence with Anonimo brand – which was also military-watch producer. Thanks to RICHEMONT, the budget of Panerai increased and the company had opportunity to issue more watches, and legendary watches as well. Panerai watch finally came to a World range and became World famous.


1999:
at the international Haute Horologerie salon in Geneva, Officine Panerai released the first Panerai watch, which were remade in order to protect the crown. Luminor watch were presented by a model which buttons were integrated into a devicse for crown protection.

2001:
Officine Panerai finally reconstructed the historical watch-shop at the Market Square. The shop was closed a century ago according to the order of a military-minister in the case of Panerai watch secrecy. In order not to loose the ties with Motherhood after moving to Switzerland, Officine Panerai opened a work-shop at this Florence watch-shop, however its products are still secretly kept. In the shop there is a small museum Officine Panerai where piece after small peace the whole history of Panerai watch is gathered.

2002:
this year is significant for Panerai company by the opening of the first Panerai shop in Asia, Hong Kong.

2006:
Officine Panerai at first created own manufacture caliber P.2002 supplied with legendary 8-days power reserve. Caliber is called 2002 in honour of 2002 – the year when caliber P.2002 was started to be designed. The processing of it took 4 years. From this moment an independent history of Officine Panerai started as well as producing of other manufacture movements. For example in 2007 the company issued three own calibers.

2010:
A five years contract came to an end. Panerai stopped to produce watches with Ferrari logo, the range of which was reduced from the catalog. They say that the contract was impose by Richemont Group and released Ferrari-Panerai were not very popular and had a low rates of sales.
Having ended up with such collaboration, Officine Panerai continued to follow one's unfailing style. This is a single case in Panerai history when the company had to change the identity tradition.