Limited watches at SIHH 2012
(part 3)
There are many watch exhibitions, where the companies-manufacturers of watches always present the newest models, released by limited series. SIHH (Salon International de la Haute Horlogerie), one of such events, has taken place in January, 2012. Salon International de la Haute Horlogerie opens its doors for the watch industry elite for the 22nd time. SIHH presents the novelties of horlogerie of both mass and limited production. The brands, issued watches in a limited number, are the following: A. Lange & Söhne, Audemars Piguet, Baume & Mercier, Ralph Lauren, Cartier, Jaeger-LeCoultre, JeanRichard, Girard Perregaux, Greubel Forsey, Montblanc, Officine Panerai, Roger Dubuis, Parmigiani Fleurier, Piaget, Richard Mille, IWC, Vacheron Constantin, and Van Cleef & Arpels. The amateurs and connoisseurs of horlogerie can learn the newest designs and creations of the biggest watch manufactories at the fair. One of the main features of this prestigious event is refined and sophisticated atmosphere of professionalism and keeping traditional values of horlogerie. Mostly the limited series are exhibited at the stands.
Limited watches are the models, which are manufactures and issued in a small number of pieces. They are the most exclusive, elite and privileged watch series, and usually the most expensive. The watches from limited collections are also produced on the occasion of some events, remarkable dates, anniversaries, and so on. The manufacturer can make its model by limited series to distinguish exclusiveness of its watch. The case of this watch or an enclosed document contains information about its individual number and total number in the world. A buyer proudly realizes that he owns a rare exclusive watch. The price of special series watch is higher than the price of mass produced models. The less the series of unique watches, the more expensive they are, but the quality of such outstanding models is exclusively high. Usually such watches are small in number, for example, ones, 100, or 1000 pieces. The limited series guarantees uniqueness of chronograph, for which they are ready to pay enormous sums. For example, when the famous watch company "Patek Philippe" finishes working on a limited series, it simply does away with used instruments and equipment.
Anyway these individual watches have a special meaning. The special watch series from such brands, as Rolex, Ulysse Nardin, Officine Panerai, Jacob & Go, Breguet, Van Cleef & Arpels, are ones of the most prestigious, modern limited collections.

The main owners of limited models are collectors. Collecting of watches is like collecting of vintage and classic cars. Both require special theoretical training, knowledge and good means. Buying and collecting of rare expensive watches is an excellent investment. Besides, exclusive chronographs are handed from one generation into another, and become family relics.
Unlike collecting of pictures and other pieces of art, the watch market still doesn't have certain pricing principles for various watch models. People will always value exclusive and unique watch rarities.
The prices on watches are soaring, especially on collection exclusive models. The limited watches are sold by special departments of the biggest antiquarian houses, particularly, Christie`s and Sotheby`s. Apart from them, a specialized watch auction "Antiquorum" is functioning in Geneva.
Greubel Forsey
The watch brand was founded by the Frenchmen Robert Greubel and Stephen Forsey. The met in 1991, and in 10 years they established the company "CompliTime SA", which designed complicated movements for various watch companies. Then Greubel and Forsey opened the laboratory "Experimental Watch Technology" for creation of new concepts and technical decisions in the watch manufacture. They made some sensational models of wrist watches – the first one was named "Double Tourbillon 30°". This watch is characterized with unusual position of the movement with two plates, which organize an inside space of wheel gear and bridges, providing a room for the double tourbillon. One more worthy invention is Quadruple Tourbillon. This chronograph presents 4 asynchronous tourbillons, situated opposite to each other. They rotate in different ways, and the rotating disk shows minutes.
Quadruple Tourbillon Secret

One of the most recognizable novelties of SIHH 2012 is the luxurious wrist watch from Greubel Forsey under the title "Quadruple Tourbillon Secret".
Quadruple Tourbillon Secret represents an exclusive watch product. The platinum and golden watches are released by limited series of 8 pieces. The hour and minute hands, and also the small hour hand are situated at the center of this unique watch dial. A retrograde indicator of 50-hour power reserve and indicators of quadruple tourbillon rotation are placed at "2" hours of the chronograph "Quadruple Tourbillon Secret". This is a movement, based on two pairs of tourbillons (each pair is provided with a separate oscillator), connected to the sphere differential movement. It increases accuracy of time measuring twice with the help of two regulating blocks. The rotation time – from 1 to 4 minutes. An exclusive watch movement "Quadruple Tourbillon Secret" includes 519 details, 261 of which belongs to four tourbillon carriages. The rotation indicators prompt the secret, hidden by the watch case. If you turn it over, you can see a complicated construction of tourbillons. The tourbillon is the most impressive novelty in Greubel Forsey watches. You can see it only through sapphire glass at the back case of chronometer. The watch case is designed in asymmetric form – the tourbillon, situated at "8" hours, and power reserve indicator widen the case in opposite directions. The movement is put into action by double barrel, which provides autonomous work of chronometer during 50 hours. The frequency makes up 21 600 alterations per hour. The wrist watch "Quadruple Tourbillon Secret" is made of red gold 5N or 950 platinum 950 of 43,50 mm diameter and 16,11 mm height. The black strap is stitched by hands and provided with butterfly-buckle from 950 platinum or red gold 5N.
| | |
| --- | --- |
| | |
Tourbillon 24 Secondes Contemporain

Another novelty from the watch company "Greubel Forsey", presented at SIHH 2012, is called "Tourbillon 24 Secondes Contemporain". This men wrist watch is provided with round case of 43,5 mm diameter and 15,2 mm thickness. The dial is protected with convex sapphire glass; the back case – with flat one. The 3D dial is designed in blue color with hour markings, Arab numerals, skeletonized hour and minute hands, white luminescence. Tourbillon 24 Secondes Contemporain is provided with in-house manual-winding movement, consisting of 267 details (88 of which belong to the tourbillon, weighing 0,39 grams), with balance frequency at 21600 alterations per hour and two winding barrels with coaxial springs, which provide 72 hours of power reserve. The caliber is decorated by hand and perfectly finished. The tourbillon's bridge is made of sapphire crystal, the case's plate is crafted in titanium, painted in bright-blue color. The central hands and dial are also made of sapphire. The watch is supplied with blue strap from alligator leather and platinum buckle. It's not that easy to buy Tourbillon 24 Secondes Contemporain, as it is limited by only 33 pieces.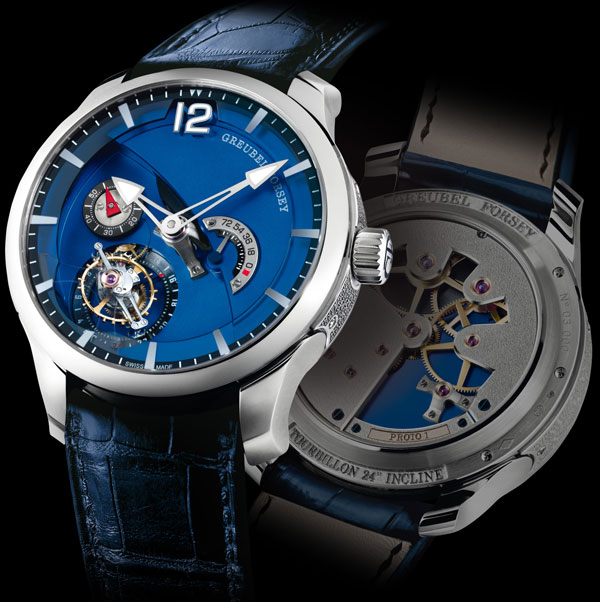 Panerai Radiomir Special Edition Set

The next model "Panerai Radiomir Special Edition Set", manufactured by the Swiss watch company "Officine Panerai", which has Italian roots, is not less interesting. The brand was founded by Giovanni Panerai in 1860 in Florence. The watch company was specialized in the manufacture of measuring equipment for the Italian Navy, particularly depth measuring devices, compasses, and torpedo fuses. The name "Radiomir" originates from luminescent special substance, patented in 1914. The watch was made by order of Italian Navy, which required professional real chronographs with high water resistance and reliable movements. The Navy needed watches with readable dials under the water. The luminescent substance "Radiomir" became the best decision. In 1949, the company patented "Luminor", which was made on the base of tritium. In 1997 Officine Panerai was purchased by Vendome Luxury Group — one of the most famous companies in the watch manufacture. Since the moment of purchase Panerai has reissued many of its limited models.
Marking 75 years from the date of Radiomir creation, which appeared in 1936, Officine Panerai presented the watch set "Radiomir Special Edition". The watch from Radiomir Special Edition collection is limited. Each of 10 sets includes three models, made of 18-carat pink and white gold, and platinum. They differ by dials, which demonstrate the development history of this watch line. The first chronograph is provided with dial "Radiomir 3 Days Oro Bianco", probably, the same one was installed in the first watch "Radiomir". Its distinguishing feature is an unusual indication. The case from white gold has Arab and Roman numerals at the brown dial. They are luminescent, as well as the hands. The minute scale at the periphery of dial is designed in railway style.
Two other dials, installed in Radiomir 3 Days Platino and Radiomir 3 Days Oro Rosa, are well-known "sandwiches". Such dials were invented by Officine Panerai itself. They have a layer structure – one of the layers is provided with cut numerals/markings, another one – with luminescent coating. Earlier radioactive materials were used, now it's a luminescent paint. The watch "Radiomir 3 Days Platino" has a dial-"sandwich", the construction of which was taken from the models of 40s. It is made of two thin metallic plates. The bottom layer is treated with luminescent substance, which guarantees constant luminescence of cut hour markings at the upper layer. The central hour and minute hands are also luminescent. The watch case is made of platinum. The dial of Radiomir 3 Days Oro Rosa is also designed in "sandwich" style and has a set of luminescent hour markings, hands, and Arab numerals.
The dials are covered with convex plexiglasses. The case diameter of all three watch models makes up 47 mm; they are provided with hand-wound movements and 3-day power reserve, caliber P.3000. The watches with serial numbers from 0 to 10 are synchronized with each other. These models are supplied in special wooden boxes and will be available only in brand shops of Officine Panerai. You can buy these wrist men watches only at the official distributors of the company.
Métiers d'Art – Les Univers Infinis by Vacheron Constantin

Three limited series of wrist watches from "Métiers d'Art – Les Univers Infinis" collection from the famous company "Vacheron Constantin" were presented at SIHH 2012. This brand is considered to be truly one of the oldest, traditional, expensive, and prestigious. The Swiss watch company was founded in 1755 in Geneva. In 1862, the businessman Francois Constantin joined to the brand and managed to improve the watch company in a relatively short period of time. In 1885, the brand issued the first antimagnetic watch, based on the materials, able to protect a watch movement from magnetic fields. In 1887, the watch company was reorganized in a stock company and awarded with a golden medal at the Swiss National Exhibition, which took place in Geneva. In 1998, Vacheron Constantin bought the fabric of movements "HDG" in Le Sentier, designing and manufacturing high-quality unique watch movements with the use of modern technologies.
The watches "Métiers d'Art – Les Univers Infinis" are limited by 20 pieces, each model has its individual number. This collection is based on aspiration for creativity, which made a new performance of horlogerie. The reproduction of mosaic pictures by Maurits Cornelis Escher became an idea of new series. The caliber 2460 with automatic winding and prestigious "Geneve" mark serves as a heart of three newest models. The caliber is fully designed and produced by the masters of Vacheron Constantin. It is distinguished by excellent hand finishing and reliability. The dials are covered with sapphire glasses, through which you can see all details of finishing.
The dial of the first model from this series depicts flying pigeons. The performance technique: "champlevé" enameling, engraving, incrustation, guilloche. The case is made of white gold and perfectly matches narrow bezel, big dial and elegant hands. One of the birds is incrusted with 38 diamonds. The watch represents a piece of art, created by four skilful craftsmen, working at the watch manufactory.
The next masterpiece – a watch with image of fishes. A technique, named "cloisonné", and enamel of two colors, blue and grey, were used for its creation. The base of the dial is made of white gold. By means of accurate microscopic cuts a guillocher makes contours of fishes and their scales. Then an enamellist underlines these contours with the help of golden wire, separating the parts for different colors. Then he enamels the half-finished product and burns it. The master has to enamel it several times to make the colors rich. Then the finished dial is polished and lacquered.
A wrist watch with sea shells is made by means of engraving and "champlevé" enameling. The dial represents a yellow ocean floor with starfishes and sea shells with skeletonized hands above. The dial picture is a reproduction of Maurits Cornelis Escher's picture. You can buy Métiers d'Art – Les Univers Infinis at the official distributors of the company.
Piaget Dragon Protocole XXL

The watchmaker Piaget has boasted of amazing novelty. His men wrist watch "Piaget Dragon Protocole XXL" is devoted to 2012 – Dragon year – and represents a real piece of art. The watch company "Piaget" was one of the biggest suppliers and manufacturers of base watch movements and details during a hundred years, the most famous watch brands were its customers. Georges Edouard Piaget, who started manufacturing accurate watch movements in 1874, founded the brand. Piaget was officially registered in 1943. In 1957, the watch company issued its famous manual winding caliber 9P, and after three years the next caliber 12P of only 2,3 mm thickness was made. Those creations widened the product range of the watch brand. From 1964 Piaget has started making jewelry watches with dials from onyx, lapis lazuli, tiger's eye, turquoise, and other stones. Soon an original exclusive model, made in the form of bracelet, appeared. In 1988, Piaget was included into the largest corporation "Richemont", specializing in making luxurious things, and in 2001, one more watch manufactory "Piaget" was opened at the outskirts of Geneva. This watch brand offers many interesting and unique watches, including limited series.

The elegant wrist watch "Piaget Dragon Protocole XXL" is issued in a limited series of 3 pieces, therefore, it's difficult to buy this chronograph. Its case is made of 18-carat white gold and incrusted with round-cut diamonds of total 0,1-carat weight. The case transforms into the dial, which is also made of 18-carat white gold and decorated with 37 diamonds of total 0,1-carat weight and a picture of Chinese dragon, created with the help of old technology "Grand feu enamel". The model of men wrist watch "Piaget Dragon Protocole XXL" works on in-house movement Piaget 830P of manual winding. The watch is supplied with a grey strap from alligator leather and a buckle from 18-carat white gold.
| | |
| --- | --- |
| | |
Openwork Extra-Thin Royal Oak 40th Anniversary Limited Edition by Audemar Piguet

The watches from Swiss company "Audemars Piguet" were also presented at SIHH 2012. That company became one of the first to manufacture "lux" wrist watches. Two watchmakers Eduard August Piguet and Jules-Louis Audemars founded that brand in Le Brassus in Switzerland. The watch company was registered in 1881. Audemars took the position of technical director, and Piguet controlled financial affairs. The first models of Audemars Piguet were pocket watches with functions of chronograph and perpetual calendar. And the year of 1891 was marked by manufacture of the most miniature movement, which was provided with minute repeater. From 1893 the company has started making exclusive wrist watches. In 1908, the two-sided watch of Audemars Piguet, which was recognized at the Genevan watch exhibition in 1915. Today Audemars Piguet keeps on surprising its fans and collectors by regular novelties and designs. The brand has several main lines for women and men, such as Classic, Prestige Sports and Contemporary. Prestige Sports line is designed for people, living active life, and consists of two collections - Royal Oak and Royal Oak Offshore. Royal Oak is distinguished with octahedral steel cases with round dials. They are also equipped with transparent sapphire covers and steel bracelets. There are also unique models from 18-carat gold with leather straps.

This year the popular collection "Royal Oak" turns 40, and in honor of this grandiose event the brand released a limited collection "Openwork Extra-Thin Royal Oak 40th Anniversary Limited Edition". The watches are limited and count totally 40 timepieces, therefore, they are difficult to buy. This men wrist watch is based on in-house movement Calibre 5122 of 28.40 mm in diameter and 3.05 mm in thickness, made of 950 platinum and equipped with sapphire anti-glare glass. It is based on 35 jewels and consists of 249 details. The water resistance — 50 meters. The skeletonized dial with plated hour markings is crafted in white gold. The bracelet is made of 950 platinum and provided with brand unfolding buckle АР.

RM 56 Felipe Massa SAPPHIRE by Richard Mille

The watch company "Richard Mille" presented a unique model of men wrist watches "RM 56 Felipe Massa SAPPHIRE". The first brand watch of the company appeared in 2001. It was made by talented designer Richard Mille, who worked in the companies "Jaz", "Yeta", and jewelry house "Mauboussin". The first model, released by the watch company "Richard Mille", was the chronograph "RM 001". It was distinguished by exclusive construction and unique design. Each collection of the brand is original. In 2002, the watch company presented the men high-technological wrist watch RM 003, provided with tourbillon and second time zone indicator. Many watch models from Richard Mille undergo tests in real conditions. For example, one can see the ultrathin wrist watch "Tourbillon RM 027 Rafael Nadal" of manual winding on the wrist of Rafael Nadal every time he comes out at court. Another model "RM 010 Le Mans Classic" is devoted to car race. This watch, presented in 2010, was released in case from pink gold with green inner rim. Richard Mille will also gladden the women. One of the most beautiful models from women collection is "RM 019 "Celtic Knot" Ladies Tourbillon". The watch is created from white gold with patina from black onyx. The company often issues limited models. "RM 56 Felipe Massa SAPPHIRE" has become a novelty.

The watch is provided with amazing movement with flying tourbillon. You can watch its work through a unique transparent case, made of high-durable sapphire glass with anti-glare treatment. The watch is devoted to Brazilian racer Felipe Massa and released in a limited series of 5 pieces. According to representatives of Richard Mille, about 1000 hours were spent on design of newest case for this model and 430 hours – on technical nuances. You can buy the wrist watch "RM 56 Felipe Massa SAPPHIRE" at the official dealers of the brand in many countries of the world.
| | |
| --- | --- |
| | |
Timewalker Twinfly Chronograph GreyTech by Montblanc

The watch company "Montblanc" showed its most important achievement. The craftsmen of the company created the chronograph "Timewalker Twinfly Chronograph GreyTech". The brand "Montblanc" appeared in 1997. The company started from mid-range segment, as well as many other watch manufactories. Initially, Montblanc was planning to make classic wrist watches, but later, because of glut in the watch market with classic models, it decided to manufacture sport chronographs. In the collections of Montblanc the designers refused traditions of elegance and uniqueness and started to purpose one object – availability and practicability. At present the Swiss company keeps on designing new chronometers.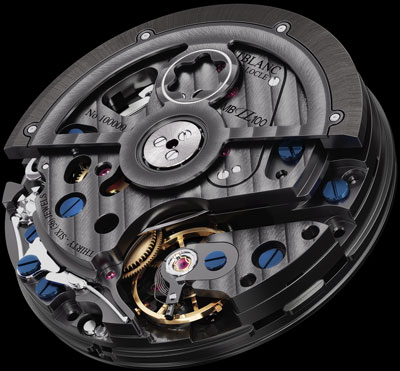 The newest chronograph "Timewalker Twinfly Chronograph GreyTech" has become an offspring of a similar watch, released last year. The men wrist watch is designed in trendy grey color. It is provided with automatic movement MB LL100. This is a flyblack-chronograph with two winding barrels, column wheel and vertical disk clutch, which reduces the movement wear. The chronograph has functions of hours, minutes, second time zone, and date. The case of wrist watch is crafted in titanium, and the staples are skeletonized. The watch "Timewalker Twinfly Chronograph GreyTech" is released in a limited series of 888 pieces, therefore, you can buy it only from the official dealers.
Cartier
Santos-Dumont XL Hourse Motif
One more novelty was presented by Cartier under the title "Santos-Dumont XL Hourse Motif". This wrist watch is a unique piece, made of such jewels, as brown obsidian, grey and green jasper, pink opal. The combination of different precious stones and craftsmanship of watchmakers creates an interesting play of light, and the horse, depicted on the dial, is like moving. Each model of these wrist watches required 120 hours of work: 70 hours for making the background of dial and 50 hours for making the horse. The dial and case are created from 18-carat white gold. The wrist chronographs are provided with a manual winding in-house movement Calibre 430 MC. The faceted crown is also made of 18-carat white gold. The water resistance of Santos-Dumont XL Hourse Motif — 30 meters. That's not quite easy to buy these wrist watches, as the collection is limited.
Rotonde de Cartier Tiger Motif
The model "Rotonde de Cartier Tiger Motif" is crafted in 18-carat white gold. The dial with image of tiger is made of enamel by "grisaille" technique. 40 hours of enameller's work were spent on making that model. The "breguet" hands from blued steel are positioned at the center of dial. The dial is protected with sapphire glass, and the circular-grained crown is decorated with cabochon sapphire. The wrist watch is provided with a hand-wound caliber 9601 MC, the water resistance — 30 meters. The men wrist watch is issued by limited edition of 100 timepieces, each provided with individual number.

Large model Tortue, Cockatoo motif
At SIHH 2012 Cartier presented one more model of wrist watch "Large model Tortue, Cockatoo motif". The wrist watch combines mother-of-pearl and enameling. The chronographs are released in a limited series of 80 pieces. The case is made of 18-carat white gold with rhodium coating and incrustation of 133 diamonds. The dial is also made of white gold with the use of mother-of-pearl. The crown is made of 18-carat gold and adorned with a diamond. The dial is decorated with image of a bird, made quite realistic thanks to use of mother-of-pearl. The model "Large model Tortue, Cockatoo motif" is provided with shimmering pink strap from natural alligator leather. The water resistance — 30 meters. You can this wrist watch through the official dealers of Cartier.