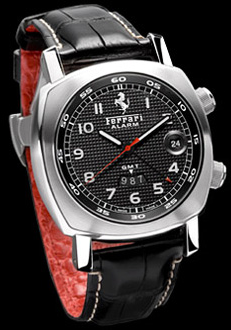 Ferrari logo together with an emblem of a horse shape has became a symbol not only a prestige racing, but also Granturismo automobiles. Ferrari considered them to be as ordinary city cars with a sport spirit. It let them to take part in different racing competitions without special preparations.
In this case a new series of chronographs Ferrari Granturismo designed by Officine Panerai company was released. The latest collection which style and technical characteristics are unique was recently released and became a conclusion of a giant project.
In order not to imitate to design of previous watches it was need to invite some specialists from Florence. The beginning of the collection producing started from a detailed examination and study of machinery tools, traditions and mechanic parts of Ferrari and it's corpus design. The work completed by a creation of chronographs which were absolutely different from the traditions of Officine Panerai watches, but at the same time the models saved an exclusive symbol of a hopping horse.
An unusual combination of Ferrari and Officine Panerai created Ferrari Granturismo GMT Alarm collection which reflected a creativity and resourcefulness of watchmakers of both companies.
The watches are made in a strict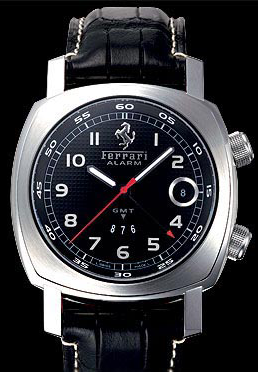 sport style, which has a second time zone indication and a programming alarm signal which can be used as a reminder. The case is made of stainless steel which edges are smoothed, polished and case diameter is 45mm, waterproof is 100meters.
Polished bezel has two crowns which are decorated with an array of notches. Watches are supplied with vertical starting mechanism. The upper crown is responsible for setting hours, minutes and a second time zone indicator. The lower is responsible for signal functions turning red hand of an alarm, setting signals. Dial is protected by anti-reflective crystal. There are Ferrari logo and engraved horse in the dial. It is black, its main part is decorated by the same array of notches as the crowns. The time scale is graduated in 60-s, has huge Arabian figures and raised pictures in two apertures. The aperture of date is framed by a conic metal ring, which is in the position of "2 o'clock", the indicator of a second time zone is at the position of "6 o'clock". Hour and minute hands are thicker and black colored, luminous coated, thin second hands are red.
Ferrari Granturismo GMT Alarm are used as an "engine". An automatic caliber Panerai OP XXIV consists of 31 gem, 47 hours power reserve and Côtes de Genève traditional decoration. Screw movements provide a high quality of work. Through the sapphire crystal it is possible to observe a running horse, engraved in the turning rotor.
At the bezel of a back lid the name of the producer is placed. Chronographs are supplied with genuine crocodile leather strap with a contrast stitching outside and genuine alligator leather of red colour inside the strap.