SIHH 2012 – the most important event of the watch world
(part 1)

Each true connoisseur of the world horlogerie knows these four magic letters, SIHH, which form the title of one of the most important events of the watch world. All collectors and "watch gourmets" wait for this event impatiently and quiveringly. Salon International de la Haute Horlogerie (SIHH) is one of the most famous exhibitions in the world (along with Basel exhibition). Salon International de la Haute Horlogerie takes place annually in the capital of watch art – in Swiss city of Geneva.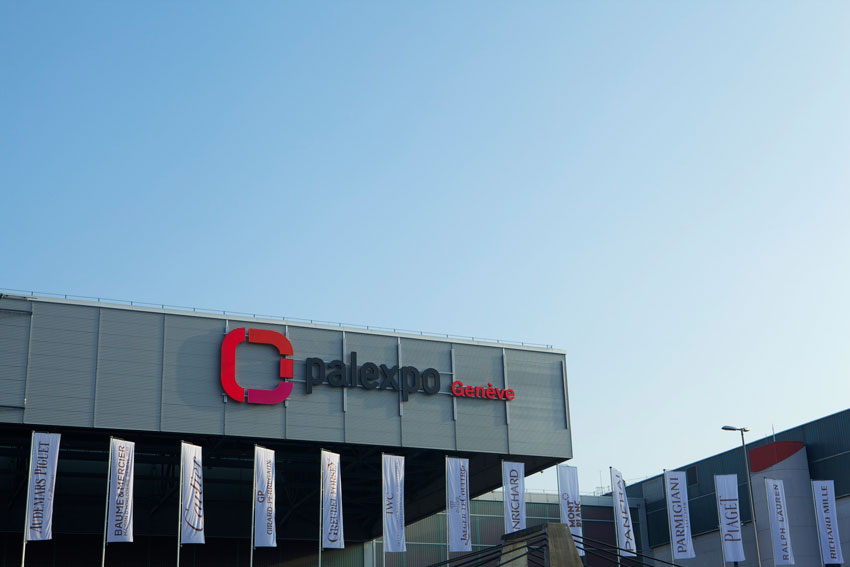 20 years of success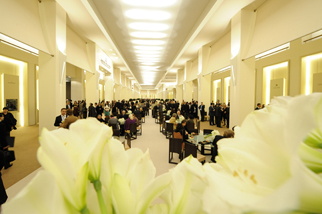 SIHH was first hold in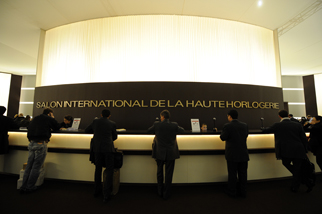 Geneva 22 years ago, in 1990. During that time Salon International de la Haute Horlogerie became one of the main events in the watch history. SIHH is a place, where the most famous watch companies present their pride – the latest masterpieces, novelties of Haute Horlogerie. Besides, SIHH is a unique chance for watchmakers, designers and other representatives of creative watch world to share their passion for watchmaking, genius ideas and incredible remarks with each other. The onrush of SIHH can be traced even in increasing number of the watch brands-participants, starting from five companies – Baume & Mercier, Cartier, Piaget, Gérald Genta, and Daniel Rot – and finishing by 18 world-known manufactories (2012). The exhibition becomes more large-scaled each year, and the talented "novices" come into the world of horlogerie, taking honorary places beside great maestros. During over 20 years SIHH developed from a simple watch show into a superefficient promotion center, a specific elite place for the world distributors and a fair, where you can buy the wrist watches you like. During over 20 years SIHH is devoted to unique culture of watchmaking, high craftsmanship, watchmakers' professionalism and unusual beauty of watch items. Over the years the passion for making new masterpieces and energy of watch virtuosos haven't smoothed down, on the contrary, run higher each year. During over 20 years SIHH "stands guard", keeping unique form of horlogerie, which combines creativity and complicated technical designs in the field of accurate mechanics. Until SIHH gives the great watchmaking traditions and grandiose watch heritage their due, we will see the future of the watch world and admire incredible possibilities of watchmakers.

Unique philosophy of SIHH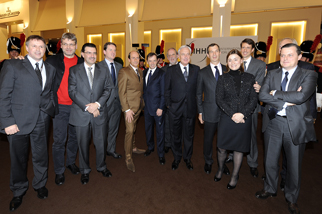 During 20 years SIHH is a specific symbol of the most accurate time meters and center of excellent horlogerie, also a place, where the great watch brands can share their special time world with the leading international distributors. Besides, SIHH, perhaps, is the main "engine" of watch business, where the wrist watches of biggest companies are presented to the most sophisticated representatives of Haute Horlogerie. The main aim of all participating "heroes" is presentation of objects, perfect by their demonstration of unlimited respect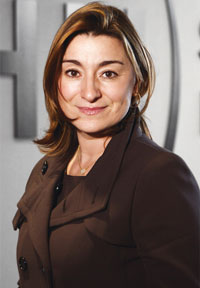 to heritage of the past. So, some brands, presenting their products at SIHH, were forming such heritage during more than one century. The unique value of watch heritage consists in high craftsmanship, use of high-accurate advanced technologies, centuries-old experience and belief in beauty and perfection of watch items.
Besides all aforementioned, SIHH proves its exclusive philosophy also by its place – wonderful Geneva, which had been the capital of horlogerie even before the salon was established in 1990. So, the watchmakers from Jura brought their complicated watch movements to Geneva, where the town cabinotiers (old name of watchmakers) set them into golden cases and enameled before sending them to various parts of the world. All Swiss watchmakers were dreaming of proud word "Geneve" on their creations, speaking about high quality of watches. That's why the exhibition's organizers didn't choose legendary Geneva, the place of horlogerie birth, by chance. It's not a secret that the Swiss city made its contribution into striking success of the watch exhibition. So, over 20 year ago Geneva was chosen as a place of holding one of the main annual watch exhibitions SIHH indeed. That city was and is a unique place, where the most incredible and amazing expectations of horlogerie fans, came to SIHH, come true.
The exhibition is always hold at the highest level, and it's organized by FNN (Fondation de la Haute Horlogerie), sponsored by Exhibitor Committee, which guarantees independence of show and keeping quality of all objects at the exhibition. In November, 2007, FNN, headed by CEO Fabienne Lupo, formed SIHH Exhibitor Committee. Each watch brand, exhibiting its products at SIHH, is presented by its CEO. The Committee also chooses the strategy of exhibition holding and regulates all questions, concerning next SIHH.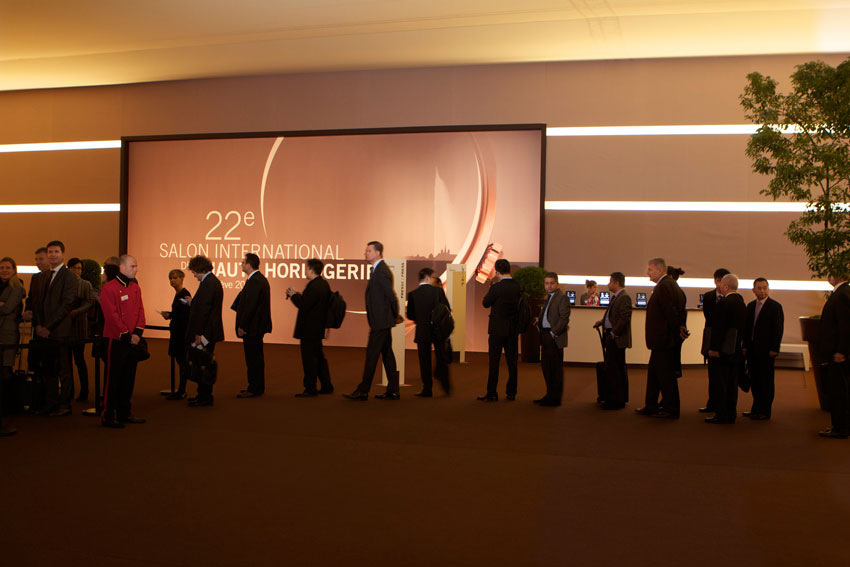 SIHH 2012 — keeping traditions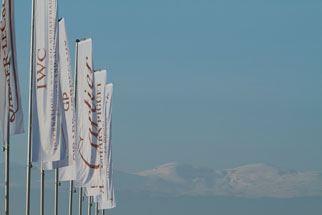 SIHH is a close exhibition for professionals, invited by the representatives of watch companies, exhibiting their products. First, let's look at the figures. So, at the 22nd exhibition SIHH 2012, 18 world brands presented their creations: A.Lange & Söhne, Audemars Piguet, Baume & Mercier, Cartier, Jean Richard, Girard Perregaux, Greubel Forsey, IWC, Jaeger LeCoultre, Montblanc, Officine Panerai, Parmigiani Fleurier, Piaget, Ralph Lauren, Richard Mille, Roger Dubuis, Vacheron Constantin and Van Cleef & Arpels. Then, the total square of exhibiting center makes up about 30 000 sq. kilometers. 12 500 privileged guests from all continents of our planet (international retailers, journalists and representatives of watch companies), 1 500 representatives of world points of sale and 1 200 journalists are invited. One can't but agree these figures are quite impressive, and they speak about vast scale of this event. According to statistics, the number of SIHH 2012 visitors has increased by 10%, as against to last year. It's interesting that the number of visitors from Asia has increased by as much as 6%. The new year has started a bit later for the watch world than the calendar year – with the legendary exhibition "SIHH", which took place from 16 to 20 of January at the exhibiting center "Palexpo" in Geneva (500 meters away from the airport of Geneva). The exhibition was officially opened in the presence of representatives from Genevan government, CEO of companies-participants and many representatives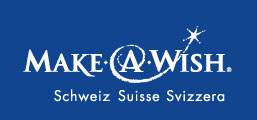 of mass media. By tradition an "opening" fourchette was organized for the guests. Besides, within the context of SIHH 2012 a charitable action under the title "Make-A-Wish Switzerland" was hold. The receipts were sent to the children, suffering from serious diseases, to ingrain hope, joy and strength into their small hearts to fight against illness. SIHH differs from other exhibitions in Switzerland by its smooth and slow pace. It seems that this salon is independent from the time, as the main design of exhibiting room and stands hasn't changed significantly from the moment of SIHH foundation. The same can be said about the main watch companies-participants. Probably, only the security system is being improved and toughened each year, therefore, it's impossible to "slip through" the exhibiting room. So, after 2011, one of the most successful years for the Swiss watch industry that ended by another record in watch exports, SIHH 2012 has been hold in quite comfortable and calm atmosphere. While the world economy doesn't "have its feet on the ground" yet, giving few reasons for optimism, the Haute Horlogerie moves forward smoothly – from 2011 into 2012. And there are many reasons to believe that the new year will bring many good news from the great world of Haute Horlogerie. 2011 was more than successful for the companies, gathered at the exhibition, therefore, as they say, they "have much to boast of".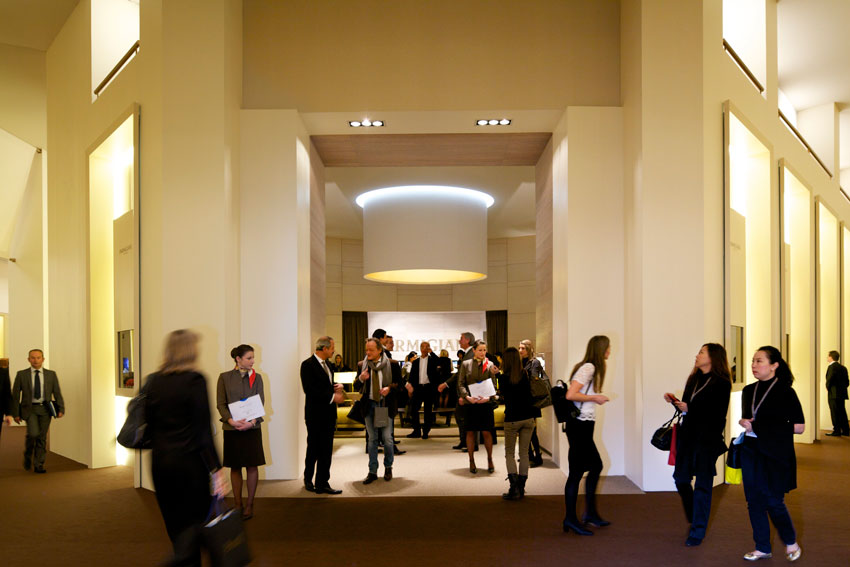 "Main heroes" of SIHH 2012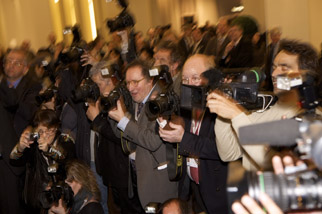 Every year SIHH presents historically important exhibits, connected with the world culture of measuring the time. In 2012, the unique pieces of Haute Horlogerie and enamel works, provided by the museum "d'Arte et d'Histoire de Geneve", were presented at the exhibition. All these exhibits reflect well Haute Horlogerie of Geneva. So, this exclusive event has given all visitors a possibility to admire excellent women and men wrist watches, wall and carriage clocks, jewelry items, enamel works and miniature sculptures, which were gathered in one place to illustrate ancient traditions of art and striking professionalism of watchmakers and jewelers. The watches and exhibits from museum collections, created in the XVI – the beginning of XX century from table clocks of renaissance to carriage and wall clock of 1900s were gathered at SIHH 2012.
Apart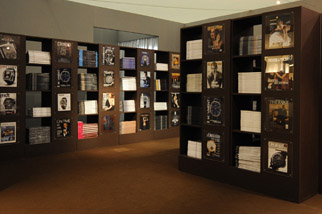 from art items, which you can see with your own eyes, SIHH 2012 presented conceptual photos of watches, taken for the magazines "Plaza Watch" and "Plaza Magazine" by best photographers from London, Dubai, Paris, Munich, and New York. Please, note that "Plaza Watch" and "Plaza Magazine" are two different worlds, two magazines with one name. One magazine pays special attention to wrist watches, another one – to modern fashion and design. Both excellent editions are widely popular in over 40 countries of the world, and they together form a completely new level of art and unique approach to photography on the whole. "We consider every photograph to be a piece of art, created with the highest precision, just like a fine watch. It is an honor to see our images showcased at the SIHH for the second time already" – said the publisher of Plaza Watch and Plaza Magazine, Christopher Östlund.
And, of course, the "main heroes of the event" are 18 watch companies with the world names, the fine products of which can't leave any visitor of SIHH indifferent. Everything was here: from strict classics to luxurious jewelry models and excellent time meters with ultramodern and traditional complications, presented in a new perspective.

Who knows what next year holds?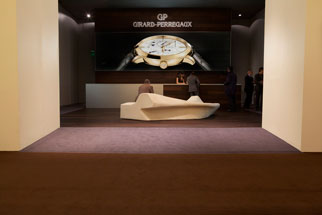 So, 18 watch brands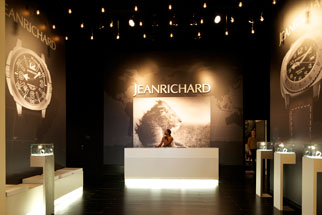 received a unique chance to demonstrate the new watch year of 2012 to the world at the SIHH 2012. These amazing five days in January, which have set tone and tempo of the next year, have shown unusual overwhelming energy of last months and current position of the watch market, submerged into the spirit of great traditions and innovations, creativity and deep respect to the ancient craftsmanship of watchmaking. The news about two famous watch companies "Girard-Perregaux" and "JEANRICHARD" (Sowind Group), which presented their products at SIHH for the last time, and in 2013 will take part in another famous event – international fair Baselworld 2013, have given special charm to the Genevan exhibition of 2012. That was caused by the replacement of majority joint-stock Sowind Group by the French holding PPR. Well, let's see what 2012 holds for us in the watch sphere.
Some companies-participants have presented their cult creations, keeping the earlier theme. So, the watch manufactory "Baume&Mercier", developing its existing line, has showed its laconic classic model "Hampton" at SIHH 2012. Well, this has been a flawless victory, as the men wrist watches from "Hampton" line already won striking success all around the world.
The Swiss company "IWC" shines with its original ideas, as always. All guests of SIHH 2012 were amazed by the way the wrist watches from IWC have been presented. As the manufactory has devoted itself to the pilot watches from collection "Big Pilot", the stand of the company was stylized as an aircraft-carrier, and its show-room – as a cabin.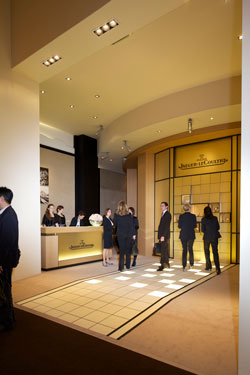 Many watch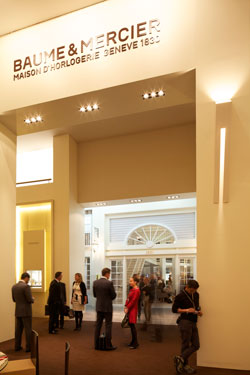 companies have paid enormous attention to the great invention by Breguet – the tourbillon, which has already become an integral element of elite watches. The men wrist watches with tourbillons were presented by such watch giants, as Audemars Piguet, Girard Perregaux, Greubel Forsey, Jaeger LeCoultre, Richard Mille, Vacheron Constantin. The sphere tourbillon by Jaeger LeCoultre, distinguished from its "brothers" by balance cylinder spring, has become the main tourbillon at SIHH 2012. According to the representatives of Jaeger LeCoultre, such movement provides high accurate operation of wrist watches. Looking at the wide range of presented tourbillons at SIHH 2012, making movements more accurate, one may exclaim: "How could it be even more accurate?!"
The fair ladies can enjoy not less luxurious jewelry women wrist watches, scattered with precious stones (Parmigiani Fleurier, Piaget). The "king of romantic retrograde", watch company "Van Cleef & Arpels", continued the line of "poetic" watches, showing two new models with retrograde hands-figures at SIHH 2012. But apart from romantic design, the models of Van Cleef & Arpels have what to look at, more exactly, to "listen". The new wrist watches "Poetic Wish" are provided with minute repeater, the gongs of which are fixed to back sapphire glass – this is a new way to achieve harmonious resonance for a perfect sound complication.
The watch company "A. Lange & Sohne" conquered the hearts of public by its complicated wrist watches, equipped with tourbillon, perpetual calendar, Lunar phases, leap year indicator, so on. Let's note that A. Lange & Sohne holds to its unique style, which combines clearness, strictness, accuracy and incredible complexity. The wrist watches from A. Lange & Sohne of 2012 declares its Saxon origin, remaining models with firm German character and differing by its laconism and recognizability against other complicated "colleagues".
It's amazing how the legendary Swiss watch company "Audemars Piguet" "makes" its many fans buy steel wrist watches at the price of luxurious gold models. And no one argues – even the steel wrist watches by Audemars Piguet are worth of that price. So, at SIHH 2012 the manufactory presented "royal" men wrist watches of classic style, thin models, and also matchless tourbillons. All men wrist watches by Audemars Piguet are unique hits of Dragon year.
According to many guests, the women wrist watches and jewelry collections were the best ones from romantic Cartier. However, the models from "Grand Complication" will also become worthy representatives of the watch world in 2012.
The new Italian wrist watches of 2012 from Panerai have been presented in a symbolic number of 12 pieces. The men military wrist watches from Panerai combine wonderful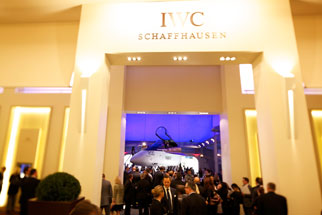 vintage style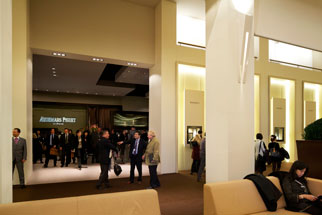 and high-accurate in-house calibers. It's interesting that for 2012 Panerai prepared models from rather unexpected materials – besides the favorite steel, the pink gold and ceramics are used for making cases, at that the men wrist watches "Panerai Luminor 1950 GMT Automatic Ceramica Tuttonero PAM 438" have even ceramic bracelet.
Obviously, in 2012 the company "Greubel Forsey" won't stop enchanting the fans of complicated mechanics by its latest genius designs. The men wrist watches by Greubel Forsey can be characterized by the word "magic" – so amazingly and futuristically these complicated time meters look and function as well. Just look at the Swiss wrist watch "Greubel Forsey Tourbillon 24 Secondes Contemporain", presented at SIHH 2012, and you'll understand everything.
The watch company "Parmigiani" at SIHH 2012 has appeared before the public as a great experimenter of design. However, you can't buy the wrist watches with interesting design decisions, named "Parmigiani Toric", as all beautiful pieces are already sold.
We would like to notice the wrist watch "Villeret" with extraordinary beautiful design among presented models of Montblanc. Such luxury doesn't overshadow not less original chronograph "Timewriter II", measuring time intervals within the accuracy up to 1/1000 seconds thanks to new unique system, designed by the engineers and watchmakers from Montblanc. Perhaps, the company reminds us of the time's transiency in this way. Value each moment of coming 2012!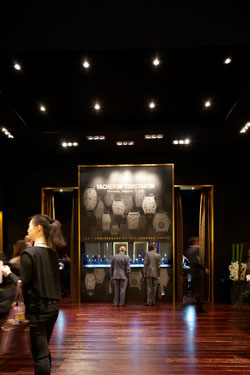 Besides its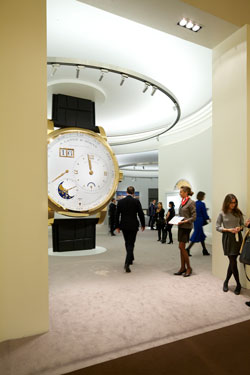 luxurious jewelry models, the Swiss company "Piaget" has shown another "thin" record to the world. Probably, there is nothing more tempting and charming than the new wrist watch-skeleton "Piaget Altiplano" – perfect from all sides. It should be noticed that a great number of skeleton from different manufacturers at SIHH of this year speaks about the start of new watch "epidemic". Let's call it "skeletomania". Also the manufactory "Piaget" hasn't forgotten to turn its attention to the mystic symbol of the new year – the Dragon, showing symbolic wrist watches with Dragon theme at the exhibition. By the way, it's easy to guess that the Dragon is a very popular watch theme for 2012, which is used by many companies.
As for the legendary watch company "Ralph Lauren", it has finally perceived all charm and many advantages of sport models. And in 2012 it is going to get involved in design of such wrist watches. The manufactory of Ralph Lauren hasn't forgotten about fair ladies, offering them women wrist watches "Slim Classique Square" (of course, extremely limited) in a unique art-deco style.
An absolutely unpredictable company "Richard Mille" has presented an unexpected wrist watch RM56, a "schtick" of which is its striking transparent case from sapphire glass, revealing the mechanical "spirit" of the time meter. It should be said that the marked price for RM56 is also absolutely unexpected – about 1 million and 650 thousand of dollars. Judging by new models from Richard Mille, the company has also taken a great interest in skeletons in 2012.
The cupboard of Roger Dubuis also hides amazing "skeletons", complicated with incredible tourbillons. Frankly speaking, looking at the men wrist watches from Roger Dubuis, demonstrated at SIHH 2012, any man would like to become a millionaire.
If you were asked to choose one model from Vacheron Constantin and take it from SIHH 2012, you would hardly manage to do that. All women and men wrist watches of Vacheron Constantin are so excellent that you can't choose only one model. The strict classics of "Patrimony", and also the tourbillons and jubilee collection "Malte" with cases-barrels, tested in accordance with new requirements of Genevan canton, are worth of the highest awards, as always.
The Swiss watch company "Girard Perregaux", developing early unique designs, has transformed its three-bridged tourbillons several times and embodied it in a new perspective. The wrist watches "Girard Perregaux" at SIHH 2012 are worthy representative of complicated "luxe" models.
As for the models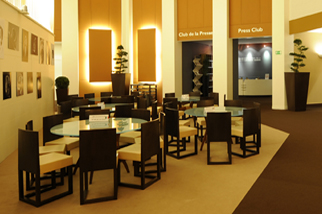 by Jean Richard at SIHH 2012, all attention of the audience was fixed at the men wrist watch "Highlands", first designed in the middle of 90s. The interpretation of 2012 has a stronger, masculine character and "sever" look.
Here we can draw the following conclusion: 2012 promises to the fans of horlogerie to go under the slogan "watch classics is timeless". Besides, recently the wrist watches-skeletons have become incredibly popular, and in 2012 their popularity is increasing. Also there is another trend in the watch sphere – case enlargement: the models, both men and women, with massive cases are in fashion. Obviously, the watch exhibition SIHH 2012 proved the fact that today Haute Horlogerie is "in good shape", therefore, we can safely wait for new exclusive models and further development of the whole watch sphere.
The contributors of information watch portal montre24, keeping vigilant watch over impetuous development of watch industry and novelties, appearing at the world watch market, have visited SIHH 2012 in January and valued all magnificence of exhibits. The representatives of montre24 have taken an active part in the exhibition and provide the visitors of the watch portal with a unique possibility to learn the latest news from wonderful Geneva and valued exhibited watch novelties. To buy the women and men wrist watches, presented at SIHH 2012, you need to address to the official distributors of watch companies.