Some time ago when Panerai watches were produced only for Italian special mission units and they did not have any signs except hour marks. Such measure was

taken in order to save top secrets during the war in the case if a watch would be lost and get to enemy's hands, nobody would know even what country this watch belongs to.
Only in 1993 Panerai company started to produce watches for civils as well. Such models immediately became popular and were mentioned on wrists of such people as Sylvester Stallone and Arnold Schwarzenegger. When Panerai took over "top secret" sign, watches produced by them got a logo and serial numbers.
In different models marking is in different place, for example, if the back lid is transparent, the signs would be placed around it. Any model of Panerai watch has such marking, the importance is right decryption of such signs.

Case number: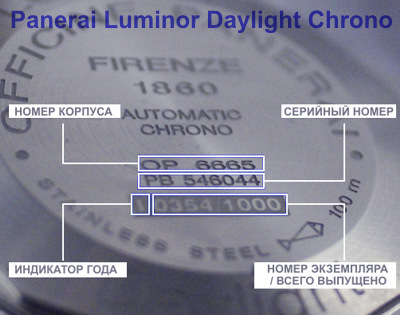 It is not very necessary characteristics – numbers just describe a manufacture indicator of a case model. Panerai watch sometimes has as individual as similar numbers, however any watch fan can easily differ the type of a case.

Serial number:
This characteristic is more important than case number, because it shows a serial number of Panerai watch. Here there is no definite variety because all numbers are in increasing order, the bigger number means the newer model.

Year indicator:
Up to 1997 this identification was not marked, but when Panerai company was bought by RICHEMONT a letter indicator appeared in their cases: A - 1998, B - 1999, C - 2000, D - 2001, E - 2002, F - 2003, G - 2004, H - 2005, I - 2006, J - 2007, K - 2008, L - 2009, M - 2010 etc.

The number of issued item/ total issue:


A model of Panerai Luminor Daylight Chrono watch is the 345 item of 1000 watches issued in 2003 (F). From 2003 they started to mark the total number of issued watches which was not done before.

A fish:
Is a symbol which shows the depth which Panerai can be taken without any harm.