In horology world there are some brands which hold out respectably against economic crisis. As a hero of Robert de Niro said: "They are untouchable and in a bloody fight there can be only one who will survive".
As Lorenzzi Pizziotto said: "We saw how many famous brands suffer from the lack of attention and so not sell their production, but Panerai watch company is as stable as a polar star".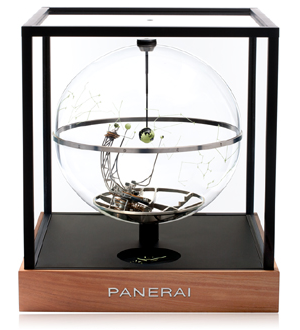 It is common not only for one particular country, it is a world wide situation. From Tokyo to Las-Vegas Panerai watch are sold every time and the price is stable, which amazes because in the list: "the most desirable and collectable models" is totally completed as many years before.

It goes without saying that Officine Panerai has some secret. At first it should be mentioned that Panerai do not ever forget about its history, even being transformed bu some modern innovations Panerai always keep their traditions save which also serve to brand's identity. All this place Panerai company on a contrast with all other companies marketing oriented, which lost.
Secondly, for 12 years Panerai watch has made one of the most valuable brand of luxury-class in horology world. It can be proved in a following way, if you buy any Swiss watch one day, another morning you wake up and understand that your purchase cost not less than 100% of money that you spent yesterday. Such particularity does not have any watch-brand, even Rolex or Patek Philippe.

"I consider present time as an opportunity to buy some rare Panerai models, which can appear at a world trade in the case of economic crisis. In this case I invest money to more complex watches as Patek Philippe and Panerai. I buy every model PAM 317 which can get into my hands. In a modern world Swiss Panrai watches are mode stable than any of World currencies" - says the collector.

At the same time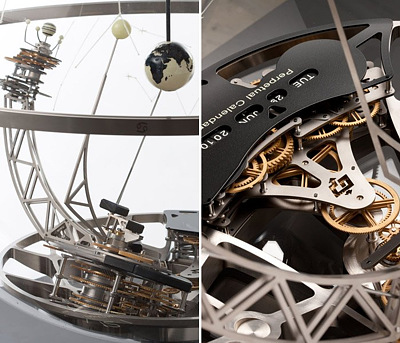 Angelo Bonati – a person who is responsible for such unusual brand development in 2009 has released the most unusual watch at the Galileo exhibition in Beijing, a sponsor of which was Panerai company which presented the most unconventional watch models. Amazing table clock Officine Panerai Jupiterium which perfectly encloses the main advantage of the company: respect to historic heritage and ability to take an inspiration from it. Thanks to saving traditions and continuing of old traditions the company could resist global economic crisis and now has became one of the wealthy watch-producing companies, which production even after many years only become more expensive.

Panerai Jupiterium shows the Jupiter and it's four satellites position towards the Earth which is the essence of Galileo Galilee discovery. Afterwards is was used in sea-traveling and navigation. In clock construction there are also the Moon and the Sun. at a crystal sphere zodiacal sign are applicated. The clock has GMT indicator, combined with a small hand of seconds. Also the clock has a perpetual calendar supplied with four signed year indicator. Power reserve is 40 days besides all the complexity and high power inputs of a grandiose movement. The clock is cost nearly €1,5 millions

Q: Why Galileo?
Angelo Bonati: Florence is the place where many outstanding discoveries in the sphere of science and culture were made. We were lucky that Panerai were born in such a wonderful place. The heritage of Panerai is definitely Florentine. The possibility to connect out watch brand together with science achievents of Galileo – is a unique opportunity for us. As a Florence brand, we would like to support the aspiration for demonstration of the key achievements of Galileo in astronomy because it is cultural heritage of the city where we were born.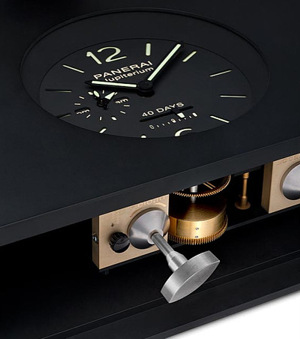 Q: Were you inspired by the work made by Galileo for detecting longitude?
AB:As you know the need of longitude detecting is always referred to sea and time measuring. John Harrison was the first who created ship chronometer in order to have an opportunity to detect longitude and such an invention opened the era of sea investigations. However, Galileo also created the system of longitude detecting which is very interesting, because it includes Jupiter and Moon phases observations.

Q: What was the method of longitude detecting?
AB: Galileo had a wish to make a fantastic astronomic click which could show an exact state of Jupiter and Moon phases and which could become a good thing to tell sharp time. It could be compound with astronomic state of the Sun at noon and the measuring buy astronomic tables of suitable longitude. It was a combination of astronomic and chronological solutions which had lead to the method of longitude detecting.

Q: Why did you decide to choose this very Galileo's invention?
AB: In the case of the exhibition we wanted to celebrate an internationanal year of astronomy (2009), that is why later were made Panerai watch which were inspired by unique combination of astronomic and chronometric ideas. This model was donated to Florentine museum as a part of its culture heritage. Absolutely, creating of such things has a kind of sense for Panerai – Florentine brand.

Q: What for astronomic complications were need?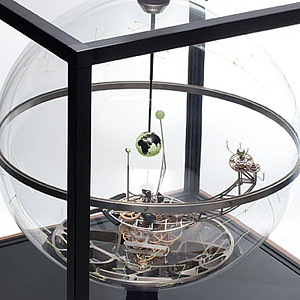 AB: It was very important for us to show that we were able to make such watch – the peak of our skillfulness. If you have a look at Paneraii progression, you can see that this brand made a high gap at from war production into a "luxury world". Panerai now can make all the components up to the movements at their manufacture. These are not just ordinary movements, they have one of the most innovative complications at the horology trade – a tourbillon for example. Now we decided to show that we are able to create extravagant astronomic complications. We do not want to sell such models to Panerai. It is just a present to the museum, they are not made for stock.

Besides the crisis, Panerai continue to stake on their historic heritage. In the case of Panerai Jupiterium – is is world heritage as well, but it looks like a part of Panerai brand, as the company existed even in Galileo's time. It seems that Panerai style is more than universal. In the solid "wireframe" of one's history it is able to stand any economic disasters. Today, when the crisis of 2009 has already passed away, Panerai watches are still keep their prices and they are still is the best money investment.