Time for Terminator: Arnold Schwarzenegger and his watches
Arnold Schwarzenegger is one of the most famous in the world of cinema and politics. It looks like he can be successful in everything that whatever he undertook. But make no mistake, believing that Schwarzenegger is no more than lucky. All of what he has achieved, this man has got by an incredible price of methodical effort that led him to the desired result. Things, that make life of Schwarzenegger, are as catchy and quality, as well as their owner. These are massive rings, custom-made suits from top fashion houses, and, of course, Swiss watches.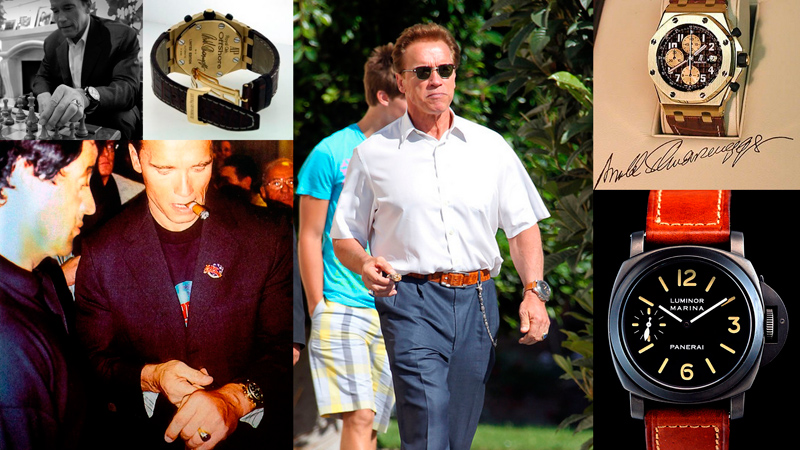 Time for Terminator: Arnold Schwarzenegger and his watches
Arnold Schwarzenegger cannot be called darling of fortune. He spent his childhood in Austria, in the village of Tal, located near the city of Graz. The family of the young Schwarzenegger lived, saying mildly , not rich. He recognized that one of the most vivid memories of childhood for him was buying a refrigerator. The future Terminator began to eat meat every only during his service in the army. Family relationships were not the cloudless, so young Arnie wanted to be famous and rich to prove to parents for whom the main virtue was a strict obedience to the rules that he is primarily a personality. To this end, he first started playing football, and at the age of 14 years finally chose a career of bodybuilder.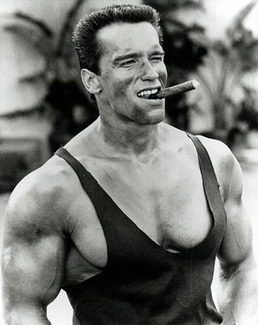 Arnold Schwarzenegger - training program
It's no secret that every man is revealed in detail. Based on this thesis, we can trace the connection between the character and the stages of Schwarzenegger's personality and those wristwatches that he chooses.

Panerai
The Swiss brand Officine Panerai could be associated for Schwarzenegger with the service in the Austrian army. The future Terminator was got in its ranks in 1956, when he was 18 years old. His military specialty is the mechanic-driver of tank. I must say that the soldiers under the age of 21 do not take up such a position, as a rule, but for Schwarzenegger it was an exception.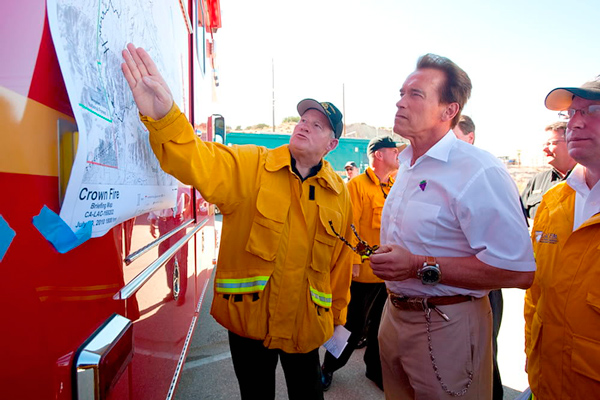 Schwarzenegger and his Panerai
Our hero spent a year in the army. By his own admission, he was not a perfect soldier. Once, during a training exercise Schwarzenegger even managed to drown own tank. The consequence of this accident is not known. But if Schwarzenegger dived with Panerai Luminor watch, with nothing would like happened to it. Except that this time meter of this brand appeared a little later.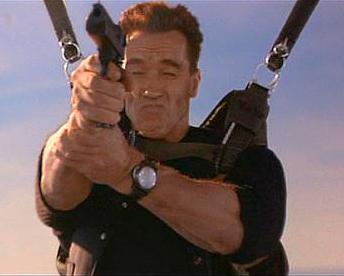 Schwarzenegger and his Panerai
They say Schwarzenegger began to wear watches Panerai Luminor since then, as Sylvester Stallone presented them to him. Meanwhile, Arnie jump on his presenter, light up his watch in the frame before this long-time fan of manufacture Officine Panerai. Compare: the movie "Eraser", in which the main character played by Arnold Schwarzenegger wears a watch Panerai Luminor Marina, was released in June 1996, while the premiere of film "Daylight" with Stallone, waving in front of the camera with the same accessory on the, took place only in December.

Frame of the film "Eraser" - Schwarzenegger winds his Panerai watch
Panerai Luminor Marina was took a fancy to our hero not only for its brutal appearance, but by fate. Schwarzenegger, being an Austrian, in 1986 he moved to the United States, and in 1983 became a full citizen of this country. The company Officine Panerai appeared in 1860 in Florence, and in 1997 it was acquired by concern Richemont. So watch of this brand became a true Swiss.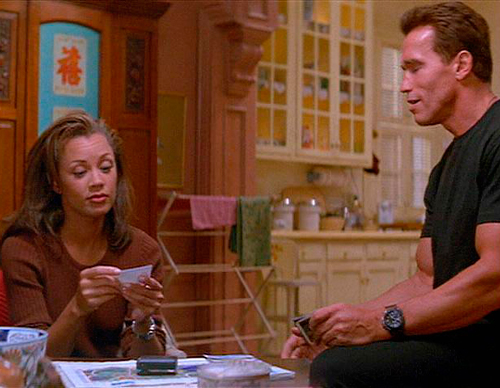 The role of Panerai watch in "Eraser" movie
Now favorite model Officine Panerai at Schwarzenegger is Panerai Luminor Submersible 1950 3 Days BRONZO. In the last two or three years bronze watches are all the rage. Schwarzenegger is often called the legislator regarding to wristwatches.

U-Boat
But Schwarzenegger is not living in the past. At several watch exhibitions, he was seen near the stands of relatively young Italian brand U-Boat. These watches have also military past, from which, however, there was only a stern look. By the way, there warrior Schwarzenegger can remember flush tank, because water resistance of some models of this brand, according to the manufacturer, as many as 1,000 m, but they are loved by the Terminator not for it.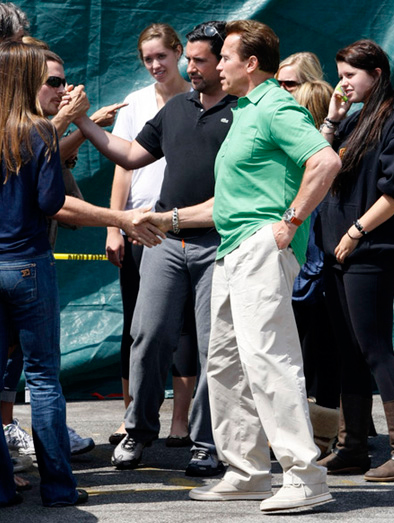 Schwarzenegger and his U-Boat watch
The smallest U-Boat watch has a case with diameter of 43 mm, and there are specimens with a diameter of 60 mm. Massive crown adds to them a similarity to the old regime Soviet alarms. If you drop those on foot, there is the risk of serious injury, and not every wrist withstands this weight. And Schwarzenegger, no problem with it- a piece of steel on hand, which already has biceps of the size of 54 - 57 cm! First in his collection was the model watch U-Boat of the line Classico. Schwarzenegger also have a piece of the line U-Boat U- 1942 Limited Edition Watch, case diameter of which is 53 mm.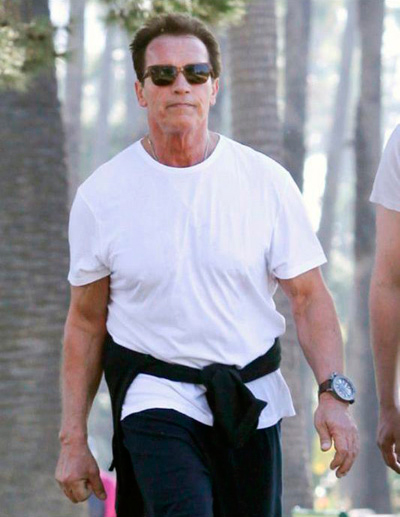 Schwarzenegger with U-BOAT U-42 watch
Agree - the holder of such impressive accessory is imbued with irrational respect at once. You want to make friends with such a man, but not too much to be crumpled in an influx of warm feelings. If you take into account the fact that Schwarzenegger became the youngest-ever "Mr. Universe" when he was 23 years, with growth 188 cm and weight about 110 kg, there is no desire to do something fun with this nicest person about his tank. We can only guess how he placed there.
Audemars Piguet
In Hollywood movies for some reason decided that if we face a villain, he should be imprisoned with the strictest regime for just his look. On the contrary, if the character is positive, so it always is a model of integrity and commitment to a healthy lifestyle. Naturally, Hollywood producers could not ignore Arnold Schwarzenegger. He is such a character! This mountain of muscle is able to effortlessly scatter an army of the Vietcong, the crowd of terrorists and a couple of aliens, and then another couple of hours to compete post.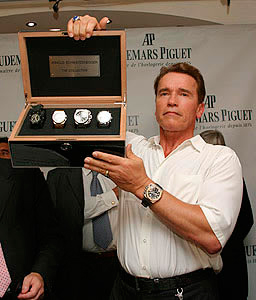 Schwarzenegger presents novelties of Audemars Piguet
Schwarzenegger began acting in 1969. His first job in film was the role in the film "Hercules in New York", which he is very shy of today. Over acting ability (or rather, lack of it) of Schwarzenegger only lazy people did not laugh. That there is a fact that he was nominated for award "Razzie".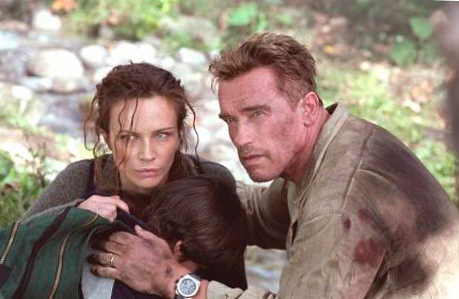 Audemars Piguet Royal Oak Offshore watch with Schwarzenegger in the movie "Collateral Damage"
However, Arnie is not effaced. Directors, looking at how quickly Schwarzenegger learns, willingly cooperated with him. Many changed their minds about him after watching the movie "Terminator 2". Schwarzenegger could play a machine, devoid of emotion, by definition, so emotionally, that breaks through many a tear.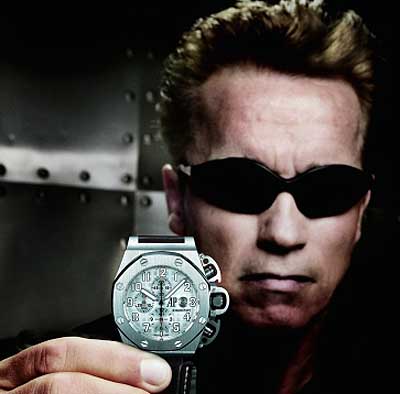 Audemars Piguet Royal Oak Offshore watch with Schwarzenegger in the movie "Terminator 3"
And when in 2003 the film "Terminator 3" has been released Schwarzenegger got about $ 30 million, which was a record sum for the film industry at that time. This brutal image was added with prestige by the flashed in the frame Audemars Piguet Royal Oak Offshore watch, which watch on the wrist Terminator. Well, even if such a respected brand trusted Schwarzenegger's acting talent, so the critics had to reconsider their attitude. Everyone is not able to wear the watch Audemars Piguet Royal Oak Offshore – a massive case of models from this collection may have a diameter not less than 39 mm. Add to this picture octagonal bezel with screws and a large crown, as well as a very solid reputation, which became especially important when the actor went into politics. Everyone will not dare to wear this massive watch.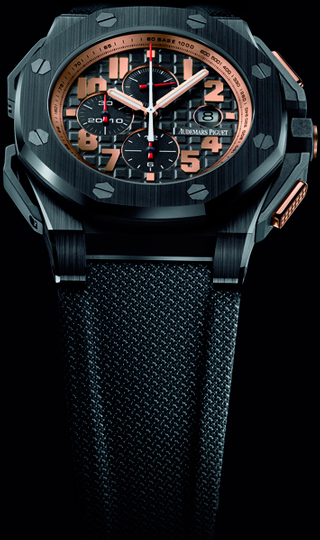 Audemars Piguet Royal Oak Offshore Arnold Schwarzenegger watch
With "Terminator 3" a long friendship of Schwarzenegger with the brand Audemars Piguet has began. In 2012, this Swiss manufactory even expanded a special collection The Legacy with special model dedicated to the actor. Watch Audemars Piguet Royal Oak Offshore Arnold Schwarzenegger has brutal shape, octagonal bezel made of black ceramic and rubber strap. The Legacy Collection includes 1,500 pieces. By the way, part of the proceeds from the sales of these watches go to the charity fund After School All-Stars, which is the brainchild of the Schwarzenegger. Who said that Terminator cannot be altruistic?
Lасо
In 2003, in Schwarzenegger's life there was another important event - he was elected as governor of California. Perhaps the choice of such a serious brands like Audemars Piguet, in some way affected on his character. Republican Schwarzenegger time forgot about gym and lonely hero roles to help California overcome the effects of the global financial crisis.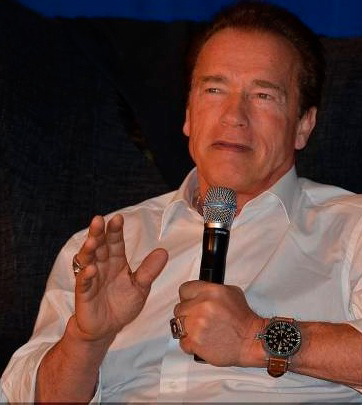 Schwarzenegger and his Lасо
He remained serious until 2011. Leaving the post of governor of California, Schwarzenegger fulfilled his long-standing promise – "I'll be back", given in the movie "Terminator". And he did come back as an actor and producer. Schwarzenegger's new movie "The Expendables" – is a mixture of thriller and adventure comedy. So we have not seen an actor in such a way.
Schwarzenegger's preferences in wristwatches have also changed. Instead of massive and already familiar Audemars Piguet he often began to appear in public in the work of the German mark Laso called Beobachtungsuhrenr (abbreviated - B-Uhr). This pilot's watch with a 55-millimeter case, the design of which is copied from the model, which was on the wrists of German pilots during the Second World War. It turns out, though, sixth decade passed for Terminator, he is still pulled into the sky. And this rejoice his fans.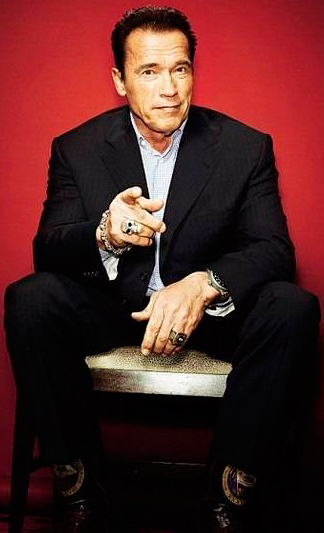 Schwarzenegger with Lасо watch
Schwarzenegger cannot be called an inveterate dandy, but he still tries to follow for the fickle whims of fashion. Always dressed in immaculate suit, he still remains primarily an athlete, so his best decoration - muscle.
As for watches, then in this Schwarzenegger has long been considered a trendsetter. Perhaps people are simply filled with irrational confidence in the time meter that can withstand all the troubles encountered on the road of such a person.
Schwarzenegger has not really been the darling of fortune. All he wanted from it, he had to take himself with the help of a will to win and iron muscles. And the watch - it's just accessories. They do not, as they say, makes the man, although can bring some zest to his image.

Written by Olga