Patek Sky Moon Tourbillon (ref. 5002) was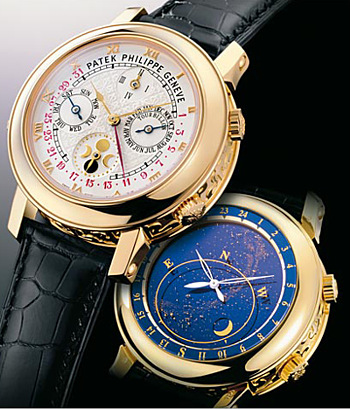 released in 2001 and in every new year they became more popular and a kind of a profitable investment. If at first the model cost "only some hundred thousands" of dollars, well to 2005 Patek Sky Moon Tourbillon were soled for 1,7 million of dollars.

Original watch Patek Sky Moon Tourbillon is not very easy to buy. So it is because Patek Philippe company is worry about once reputation because Patek Sky Moon Tourbillon is very complex. The company does not hurry to make Patek Sky Moon Tourbillon model perfect that is why a slow and laborious work does it's best and no more than two items of watch are usually released.

They say that the turn of customers who dare to buy Patek Sky Moon Tourbillon is too than big, ordering watch at an official dealer they have to wait up to five years. After this, believing to gossips, a customer should come to an interview to the head of Patel Philippe company. One of those who was at such an interview was one of the reachest people in the World – Bill Gates.

Firstly, there can be a question: "What unique and unusual is in Patek Philippe watch?" this famous watch hide two movements under once case and show two dials – one to each side of a case.

Secondly, two of these movements are not just unusual, they are unique. Patek Sky Moon Tourbillon is one of the most complex models which has ever been released by Patek Philippe company. Their movement consists of 686 elements, some of which are microscopic.

At one side of a case at a light dial Patek Sky Moon Tourbillon shows:
hours, minutes and seconds,
days of a week (at a position of "9 o'clock"),
retrograde date indicator,
Lunar phases detector (at a position of "6 o'clock"),
month (at a position of "3 o'clock").


Indication of all these function is provided by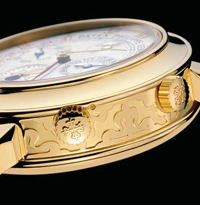 an automatic Swiss movement Lemania 1873 which has 48 hours power reserve and two "cathedral" gongs.

The second dial Patek Sky Moon Tourbillon is located at the other side where back lid is usually placed. At its surface of a sky-blue color there is a constellation map, 24hour time format, Lunar phase and orbit indicator. Swiss quartz movement ETA 256.112 controls all the systems.

The second is a quartz caliber because its thinness in other case a watch of such complexity, supplied with two quartz calibers would be too thick. So well it has 43mm case which thickness is just 16,8mm. At the one side of Patek Sky Moon Tourbillon there is an engraved Calatrava ornate lettering – a brand sign of a company. The same shape has a buckle at a strap of Patek Sky Moon Tourbillon.


In 2002 at a world watch exhibition BaselWorld Patek Philippe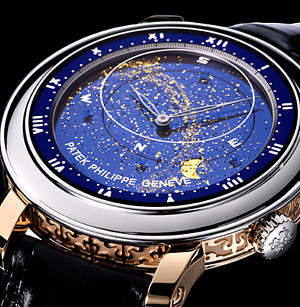 company presented another (modernized) model of Patek Sky Moon Tourbillon - Patek Sky Moon watch (ref. 5102), a bit simplified version of legendary Patek Sky Moon Tourbillon. Patek Sky Moon (ref. 5102) is a model created especially for those who would like to have a watch supplied only with one dial.

Patek Sky Moon (ref. 5102) combines at one dial an exact image of a constellation sky and a usual 12hours format dial. There are three disks with images of the sky full of stars which turn with different speed counterclockwise. One disk shows the Milky Way, the next is supplied with an aperture, which detects Lunar orbit and the last one (a very small) is a detector of Lunar phases.

Patek Sky Moon watch besides the absence of a second dial and evident simplifications is not less unique. Patek Sky Moon shows 4 different time at one moment:

1. Lunar time (the time between 2 Last turn of Moon straight the detected the meridian), which lasts 24 hours 50 minutes and 28.328 seconds.
2. Lunar month, which is the time between two full Moon which is equal 29 days 12 hours 44 minutes and 2.82 seconds.
3. Sidereal time (astronomy time which is need to make full turn around some meridian) is equal 23 hours 56 minutes and 4.09892 seconds.
4. Earth time.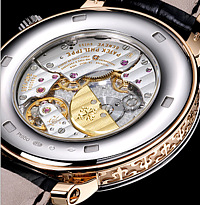 For synchronizing all the indicators and for making caliber 240 LU CL, watchmakers were have to take into account 25,000,000,000,000 possible combinations.
So well, possible mistake of Patek Sky Moon is no more than a split second. A marvelous mechanic movement provides work which can be observed through the back lid of a watch.

In the end there should be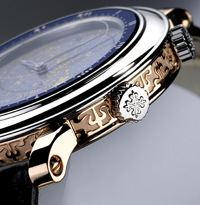 mentioned that the placement of stars at the dial of Patek Philippe watch ( Sky Moon and Patek Sky Moon Tourbillon) is coincides with the placement of real stars at the real sky of Geneva (in the South hemisphere the placement of stars is not coincides).However it does not make any influence on the prestige of the most expensive watch in the World.