Subtle tricks of Horlogerie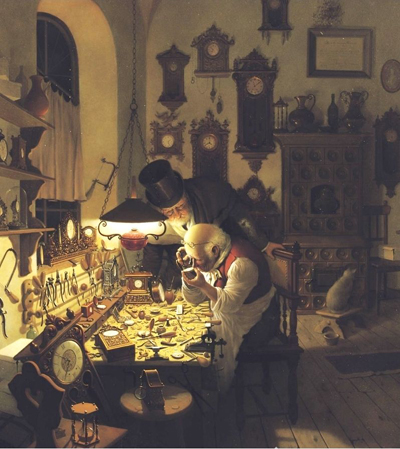 In the XXI century we can see a clear tendency to past epoch styles. More and more various accessories, used by people in everyday life, are made in vintage or retro styles, attracting enormous number of fans. Such regularity is especially noticed in the watch industry, where the wrist watches in after-war style win a bigger share of world watch market; the style of elegance and sophistication flies into our life on the wings of timeless classics by vast flocks of unique ultrathin wrist watches, dictating a new trend of watch fashion. The ultrathin watches consider special sense of aesthetics and sophistication, but not simplicity at all. The received opinion that thin watches are made at the expense of their functionality is rather absurd, as many models of wrist watches from famous world brands are standards of complicated watches and can spot their big brothers. Tourbillons, repeaters, carillons, perpetual calendars, Lunar phase indicators, split-chronographs – eternal companions of bulky wrist watches. So, what should one do to show his sophisticated taste, not being deprived of functions, the "wrist bricks" are provided with? It's simple – to buy an ultrathin watch with tourbillons, repeaters, carillons and so far. With the appearance of high-accurate apparatus, finishing microscopic details, the wrist watches with complications became more popular among great number of individuality and elegance connoisseurs. Let's start from the beginning.
Tourbillon (French word, means whirlwind) — a complicated mechanism, compensating influence of earth gravity on mechanical watch movement accuracy. Invented by Abraham-Louis Bregeut in 1795 and patented in 1801. Initially that device was designed for pocket watches, which had rather big case to contain the complicated mechanism. After its inventor's death, the tourbillon wasn't widely used due to its complexity, only some brands created wrist watches with tourbillon - Girard Perregaux, Patek Philippe, Ulysse Nardin. The wrist watches were quite massive, and the case thickness made up over 10 mm. The most ultrathin caliber with tourbillon 600Р was issued by the watch company "Piaget" in 2003, and had thickness of only 3,5 mm. Many famous watch brands release thin watches with tourbillons, provided with case of maximum 5 mm thickness. As elegance can't be inaccurate!
Perpetual calendar or Quantieme Perpetual is a complicated device, reflecting different months interchange and 29th day of February every 4 years. And again the invention of first pocket watch with this complication belongs to A.-L. Breguet (in far 1795). In time the perpetual calendar moved to cases of wrist watches, and Audemars Piguet, paying careful attention to various innovations, became an "ambassador" of astronomic complication into mass production. The watch company created the thinnest watch movement with perpetual calendar module "Jules Audemars" in 2010; the caliber 2120\2802 consists of 355 details and is only 4 mm in thickness. The sophisticated watches – "timeless classics" – have become more complicated, comfortable and thinner.
People needed to know the time long before the appearance of electricity and luminescent hands, and it was really difficult to light candles every time they wanted to know the time, as the matches hadn't been invented in the middle ages yet. Then "poor people" saw "light at the end of the tunnel". No, it wasn't Prometheus with his fire, everything was prosier: a multiple tones sound. The forefather of first repeater – a device, which helps to know the time by sound – was invented in far 1670. That device represented rather big box with a lever, which "told" everybody the time by its "ding-dong". The repeaters were used everywhere in wall and floor clocks, but people's age-long frenzy for comfort and minimization gave birth to an interesting question: "So, how can, say, a tired traveler learn the time in carriage at night? Shouldn't he drag along enormous wall clock?" And again a genius watch master Breguet, showed off his name in many useful watch inventions, came to rescue. A conceptually new system of striking gong in the form of spring allowed diminishing the movement significantly and even placing it into pocket watch. Thanks to watch master Breguet the pocket watches-repeaters became rather popular among upper classes by the end of XVIII century. Audemars Piguet, announcing itself by the wrist watch with perpetual calendar, became a pioneer of wrist watches with repeater. The watchmakers from Audemars Piguet could put the music mechanism into the case of wrist watch in 1892. Other oldest watch companies, like Vacheron Constantin and Ulysse Nardin, kept up, but up to the present time Audemars Piguet rests on the laurels of company, which released the thinnest caliber with minute repeater together with perpetual calendar of 5,7 mm thickness. But the record of thinnest movement with only repeater undoubtedly belongs to the company "Vacheron Constantin" with its caliber of totally 3,8 mm thickness. So, ultrathin, high-accurate astronomic watches allow learning the time even in total darkness.
But what about chronograph? As the true connoisseurs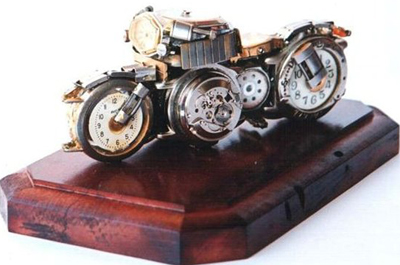 of sophisticated life won't waste any split second! But the invention of ultrathin chronograph, provided with self-winding system, is quite difficult task, almost impossible. As the self-winding movement rotor must be big to provide effective work, and the second hand escapement isn't small itself. The caliber of usual wrist automatic watch with chronograph remind of 3-layer cake, and such movement in thin watch should remind of cake, pressed by roller-asphalter. At this front-line the famous watch company "Blancpain" is surefooted with the banner "Ultrathin watches", presenting its chronograph movement "Frederick Piguet", which is placed by the company in the line of thin watches with chronograph "Villeret" in 1987. The caliber 1180 of 3,95 mm thickness was manual-wound. Its automatic variant was created a bit later, increased in thickness for only 1,55 mm. As a result Blancpain got unspoken title of father of all thin self-winding chronographs among collectors. The thinnest split-chronograph belongs to the oldest elite watch brand "Patek Phillipe" with its caliber CH27-525PS of only 5,25 mm thickness, the thinnest movement of split-chronograph ever created.
So, the ultrathin watches can resist earth gravity by means of tourbillons, show the date through centuries without any corrections in its perpetual calendars, tunefully sound the time in total darkness and count any time intervals, even tenths of seconds. And all these "bonuses" are placed in elegant thin cases, matching business suit and evening tail-coat and demonstrating sophisticated character of its owner. We can only dispute with massive watch fans about different advantages and disadvantages, style and perceptibility, but as for functionality of thin watches, no argument can appear, as there is nothing that could be diminished and made more perfect.
Big watches in military style, heavy sport chronometers or sophisticated thin watches – all is up to you, as the Roman comedian Publius Terentius Afer said "Quot homines, tot sententiae" that means "opinions differ".
Patek Philippe 5951 Platine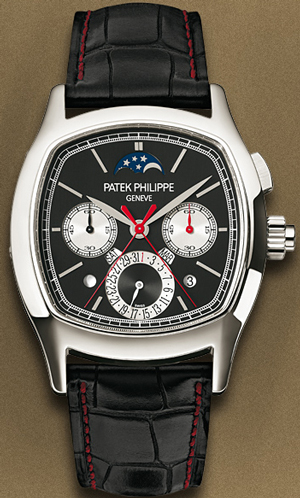 In spite of the glory of wrist watches with 7-digit prices, the world record-holder in the most expensive watches "Patek Philippe" decided to go on and improve its unique ultrathin movements, placing over-complicated movements into cases, very similar to a sheet of paper sidewise. At the world watch exhibition Bazel 2010 the company "Patek Phillipe" presented its new model of wrist watch that became a standard of thin chronograph. The watch "Patek Philippe 5951 Platine" is equipped with thinnest caliber CH 27-525 PS of only 7,3 mm thickness with split-chronograph module. Besides, the watchmakers-magicians managed to set perpetual calendar into thinnest split-chronograph in the world. The model became a real sensation for collectors of sophisticated watches and fans of horlogerie. The model possesses some Royal modesty, and the retrained beautiful case hides a very complicated filling, rounded by welts and smooth lines, alluding what there is in "still water…". Through quite rare decision – transparent back case, made of crystal-clear sapphire – you can see all that is hidden there. The main luxurious black dial isn't provided with any digital indications that various counters, situated at the bottom of dial, abound with. Apart from two main ruby second hands, two 60-second counters are set at "3" and "9" hours. The aperture of month and week day and leap-year indication are around of hand date indicator, which is situated at "6" hours. The Lunar phase indicator is at "12" hours above the inscription "Patek Philippe Geneve". This masterpiece – a thin split-chronograph with perpetual calendar "Patek Philippe 5951 Platine" – is equipped with charming strap of hand-made crocodile leather with elegant red stitching, matching separate scarlet details in the chronograph's case. So, we have another record of the company "Patek Philippe", which has proved once again that only unique and exclusive items can have its name.
Piaget Emperador Coussin Tourbillon Ultra-Thin
One more record-holder
in ultrathin flat watches with complications is the famous company "Piaget" – the author of the thinnest model of wrist watches with tourbillons and self-winding movement. The wrist watch "Emperador Coussin Tourbillon Ultra-Thin" of only 10,4 mm thickness set a new record in its class. The watch brand "Piaget" became famous for its ultrathin caliber in far 1957, and up to present day this company has been making its thinnest models of wrist watches for connoisseurs of classic elegance. The high-accurate ultra-thin watches are controlled at all manufacture stages that excludes even a though about possible unreliability of movement, set in 5-mm case. The company doesn't forget about functionality either, using various fashionable "bonuses", such as perpetual calendar or tourbillon, placing them into such thin cases that one can't understand how the hands function after all, not saying about such complicated movements, as tourbillon and self-winding rotor. But the last model of thin wrist watches "Emperador" gives explicit expression of one of the thinnest flying tourbillons in the world and effective work of miniature self-winding rotor. All in one watch! Three years of researches and designs led craftsmen to creating horlogerie masterpiece, which became a desired exhibit for many wrist watch collectors. At close examination the watch "Piaget Emperador Coussin Tourbillon Ultra-Thin" represents a hybrid of two manufactory calibers Piaget — 600P and 1208P, one of which is the thinnest movement with tourbillon of 3,5 mm thickness, another one – the thinnest automatic movement of 2,35 mm thickness. This hybrid, consisting of 269 details, makes up 5,55 mm in thickness. The new movement 1270P on 35 jewels has 40-hour power reserve. The flying tourbillon makes its fascinating honor lap in 60 seconds. The brand pillow-shaped case makes up 46,5 mm in diameter and can be made of white or pink 18-carat gold. The sapphire anti-glare glass covers silver dial with laser engraving and without any hour or minute indications. The model is equipped with black or brown leather straps, depending on case color. The water resistance is 30 m. The power reserve indicator is moved to back case. That exclusive model of wrist watches, perfectly completing an elegant expensive suit, was presented at the last exhibition SIHH-2011 as an irreplaceable accessory for truly serious businessman.
Blancpain Villeret Chronographe Monopoussoir Quantieme Complet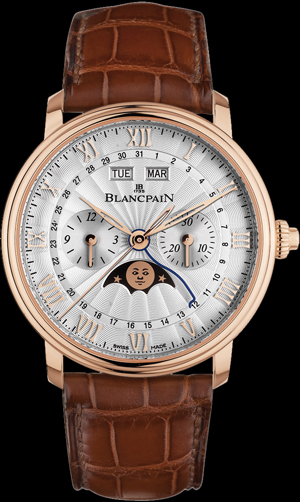 The year 2011 can be safely called a year of elegance and sophistication in horlogerie. And the world exhibition Bazel-2011 is an indisputable confirmation of this fact. Along with unusual wrist watches of fantastic design, the exhibiting stands of many companies abounded with chronometers – pride of watch brands – the ultrathin watches with complications. The famous motto "Faster! Higher! Stronger!" can be interpreted for returned vintage fashion of elegant style and smooth lines in other way – "Stricter! Thinner! Smarter!".
One of the world leaders in the manufacture of graceful thin watches, Blancpain prepared itself well at the past exhibition and reserved the title of brand with "sophisticated taste" thanks to its new model of thin wrist watch "Blancpain Villeret Chronographe Monopoussoir Quantieme Complet". The watch is a worthy representative of newly performed elegant collection "Villeret", started in 2010. Blancpain informed long time ago about its trend of one-button chronographs, neat and functional, "stuffed" with various complications. So the movement of new thin watch model from Blancpain is weighted with perpetual calendar module, still keeping small height – only 7,5 mm and 32 mm diameter. This is a completely new caliber 66CM8 on 35 jewels, consisting of 450 details, with automatic self-winding and 40-hour power reserve. Therefore, the watchmakers managed to achieve best functionality and comfort, reserving all features of strict noble design of that gentleman chronograph. Besides thickness, this Swiss wrist watch has many other peculiarities. The patented system of perpetual calendar adjustment, preventing any damages of brittle movement, represents the company's know-how. The small levers are hidden from back case at the place of staples and deprive the classic case of excessive heads and buttons as well as of using supplementary adjusting keys, keeping strict lines of each watch detail. The chronograph module also doesn't load the case of watch "Villeret Chronographe Monopoussoir Quantieme Complet" with special elements of control and is started by one button, integrated into the crown. The guilloched dial, like sun rays, can be of opalescent or white color for gold and steel case correspondingly. The curved blue hand, rotating around inner radius and indicating the date, strike one's eyes at once. Such unusual form reminds of retro-watches, where any supplementary indications were performed by such extraordinary serpentine hands. The hour indications in the form of elegant Roman numerals are situated along outer radius. The 30-minute counter took its shelter at "3" hours, and the 12-hour counter found its place at "9" hours. The Lunar phase indicator is situated between two counters. The aperture of date and week day is situated higher, at "12" hours. The back case is transparent and demonstrates the movement and rotation of fascinating golden skillfully guilloched self-winding rotor. The wrist watch Blancpain Villeret Chronographe Monopoussoir Quantieme Complet" is equipped with brown strap of alligator leather with exclusive finishing "Alzavel" on unfolding buckle. Such strap perfectly emphasizes classic style of flat chronometer from Blancpain, sophisticated watch for any official event, requiring tie or bow-tie.
F.P. Journe Répétition Minutes Souveraine
The repeaters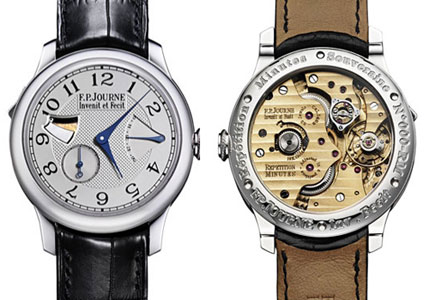 lost their practical significance long time ago, however we can't but admire tuneful striking of time by these small wonderful movements on wrists – watches with minute repeater. Being a rather complicated movement even for usual wrist watches, the repeater, placed into an ultrathin watch, turns out to be a sheer horlogerie wonder. Initially that interesting complication was necessary to know the time in darkness, but with the appearance of luminescent treatment the repeaters acquired the role of status complication, demonstrating seriousness of watch brand, its aristocratism. As it's so nice to push the button and hear an amazing multi-tone sound, striking current time and carrying us to somewhere in the middle ages, in times of huge tower clocks that were the only instrument for citizens to know the time, of big clocks with their loud "ding-dong", embodying wonderful romance of past epochs, and magically returning us to modern epoch of fascinating sounding wrist watches with repeaters. One of such wonderful movements in ultrathin performance is the wrist watch "F.P. Journe Répétition Minutes Souveraine", the owner of palm in the field of thinnest minute repeaters in the world. Passing insuperable difficulties and spending enormous quantity of time, F.P. Journe released a unique movement of minute repeater of 4,04 mm thickness without hands and 4,65 mm thickness with hands. And it remains an enigma how the famous watchmaker could place plus two barrel drums, apart from such complicated music device, into that flat case that provide fantastic power reserve for such miniature caliber – 56 hours. The total thickness of case, "stuffed" with phenomenal miniature gadgets, makes up only 8,65 mm, and an uninitiated person may only guess how all these things work in such limited space. The main dial of this watch is traditionally moved from the center to the crown, and contains supplementary second scale with hand. The indications are applied in two rows: the 60-minute scale is behind the 12-hour one. In additional aperture you can see the famous flat gong of watch manufactory "F.P. Journe" and the hammer, striking it on time. The power reserve indicator is situated above. All hands of wrist watch "F.P. Journe Répétition Minutes Souveraine" are performed in amazing form, they slide on dial elegantly, measuring slow movement and reminding of true aristocratism of models, made by talented watchmaker F.P. Journe.
To be continued ...