Most expensive watches or watches as marks of distinction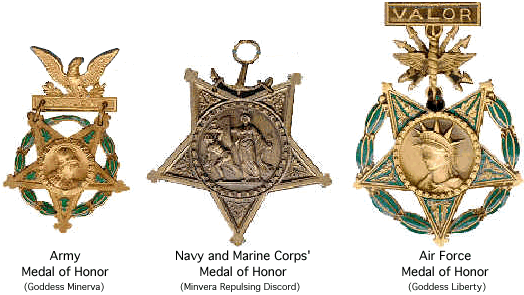 An ordinary watch shop. Two potential clients from far future come in. They smile, poke their fingers into storefront and joke on another price-list with six figures. In elated mood they ask the seller a culmination question: "What are the most expensive watches in your shop?" Why are people interested in the most expensive watches? They are certainly eager to see something very small that costs fabulous money. Then they want to compare this price with their revenue or to count what else they could buy for this money or even to set their standards for future: "I will do my best to earn for such watches".
My new article is devoted to watches over one million dollars cost. Why did I emphasize the million? The million is a magic figure. There is one million millimeters in a kilometer; one million cubic millimeters is a liter of water. The millionaire's club is an elite club which entrance is hard to find and is not for everyone. Once Clint Eastwood said: "I will never buy a T-shirt for $100 dollars, because it doesn't cost this sum of money". Many people would say that watches can't cost so much. But I won't agree with them. If watches are priced, then someone buys them. Is one million a big sum? What can be bought for this money? An ordinary teacher has to work more than 200 years to earn for such watches. A pensioner could live for about the same period on this sum. You could buy 1500000 multicolored balloons. It would be possible to go for world tour 110 times. You could buy 11 two-room apartments in every million-cities in Europe. Or you could buy the annual line of my favorite Azimuth watches. The watches are marks of distinction. And this mark somehow points to person's possibilities; the very expensive watch emphasizes not only possibilities, but also power of its owner. And, as it's known, power is strength.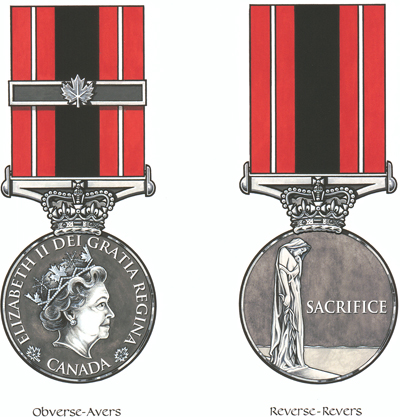 Women are not attracted by money. Neither by cars, nor by jewelry. Neither by restaurants, nor by expensive clothes. Not by strength, wealth and elegancy. But by things which make people strong, wealthy and elegant. Power ones are allotted, others are fully deprived.
A man cannot stand out from the crowd due to his expensive jewelries: either rings encrusted with diamonds, or heavy golden chains. There is only one worthy adornment for a man – the watch. Yes, we should understand that the watch is an adornment, but a very restrained one. If you wear a watch, no one can reproach you with plenty of accessories. It's not earrings or chains on naked chest.
The wrists are exposed in any religion.
The watches are trappings of your welfare. You can't list all your activities; you can't put your expensive car on the meeting table; you can't cover yourself with banknotes. No wonder there is a saying: "First impressions are most lasting". By the way, I can easily add the word "always" to this saying.
Diffidence often causes desire to obtain public recognition that is hard to get. Although recognition obtained by use of expensive accessories is de facto, but it is as real as recognition of the State award recipient. But unlike the State, you decide who will get the award. You love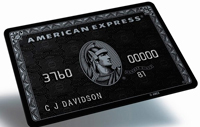 yourself – you award yourself. Sometimes the award can be so expensive that you have to wait for it. The person who was born in wealthy family needs recognition less. What do The Queen of England and the President's son need expensive watches for? The expensive watch for a man is like a new toy for a kid who runs to a sand-box not to play with it but to show it other kids. We grow up, so our toys grow too. One can pay for his toy as much as his soul tells him. (We don't consider the watch collectors). The watch is a material image of wealth. And this mark of distinction admires not only people around, but its owner himself. No wonder the famous watch brands are known by not only wealthy people.
In the high tech world full of electronic displays with indicators of time the wrist watches have lost their main function – to show time. So, how much is this function of wrist watches? It's up to you to decide…
This article is not intended to criticize anyone for buying expensive watches. Sometimes I buy watches over my family budget myself. And if one day I have a big sum of money, I will award myself with the million-dollars-mark of distinction.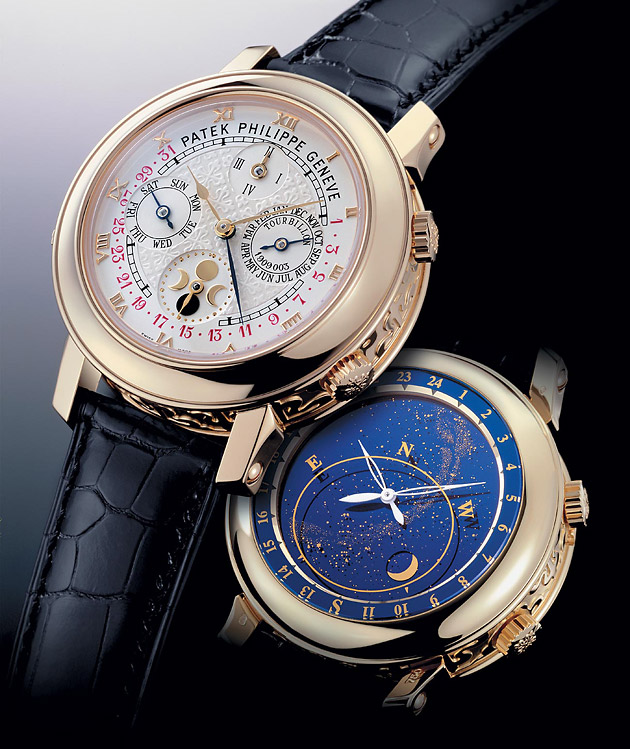 I will start this sketch on the expensive watches in the world with the legendary Patek Philippe Sky Moon Tourbillon. All the rarest complications used in the watch industry are united in these expensive Patek Philippe watches. The watch reference is 5002. First these watches were unveiled in 2001, followed by the most complicated pocket watches Star Kaliber 2000, presented in October, 2000. In fact, this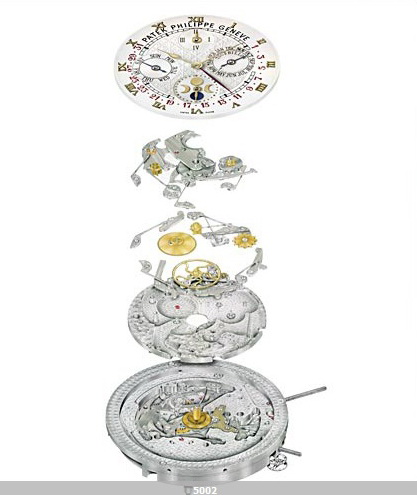 pocket watch is the Sky Moon Tourbillon forefather. There are four types of these watches: 5002G white gold, 5002J yellow gold, 5002R pink gold and 5002P platinum. Patek Philippe Sky Moon Tourbillon is the most complicated watch ever manufactured by Patek Philippe. The watch has Caliber R TO 27 QR SID LU CL. These complicated watches consist of 686 details, some of which are microscopically small, that proves their true complexity. The watches are wound by turning the crown, equipped with a minute repeater, a perpetual calendar, a retrograde hand indicator of time, a leap-year cycle hand indicator, a dial displaying the movement of the stars and the orbit of the moon. The reverse side displays a 24-hour scale of time indication, shychart over Lake Geneva. The moon inside the dial is moving with the use of sapphire crystal. The white dial is made in style of Patek Philippe – it is decorated with Calatrava crosses, the time indicators are Roman numerals. The diameter of watch is 42,8 millimeters. There are 9 hands in the watch. Patek Philippe didn't plan to unite all complications it could produce in one watch. The company's goal was to accommodate the most fascinating complications, demonstrating a unique character of the watch. The skychart is really a unique creation. Also the watch is provided with a unique module of minute repeater which strikes the number of hours and minutes on different tones. It is called "cathedral gong". Also we can't disregard the inside tourbillon. Although it weighs 0,3 grams, it is composed of 69 parts. The perpetual calendar provided in this watch is refined first of all with a retrograde date which you can't see in other watches with the perpetual calendar.
It's really difficult to buy these watches. There is a waitlist of potential customers ready to buy them. But it's also difficult to get listed. It's possible only after personal talk with the president of Patek Philippe – Mr. Philippe Stern.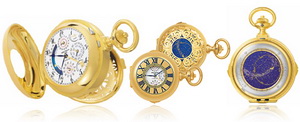 Now about the prices. You can buy the most expensive Patek Philippe watches on the following prices:
Patek Philippe Sky Moon Tourbillon 5002P – USD 1327300
Patek Philippe Sky Moon Tourbillon 5002G – USD 1281600
Patek Philippe Sky Moon Tourbillon 5002J – USD 1258700
Patek Philippe Sky Moon Tourbillon 5002R – USD 1258700

These prices are recommended retail prices of Patek Philippe. Passing over the wait list you can buy the watch only from grey dealers, but the price will be higher than the retail one or the one in auction, where, by the way, the price on this watch reached USD 1700000.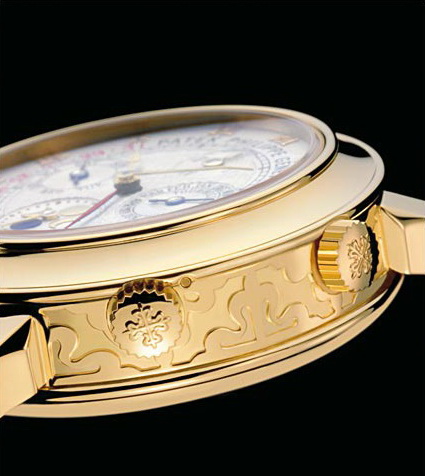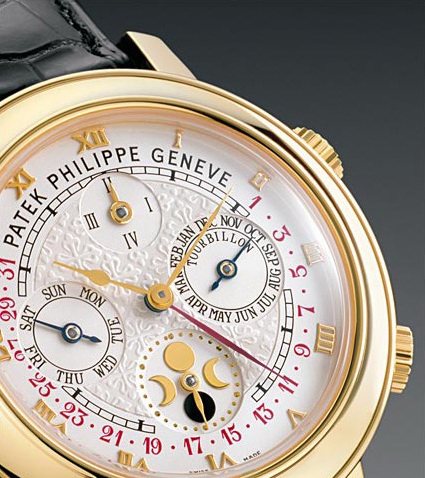 Model "Royal Blue Tourbillon Haute Joaillerie" from Ulysse Nardin

So, let's continue our list of most expensive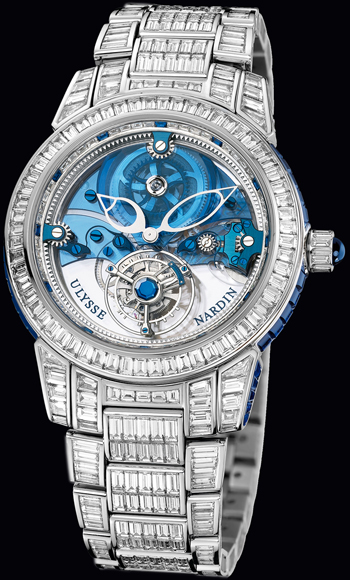 watches by presenting another creation for a million. The famous Swiss watch manufactory "Ulysse Nardin" has been keeping its perfect reputation by its luxurious, complicated and matchless wrist watches during one and a half century. The watch company, which has 4300 awards (18 gold medals and 4 awards for "Innovations"), simply couldn't pass by watches for a million. As always the watch company "Ulysse Nardin" managed to create an impression: the model "Royal Blue Tourbillon Haute Joaillerie" (ref. 799-99BAG-8BAG) deserves special and careful attention, as each other creation from Ulysse Nardin. The main distinguishing feature of this luxurious model is combination of white and blue colors. The blue color gives some sophistication to watch, as it is a Royal color – "blue blood". The most expensive watch "Royal Blue Tourbillon Haute Joaillerie" from Ulysse Nardin is a perfect combination of luxury and haute horlogerie. A perfectly round case of 43 mm diameter is made of platinum and specially designed for that model. The case is skillfully encrusted with 128 white baguette-cut diamonds, and 57 blue sapphires round sides of case, giving more dimensional and sophisticated form. The crown is adorned with sapphire cabochon. The baguette cut is a stepped form of diamonds cut, which makes diamond rectangular with sides ratio 1.4:1. Mostly small diamonds have such cut, as it's easier to finish them just by such method, using them later on to round bigger jewels. The baguette cut emphasizes well color and quality of diamond. The inner bezel is adorned with 12 sapphires, playing the role of hour points. The platinum bracelet of Royal Blue Tourbillon Haute Joaillerie is also encrusted with 432 white baguette diamonds and 176 blue sapphires. The total weight of 568 diamonds makes up 34 carats, the weight of 234 blue sapphires makes up 17 carats. The flying tourbillon is situated at "6 hours", making watch especially dynamic. "12", "3" and "9" hours are provided with small gear wheels. The quality of all jewels, used for adornment of this most expensive watch of the company, is the highest. The water resistance of model reaches 30 meters. The 100-hour power reserve is provided by hand-wound movement UN-79. The movement of Royal Blue Tourbillon Haute Joaillerie is as luxurious and unusual, as the watch itself. The bridges and main fastenings of movement are made of blue sapphire, which gives unusual and magic appearance to watch, perfectly matching blue sapphire case and bracelet. The movement, which also serves as a dial, is skeletonized. And it's quite natural, as it would be silly to hide the beauty of beating "heart of watch" inside the case. The watchmakers created absolutely transparent winding system, making watch even more mysterious. Everyone, looking at this watch, will have a question: how is the flying tourbillon, reminding of impetuous time with its rotation, fixed after all! Besides luxurious design and high craftsmanship, that made speaking about that model and entered it in the list of most expensive watches, the price – 1,1 million dollars – is the main feature of watch. Despite such, to put it mildly, high price, only 30 models of Royal Blue Tourbillon Haute Joaillerie were released, the half of which founded their lucky owners. It should be noted that even with such great number of jewels the model "Royal Blue Tourbillon Haute Joaillerie" doesn't look very extravagant – it represents an elegant and harmonic expensive creation of skilful jewelers and talented watchmakers.
The most expensive watches by Vacheron Constantin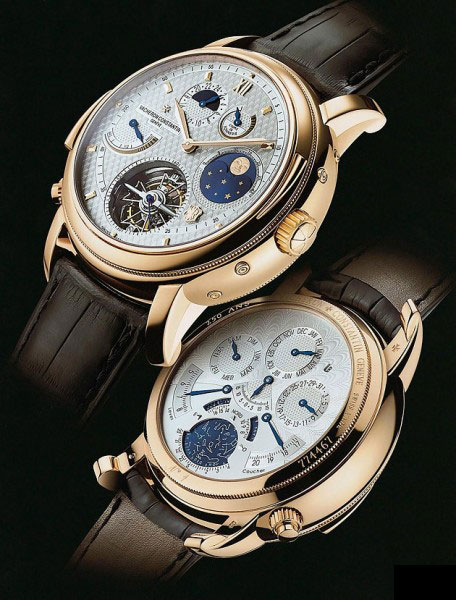 I want to present you also the most expensive watch of Vacheron Constantin. The chronograph "Tour de l'Ile" is not just a time meter. The model, devoted to 250th anniversary of the company, was released in 2005. The craftsmen embodied their creative potential in aesthetically perfect watches, equipped with in-house movement 2750, consisted of 834 parts (hand-wound, frequency – 18 000 a/h, power reserve – 58 hours). The caliber is characterized by complicated technical parameters. 16 functions out of 19 relate to complications. The dial with patented pattern, called "250-th AnniversaryMotif" is provided with hour and minute hands, tourbillon with second hand at 6 hours, time indicator at the second time zone with day indicator, power reserve indicator, Moon phase indicator, strikes reserve. The tourbillon is made in the form of Malt Cross, the company's logo. The dial is made of silver-plated 18-carat gold. The back case is provided with perpetual and astronomic calendars: indicators of date, week day, month, time equation indicator, leap year window, dawn/sunset indicator, sky map with indicators of celestial time and cardinal points. The watch case is crafted in 18-carat pink gold. One of the most expensive watches costs $1.500.000. The watchmakers spent over 10 000 hours to create the most expensive watch of the company. Strive for perfection and creative nature of highly qualified watchmakers are being realized at all stages of watch making. The "Tour de l'Ile" model is a masterpiece of watch art. The time meters were issued in a limited number – only 7 numbered pieces. The number of case, model and the inscription "250 ans Vacheron Constantin Geneve Swiss Made" are engraved on the back side of bezel.
A year later the company issued 2 more models of expensive watches. The time meters were manufactured by order of Atelier Cabinotiers – one of the clients of watch brand. The models are named Vladimir and Philosophia.
The "Vladimir" watch excelled even the legendary "Tour de l'Ile" in its technical parameters. The model is provided with in-house movement 2750, assembled from 891 details. 17 functions of polyfunctional watches relate to complications. The dial is provided with indicators of the following functions: "Malt" tourbillon, minute repeater, Moon phase indicator, second time zone, day/night, power reserve. The leap year indicator is at the back side of watches; the time equation indicator, round indicators of perpetual calendar, sky map, dawn and sunset time. Its design mainly reminds the previous model. The sides of "Vladimir" watch case are engraved with Chinese horoscope animals.
The specific feature of Philisophia is one central hand – hour. The design of watch is very extravagant. The repeater strikes the minutes. The in-house caliber 2755 is installed in the model's case of pink gold. The watch is characterized by complicated technical parameters: "Malt" tourbillon at 6 hours, Moon phase indicator with realistic photo of Moon craters. The back case is provided with indicators of power reserve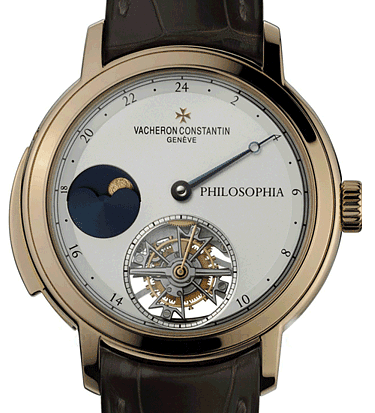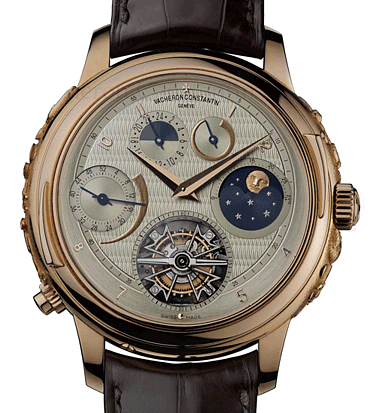 and Great and Little Bears constellation.
Let's see the jewelry watches of the brand. In 1979, Vacheron Constantin issued the "Kallista" model, which was sold to some anonymous client at the auction for 5 million dollars. In Greece "Kallista" means "the most beautiful". The masterpiece of watch art was created by sculptor and artist Raymond Moretti. 118 big diamonds, united by invisible structure, make up the case and the bracelet of model. The magic diamonds fascinate with their mysterious shine and amazing color play. The total weight of diamonds makes up 127,34 carats. The masters spent 5 years on creation of that masterpiece. Today it costs 11 million dollars. In 2006, a "worthy" successor of unique watch "Kallista" – Kalla Duchesse – appeared. "Kalla Duchesse Large Model REF: 81750/S01G-9198" costs 1.100.000$. 18 C white gold and 867 white baguette diamonds of 58.3 carat total weight were used in manufacture of one of the most expensive jewelry watches in the world. The model's dial is adorned with 98 white baguette diamonds of 6.67 carat total weight; the bracelet is encrusted with 587 white baguette diamonds of 40 carat weight; the case – with 182 white baguette diamonds of 11.63 carat total weight. The secret of jewelry watch "Kalla Duchesse Large Model" charm hides in delicate play of colorful diamonds seduction, emotions and sophistication.

"2 Million Euro Big Bang" (Ref: 305.WX.0099.WX.9904)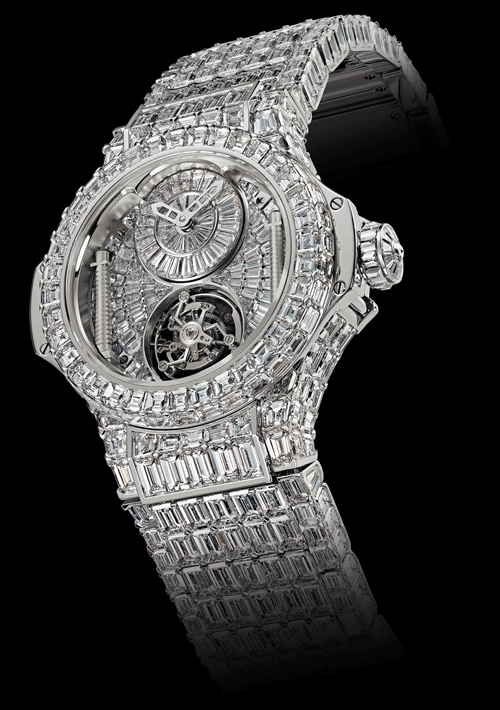 Well, let's continue our telling and refer to Hublot, which is famous for its luxe-watches. The next model I would like to present you is a woman wrist watch "2 Million Euro Big Bang" (Ref: 305.WX.0099.WX.9904). In fact, it is jewelry, embodiment of watch art "spun", resulted from tandem of jewelers and watchmakers. The total time spent on watch creation made up 13.000 hours. The idea of this luxurious accessory creation belongs to Hublot CEO Jean-Claude Biver, who was inspired at the world watch fair in Switzerland "BaselWorld 2011". The "2 Million Euro Big Bang" draft first appeared on his desk and became a specific challenge to designers and jewelers, who succeeded in it though.
The realization of president's idea took one year and was never flaunted, which "surprised" its fans. This masterpiece is crafted in 18-carat white gold and adorned with best baguette cut diamonds. The cut of diamonds deserves a special attention: all diamonds use for adornment of this model are baguette cut.
The baguette is a step cut style. Such cut diamonds are usually rectangular and sometimes square (with equal width and length of jewelry) in shape. The ration of rectangular shaped classic baguette sides is 1.4:1 (also the baguette diamond can be cut in keystone shape, however, such shape is uncommon). The baguette is usually applied to small diamonds cut, as it is technically rather simple and has less number of facets in comparison with other cuts. The jewelers prefer to use the diamonds of this cut at the sides of center big jewelry. Also they are used in bracelets to emphasize the clear contour and in rings to edge the diamond.
As for the big diamonds, unlike the round cut, which conceals defects of stone and emphasizes the effects of light, the baguette cut, on the contrary, focuses the diamond colors and all, even insignificant defects of stone. The baguette cut diamond gives out the color and quality of jewelry. So, buying big diamonds of this cut, you can be sure in its maximum "purity" and quality.
Now let's come back to "2 Million Euro Big Bang", which is made with thick scattering of baguette cut diamonds. The watch case is encrusted with 72 diamonds, the total weight of which makes up 20.85 carats; the bezel is also crafted in white 18-carat gold and encrusted with 72 diamonds, the total weight of which makes up 11.14 carats. The crown is encrusted with 24 rose cut diamonds: their total weight makes up 1.02 carats.
The front and back cases are covered with sapphire glasses with two-side antiglare treatment. The back case glass is also covered with inner antiglare treatment.
Speaking about the dial design, we should note the material: besides the white gold, the palladium 150 was used. Totally, 116 diamonds of 8,87 carat weight were applied. Also the dial is adorned with two columns Vendôme; the hands are skeletonized, sputtered with rhodium.
The "2 Million Euro Big Bang" watch is provided with hand-wound movement HUB 6003 and tourbillon, which diameter makes up 30.00 mm and thickness – 7.10 mm. The movement consists of 148 details, based on 24 jewelries. The balance frequency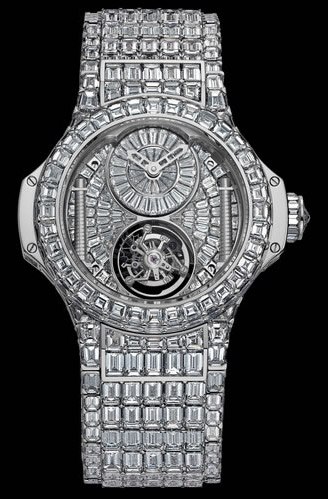 makes up 21.600 alterations per hour (3 Hz), the power reserve – 120 hours.
The watch bracelet is encrusted with 353 diamonds, which total weight makes up 102.62 carats, and equipped with folding buckle.
The creators of "2 Million Euro Big Bang" selected 270 carats of uncut diamonds of 1500 carat weight. During a month 45 qualified cutters have been creating 637 baguette cut diamonds, the total weight of which made up 141 carats. They spent about 13.000 hours for creation of this model.
The name of watch "2 Million" says for its price – two million euro. However, the beauty and the sophisticated luxury of "2 Million Euro Big Bang" diamonds are not flashy at all, as they may seem at first look, on the contrary: You would like to wear them on your wrist, even just for a second.
However, the history of "million" watches doesn't end by this model. In March, 2011, the company issues new "million" model of watch "Hublot Big Bang", which becomes an improved variant of previous model.
Mostly the "improvements" concerned the number of diamonds, as a result the price reached 5 million dollars.
The specialists chose such materials, as red or yellow gold, steel or black ceramics, for base of "brilliant" Bing Bang. So the watches, presented in several variants, will be good for people with different tastes. However, no matter what material you have chosen, you won't have a chance to see any material, as the watches are literally thick-sown by diamonds so densely that the material is absolutely hidden. This time the total weight of jewels has made up 300 carats: the Hublot watchmakers have overextended themselves.
The model "Big Bang" is encrusted with jewels of different cut and 11 various colors, including them on bracelet. It may seem that they paid less attention to movement, considering such encrustation. But the watchmakers of Hublot haven't skimmed its design. Maybe they have decided that such luxurious chronometer needs the same luxurious technical design.
So, the watch "Hublot Big Bang" works on the base of in-house movement HUB 6003 on 24 jewels, the frequency of alterations makes up 3 Hz. The power reserve makes up 120 hours.
The luxurious and expensive accessory "Big Band" is designed for women. Yes, it's true – it is a women wrist watch. One of reasons for making such luxurious and expensive accessory for women indeed, according to CEO of Hublot Jean-Claude Biver, is that women buy more accessories and jewelries, than men, and women influence on men more than men on women.
So, the masters of company have, at least, three reasons to refer to manufacture of women watches.
The price on watch – five million dollars that undoubtedly will make it a very Expensive present for any lady!
Sophisticated and luxurious watch "Baby Million"
But the company didn't stop amazing us again. The next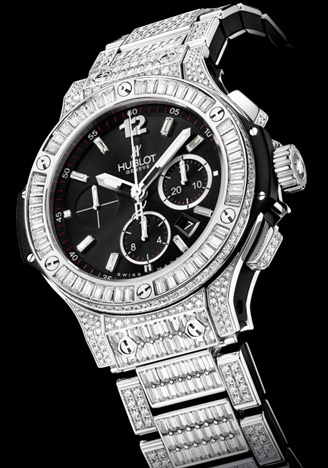 fascinating model became new example of sophistication and luxury of watch world. Please, welcome Baby Million. The presentation was held in Paris during opening the fair "Belles Montre" in 2011.
The watch "Baby Million" is made in classic style, which however perfectly matches elements of sport style thanks to designers. The round case is made of white 18-carat gold, 44 mm in diameter. And, of course, diamonds, which have become an integral part of luxurious "million" models from Hublot.
Let's start from the case: it presents an example of jewelry art, "paved" by 440 baguette-cut diamonds and 451 round-cut diamonds. The total weight of this diamond "feast" makes up 28 carats. The bezel, also generously spangled by diamonds, is screwed in case by six H-form screws that give a kind of sport "tone" to classic round case. The crown, situated at "3" hours, is adorned with diamond cabochon, and two buttons of chronograph, situated at "2" and "4" hours, are encrusted with 14 tiny jewels.
The black dial loudly contrasts with white diamond "cover" of Baby Million. The dial is designed in simple geometric forms, which only emphasize luxury of accessory: the dial periphery is marked by red minute scale, and eight diamonds of rectangular baguette cut play the role of time indexes.
Besides luxurious and expensive design, the creators also performed good technical base. The watch "Baby Million" is provided with chronograph functions, based on automatic movement. The functions of chronograph are displayed on 30-minute counter, situated at "3" hours, 12-hour counter at "6" hours with the help of central second hand. The date aperture is situated between "4" and "5" hours.
One more touch completes the perfect image of this sophisticated excellence – the luxurious bracelet of white gold, encrusted with 344 diamonds of baguette cut and 344 diamonds of round cut (the total weight makes up 20.69 carats).

The "Black Caviar Bang" watches (Ref: 346.CX.1800.RX)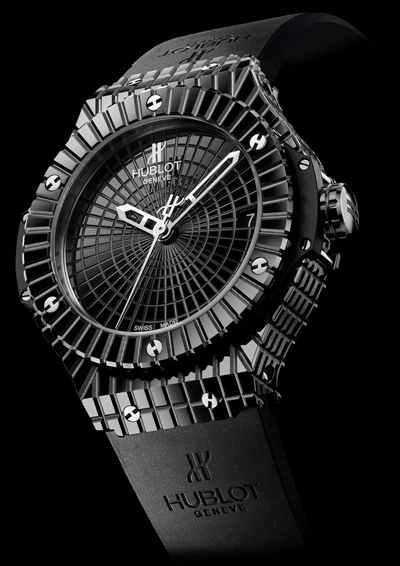 Of course, such luxurious women wrist watches couldn't be without pair. The next model of Hublot can be fairly called exclusive: "Black Caviar Bang" (Ref: 346.CX.1800.RX) is made in one piece. The lucky owner of this model can be sure: this watch is only on his wrist.
A deep and mystical shine of black diamonds, adorning the wrist watch, became the main feature of "Black Caviar Bang". The case of 41 mm diameter and bezel are crafted in polished black ceramics. The titanium screws of case are made in H shape and "drowned" in bezel. The crown is also made polished black ceramics, which became the main material for this model, as it was mentioned before. The skeletonized facetted hands are made with diamond and rhodium sputtering.
The watch movement is automatic HUB 1112, based on 25 jewelries. The power reserve made up 42 hours. The movement regulator is based on hairspring.
The strap is made of black rubber with Hublot logo that is very surprising for watches of such category. Perhaps, the designers tried to emphasize special aesthetics of expensive rare black jewelries and trivial rubber combination.
The makers used only black diamonds, which cut is absolutely invisible: that's why the "Black Caviar Bang" watch is referred to high technological and art achievements. The model is designed together with Bunter SA. The creation of "visible invisibility" became the philosophy of unique model. The watch is made of ceramics, which is lighter than steel on 30% and ideal for making watches: it protects 100% from scratches; it is 100% hypoallergenic, non-corrosive and not susceptible to changes.
The "cut" became the main characteristic of watches. The designers managed to create a completely new diamonds arrangement, never created before, for encrustation of the whole case. The unusual contours of "Black Caviar Bang" case create an amazing vision: from the one side, the black case seems to be made of one whole diamond with horizontal and vertical inlays, and from the other side, it is obvious that the case is "studded" with black diamonds, so close to each other that the touch lines are almost invisible. All this creates an incredible sensation of lightness, illusion and, as the creators note themselves, "visual invisibility".
The monoblock structure of "Black Caviar Bang" is made of white 18-carat gold. The black diamonds of deep enriched color are the only visible detail, which completes the mystical image of this model.
Hublot is especially proud of the "Black Caviar Bang" model, as it represents the collaboration with the best jewelers.
The watch is issued in one piece, the price on which makes up 1 million dollars. You will not regret of spending a million on this watch, taking into consideration its unique design and, of course, materials used for making it.
The total weight of "Black Caviar Bang" black diamonds makes up 34.5 carats. 531 jewelries of 34.5 carat weight were used for encrustation: 322 diamonds on case, 179 diamonds on bezel and 30 – on buckle.
Watch "Cyrus Klepcys Conquest": a million for legend...
The company "Cyrus", founded by cousins Laurent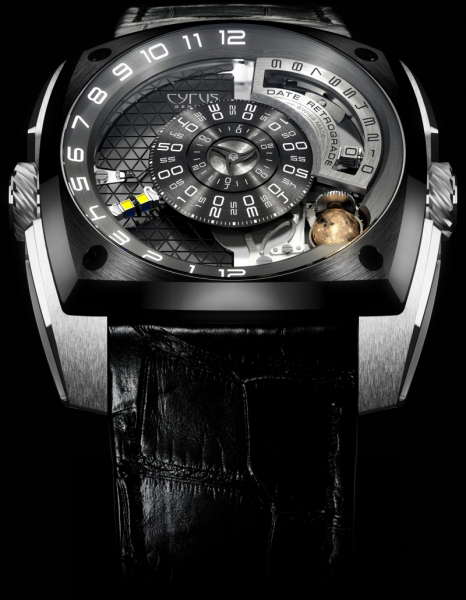 and Julien, won its certain place at the world watch industry within short time of its existence at the watch market thanks to innovative and bold approach to creation of its products, and as a result one more bright and unique star appeared at the watch sky.
The name of brand is rooted in ancient times of Babel Empire and regime of Persian Tsar Cyrus the Great from Pasargad tribes. The name of brand is inspired by him, as if transferring the spirit of impudence and conqueror from time immemorial, skillfully embodied by watchmakers in their products. Whole short history of "young" watch brand "Cyrus" may be named as "conquest of new genre". The creative stuff, making watches "Cyrus", deliberately refused concept of "standard" in their manufacture and perfectly combined work of watchmakers and designers and thought-out and expert marketing. And as a result – an irresistible evidence of exclusive innovations in modern watch industry, so full of creative novelties – the patented design of case and patented functions of Cyrus movement.
The brand "Cyrus" is a combined independent project of cousins, Laurent and Julien Lecamp, have been working in watch industry for a long time. Julien, engineer and architect by training, was specialized in design of various products, graphic 3D animation. Collaborating with his brother Laurent, Julien kept track of fashion trends and material choice. Laurent was good in marketing and sales of watch products in over 60 countries of the world. Laurent used special commercial instruments in creating his marketing police and turned the brand into world-known name. Thanks to their craftsmanship and work experience the brothers managed to create a unique brand, which won incredible success and unconditional recognition from the first minute of its appearance at the market.
Of course, the marketing is not the only thing that made Cyrus watches successful. One of main features of this brand is unique patented 3D functions of movement, which are exclusive today. Each detail of watches is made in Switzerland and each component of movement undergoes careful test: each model, made by company, undergoes various tests, including personally by general director of the company.
Cyrus made its debut in 2011 at Genevan exhibition GTE for wide audience and presented its original watch "Klepcus" – a chronograph with unique design and innovative movement. After that the brand immediately appeared in the center of world attention and became "the best independent brand of the year" in Nuit de l'Horlogerie in Monaco in June of the same year. What was the reason of such success?
The watchmakers, creating Cyrus watches, combine highest achievements of horlogerie, sophisticated jewelry art, deep knowledge of world culture that makes these items so brilliant.
The first creation of the company – "Klepcys" watch, equipped with movement CYR598, named after Cyrus' birth date (598 BC) – became a real revelation in the world of watch novelties thanks to unusual indication, where the calendar hand is presented by rotational cube with numbered facets. But Klepsyc is first of all specific for its original case, crafted in original and distinctive "architecture".
So, what does this case, fascinated the connoisseurs of elite watches, represent? It is clear – high artistry. The patented design of Cyrus Klepcys case reminds of bastions in ancient town, which casted everyone ever seen them into holy trembling with their power and greatness.
After Genevan success the company fascinated Russian audience too. The premier at Moscow Watch Expo, hold in fall 2011, became a real sensation. Cyrus presented its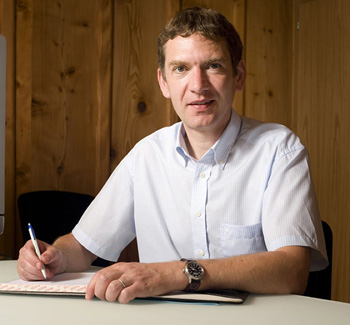 collection again, including famous Klepcys, designed by Jean-Francois Mojon. Jean-Francois Mojon is known in watch sphere as the best watchmaker of 2010 (Prix du meilleur horloger concepteur), who became famous due to his collaboration with company of Harry Winston, resulted in amazing model "Opus X". The list of master's "colleagues" includes IWC, designers of Swatch Group and members of Meccanico dG project for de Grisogono.
However, besides collaboration with different big watch companies, Francois also founded his own bureau of design in famous watch town of Le Locle and named it "Chronode SA", where he designed his amazing items. The talented watchmaker notes that he chose his profession on the line of his father, who also was an independent watchmaker.
The collaboration of Francois with Harry Winston gave birth to tendency of so-called "free" collaboration in watch world between big companies and independent watchmakers, making unique concepts for brands. But the items of Francois remain still unsurpassed.
In 2010, the watchmaker collaborated with Cyrus and made a completely fascinating watch model, full of complications and, as for its design, inspired by one of ancient civilization centers – Babel.
The leadership of the company made a good shot by choosing Francois for designing their debut collection. And the line "Klepcys" really became a unique phenomenon in modern watch industry and live proof that man's fantasy and ideas have no limits. The retrograde hand of Klepcys, made in the form of Babel tower, is able to rotate also round its axis. Rotating, the hand shows various colors of its sides to the owner: each color means certain time of day.
The creators of watch set two disks in the center of dial: hour and minute. Their rotation speed is estimated so that the current time is read clockwise in line – this complicated system provides quite readable time indication. The upper right corner of dial is taken by retrograde date indicator: its hand is an indicator with ten's digit numerals, which is also able to rotate round its axis.
The original "ancient" design of dial is completed with Lunar indicator of realistic design. Besides patented design of case, reminding of bastions in ancient and great town, the "heart" of watch, representing precious invention with three outstanding features, also deserves attention.
So, the creators advise: "imagine the time as a line". The retrograde hand, moving along 1800, changes its color while moving and depending on time of day. The movement is unique by minute and second disks, which regardless the hour hand position are always in line and show the time absolutely accurately. This unique compliance of watch disks is based on unique and exclusive movement, controlling the speed of hour, minute and second wheels rotation (rotational and reversal).
As for date indication, it also deserves special attention: the numerals from zero to nine are situated one above another, and the numerals of tens digit move in front of unit digit numerals. As a decimal numeral reaches nine, it goes back and turns at 90 degrees, leaving a space for next decimal numeral, situated before zero. This system represents patented technological discovery.
The "heart" of watch is a self-winding movement CYR598, consisting of 456 details on the base of 37 jewels. The frequency of balance makes up 28.000 alterations per hour (4Hz); the power reserve – 40 hours. The additional functions are indications of date and Lunar phases.
The collection "Klepcys" took the prize of Nuit de l'Horlogerie in Monaco in nomination "Modern watches" with such opponents, as Cabestan, Ladoire, Ateliers de Monaco, Hautlence, Blacksand, Laurent Ferrier, Drakkar, Perrelet, Valbray, 4N and many others…
The Moon was not presented as usual and standard flat picture, but in the form of golden ball. The watchmakers adorned the back case with golden coin – a copy of Cyrus the Great coin, after whom the brand was named. A special unique case, which has been designed during three years, became main distinguishing feature of collection. The case, crafted in pure gold of 200 gram weight, became a symbol of luxury and greatness. Well, the company managed to attract attention of world watch industry, amateurs of luxurious and unique watches, representing synthesis of original design and bold technical achievements.
The creators of watch characterized their creation in the following way: "Designed as an homage to Babylon, the city conquered by Cyrus the Great, the KLEPCYS - just like Babylon in its time - unites all the intellectual and scientific knowledge of the watchmakers of our time".
However, the success of the company wasn't limited by that. The masters of the company as if decided to surpass themselves and continued working on luxurious watches. In the same year they presented a model, which became more luxurious and expensive and immediately took a place among most expensive wrist watches in the world, having exceeded one million dollar point.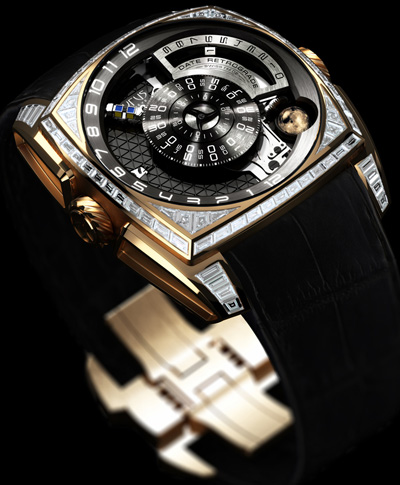 In spite of the same source of inspiration – Babel – the watch has become a completely different "story". The model "Cyrus Klepcys Conquest" is based on Babel conquest by Cyrus the Great.
According to extant legend, at first the martial tsar thought of conquering the town by dooming it to famine. But the town didn't surrender. Taking Babel by storm was simply senselessly, as the fortress walls of town were so high and wide that no one army of the world could overpass them.
However, as it turned out, the walls and fortifications were not the only defenders of the town. The river Euphrates, divided into two parts, was very deep and impossible to cross even if two persons had stood on each other and also defended the town. That "water defense" was earlier created by tsar Nebuchadnezzar, and as a result the powerful hydraulic constructions flooded the space from Opis and Sippara to the south and, therefore, closed Babel from enemies. But the smart and resourceful tsar found a decision: he ordered to drain the river. During summer the army of Cyrus dug 360 canals to let the river out, and then the army of Cyrus penetrated into the town through dry channel. So, Babel was conquered and that legend remained till nowadays and came up to us thanks to Herodotus, who presented actions of Cyrus as petty tyranny.
The Achaemenidian lion, winning the Babel bull, became one of the first symbols of first coins in history of humanity, which were minted under Cyrus. The exact copy of coin is set by creators of Cyrus Klepcys Conquest on back case of watch that emphasizes the connection between item and ancient history.
Well, Cyrus Klepcys Conquest is devoted to conquest of one of the most ancient and famous towns of human civilization, and, of course, not only the name of model speaks about it. First of all, the case, its form and structure remind of Babel walls: powerful and irresistible, recognized among thousands of others. The case of Cyrus Klepcys Conquest is crafted in red 18-carat gold and represents four extremely delicately finished angles, embracing the main case. The total diameter of construction is 48 mm, including buttons.
The great construction is paved by 84 baguette-cut diamonds (5.78 carats) of DEF color, IF/VVS1 quality, in a special "invisible" way. All 84 jewels are facetted from one whole diamond that turns the watch into unique expensive jewelry item. The base of this luxurious jewelry "cover" has become an automatic movement, consisting of 456 details, which maintains work of unique watch display on moving axis. The watch is equipped with retrograde function of hour indication, day and night indicator, big date with retrograde indication, rotating at 1800. The watch "Cyrus Klepcys Conquest" costs 1.000.000 Swiss francs that makes up about 1.080.000 dollars.
Well, Cyrus Klepcys Conquest is not just an expensive caprice for a million dollars. It's a real luxurious item, linked with the history of human civilization, homage to experience of outstanding watchmakers, aspiration to move forward to new technical achievements and, of course, brilliance of new word in the world of modern watchmaking.

And the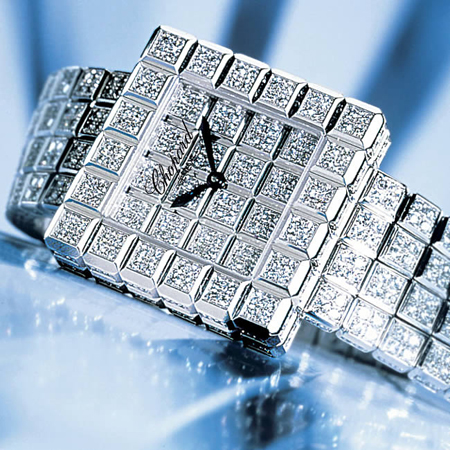 most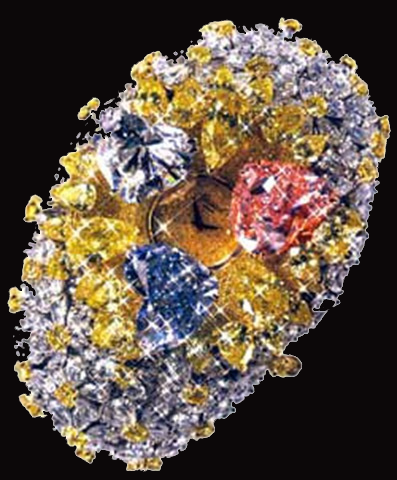 expensive watch in the world costs 25.000.000 $. In the beginning of 2008 this unexcelled masterpiece was created by Swiss watch company "Chopard". The small dial of model is "hidden" in the center of jewelry. The central heart-shaped three stones are situated near the dial. The pink diamond weighs 15 carats, the blue – 12 C and the white – 11 C. The heart-shaped diamonds are encrusted in a real inflorescence of variously colored small stones. The total weight of stones, used for adornment of this masterpiece, makes up 200 carats. The bracelet is formed from jewelries interlacing. The light effects of "magic" stones are able to fascinate, carry you away from vanities. Any lady would feel herself a Queen with this luxurious watch.
Another "million" model of the Chopard brand is "Super Ice Cube". The total weight of diamonds, encrusted in the watch, makes up 66 carats. The watch visually reminds an ice cube. The craftsmen of watch art created an "outstanding" model, drawing attention by its perfect contours. The watch costs 1,1 million dollars.
Times changes – true values remain unchanged. An expensive watch is a reliable capital, not susceptible to time "caprices". The high quality time meters are passed through generations. The wrist watches never lose their popularity; they are out of time.
Our website will keep on presenting you "million" watch models, the number of which is growing each year. The watch industry, oriented on the market conditions, focuses the attention on the manufacture of elite luxe-watches, designed for a limited number of people.