Absolutely, Patek Philippe is a great brand, but some millions of dollars it is too much!...
At auctions Patek Philippe watches attract everybody's attention, some collectors every time try to reduce price after which in the auditorium there can be somebody who raises it again up to a sky price.
If Patek Philippe watches are sent to some auction it goes without saying that these watches would be the one of the most expensive and cam make a record of all prices.
They say that Patek Philippe watches are bought by some secrets agents of Patek Philippe company in order to raise up the prestige of the brand.

It is up to you to decide: Patek Philippe Ref.1591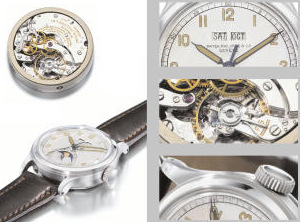 watch was sold at Christie's auction for 2 513 000 Swiss francs. It is rather good advertisement for the brand because these watches were remembered as "the most expensive steel watch", which means that auction sells not only rarity pieces of art, but it also afford to let or buy some pace in a world history. Patek Philippe watch makes it perfectly, because the watches produced by them are considered to be the one of the most expensive auction leaders in horology history.

In 2010 Christie's auction named Patek Philippe watch the most expensive. Christie's organizes eight auctions annually in Geneva Hong Kong, New Yourk and Dubai. In 2010 Patek took nine of ten possible lots at Christie's auction having given the place only to one brand and only the last one.

However, the popularity of Patek Philippe watches can not be artificial. In farr 1951 pocket watch Patek Philippe were bought by Queen Victoria herself after which almost all the members of her family got such watches.

Patek Philippe watch auctions is a constant financial record and miracles.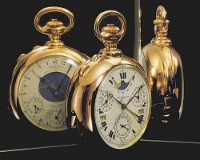 At Geneva auctions Patek Philippe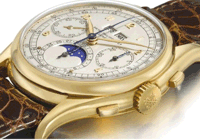 watch Ref.1527 1943 was sold for $ 5,7 millions.

An absolute record was the sale of Patek Philippe Supercomplication in 1999 for $ 11 002 500 which was the highest price which had ever been in the World.

What does it mean? It means that it is an authenticity that you watch is real heritage for your children and grandchildren.