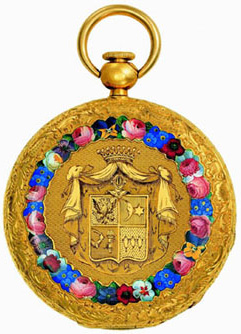 Trade ties between Russia and Switzerland started to develop even in the Middle Ages, following the example of Ravensburg company – a great trade brand in the south of Germany, the company Diesbach-Vatta located in Bern sent its trade representatives to Moscow and Baltic regions which were under Sweden influence this time. The company was busy with export and import of goods to Russia. These companies were busy with sending products to Russia. Diesbach-Vatta carried out one's trade activity in many cities of Switzerland.
Later, in time of Peter the Great, the general Francois Lefrot made a huge contribution to the ties strengthening between two countries.
The information about the first watchmakers and jewelers in Russia are dating by 1742 and connected with the name of Jean-Piere Ador a jeweler of Yekaterina the Gteat. As other supreme leaders of the Age of Enlightenment, Yekaterina II tried to mate watchmaking manufactures in one's country, that is why a range of Swiss watch-producers carried out their activity in Russian territory.
Switzerland was almost the one outfitter who sent watches to Russia. Among lots of watch models sent to Russia the most popular were those which were supplied with a lid, made of gold or silver, supplied with a repeater or engraved and which could be fixed on a wrist.
Later, in 1848, Antoin-Norber de Patek, who was the founder pf Genewa watch-producing manufacture Pàtek, Czapek & Cie, made the first trip to Russia.
After Nikolay I suppressed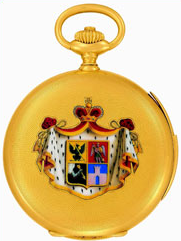 Warsaw popular uprising, Polish had to immigrate to the Western Europe. Besides Polish watchmakers were banished it was not a obstacle for Polish distributing across Russia.
Antoin-Norber de Patek easily set a contact with watchmakers and created some offices in Russian towns. Antoin-Norber de Patek and Jean-Andrien Philippe who came to the business in 1851. After this the company Patek was renamed the company into Patek Philippe & Cie. The head of the company did not want to stop at the level that they reached that is why they wanted to attract more and more Russian clients. Having achieved the desirable results in 19th century, Patek Phillipe House had almost all Russian aristocrats among one's clients, including the Emperor's family.
In 1895 Patek Philippe & Cie Joseph Antoin Benassi-Philippe who was Jean-Andrien Philippe's son-in-law offered Nikolay II a complicated pocket watch. Having appreciate the watch as a true value, the Emperior ordered Patek Philippe to make such watch for him, but the company overloaded by different orders refused to produce such model however presented him the first example of such watch. In return the Emperor decided to repay Patek Philippe for the present and sent to the storehouse of the watch-company a wine set, which included a scoop, twelve carved enamel cups of different size and shape. The set was packed into a wooden box with National Emblem of Romanovs – Russian Emperor family.