When Patek Philippe produces any novelty, this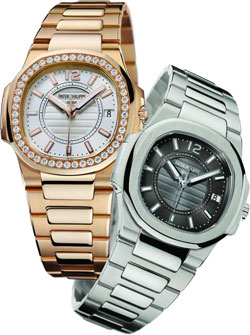 news immediately goes around the world. Now it is time to let you know some fresh information about Patek Philippe Ladies watch. Women understand perfectly that buying a watch they look at the shape, color, decoration, brand's popularity but not at the technical characteristics.
A absolutely fair question can appear: What for? - In order to walk with one's had raised up proudly showing a new fashionable device for all girlfriends.
So how to choose a watch that can suit perfectly to some dresses, purses and shoes. How to find a watch that nobody has?!
This problem can be easily solved by Patek Philippe watch! A very popular company presents a new exclusive line of Patek Philippe watch models which wide range can satisfy any desires and caprices.