Patek Philippe complex watch – is the legend of horology world. Patek Philippe watch company is a good example of such a unique mechanic watch creator. This history was started in the beginning of XX century by the clients of Patek Philippe. There was Henry Graves and James Packard. They were rather wealthy people that is why they could afford themselves not only to collect watches but also to produce them. Their preferable watch brand was PatekPhilippe. In 1920 the main goal of these collectors was finding something unbeaten in horology area. They wanted to find not just expensive and complex watch, they wanted something unique!

That is why James Pickard ordered Patek Philippe 13 items of pocket watches which different integration and increasing complication. Having stopped on a watch model which imitate the constellation sky above their house in Ohio. These complex watch models also show the time of sunrise and sunset, Lunar phases and poses the complex of astronomic complications – the most difficult for watchmaker to create.

James Pickard's watch by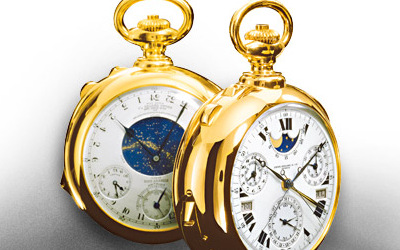 Patek Philippe was in obliviousness for a long time till Patek Philippe created watch for Henry Gravis. A complicated model Supercomplication. It took six years for such piece of art creation. Finally in 1933 Patek Philippe created Supercomplication supplied with 24 functions. Here a kind of competition between watchmakers came to the end and Packard's finantial reserve came to the end as well.

It goes without saying that idea of the most complex watch in the World creation didn't find Supercomplication model as the final one. For 150 years anniversary Patek Philippe improver this model. In 1999 thanks Sotheby's considered Supercomplication created by Patek Philippe – the most complicated watch model and the most expensive having sold it for $ 11 002 500. More expensive there was just only one female watch model by Chopard which cost more than $ 25 000 000.

So let us see what unusual is in Patek Philippe Supercomplication watch. Firstly, Supercomplication movement consisted of 900 elements and 70 ruby gems. All that beauty is kept in a case of 18carat red gold which shows 24 functions at a silver-plating dials of both sides. Which means that this watch model includess all possible and impossible complications, including the constellation map with a Milky way, perpetual calendar and chronograph.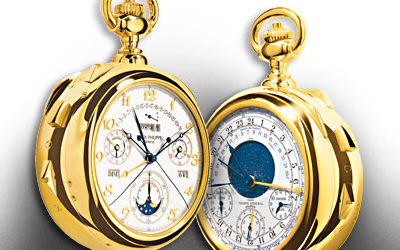 There are some Patek Philippe watches as Caliber 89 for example, created in 1989 in honor of 150-years anniversary of the company, which is in Patek Philippe museum nowadays.

In order to create such watch as Caliber 89 Patek Philippe watch company need five years for movement development and four years for its creation. This watch weigh a kilo and contain 33 possible functions. For such number of complications creation Patek Philippe had to think a lot. As a result Caliber 89 contain such "not a watch" functions as thermometer and time before Easter. The constellation map has 2 800 incrusted stars. For indication creation in Caliber 89 24 hands were need.

Their movement contain 1 728 details made of 18 carat gold of 75% clarity which cost $ 6 000 000 (almost two times more than Supercomplication model has).

It is impossible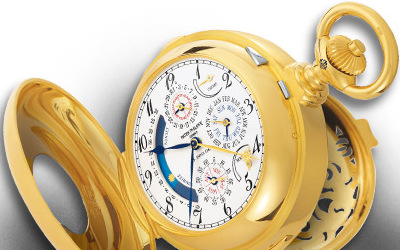 to overcome Caliber 89, but it is should be mentioned that Patek Philippe has one more complex pocket watch which can be included into a group of five more complex watches in the world, created by Patek Philippe. This is Star Caliber 2000 with 21 complexifications – for more, one dial is not enough.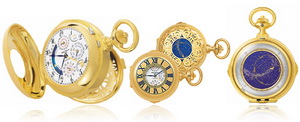 Except the depicting the real Solar time, hours, minutes, seconds and perpetual calendar (date, day of a week, month season, year), constellation map, Lunar phases and position indication, power reserve indication. Also watch play an original melody of Westminster Abbey change ringing and some other functions as well.

Caliber 89 is remarkable not only by the number of the complications as thermometer for example, but also because Caliber 89 can be modernized everlastingly.