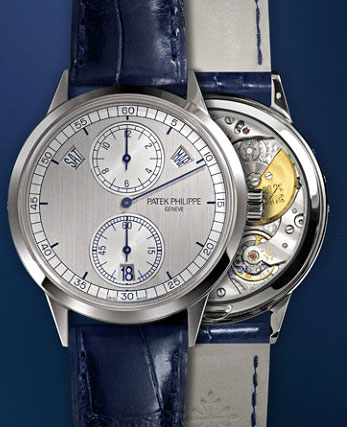 The advertising slogan of old Swiss company Patek Philippe is: " You do not poses this watch properly, you just keep it safe for the next generations". It is actual for a century and a half. Every novelty is a technical and design masterpiece. A new watch made by Patek Philippe watchmakers is a unique Annual Calendar Regulator/ref.5235/ - a high-complicated new movement which has never been used before in any other models of the brand.
Annual Calendar Regulator/ref.5235/ is considered to be the first watch supplied with regulated dial which is characterized by a standard minute hand and an extra hour display at the position of "12 o'clock" and a second display at the position of "6 o'clock". A new caliber 31-260 REG QA is manufacture made is an ultra-thin movement supplied with automatic rewind and mini-rotor, reflecting an extra second-counter an the position of "6 o'clock". Such a unique modified movement is based on Silinvar® components: a release wheel, a lever of a release mechanism Pulsomax® and a balance spring Spiromax®. Everything is made of innovation material, which is made of silicon. A new chronograph is supplied with function of perpetual calendar which fixes month, day and date. Such a complication is included into the number of the most popular modifications created by Patek Philippe.
Annual Calendar Regulator watch is an exact prove of brand's philosophy according to which the goal of company's work is exact pass fixing.
The dial is set unusually. There is a wide minute hand in it which perfectly combined with some extra hour and second display. It pays tribute to accurate balance watch, which were used for 200 years in workshops and observatories till they were completely substituted by quartz and radio-activated progeny.
Adjusting the watch, watchmaker should look after the hand of seconds, for such need an hour counter was removed from the center of the dial to the other place where nothing could interfere its work. One of the best examples of such model is Patek Philippe & Co regulator, designed in the beginning of XX century. For many years it counts the time second by second in the office of the honorable president of the company – Phillipe stern.
For regulator adjusting at the dial supplied with tree different displays with hour, second and minute indexation. The plan for the next models creating was developed. A legendary caliber 240 became an ideal choice for making their idea come true. So, unfortunately this ultra-thin movement supplied with auto-rewind has inconveniently installed the display of seconds at the position of "5 o'clock" instead of "6 o'clock".
Released in 1977 caliber 240 is supplied with a mini-rotor which is installed in the main board and it is only 2,53mm thick. It is still included into the number of the most thin calibers supplied with auto-rewind. Taking into account the fact that this caliber also can be improved, at its base a new movement 31-260 REG QA was created. It was completely supplied with components need for detecting a new check point for counting time. It is the first time when the components of the balance are made of high-technology silicon Silinvar®. A flat spring of a balance is absolutely accurately raises up and goes down thanks to an exclusive design of a geometric line of the last curve.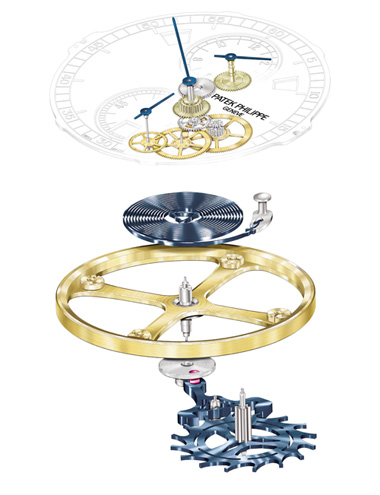 It controls counting time by a release mechanist Pulsomax which lever and release wheel are also characterized by the new geometric moving, developed and patented by Patek Philippe. Enlarged isochronism made by filamentary spring and heightened energy supply of a release wheel provides a high level of accuracy and reliability. Moreover Silinvar® components are characterized by anti-magnetic and shock-resistant elements, they are protected from corrosion and do not need any lubrication. A new balance works as a moving train – cog after cog. Engineers of the company renewed the "train" completely – its wheels and gear wheels between the main spring of the barrel and release wheel. The shape of a cog wheel and gear wheels are specially made for the middle – third wheel, so the forth wheel is supplied with a separate gear. These innovations improve gears gripping and leaves connection in gear wheels. Also friction is reduced and the acceptable level of variation at the axis distances is raised. The effectiveness of energy transmission from the spring to the barrel from the barrel to the release wheel is improved greatly. As a result the effectiveness of energy modifying with simultaneous tear and wear reducing.
Innovative and improved technology of a new caliber-regulator 31-260 REG QA causes positive effects.
As opposed to some standard calibers which make 21 600vph, frequency rate of a new movement is raised up to 10% and to 23 040vph which are equal to 3,2Hz.
At the same time power reserve is greatly increased. In turn the highest frequency rate facilitates the process of accuracy level regulating -3/+2 during 24 hours. Also, thanks to the raised energy supply of a moving train and the release wheel, it becomes possible to reduce the tension of a spring and as a result the shearing shear of wheels as well. All this prolongs the life and raises the reliability.
Thanks to energetic effectiveness of a caliber it is possible to choose soft, prolonged spring. Besides the increase of frequency rate and tension of one barrel of a spring a new caliber 31-260 REG QA has 60hours power reserve.
An extended length of the spring has one advantage: its curve of a torsion torque rests flat even if it is limp. That is why an amplitude of a balance and its course as a result are stable (mostly between windings). Finally we have a high level of accuracy during the long period of time.
Like all the movements of Patek Philippe supplied with auto-rewind a new caliber 31-260 REG QA also can be re-wind manually. However the manual re-wind function of a movement is always automatically detached and works at an automatic re-wind regime.
That raises the power of re-wind and reduces its tear and wear. In addition the crown of a manual movement is perfected by a new gear system, which optimizes the resilient pass of a movement. Mini-rotor is made of 22carat gold and fixed in a plate which is thicker than its predecessor on 0,3mm. Such a weight serves to the increase of the mass ans power of the re-wind.
The crown is decorated with special typical for Geneva watch-makers grainy engraving. It makes it look like a real miniature piece of art.
Frequency rate of a new caliber is 10% higher than the abilities of an old caliber 240. power reserve is prolonged on 25%. In general, total effectiveness of movement work is raises up to 30%.
having created a new movement Patek Philippe proved once again that there is a real opportunity to improve some classic manual movement. A new model of a watch Annual Calendar Regulator indexes the time accurately and it also exactly denotes some periods of time. A new caliber is based on a movement which has a perpetual calendar which was very popular in the year of its creation (15 years ago). This complication depicts the day, month and date which are placed at a small aperture. 30th and 30st day of a month are automatically follow one by one. A movement work correction is need only once a year on the 1st of march. The aperture of date promoted the increasing of elements used in a new movement. Their number reached 320 items, 181 of which contain the caliber ans 139 contain the indicator of a calendar.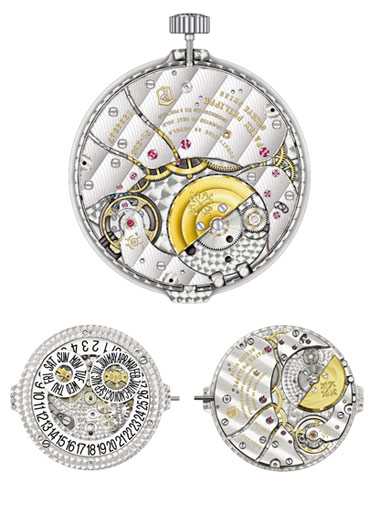 The movement is 5,08mm thick, where 2,60mm is a caliber and 2,48mm is an indicator of a perpetual calendar which is ideal for a high standards of horology.
Besides unusual position of a regulator in the dial a new watch by Patek Philippe are very stylish, fine and elegant as all the models created by Patek Philippe. At the case a classic silhouette of Calatrava is incrusted by gems which has already became a real symbol of such watch.
Ultra-thin movement is placed into a case of 11mm and 40,5mm in diameter. It is classic and contains three parts: bezel, strap and back lid – made of white gold, which is a good example of Bauhaus philosophy which is reflected in the following statement: "The form follows after the function". The bezel is facet ant the edge of the case has a grainy structure which is perfectly combines with the atlas surface of a dial.
The nibs are also facet ant they prolong the facet of a bezel, and comfortably get on a wrist.
Dark-blue strap is perfectly suit the watch, it is made of genuine alligator skin and decorated with handmade buckle which is made of 8carat gold and where the logo of the company is engraved.
A transparent back lid gives an opportunity to observe the pass of a new movement.
A sapphire crystal protects the dial supplied with a minute hand and an extra hour display at the position of "12 o'clock" and a displey of seconds at the position of "6 o'clock". The aperture of date and year calendar is in three small apertures at the position of "12, 2 and 6 o'clock" at the position of "3 o'clock" at the dial there is an engraved sign PATEK PHILIPPE GENEVE, which changes its color from the deep-blue to a silver-gray color which is smoothly covers the dial. Blue printed indexes. Markers ans the scale provide an easy reading of information in the dial. Crisp lines of Arabian figures and hands in "baton" style are made of blue steel and blue indicators of the calendar at white background spectacularly emphasizing a cold elegance of a Xxi century watch.
Two-colored dial of a silver-gray color is atlas like. It has two supplementary displays of a sparkling and shiny structure.
A new Patek Philippå Annual Calendar Regulator is another example of vanguard and esthetics combination which does not depend on time. As a result the world has a new masterpiece an absolute perfection of Patek Philippå.