It is difficult to find someone who does not know this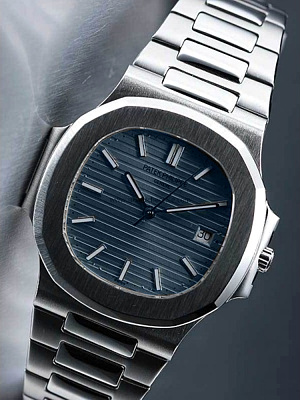 sport watch which has black-and-blue horizontal blind at a dial which imitate straps at a sea shell. Legendary sport watch Nautilus is a fairy dream of every collector and a proud of anyone who get it in once collection.
First watch Nautilus were easy as any genius thing, may be because of this they are so valuable for collectors. Round porthole in a bezel is fixed by four screws aside to the unit-cast case. In 1976 such construction was an absolute revolution, so it still is a kind of novelty.
In a sport watch Nautilus a laconism and simplicity are mixed up with effectiveness. Thanks to case construction sport watch Nautilus are waterproof up to 120 meters. The model does not have any special hermetization. Waterproof is reached thanks to the absence of a back lid, threading of which is very tortuous which prevents water coming into a case.

It was Gerald Genta, who created such opuses as Royal Oak, Ingenieur SL, Vacheron Constantin 222 and many other unique models. Collaboration with Patek Philippe started with a meeting in a hotel restaurant at BaselWorld in 1972. Henry and Philippe Shtern became interested what sport watch of Royal Oak collection could create Genta. Gerald took into consideration the preferences of Philippe Shtern, who was fond of sailing and skiing. According to Gerald's idea the watch that he thought to create should have smooth and rounded lines, reminding sea waves.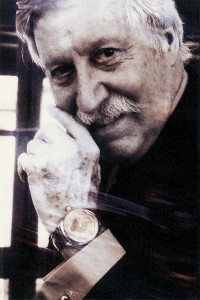 After having a conversation with Shtern, Gerald took a pencil and drew a watch in a restaurant napkin, which he took with him home and forgot about it for some months. Gerald remembered about an unclaimed sketch when Piaget company ordered him to make a thin sport watch for their new extra-thin movement. Immediately Gerald sent the sketch of Nautilus to Piaget company which was not ready to create such an innovative watch. Maybe if they would accept Gerald's design and idea Patek Philippe wouldn't have Nautilus watch in its collection.

At BaselWorld exhibition in 1974 Gerald Genta visited Mr.Fiollette who was an agent of Patek Philippe in the United Arabian Emirates. He asked Genta if he could offer him some elegant sport watch. In some strange coincidence the napkin with a sketch was in Genta's pocket and in 1976 Patek Philippe released a new Nautilus watch.

There was Nautilus watch of 70s. New time make an influence on horology, making it follow the latest fashion trends.
It is difficult now to imagine a watch without a transparent back lid, through which it is possible to observe the beauty of small details of a movement and its work. Moreover if a movement is branded by Geneva mark it is more than just a certificate of quality, it is given if watchmakers follow strict rules of watch making, decorating and processing.
So well Nautilus watch for the thirtieth anniversary changed their "old seashell" and lost its unit-cast case. So, such an upgrade did not reduce the popularity of Nautilus – the model became even more attractive having saved 120 meters waterproof. It is one of our few watch which case (except the back lid) has not been changed for thirty years. That is because Nautilus lines and shape is ideal.

Nautilus watch changed not only the design, technical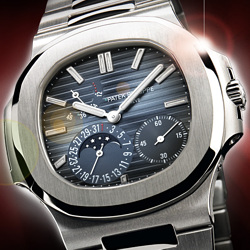 supply was also changed a lot. In the lined dial of the same watch appeared a chronograph with lunar phases indicators and power reserve indicators.
These ideas perfectly suited the ideas of Gerald Genta. Many people interested in practical value of indicator. It is Nautilus watch that is why Lunar indication which respond to ebbs and flows can be useful on a board of a ship.
The conception of the model is ideal and created for many years in advance. In order to have Lunar indication it is possible even to to give up waterproof because the correction button is placed aside the case which reduces waterproof up to 60 meters.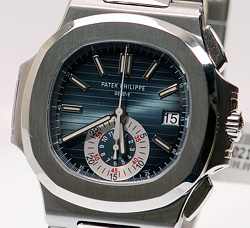 Every sport watch should have a chronograph. For Nautilus Patek Philippe company created a chronograph with a vertical foxation, thanks to which the hand of a chronograph does not shifts at a startup. Nautilus has an automatic caliber ÑÍ 28-520 supplied with column fixed wheel and two chronograph counters (30minites-timer and hour-timer) are combined at the position of "6 o'clock". Switching on and switching off is conducted by a disk muff which almost completely resists tear and wear.

Nonetheless all modern ideas Patek Philippe watchmakers couldn't make a respectful gesture to the past models of Nautilus. Together with a new model a traditional an original of 1976) Nautilus was released the single replaceable detail of which is a bezel through the hole under which a movement is placed into a case because there is no back lid in this model.
Nautilus watch 5800 has an automatic caliber 33SC with a central rotor and a waterproof 120 meters.