Desk clocks
Throughout its existence, the humankind has never ceased to look for new ways of measuring time. In ancient times were used moon, water, candle, sand and oil clocks (many of them used up to the XVIII century) to determine time. But because of its technical exception and depending on the environment, these devices have not found wide application.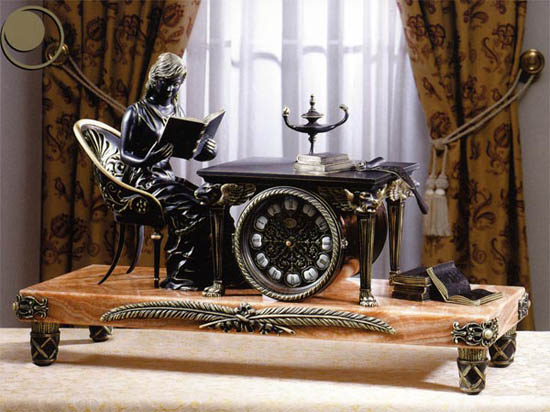 Desk clock
Mechanical watches, which creation dates back to XIII-XIV centuries, have found widespread use. Then it was bulky devices that were installed in the church and the city towers. Tower clock's mechanism worked by the energy of lower load, as which for a long time were used stone weights. Already in the XIV-XV centuries appeared the first floor and wall clocks, which were constructed on the same pattern as the tower. The first interior models were quite heavy, as it leads to action with stone weights, which had to pull every 12 hours. They were made primarily of iron, and later began to be used brass.
| | |
| --- | --- |
| Clock with weights | Clock with weights |
In the XV century in the development of clock mechanism opened a new page: at that time was created the first watch with a spring motor. In them a source of energy was an elastic steel spring under the influence of which a heavy wheel began flapping. With spring drive were created various types of mechanical watches. Thus, in 1430, appeared the first table clock, which today represents an extraordinary value and is stored in the German National Museum in Nuremberg. Half-meter bronze clock with a great finishing in gothic style case and complex mechanism of stroke were made by an unknown master for Duke Philip the Good of Burgundy. In the XV century this kind of table clocks was rare. More popular were portable devices of cylindrical or spherical shape (they were also used as a desk clock.) Their further development has been reduced to an increase in the size and shape changing. So appeared desk clocks with a round, four-, six or octagonal cases, or topped with a dome or bell tower. On contours and corners were placed columns, pilasters, caryatids, the planes were decorated with carved and engraved ornaments.
In the XV century, table clocks were single hand (usually the hand was made in the form of fantastic creatures, mostly dragon). Watch divisions were designated by engraved Roman numerals with raised brass "grains" (balls), which were used for determining the time at night to touch. In the XVI century appeared one hand watch with two dials, one of which was used to specify the time and the other - to set the alarm. Not only the functional components of clock, but their external design was changed. There were desk models with small figures, automatically moved with the help of a special winding mechanism. Also appeared clocks with several mechanisms designed to automatically play back scenes of religious, historical, mythological and domestic content. These were mostly souvenir model, intended for export as expensive gift.
| | |
| --- | --- |
| table clock with pendulum | |
In the manufacture of clocks began use new for that time materials - brass and bronze. By the middle of XVI century, these copper alloys have become common for watch making: of them was made not only the case, but some details of the mechanism, which previously only worked out of iron (gears, springs, drums, snails, etc.). Desk clocks of XVI and XVII centuries had a slender rectangular or hexagonal case with a metal bell at the top. Surface of case was decorated with engraving, carved by flat or embossed patterns. At the end of XVII century table clocks with spring drive were spread in Western Europe. The main trendsetters in their production were Germany, France and England. Since XV to XVI centuries the major centers of watch making were Nuremberg, Augsburg (Germany), Paris, Blois and Rouen (France). In England, the production of desk clocks was developed later. Only in the XVII century were opened workshops specializing in producing of interior clocks (England and Germany are still developing age-old tradition of the floor clocks' production, and France lost its former leadership position).
At the beginning of XVIII century English masters focused on the production of "tabernacle" desk clocks, analog of which in France were so-called "religiez." In shape cases of this watch resembled the facades of the Christian churches, had a rectangular shape. The dial was decorated with ornaments and a semi-circular shield for hands of stroke. This watch was also equipped with various calendar information. In Europe, "tabernacles" and "religiez" were quite popular: appeared their South German modifications, known as "ancient German watch." At the end of XVIII and at early of XIX centuries desk clocks with rectangular cases were out of fashion. At that time appeared models with round dials and cases, repeating their form (such watches called spherical). The dials of these watches were made of brass and enamel, the case was made of mahogany. Spherical models were equipped with a glass door with a brass frame and two handles for carrying.

Desk clocks
In France, meanwhile, were produced desk clocks with molten bronze and gilt figural plastic. Mechanism drove the figures, imitating scenes from classical mythology and the Bible. In the XIX century these motifs have given way to a romantic scene: so-called clock aux sauvages, decorated with figures of blacks, Indians, etc. In parallel with this in fashion were skeleton watches, which from 20s of the XIX century, were produced not only by France but also by England.
The purpose of creation of such models was the desire to demonstrate the skill and ingenuity of watchmakers. Typically, desk clocks with skeletonized dial hadn't traditional case: instead, was used a protective glass dome or glazed copper structures. Production of skeletonized desk watches flourished until the middle of XIX century (most of those clocks were made in England, France and Australia and a few in Belgium, the Netherlands, Spain and the United States). Artsy decorative art had gradually lost its charm and from the middle of the XIX century the production of skeletons gradually disappeared.
| | |
| --- | --- |
| wooden desk skeleton clock Acetime Skeleton 8439 | |
In the second half of the XIX century in the manufacture of desk clocks began a period of eclecticism - the use of forms of previous artistic directions. On the architecture of the holders was reflected a repetition of elements of previous styles; appeared pseudo-style imitation, which borrowed elements of the Renaissance and Rococo. Only in the late of XIX century in watch design became prevalent a stylistic consistency, accompanied by features of creative expressions and individual artistic inventiveness. Beginning of XX century was a time of rapid technological development. This, of course, had an impact on the watch making: appeared desk models in the form of locomotive, steam engines, etc.
From the middle of the last century the attitude to desktop clocks dramatically changed: from a luxury item they have become an everyday utilitarian device. With the appearance of quartz and electronic mechanisms were created smaller, cheaper versions of traditional desk timing devices. Parallel to this, were created models with modern design: there were countless new forms. The spectrum of used materials was broadened. Cases of contemporary desk clocks are made of metal, wood, porcelain, ceramic, plastic, glass, etc. (sometimes are used the most improbable combinations such as metal, plastic and glass).
Over the past several decades, one of the most interesting materials used in watch making, is porcelain. It is used to create the most bizarre forms of cases that can decorate any interior - from minimalist to ethnic. In the modern world desktop clocks are one of the main attributes of the home interior. Selecting them, you should follow these simple rules:
• Desk clock is selected based on the brightest and largest element of a room (it can be wallpaper)
• Material of case should be in harmony with the furniture
• Color of case must either match the color of the walls, or contrast with it
In homes with classic designs are most suitable models with massive carved wooden case, and with design in the style of hi-tech - trendy electronic desk clocks with elements of glass and plastic.
| | |
| --- | --- |
| modern table clock | |
The design of modern desk time meters is characterized by artistic ingenuity. Today there are so many design options that to come up with something new seems impossible. But for the human imagination, nothing is impossible. One of the most original modern developments has become a watch ticking in the opposite direction. However, the new way to display the time is created at the expense of ease reading.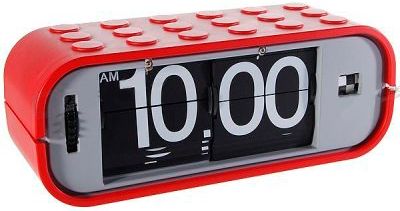 electronic flip desk clock
In recent years, many designers are creating watches that do not have a particular item, such as the dial or the central hands. Generally, models with modern design work on the basis of quartz and electronic mechanisms. Modern electronic and quartz desk clocks - are multifunction devices, equipped with additional function of alarm, calendar, temperature and timer.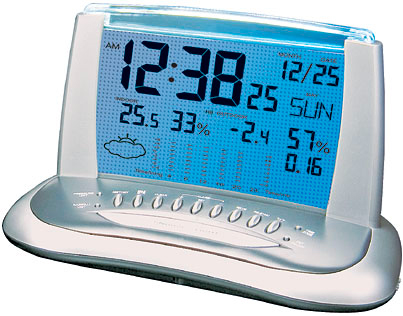 WENDOX W9304-S/GR - desk clock - weather station with remote temperature sensors and capacity to collect rainfall. The transparent display with backlit.
The most expensive desk clocks
In today's world table clocks are affordable decorations of home or cabinet interior, meanwhile, as in ancient times they were considered as an indicator of wealth and sustainable prosperity. Only the very wealthy people had in their homes interior clocks, which at that time were made of only precious metals and wood. Then time meters symbolized the stability of family traditions and they were passed on. Today, desk clocks have turned from a luxury item into a utilitarian device. But, despite this, the tradition of watch making past is not lost: every year resurgent interest in interior instrument time is seen more and more clearly. Today many wealthy people collect old and new models of desktop clock. Now let's present you a list of the most expensive collection models that can be bought at auctions and exhibitions (some models may also be purchased in special shops).
1. L'Esprit des Cabinotiers – a desktop clock, created for the 250th anniversary of the Swiss company Vacheron Constantin. The case of the anniversary model is made in form of a globe on which is engraved map of the Geneva sky, corresponding to the location of the planets and the stars in September 17, 1755 - the day, marking the beginning of a legendary watch brand. The watch case is not normal, but magic: petals of golden sphere opened like a lotus flower, and the clock capsule comes out from the pedestal. To open out the flower-globe it is necessary to program a number of strictly sequential actions, known to only one person in the world - happy owner of this expensive desktop clock. A team of engineers and jewelers worked on the creation of an unusual case with the mechanism of budding flower.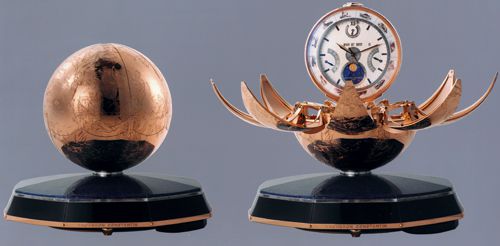 Desk clock - L'Esprit des Cabinotiers
The watch dial is made of a single piece of yellow gold, with guilloche patterns, developed by designers of the watch manufacture specifically for the 250th anniversary of the company. Applied On the periphery of the dial is applied a scale of zodiac signs (signs made as miniatures on enamel). Indication is made by using a star, moving along the rim of silvered gold. On the contour of the rim are located overhead hour markers made of 18K rose gold.
Under the numeral "12" is located a pointer power reserve, and under it - calendar pointers (day, date, month, leap year). At position "6 o'clock" is located an indicator of lunar phases, between "3" and "4 o'clock" is located a thermometer, and between "8" and "9 o'clock" - the equation of time. Indicator of a day is placed in the center. There are also central hands indicating hours, minutes and seconds. Second hand is jumping, running on the base of module one-second constant force system with dead-beat seconds regulator.
L'Esprit des Cabinotiers is a desk clock with chimes: hours and a quarter is beaten off automatically (if you want the function can be stopped). In the creation of multifunction device to realize the full experience of Vacheron Constantin, accumulated over 250 years of continuous work. L'Esprit des Cabinotiers clock is created only in one example. In April 2005, it was put up for auction Antiquorum and was sold for $ 1,838,541.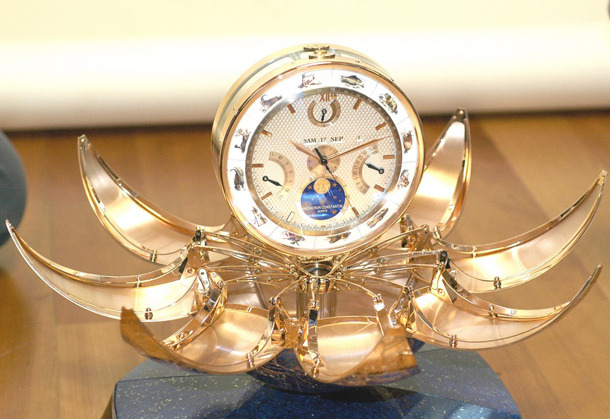 Desk clock - L'Esprit des Cabinotiers
2. Desk clock, belonged to the Russian Emperor Paul I. The historical model was made in 1765 by James Cox - a London master who created the most popular exhibit of Hermitage - "Peacock" clock.
An imperial watch has a truly luxurious finishing: stand is made of agate in light brown and milky shades, decorated with gilded bronze elements. On it is mounted dial made of gilt bronze, flanked by two figures of cupids. At the top are a vase with flowers of diamonds, pearls, pink, semi-precious stones and gilded bird.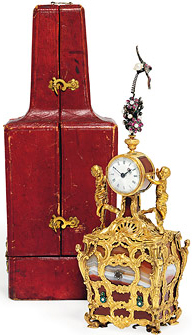 desk clock, belonged to the Russian Emperor Pavel I
This watch has a rich history: according to tradition, after the death of Paul I, the Imperial unit of time was given to Baron Ludwig Heinrich Nicolai (at one time he was a teacher of logic of Paul I, and then served as president of the St. Petersburg Academy of Sciences). Up to XX century the clock was kept at the family estate of Mon Repos near Vyborg. In 1920, the estate with all property was passed into the possession of Count Konstantin von der Palen, who in 1940, after the occupation of the estate by Finnish troops evacuated clock in Helsinki, where he sold it (1963).
In 2012, the imperial desk clock was put up for auction Christie's. The experts estimated the lot at 50-80 thousand pounds, but the sale price ten times exceeded the estimate. Gold plated clock, decorated numerous precious and semi-precious stones, were sold for 601,250 pounds ($ 966,810). The new owner of unique clock was not disclosed.


desk clock, belonged to the Russian Emperor Pavel I
3. Hartman a Paris – is a desktop clock, created by order of the Emperor of France Napoleon Bonaparte. The author of old model is the famous Dutch watchmaker Ahazeurus Fromentin.
The watch that has become the pride of the French emperor, made in the Empire style. Gold-plated case is presented as a basis for the eight dials located pyramid, at different levels. This beauty is crowned small sculpture of angel playing a trumpet. And on both sides of the dial are gold-domed towers with domes. Key elements of the case are decorated with carved floral decoration. The clock is collected on the basis of a complex mechanism, driven by a special key. Clock construction is protected by a glass cover. Imperial clock was discovered in one of private European collections, where they got in the 50's of last century. The rarity model was recently put up for auction at the auction house Bonhams. An anonymous buyer paid for it 322,400 pounds (about $ 500,000).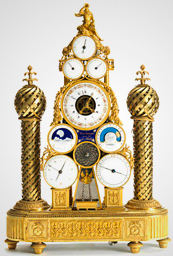 Desk clock - Hartman a Paris
4. Desk clock with symbols of death, made in 1623 by the English clockmaker William Boyer. The symbolism «Memento Mori» ("remember about death") was extremely popular among the English Puritans of early XVII century and found its reflection in watch making at the time: on the case from one side is engraved the skeleton, and the other - the Greek god of time Kronos with a scythe.
The mystical model is the type of English lantern clock and is very rare. Watch with death symbolism were auctioned Bonhams. The rare lot experts estimated about 30-50 thousand pounds. During the bidding price rose sharply: in the end table clock sold for 120,000 pounds (about $ 235,000).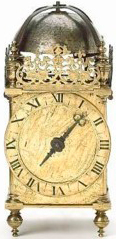 desk clock with symbols of death, made in 1623 by the English clockmaker William Boyer
5. Le Tour du Monde de Magellan is a desk clock of renowned Swiss manufacturer Patek Philippe. A unique model was created in 1971, the 450th anniversary of the death of the great navigator and explorer Ferdinand Magellan. The watch case is made in form of a globe on which with using a special technique of enamel, are applied overlay scene of conquering new spaces and territories by the Portuguese explorer.
The case is mounted dial with concise design: on the white background stands out a golden disc dial with large Roman numerals. Indication of time by means of central hands (hour and minute). The clock is based on the solar panels. Le Tour du Monde de Magellan was sold at Antiquorum for $ 165,000. The lucky owner of desk clock has become a collector from Asia.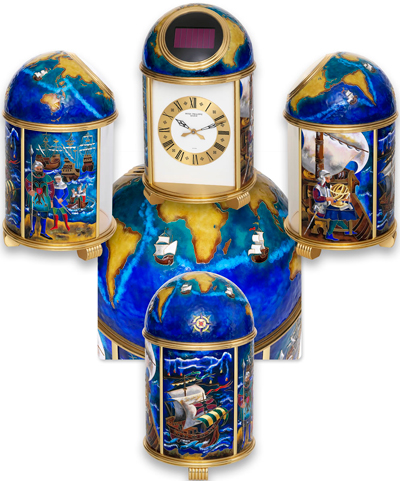 Le Tour du Monde de Magellan – desk clock by Patek Philippe
6. Desk clock Atmos, created by the masters of Swiss watch manufacture Jaeger Le Coultre. A distinctive feature of this watch is the "perpetual motion", working on the basis of changes in the volume of chloroethylene in a special membrane-harmonica. Under the temperature effect the harmonica expands or contracts, transferring vibrations to the drum, where is the folded spring of clock mechanism. Thus, the difference in temperature at just 1°C provides a two-day power reserve. In a day temperature is changed at several times.
| | |
| --- | --- |
| Desk clock Atmos | |
The first model of Atmos clock was established in 1928. Revolutionary mechanism that does not need any winding, was invented by the Parisian engineer Jean-Leon Reiter (then instead of chloroethylene used not too safe mercury). Since the creation of the first "perpetual clock" has been more than 70 years. They successfully withstood the test of time; for this period Atmos clock has not been winded. In mass production Atmos clock was launched in 1936. Since then the company has produced more than 750,000 models (some of them decorated the rooms most famous and influential people in the world - John F. Kennedy, Nixon, Reagan, Churchill, Charles de Gaulle, the King of Jordan and even the Pope John Paul II). The cost of "perpetual clock" is more than $ 70,000.
SinCera