Most expensive watches, sold at auctions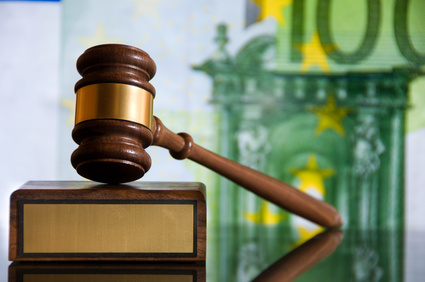 Man is a truly strange creature. During all his life he's trying to become "smarter", striving for sharpening his skills in various fields, developing complicated nano-technologies, designing microscopic mechanisms, making schemes of continuously operating machines and so on. Nevertheless, from time to time the man returns to past, buying different old things, devices, antique instruments for whaling money. The same situation is at the watch market. Today there are many famous auctions in the world, so-called "time machines", sending a man back to several decades or even centuries ago. The most famous auctions among them are, perhaps, Antiquorum, Sotheby's, Christie's, where the men and women retro-watches of famous Swiss companies enjoy tremendous popularity among collectors and are sold for fabulous money. If to think logically, it becomes absolutely clear why a man is attracted by antiquities so much and where the magic of retro things lies. The scientists have established the time frames of retro things, which are, frankly speaking, a bit vague, but nevertheless, the time meters, created at the second half of XIX century – the first half of XX century, are referred to retro watches. Accordingly, the older things are considered to be antiques. The younger models, aged from 50 to 20 years, are referred to vintage. First, the retro and vintage watches undoubtedly emphasize individuality of their owners, as it's impossible to disregard unusual beauty (and price!) of retro watches. Second, most of the collectors consider the purchase of expensive antique watches to be the most advantageous investment, as the price on such things is only rising in time, moreover, this rising sometimes gains colossal scales. Besides, an old thing doesn't mean bad, most often the "old" is a synonym of "high-quality". You can't but have a philosophical approach to retro watches. Adding them to your collection, you are like going back to the past, forget about your century. No doubt, the retro watches are a kind of memories and dreams; buying them, the collector acquires a piece of history itself, literally, a piece of time, which seems to have passed irrevocably. You need only to look at antique watches, and the time stops magically. Such watches always bear some secret; they are covered with mysteries of the past and are a kind of border between two worlds – past and present. The energy of such things always fascinates and makes you think about past "life" of these watches.
Everybody knows that time is money. And it turns out to be a big money. There are many collectors in the world, who wish to buy the most expensive watches or, in other words, to buy the "time". But not everyone succeeds in it, as the retro watches are a costly affair. The world auctions, which we have safely named "time machines", taking you back to the past, display vintage watches for sale, price of which simply fascinates and sometimes frightens. So, today one of the most expensive retro watches is not a wrist, but a pocket watch, created by the famous Swiss watch company "Patek Philippe". That watch was sold at Sotheby's in December, 1999, for 11 million dollars, although, according to forecasts of Sotheby's specialists, Patek Philippe was to make from 3 to 5 million dollars for that watch. That most expensive model "Henry Graves Supercomplication", manufactured in 1932, is made of yellow gold; this golden watch is provided with 24 complications. It should be noted that the watch giant "Patek Philippe" is one of the record-holders at all world auctions. The great collectors are not stingy of exclusiveness, and the watches of this company are sold by auction for a very big money. Let's see the most expensive watches from Swiss watch companies. They are undoubtedly invaluable watches, showing the "priceless" time.

Watch "Patek Philippe Platinum World Time of 1939"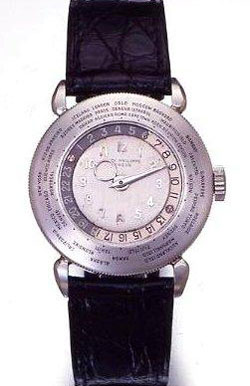 The great watch company "Patek Philippe", went down in history as a creator of first wrist watches with perpetual calendar, is a champion in sales of the most expensive watches in the world at all auctions. In 2002, probably, one of the most expensive Swiss men wrist retro watches "The Platinum World Time Ref. 1415 HU" of 1939 issue from Patek Philippe was sold – today it exists in a single sample. The model case of 37 mm diameter is crafted in platinum with transparent back case. You can admire the dial of unique retro watch through the sapphire glass. The uniqueness of these expensive watches of the middle of XX century lies in showing the time of 24 time zones of our planet, and, accordingly, thanks to this watch, you can't "get lost in time" in 42 cities of the world. It should be said that such system of world time display was invented in 1935 by a genius independent Genevan watchmaker Louis Cottier. After that Patek Philippe got to know the "world time". Louis Cottier has designed a movement, which shows 24 watch zones by means of disk, rotating around the central dial. The current time in local time zone is indicated by standard hour and minute hands. Such a simple system. No doubt, such wrist watches with world time function were irreplaceable devices for travelers in the middle of past centuries, and at that time a striving for getting to know everything new and experiencing unknown incited the brave men for traveling around the world indeed. After Patek Philippe the "all-time" system were discovered by other great Swiss watch companies, such as Agassiz, Vacheron Constantin and Rolex, which complicated their masterpieces with function of world time. The craftsmen of Patek Philippe created several series of watches, provided with that function; the first ones were presented in pink gold and platinum. However, then the case diameter has enlarged from 37 mm to 39,5 mm. The excellent men retro watches of 1939 from Patek Philippe were sold at Antiquorum in 2002 in Geneva for a record sum of money – 4 million dollars. The Swiss watch "Platinum World Time" from Patek Philippe went down in watch history as one of the most expensive wrist watches ever sold at auctions. To be sure! Everyone wants to have a historic watch, literally passing through all time spaces, in his collection.





Watch "Patek Philippe (Ref.1527) of 1943"

The results of watch auctions shocked and stroke the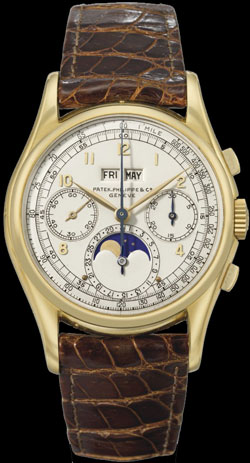 society more than once, but it's quite natural for participants. The astronomical sums, for which the historic rarity watches are sold, are beyond one's comprehension. So, in 2010 at Christie's, took place in Geneva, where 830 potential clients from 10 countries of the world presented, the Swiss watch company "Patek Philippe" became an absolute record-holder again and broke all records in antique wrist watch sales. The men vintage wrist watch from Patek Philippe (№ 1527), released in 1943, was sold for a completely unreal sum of money – 5,7 million dollars – and become the most expensive wrist watch. Almost a 6-million-dollar-watch – it's really incredible! One may envy the lucky owner of the most expensive watch: both successful purchase and unique opportunity to realize it. It's interesting that the experts valued that model at 1,7 – 2,95 million dollars. Obviously, the valuers were over-modest, as the difference is more than noticeable. That watch model "took the fancy" of collectors by its enormous historic value. It is one of the first legendary chronographs in the world, provided with perpetual calendar and Lunar phases; the case of the most expensive wrist retro watches is made of 18-carat gold. Totally two such chronograph models were manufactured by order of Schterns, which has been running Patek Philippe since 1932. One of these men wrist watches was handed to Patek Philippe museum in 2002, the second one was put up for auction from private collection in Geneva. These watches became popular among watch connoisseurs as early as 20 years ago, and since that time a "vehement strive", which ended in 2010 with, so to say, enormous tolls, has been carried out at auctions for getting this model. As 6 million dollars is no picnic!

Watch "Patek Philippe (Ref. 2523) of 1953"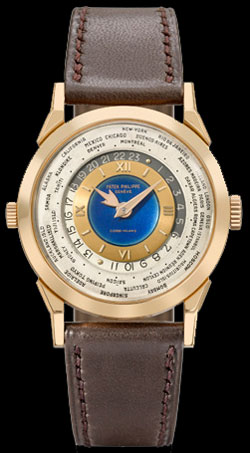 In the same 2010, one more valuable lot was presented at Genevan auction – the most expensive retro watch of 2523 number from Patek Philippe (what a surprise!), issued by the company's craftsmen in 1953. That 60-years old model was purchased, as you might guess, by a generous collector from Asia, who gave 2,7 million dollars for it at Christie's. Let's compare with the initial estimation of experts, which made up from 1,77 million to 2,95 million dollars. The Asian collector became an owner of one of existing retro models of those watches from pink 18-carat gold with two crowns. The watch has a blue enamel dial and interesting 24-hour time indication. This chronograph is provided with movement on 18 jewelries of 722 715 number, the number of case is 306 216. The caliber movement 12 400 HU is coated with nickel and engraved with Geneve brand. This Swiss watch has, so to say, a "multilayer" dial with blue circle and inner rotating disk at the center; the stylish golden hands and Roman numerals show current time. In this precious watch 24 hours are divided into day and night time, and the outer rotating disk is engraved with names of 40 countries of the world. This watch with world time function – system, invented by the great watchmaker Louis Cottier in 1935 – allows time definition in 40 cities of the world. The world time is adjusted by the second crown indeed. The documents form Patek Philippe archive prove that this wrist watch, evoked such a great excitement among collectors, was manufactured in 1953 and sold in April of 1957 to the retailer Gobbi in Milan. According to historic researches, "the collectors' dream" from Patek Philippe is one of 14 watch samples, released with the same reference (2523). According to these researches, the limited series of these watches consisted of 11 samples, presented in yellow gold, 2 samples – in pink gold, which the 2010 Christie's model refers to, and one single model of white gold, displayed in Patek Philippe museum in Geneva. The men wrist watch, now owned by the Asian collector, is specific for its individual numbers on the movement and case and also for Gobbi Milano inscription at the bottom of blue enamel dial that distinguish this model from the rest 13 ones. As for the blue disk on dial, this is also an incredible rarity. Within 30 years only three models of this series with the same dial of yellow gold and one – of pink have appeared at auctions. Now we'll talk about the latter one. All experienced collectors know well that it's quite difficult to catch such "gold fish". Such things are being sold at auctions once in 10 years, and maybe one will never have such chance anymore. Besides, the case of valuable Patek Philippe watch is lack of any traces of restoration and cosmic treatment, and the pink gold perfectly matches the Royal blue color of dial that makes this Swiss retro watch mysterious and majestic. The sum of 2,7 million dollars, offered for this priceless watch, is, no doubt, astronomic but far from the biggest sum, received by the Swiss company-conqueror of world auctions "Patek Philippe". Well, let's just congratulate the owner of this retro model with purchase of a true masterpiece of haute horlogerie, which has brought a sense of past epoch splendor and chic to the new XXI century.

Watch "Rolex (Ref. 4113) of 1942"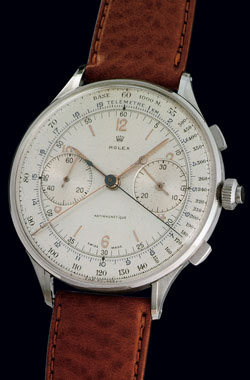 As it's known, the auctions are the "purest" and tested device at the watch marker, which helps in making win-win deals. Also the watch and jewelry auctions are most stable against crisis. The crisis promotes the number of offered products, as during crisis the collectors often display samples from their collections. So, the sales sum of "big three" auctions (Antiquorum, Sotheby's, Christie's), carried out at the end of May, 2011, has made up about 36 million dollars that allows making a conclusion about significant watch market growth. The auction "Christie's", carried out in May, 2011, in Geneva, made another striking record. A unique lot – vintage wrist watch of Swiss watch company "Rolex" (ref. 4113) of 1942 – was sold for about 1,17 million dollars. Initially that lot was estimated from 708 to 1,18 million dollars. Today it is considered to be the most expensive men wrist watch of Rolex ever presented at auctions. Such price on retro watch from watch legend is completely justified, as totally 12 models existed, only 8 of which remained and "showed up" in our days. Most of them are in families of first owners now. According to some information, this Swiss watch closely related to Sicily – motherland of traditional races (Giro Automobilistico di Sicilia), which were carried out from 1912 up to the Second World Wat. Obviously, this chronograph from Rolex was created specially for racers and owners of race teams. By the way, this model has never been in sale or registered in catalogue, and generally its information hasn't been divulged, that's why no one can define the true "predestination" of this model. According to some versions, keeping theme of Sicily races, this watch was created exclusively as a present for best sportsmen-racers of United Kingdom and Italy of 40s. No doubt, a quite logical question arises: "How did that wrist watch deserve such "highest" price – more than a million dollars?" As the material it is made of is neither platinum, nor gold; the watch doesn't have even a single small diamond; its case is a simple steel of "051318" number. The point is that it is a rare retro model, released in 1942 and equipped with split-chronograph: it means that it has two second hands, which are triggered and stopped independently. This movement allows stopping and triggering the hand without restarting. According to some sources, such watches were necessary for racers to measure the speed on tracks. The movement of caliber Valjoux 55 VBR 17 2/3 with 17 jewelries. The plated Arab numerals from pink 18-carat gold and also the outer minute scale, tachymeter and telemeter scales (the latter one is designed for definition of distance from observer to sound source) are placed on silver dial. Two additional second dials with 30-minute registers makes watches a bit "featured". The movement of split-chronograph is controlled with two rectangular buttons of chronograph. The case of this men wrist watch is quite massive of 44 mm diameter in the manner of models in the middle of XX century; the dial and the movement are signed by the manufacturer. It is interesting that this model of rare Swiss watches is provided with unusual for Rolex very thin bezel. Therefore, this is an absolutely unique wrist watch that, besides its complexity, also represents a historical value.

Watch "Patek Philippe (Ref.1591) of 1944"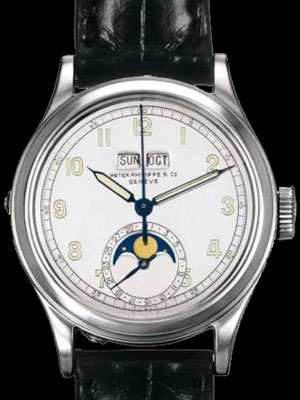 Perhaps, no one connoisseur of old watch art, following the auctions, won't be surprised by the fact that just the model of retro watch under the number of 1591 from Swiss watch company "Patek Philippe" broke all price records on 2007. That men wrist watch was sold at Christie's for 2,264 million dollars on November 12, 2007, although the "modest" experts initially estimated that model at 713 thousand - 1,2 million dollars. It should be said that it was the first watch, made of simple stainless steel, which was sold for such astronomic sum of money. It, probably, breaks the record of steel Rolex (ref.4113) of 1942 release. This wrist vintage watch is shrouded in legend, which says that the time meter from Patek Philippe initially belonged to Maharaja who loved to put on "his pride" (as he called his watch) during playing polo. After his splendid wedding happy Maharaja came down and presented the legendary watch to his friend from Europe in gratitude for wedding arrangement. Then the model of one of the most expensive Swiss watches was put up for auction. That rarest retro watch was manufactured in 1944, and till 1966 no one collector and connoisseur of retro watch knew about its existence. According to some information, there are only two pieces of such model: one - from steel, sold in 2007, another one - from yellow gold. The results of earlier researches speak about existence of 12 samples of such model though. But this is, obviously, delusion. The watch with ref.1951 is the first wrist watch from Patek Philippe with perpetual calendar, central second hand and water-resistant case. The movement of this watch of "864'471" number with 20 jewelries is based on the famous caliber "Victorin Piguet 12''' S.C.". The silver dial is provided with apertures of date and Lunar phases; the diameter of case of "635'565" number makes up 33 mm. It's amazing but the wrist watches of Patek Philippe with steel case were always released by limited series. Only 6 steel "elders" have lived till nowadays: four pieces with ref.1518 (provided with perpetual calendar and chronograph), one piece with ref.1526 (perpetual calendar and additional second dial) and, of course, reference 1519 - this is "our" steel vintage watch we are talking about. It stands to reason that all these models have an enormous historical and cultural value, not speaking about its incredibly high, cosmic price. The men wrist retro watch from Patek Philippe (Ref.1591) of 1944 is a great achievement of Swiss company; it caused a radical change in the history of complicated wrist watches from famous manufacturer. According to experts, this Swiss watch is considered to be one of the rarest and most unique "spoils", which any collector would love to get. We can only imagine, what "expensive" secrets the watch history keeps in its collection!

Watch "Vacheron Constantin Kallista of 1979"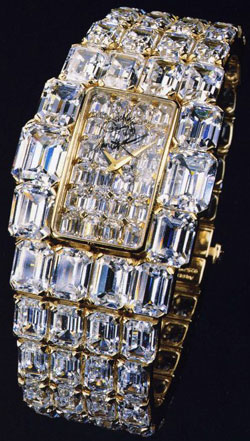 Very often when an ordinary man looks at some precious adornment or accessory, he sees only jewels, gold, facet and polishing. But a real master sees a whole history, feels a living soul in cold item. So, the masters of famous Swiss watch company "Vacheron Constantin" could "revive" the gold and jewels, having created in 1979 the most mysterious, unique, excellent and expensive model of wrist watches "Vacheron Constantin Kallista". It can be said that it is the only women watch and Kallista has no analogues today. This vintage watch has won "the most" status due to being released in a single piece, but this is not all. The words are not enough to describe the beauty of this masterpiece, still we'll try. The Swiss wrist watch "Kallista" is a result of hard hand work of best watchmakers and jewelers of manufactory "Vacheron Constantin". The model "Kallista" is a watch, crafted in gold ingot; the case and bracelet are adorned with 118 emerald-faceted diamonds with immense total weight of 130 carats, connected by invisible structure; the minute and hour hands are made of yellow gold. Besides, classic round-faceted 141 diamonds of 18,74 carat total weight "proudly throne" on this model; the watch with its movement weighs 155 grams. It's incredible but each jewel is certified by GIA (Gemological International association). The creation of watch movement and case took the watchmakers about 6000 hours, and the most qualified jewelers adorned that work of art with jewels during 20 months. The famous sculptor and artist Raymon Moretti, a friend of Pablo Picasso and Jean Cocteau, was specially invited to work at design of that model. Obviously, Vacheron Constantin undertook an enormous work, but in that case "the game was worth the candle". The Swiss company "Vacheron Constantin", famous in the watch world as a master of complications (the first complication in watches of that manufactory appeared in far 1790, and in 1934 the pocket watch from Vacheron Constantin had already contained 12 complications), created a non-complicated self-winding movement for its watch "Kallista". However, it is one of the thinnest watch movements – about 21 mm in diameter and 1,5 mm in thickness. According to some sources, it is an ultrathin caliber 1003, created by the watchmakers of Vacheron Constantin in 1952. The name of this women wrist watch isn't chosen by chance either. "Kallista" means "the most beautiful" in Greek, and the diamonds were considered to be tears of Gods in Greek mythology. It's not really surprising that this "Godlike" watch is priceless. So, it was sold at auction at a fabulous price – 5 million dollars – that safely makes it the most expensive watch from Vacheron Constantin. It should be noted that thanks to its watch "Kallista" the manufactory "Vacheron Constantin" is "close on the heels" of today record-holder - Patek Philippe: its retro watch Ref. 1527, which we've been talking about earlier, was sold at 5,7 million dollars and deserved the status of the most expensive Swiss wrist watch, ever sold at auctions. So, in far 1979 an anonymous buyer, who didn't want to make his name known, gave 5 million dollars for that model, moreover, before the inflation of the end of XX century. However, most of sources are not sure about such record sum for wrist watch, as the anonymous client of Vacheron Constantin refuses hard to confirm officially the spent sum of money. Nevertheless, according to experts, the price on the most expensive watch today increased practically two times and makes up 11 million dollars (it's interesting that the most expensive pocket watch "Patek Philippe Supercomplication" was sold at Sotheby's in 1999 at the same price). The image of victorious Kallista later became the base for the whole line of men and women wrist watches from Vacheron Constantin under the title "Lady Kalla". Usually, they were limited issues or single pieces. One of the exclusive models "Lady Kalla" was created in 1981 specially for Diana's wedding, and in 2001 Lady Kalla deserved an honorable title "Montre Joaillerie du Grand Prix d'Horlogerie de Genеve". No doubt, one of the most expensive watches – Kallista evokes incredibly strong emotions of all watch and jewelry art fans, this watch captures, one can say, "enslaves", when you just remember the sum, given for it. They say, man controls time. In this case, the watch is more likely to control a man.

To be continued ...