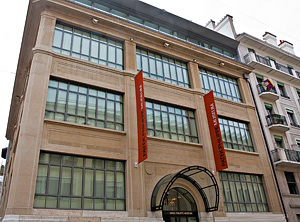 Patek Philippe watch museum is a unique institution where not only token and mostly famous company's works are gathered together but a huge part of a world horology collection is also presented. Here it is possible to find even ancient Solar clock.
In Patek Philippe museum the heritage of four centuries of horology is exhibited equally with years history of Patek Philippe company. That is why among watch fans who visit Geneva Patek Philippe museum it is possible to meet real watch experts.

Patek Philippe watch museum was opened at the first year of a new century in 2001 after the building reconstruction in 1999. This building itself is a kind of a history part. It is 90 years old, more than a half of it is occupied by watch-workshops. That is why it is the best place for a watch-museum. Historical exhibition here is very skilfully spread around the floors.

On the ground floor there is a horology exposition itself: instruments, restoration and watchmaker's working place and so on.

On the first floor there is a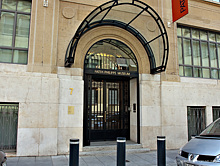 real Patek Philippe place of fame where all the production presented since 1839 to the present time.

On the third floor there is an alive encyclopedia of horology art development of XVI-XIX centuries period. Here it is possible to find amazing things right up to moving dolls which can envy even very skilful and creative watchmaker.

On the third floor there is a library and archives that can be visited with less interest than previous expositions.

So, now let's make a kind of a virtual tour around Patek Philippe museum in order to tell you about the magic thinks that you might wish to admire yourself. The museum is open every day except Sunday and Monday from 2 p.m. to 8 p.m. On Saturday it is open from 10 a.m. Excursions are conducted by English-speaking and French-speaking guides.
Ground floor:
It is the first step into Patek Philippe museum – a step which afford you to see how the first Swiss watch was made. Here any visitor can plunge into the world of a Watchmaker and get acquainted with more that four hundreds working tools. Tools of jewelers, engravers and enamelers are also exhibited.

Except watchmakers' working places and instruments visitors can watch a documentary film about Patek Philippe watch museum and many other interesting things.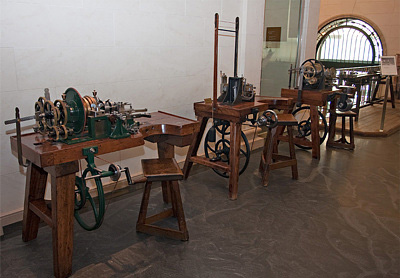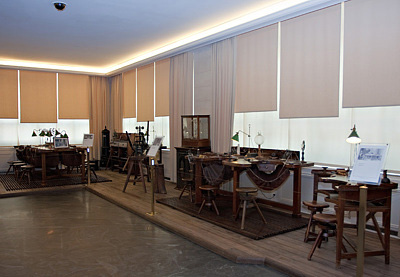 First floor: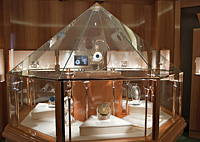 As it has already been said, the room of Patek Philippe honor is placed on the first floor. Here all the works created by Patek Philippe (since 1939 when Antoine Norber de Patek hadn't met Andrien Philippe and hadn't registered the brand) are gathered. Here is also kept the heart of Patek Philipe History – pendulum mechanic clock 4536 with enamel dial, which became the beginning of increasing fame of Patek Philippe watch company. It was the first model made in 1850 which movementd did not need any keys for rewinding. This invention of Andrien Philippe was released at London Crystal Palace and was bought by Queen Victory herself and after her her son also bought it. It goes without saying how respectful and desirable Patek Philippe watch became after this.

Among other great Patek Philippe exhibits one-kilo pocket-watch should be mentioned. Caliber 89 created in 1989 displays all professionalism Patek Philippe watchmakers. The watch is placed into the crystal pyramid as one of the most complex movement in the World.

There are 24 hands, 33 different functions and 1728 elements. Besides the skillfulness of watchmakers Patek Philippe watch poses a real sky made of 2 800 stars.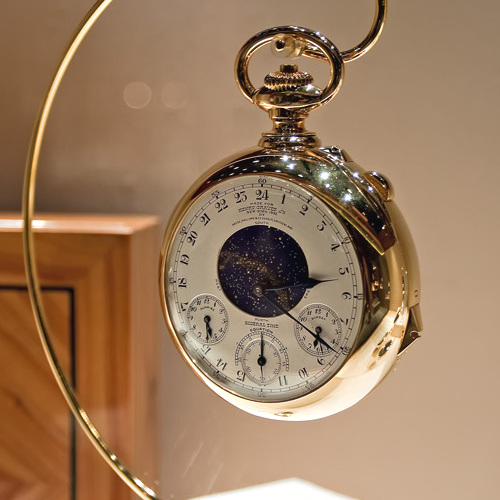 Second floor: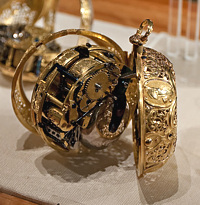 It is a kind of feast for horology history lovers. Here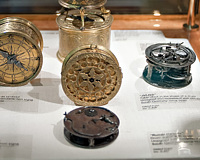 you can find even one of the first mechanic watch supplied with spring balance created by Henricus Johns in 1675-1680.

So now imagine a mechanic watch that Turkish sultans and Chinese mandarins can wear. There must be a very complex mechanic movement, decorated by very small silhouettes of people playing musical instruments, singing birds and so on. There must be a kind of a repeater decorated by Jaquemaras. Such decorations is not an abstract thing it imitates real human life.

There also presented less exotic but more historically valuable watches which were made in Geneva more than 500 years ago, when French protestants came which served Swiss horology development. First balance watch of XVII century it was the first watch supplied with second minute watch. They took a very respectable place among world chronological achievements.
There are also many beautiful pocket watches with enamel paintings.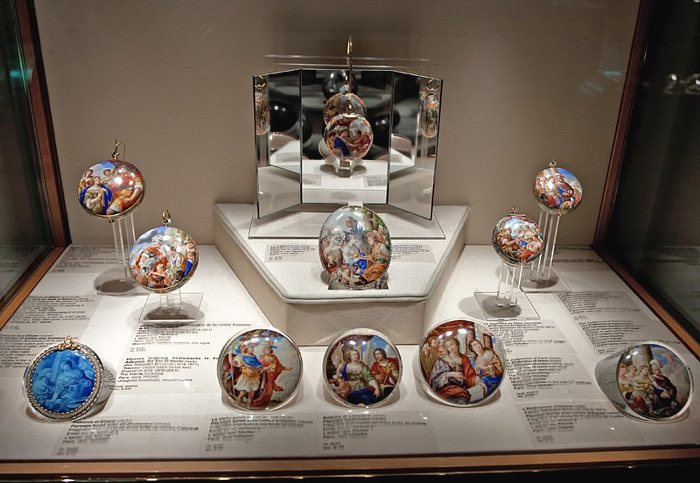 Watch museum Patek Philippe also depicts the history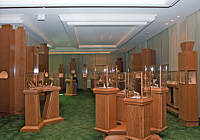 of how Patek Philippe watch appeared. Today we look with amazement at a big grandfather pendulum clock covered with oak case while in 1860-1960 the same amazement was caused by an ordinary hand watch.

Originally watch was no mote than a female jewelery accessorize so well, may be watchmakers are right when they pay more attention to the design of their production and only having created a real masterpiece remember about placing two little hands to some watch.

First World War made people understand that it is not very convenient to take to a battlefield a big clock, it is better to have something instead, may be some pocket watch, but pocket watch was also not very thing which was need to be created. Soldiers took out the chain from their pocket watch and attached leather straps to the case in order to fix their watch at a wrist.
When War finished pocket watch were forgotten almost completely. In order to demonstrate this Patek Philippe museum has more that 500 exhibits which demonstrate the development of horology culture in details.
Third floor: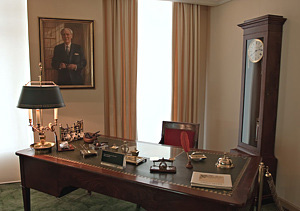 Here is the library and Patek Philippe archives. The atmosphere is very cosy and warm it does not look like as all the other places in the museum. Except the library and the archive there is also a study of Henry Shtern who was the president of Patek Philippe company and in 1978 his son Philippe replaced him.


It was Henry Shtern together with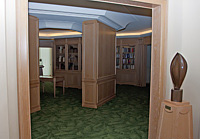 his wife Gerda who made such an amazing watch museum and collected the unique collection.
Museum official web-page: www.patekmuseum.com