Thin watches - timeless classics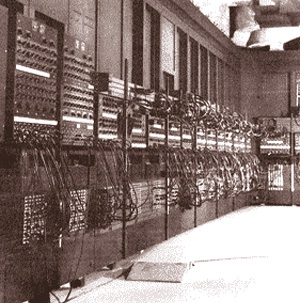 From the ancient times people strived for creation of new and new mechanisms, devices and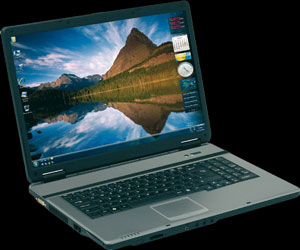 instruments to ease and "mechanize" their lives. For example, everybody knows that the modern computer underwent many changes to become the devices we're used to. One of the first computers, designed by American scientists from 1943 to 1945, struck with its sizes. That computer weighed 28 tones and consumed 140 kW of energy; the mass of old printer made up about 3 tones. Such enormous machines turned out to be very inconvenient for use; therefore, the man began to seek any ways to get rid of excess weight.
Such tendency to minimization is traced in absolutely all spheres of life. Let's compare, for example, the world-known paintings by Rubens, illustrating the beautiful women, with modern ideals and standards of feminine beauty. Obviously, if Pieter Paul Rubens had written his masterpieces in XXI century, his paintings would have "lost weight". The corpulence, highly favored in the Renaissance, has lost its popularity. And what do we have now? Small computers, lap-tops, which monitor is as thick as a paper, net-books, placed in a palm, mini-phones, tiny flash-cards, storing a huge volume of information, paltry cameras, equal to their "elder brothers" in functionality, miniature microphones, detectophones and many other different mini-gadgets.
The watch industry is not an exception – the watches have evolved much from enormous sun watches to smallest and thinnest movements. When the watches moved from the coat's pocket on wrist, the craftsmen set a goal to create a watch mechanism, which would allow diminishing the thickness of wrist watches as much as possible. The thin men and women wrist watches undoubtedly have advantages over the "fatties". You don't feel them on your wrist; they don't hinder you from wearing clothes with tight sleeves, and, of course, such watches form a special sophisticated and elegant image of their owners. The simplicity is beautiful. And the thinness is not fragility or weakness at all. The synonyms of thinness are fineness and delicacy. Let's remember such phrases, as "delicate ear", "delicate taste", "fine feed mechanism", etc. So are the thin watches – they are certainly a very stylish accessory for both men and women. Such watches are highly valued in the European countries; and a man, who is good at expensive watches, will pay attention to delicate taste and deliberate modesty of such model's owner. The ultrathin watches perfectly match the business suit and look prestigious. As for most women, there isn't anything more comfortable, beautiful and stylish, than "slim" watches on their miniature wrists. However, last decade the manufacture of big complicated and sport models gathered pace, and sometimes it seems that the modern watches are "stuffed with growth hormones", but nevertheless, the elite watch fans will always love classic ultrathin pieces. Such watches are valued for their sophisticated aristocratism, and each model of thin watches is a great investment in advanced technologies and result of best watchmakers' hard work. There are not many companies, producing thin watches. Undoubtedly, the mechanical watches, not the quartz ones, require special attention, as their designing is more complicated. Among the companies-minimizers only the most popular and prestigious watch brands "came into the spotlight". The watch thinness is not just a form, but the highest level of craftsmanship.
One of the pioneers in creation of ultrathin movements for watches if the famous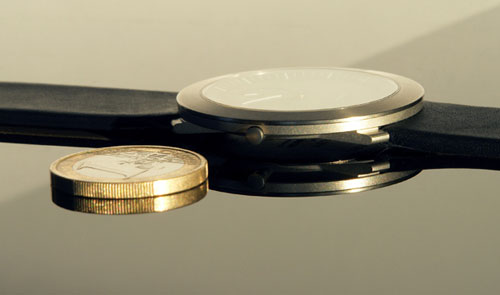 Swiss watch company "Vacheron Constantin", which since 1812 has been trying to minimize its pocket, then wrist watches, "racking its brains" to create ultrathin, almost weightless calibers of watch movement. The ultrathin caliber of watch movement is the visiting card of Vacheron Constantin. The caliber is a term, defining the size and type of watch movement. Usually, the number of caliber corresponds the movement's largest overall size (which is measured in "lines" is Switzerland), however, in some cases, a set of symbols for definition of a certain model can become the caliber. The great services of Vacheron Constantin in the miniature watchmaking sphere are creation of less than 2,82 mm thickness caliber in 1911, then 2,25 mm thickness calibers (in 1917) and 1,88 mm (in 1924). The design and release of about 3,1 mm thick caliber with minute repeater date in 1941-1942. The famous hand-wound watch movement of 21 mm diameter and 1,64 mm thickness caliber 1003 was first used in three jubilee models of men wrist watches of 1955 from Vacheron Constantin. The advantage of this caliber is the higher level of movement accuracy due to its increased balance. Later the miniature caliber 1003 was used in more than 850 models of pocket and wrist elite watches. On the whole, there is no standard classification for ultrathin calibers: each watch brand has its own terms (extrathin, ultrathin, etc.) However, only a hand-wound movement with 3,5 mm and less thickness caliber is officially considered to be thin. Besides Vacheron Constantin, other famous Swiss watch companies are also specialized in design and creation of the thinnest movements for their "mini-clocks". They are Piaget, Appella, Longines, Jaeger-LeCoultre, Jean Lassale, Rado and others. The modern review of thin watches led to the point that every respectable watch company has series of ultrathin men and women watches in its collections. Some watch manufactories order the movements for their watch models from other companies. One of the famous creators of watch mechanical and quartz movements is the Swiss manufactory ETA, a member of The Swatch Group Ltd. In the history of this manufactory there are some facts, closely linked with total ultrathin-mania. So, in 1975, ETA launched the manufacture of one of the thinnest self-winding movements for men wrist watches (caliber 2892), and in 1992, the thinnest self-winding movement for women wrist watches (caliber 2000) appeared. Some skeptics may speak for thick massive watches, noting that thin watch cases are fragile and it's really easy to break such "plates" which sometimes look like simple stickers. However, since 1990 the farsighted watchmakers have started providing their thin movements with special anti-shock protection, keeping the thinness. The most popular in expensive Swiss watches excellent anti-shock device is KIF.
The thinnest models of Swiss watches fascinate with their unique aristocratism, sophistication and elegance. The thin lines never stop charming people. More than one decade has passed from the moment the man created thin accurate watches, but these models are still popular and magnificent. Undoubtedly, the thin wrist watches are everlasting classics.

Vacheron Constantin Historique Ultra-fine 1955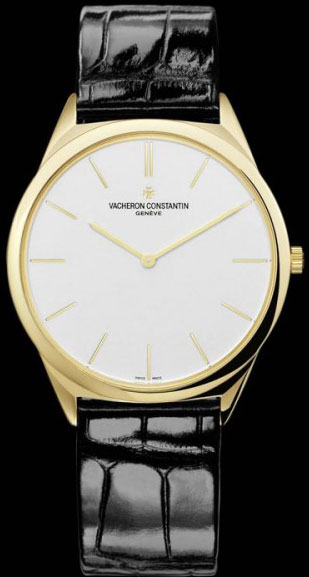 Perhaps, no one admirer of expensive Swiss watches

will be surprised if we start telling about ultrathin men and women wrist watches with the models of Vacheron Constantin, known in the watch world as the main "dietitian" of watches and minimizer of watch case and movement thickness. To create the thinnest movement for thinnest watches is not less laborious than to design a multifunctional complicated chronograph. Especially since all modern complications of thick watches (minute repeater, perpetual calendar, carillion, split chronograph, or that omnipresent tourbillon) bothered a bit. We don't underestimate the services of great masters and watchmakers, who tried their best to create these genius complications. Our aim is just to reconsider and review the masterpieces of ageless classics by Swiss company "Vacheron Constantin", which won various world awards for its ultrathin models and tiny calibers of watch movement. In 2010, the Swiss watchmakers of Vacheron Constantin decided to mark the 55th anniversary of extrathin caliber 1003 and revived the ultrathin models of men wrist watches of 1955, provided with that legendary caliber. The caliber 1003, despite its mini-size (its thickness only 1,64 mm), provides perfect accuracy of Swiss wrist watches. Then, in 1955, the manufactory issued only three models of those watches with caliber 1003. Those veterans were no doubt excellent even then, but in 2010 Vacheron Constantin still decided to improve them and turn the caliber 1003. The 1955-year model's twin became a bit more modern and "got much richer". The movement finish became more complicated and expensive: the watchmakers made the bridges and platinum from gold. However, the sizes of caliber didn't change at all, as it was to be expected, and make up only 21,10 mm in diameter and 1,64 mm in thickness. As for decorative finish, the watchmakers did their best. The "Historique Ultra-fine 1955" (ref. 33155/000R-9588) watches are engraved with "Cotes de Geneve", the bridges are rounded, the facets are removed, all steel details are carefully polished – all this is made by hand. The caliber 1003 of Vacheron Constantin consists of 117 elements and make 18 000 alterations per hour, the power reserve is 30 hours. The thinnest round case with "modest" sizes of 36 mm diameter, made of 18-carat pink gold, is provided with tiny hand-wound movement. If we turn over the case on edge, it sounds like a miracle, but the watches seem to disappear - as the case thickness makes up only 4,1 mm (!). Record value! So, we have an exact copy of past epoch thin wrist watches. But the restless Genevan watchmakers couldn't refrain from improving the modern model of mechanical watch with transparent back case from sapphire glass, with titanium rim, providing high level of durability, and water resistance of up to 30 meters. That new version of caliber 1003 was engraved with "Cote de Geneva" – a mark of high quality and prestige. The watches of 1955 didn't become the prototype of thin mechanical watches "Vacheron Constantin" of 2010 by chance, as even in that time they were made of some modern elements. The version of watches, released already in the XXI century, proudly emphasizes aesthetic and ascetic features of old model; it sheds the unique aura of complicated simplicity and restraint. The fans of thinness can wear the weightless model of men wrist watches "Vacheron Constantin Historique Ultra-fine 1955" on their wrists by means of black crocodile leather strap. The classic thin bezel, Malt cross (Vacheron Constantin's logo) and specific staples won't leave indifferent any connoisseur of timeless classics and elegance, changing into self-sufficiency. And the standard functions (hours and minutes) and matt silver-plated dial with gold hands-sticks without any unnecessary things amaze with their sophisticated simplicity and create the atmosphere of delicate aristocratism. Many connoisseurs of watch art have fallen in love with these thin, almost weightless neoclassical watches from the first glance, and it seems, this affair will never end.

"Audemars Piguet Ultra-Thin" from collection "Tradition"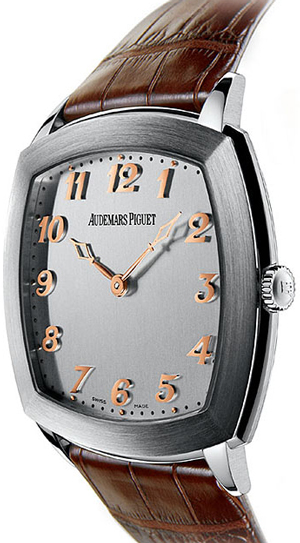 Sir Winston Churchill once said: "All the great things are simple". It seems that he forecasted the creation of incredible model "Audemars Piguet Ultra-Thin" (ref. 15160PT.OO.A092CR.01) of ultrathin watches by Swiss matchmakers of Audemars Piguet and described that new model. The shocking simplicity and absence of heavy complications in these men wrist watches are so beautiful and unique that it seems impossible to create something more excellent. Especially after the sensational and loved by all watch art connoisseurs line "Audemars Piguet Royal Oak". As many famous Swiss manufactories, able to design the thinnest calibers of watch movement, Audemars Piguet has noticed since long time the charm and popularity of mechanical watches with cases of few millimeter thickness. And in favorable 1925, at the cost of enormous efforts of qualified watchmakers and engineers, the Swiss watch company creates its first thinnest pocket watches of 2 mm thickness, and in 1967 – the thinnest self-winding movement of 2,45 mm thickness with gold rotor. The modern watchmakers kept the tradition of making ultrathin watches with miniature movements and each year gladden the fans of Audemars Piguet with these models, which are produced, of course, in a limited number (about 100 pieces). The watchmakers demonstrated their delicate craftsmanship by making a reviewed and lightly improved classical thin model of men watches. They drew their inspiration from ever-living source – the aforementioned model of pocket clocks of 20s with self-winding movement and revolutionary for that moment so-called "pillow-shaped" case became the prototype of modern "slim" watches. The new thin model of Audemars Piguet has the same form of case (43 mm х 43 mm), made of 950 platinum, but the watches "moved" to the wrist. The unique ultrathin caliber 2120 of only 2,45 mm thickness of this improved model makes 19 800 alteration per hour, consists of 214 elements and moves on 36 jewelries. The self-winding caliber 2120 of Audemars Piguet is provided with about 40 hours of power reserve. Besides the aforementioned technical functions, this model of accurate Swiss watches is provided with the most elementary classical ones – hours and minutes. The time indication is performed by means of elegant hands from 18-carat pink gold, looking like the hands of antique cathedral clocks, and Arab numerals of the same pink gold, perfectly matching the dial. By the way, the color of Audemars Piguet Ultra-Thin dial, protected with sapphire scratchproof glass, is unusual and mysterious – it is cold silver, almost grey. The classic strap of this expensive watch is made of crocodile leather and presented in Royal brown color. The thinnest case is water-resistant at the depth of up to 20 meters. As you can see, there is not a single complication. However, isn't such excellent craftsmanship and result of jewelry hand work in less than 6 mm thickness case a complication? It should be admitted that this ultrathin model of wrist watches shows another side of Audemars Piguet and helps, even just for a minute, to forget about its excellent Royal "octagons". But this little known "thin" creative facet of Swiss watch company is not less beautiful, is it?


Piaget Altiplano Ultra-Thin caliber 430Р (Ref: G0A30020)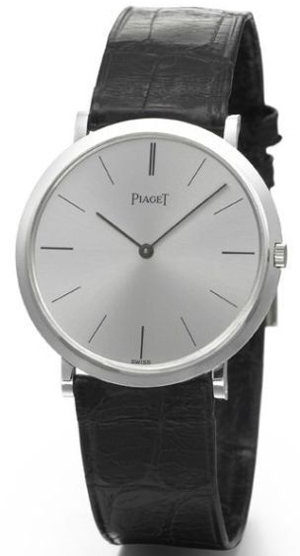 The professionals of watch industry often use such

terms as "understatement" for definition ultrathin watches. According to Oxford Dictionary, this terms means "a statement that makes something seem less important, impressive, serious, etc. than it really is". In other words, ultrathin watches are a kind of low statement about privileges of watch company, producing such "modest" time meters. And most often the thin models are simple wrist men or women watches with hour and minute hands (sometimes – second), the tiny movement of which is put in classic round case with traditional leather strap. Since long time many watch brands-"old timers" have been struggling for the first place in the manufacture of ultrathin accurate wrist watches, but only "privileged" companies succeed. The Swiss watch company "Piaget" became one of the "privileged" companies, distinguished in design craftsmanship of thin watch movements and mechanical wrist watches that due to their thinness and lightness almost aren't felt on wrist. The history of watch house "Piaget" tells about great services of the manufactory in watchmaking, started in 50s of past century and continuing till today. The manual-winding caliber 9P of about 2 mm thickness, created in 1957, was the first ultrathin watch movement of Piaget. 1998 was marked with issue of legendary ultrathin manual-winding caliber 430P of only 2,1 mm height that "lives" in unique model of men wrist watches from "Altiplano" collection, named after high-mountain plateau in South America, - "Piaget Altiplano Ultra-Thin" (Ref: G0A30020). The tiny manual-winding 430 caliber from Piaget of almost 2 mm thickness is the pride of Swiss manufactory, which works on 18 jewelries with frequency of 21 600 alterations per hour. It is considered to be one of the thinnest calibers of watch movement, existing nowadays. By the way, its design was the basis of the thinnest tourbillon Emperador. The "goggle-eyed" watchmakers, who had to work almost with nanoelements, assembled the 430P caliber by hand. The platinum and bridges of this watch micromovement are covered with rhodium and adorned with Cotes de Geneve by hand. This model is a high standard of fine watchmaking timeless classics. Unlike the previous model of men thin wrist watches "Piaget Altiplano" in rectangular case, the case of these Swiss watches, made of 950 platinum or 18-carat white gold (depending on the client's preferences), is round with 38 mm diameter. In return, the case thickness strikes – it is a thin plate of 4,7 mm (!) in thickness. The dial and fixed bezel are also perfectly simple. Some models are released with silver-plated "face", the rest ones are shining anthracite (dark blue, almost black). The indication of hours and minutes is performed, so to say, in minimalistic style: Roman or Arab numerals are replaced by laconic indexes, made as strokes and distinguished with special purity and perfection of lines. You can admire this simplest beauty of thinnest mechanical watches through the transparent antiglare treated sapphire glass. Now we'll consider more detailed the irreplaceable part of any wrist watch that is often undeservedly paid little attention – the strap. It seems that the watchmakers tried to make delicate not only the case, but the complete image of their masterpieces, and equipped the Swiss watches "Piaget Altiplano Ultra-Thin" with thinnest strap of black color from soft leather, which despite its external delicacy is durable, and the buckle is made of white gold or platinum. The water resistance of thinnest case makes up 30 meters. The tapered staples and thin hands make the model a bit ascetic, but don't deprive it its specific energy. Only 100 gentlemen, whose delicate taste and elegance will be noticed by the admirers of "time thinness", will be able to value the excellence and "modest" sizes of this limited wrist watch model from Piaget. Because of limited edition, it's difficult to buy the watch model, the heart of which is a tiny movement of 430P caliber, but the connoisseurs of timeless classics are sure to come through with the tidy sum for such simple beauty. As nothing can disarm the humanity the way the simplicity does!

Longines La Grande Classique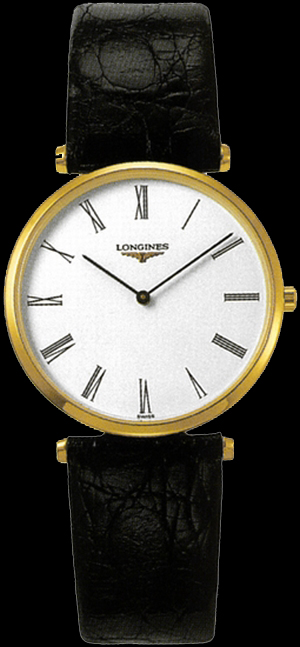 The Swiss watch manufactory Longines takes an important place at the world watch market of superlight weight wrist watches. Since several decades from the second half of XX century the engineers and watchmakers of this house have been struggling for the thinnest men and women wrist watches. The thin model, no less than gold leaf, "Longines Feuille d'Or", born in 1979 and worked with the help of caliber L795, distinguished in that field. The thickness of Longines Feuille d'Or case made up about 2 mm (1,98 mm). Just incredible! Later the watchmakers revealed successfully the secret of that model – the movement under the strange name "Delirium Tremens" is completely built in the case. It means that the back case served also as a plate for the movement. That model, including its main disadvantage (the case couldn't endure the pressure of wrist on the strap because of ultrathinness), was described much. Therefore, the manufacture of that incredibly thin model (as if its creator really had the rats) was stopped. Besides the release of record ultrathin case and movement of minimal size, the company's ultimate aim was to create a model, which would be popular everywhere and become a real life style. The watches from "La Grande Classique" collection, released in 1990, became such wrist watches. Today we can safely say that Longines La Grande Classique is popular all over the world. This model of Swiss watches is good as a present for Birthday, anniversary or some other holiday. It seems that it is a 100-year-old model, although in fact only two decades have passed from the date of first "lightened" model "La Grande Classique" issue. So, the accurate Swiss watches from Longines, created in 1990, combined the best watchmaking achievements of the XX century. It seems that the creator of "La Grande Classique" collection – the Longines CEO Walter von Känel – forecasted the most important trends of watch fashion for several years. The gold watches "Longines Agassiz" with 3 mm thick case, issued in 80s and named after the great and world-known founder of the Swiss watch manufactory Auguste Agassiz, served as a basis for the classic collection. In turn, Agassiz adopted his design from old traditional pocket watches of the XIX century. Probably, it's true that the history repeats itself. The appearance of thin watch collection in 1990 is also determined by fashion trends of that time – after bright 80s the 90s were distinguished by strive for minimalism, modesty and sophistication. As for the wrist watches "La Grande Classique", unlike rich gold Agassiz they are more democratic due to the steel case. Although the company has different variants in its range: steel case with bicolor and complete PVD treatment, also 18-carat gold case. You can wear these watches with steel, gold or gilded bracelet as well as with rubber strap of specific classic black color. In a word, the choice is impressive. The ultrathin La Grande Classique is currently presented by mechanical men and women wrist watches with round case of about 34 mm diameter and 7,05 mm thickness (usually they don't compliment the quartz movements, we'll just note that the thickness of such cases from this collection makes up from 4,2 to 4,4 mm). The dial is also an embodiment of pure simplicity and modesty – snow-white or gilded with simple Roman marking or slim strict lines-indexes. The time indication is performed by exact direct hour and minute hands. The hours and minutes are the only functions, provided in La Grande Classique. And what else do the admirers of simple timeless classics need?! The brand fixing of Longines bracelet seems practically unnoticeable. Let's look inside the mini-watch using the magnifying glass. After careful examination of La Grande Classique "internal" we'll find out a tiny self-winding movement L593 – the heart of these accurate wrist watches, providing 28 800 alterations per hour. 20 jewelries serve as a specific aorta, and the power reserve or "vital activity" make up 42 hours, the water resistance makes up 30 m. The caliber of Longines La Grande Classique (L593) was released by all-powerful Swiss manufactory ETA, a champion of both "thick" and "thin" movements, which has been collaborating with Longines since long time. Of course, these models of men and women wrist watches "Longines La Grande Classique" are far from the status of collectible watches, and a wealthy person, perhaps, will prefer a more solid variant to La Grande Classique. But you can't but agree that one can be a fan of "The Beatles", but it doesn't except the possibility to know and respect, for example, the pop-group "Abba". Anyway, the thin wrist watches from "La Grande Classique" collection are a big plus for the Swiss watch company "Longines".
Patek Philippe Calatrava (Ref. 5116G)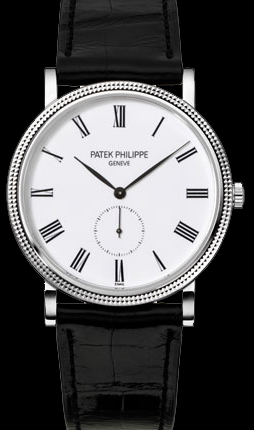 As they say, the morning sun never lasts a day. However,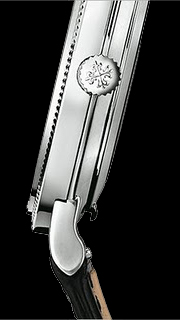 one should note that this statement doesn't refer to the honorable classics, loved by everyone, - the watch classics. The classic wrist watches don't have age: the thinnest watches with round dial and traditional hands will be good for all generations of watch connoisseurs. No wonder the most famous Swiss watch companies, having got the point that the thin watches will never go out of fashion, spend big money and enormous efforts on creation of such weightless models. The unique house "Patek Philippe", released the collection of superthin wrist watches under the name "Calatrava", is another watch manufactory, specialized in delicate craftsmanship. Calatrava is an Arabian name of castle in Castilla, Spain, which was captured by the imperator Alfonso VII in 1147. A military medal with the Greek cross and fleur-de-lis on the edges was also named Calatrava till the XIX century. That sing (fleur-de-lis) became the brand symbol of Swiss watch company "Patek Philippe". The first wrist watches, which triggered the "victory march" of the Calatrava collection around the world, were created in 1932; since then the elegance and perfectness of Calatrava men watches settled on wrists and, therefore, in hearts of Patek Philippe admirers from all over the world. Each model is individual and mysterious. It would take the years to describe the uniqueness of all thin collection models. Today we're interested in the model of ultrathin men wrist watches "Patek Philippe Calatrava" (ref. 5116G), which we're going to "take to pieces". Due to its classic round case, elegant snow-white enamel dial and unique guilloched bezel, the Calatrava 5116G is one of the most symbolic envoys of elegance to the big world from Patek Philippe. These classic thin watches are crafted with all scrupulousness, peculiar to the watch house, unique charm and specific style of great Patek Philippe. The most qualified watchmakers of Swiss company have done much work and managed to combine timeless classics and advanced watch technologies in one model of wrist watches. An excellent authentic dial of Calatrava thin watch, covered with sapphire glass, is provided with hour and minute thin hands of black color, Roman numerals of the same deep black color and additional second dial at "6 hours". The watch functions are traditionally minimal. The transparent back case, made of scratch-proof sapphire glass, shows the watch heart – a tiny movement with 5 bridges of caliber 215 PS, working on 18 jewelries and consisting of 130 smallest parts. This minicaliber of only 2,55 mm thickness with Genevan mark, is ticking inside this model with frequency of 28 800 alterations per hours, and the power reserve of manual-winding movement makes up all 44 hours. A few words about the size itself: the craftsmen managed to stuff the movement into the 36 mm diameter and only 5,5 mm thickness round case of 18-carat white gold. One more record! The water resistance of the thinnest case makes up 30 meters. The thin strap of high quality black crocodile leather with 18-carat white gold buckle completes the classic image of Calatrava men wrist watches. The Swiss watches of Patek Philippe gave birth to 10 unique features of timeless classics: independence, traditionality, special novelty, craftsmanship, uniqueness, value, functionality, aesthetics, emotionality and rich heritage of previous watch generations. Those accurate luxurious Swiss watches were designed to leave their simply unique and indelible trace in the history. Undoubtedly, this 5-mm "trace" will be one of the best samples of simple beauty and delicate craftsmanship forever, brightly emphasizing the greatness of Patek Philippe watch house. It's difficult to achieve such complicated and delicate simplicity, representing the highest level of true art, is it?

Breguet Classique (Ref. 5157)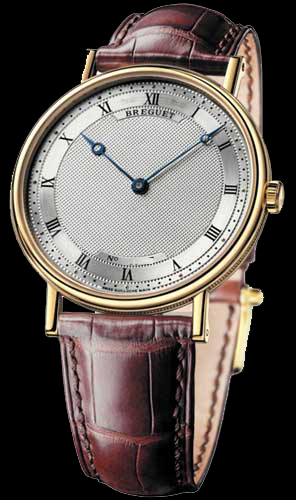 The ultrathin watches are, no doubt, matters of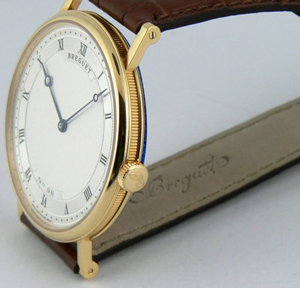 "cut and thrust" for all modern connoisseurs of watch art. You can't do anything with it, as opinions differ. Someone prefers massive multifunctional time meters with tourbillon, repeater, perpetual calendar and so on, and someone choose ageless and timeless classics – thin watches with minimum functions. Recently the watches have "grown fat", the case diameter has enlarged, and thus it's slightly surprising to meet a businessman with classic thin watches on his wrist. However, after massive "unwieldy" chronometers, you have your eyes glued on thin, hardly noticeable watches, as classics and simplicity attract like a magnet. The legendary house of Breguet with incredibly rich history is one more Swiss watch company, instilling the traditional classic taste in admirers of expensive watches and proving that "all the great things are simple". Many outstanding writers mentioned Breguet in their literature masterpieces: Victor Hugo, Max Jacob, Honore de Balzac, Alexandre Dumas, Prosper Merimee and others. Stendhal, one of the most original and complex French writers of the first half of the 19th century, probably, made the best publicity for the brand in his travel piece "Rome, Naples et Florence", published in 1817: "Breguet makes a watch which for twenty years never goes wrong, while the pitiful machine by which we live runs amiss and produces pain at least once a week". Breguet is one of the pioneers, specializing in making classic thin watches. The name of collection speaks for itself – "Classique". Breguet Classique (ref. 5157) is not provided with alarm, all these mechanical wrist watches can do is to show hours and minutes. But how perfectly they do it! These wrist watches show the time with an amazing grace and sophistication! The men wrist watches "Classique" seem to embody all brand zests and unique style of ex-imperial Breguet. You'll get it when we take these thin watches into small details. First of all, let's learn the main characteristics of classic thin watches. The case: the traditional form of classic ultrathin watch cases is round, so is the Breguet Classic. The water-resistant of up to 30 m case is made of 18-carat yellow gold, its diameter makes up 38 mm, the thickness – only 5,35 mm. By the way, the Breguet Classique collection has a model of the same thickness, the case of which is made of white gold. The silver-plated dial, covered with scratch-proof flat sapphire glass, is also made of 18-carat gold and provided with hand-guilloched pattern and classic engraving "Clue de Paris". The blue steel hour and minute hands amaze with their laconism. The specific hands or "Breguet apples", as the watchmakers call them, are designed in the brand style of company: of amazing blue color. The time is indicated by classic Roman numerals of black color. Another sign of classic, striking the eyes, is traditional strap from crocodile leather of rich brown color with golden buckle. Finally, the main thing – energetic center of wrist watches – is a self-winding movement. The transparent back case of sapphire glass allows you watching the smallest automatic movement of caliber 502.3, making 21 600 alterations per hour. The "energy center" of Breguet Classique works on 25 jewelries and is provided with gold bridges and plate, decorated by hand; its power reserve is 45 hours. Thereby, all aforementioned characteristics create an incredibly stylish ensemble of the best classic traditions and style of Breguet watch house. The Swiss wrist watches "Breguet Classique" perfectly combine the harmony of proportions and accuracy of information; also they emphasize the originality and uniqueness of tiny movement – the heart of this simple beauty. In 2010, Breguet presented its ultrathin model of mechanical watches "Classique" at the eBay auction charity ware to support the partner program of New York philharmonic school. This ultrathin model indeed was chosen for the auction, as the director of philharmonic school Alan Gilbert wore such watch. The model of men wrist watches "Breguet Classique" acquires a specific value in terms of its unique style and "moral features". The thinnest watches of Breguet proved once again that sometimes the price is inversely proportional to the size.

Jaeger-LeCoultre Master Ultra Thin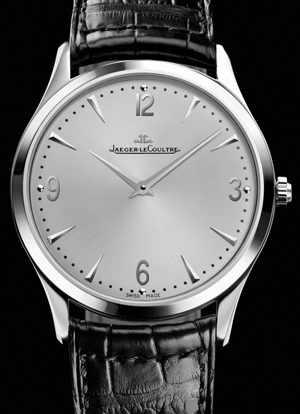 Let me remind you of undeniable truth – the base of our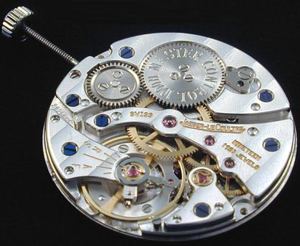 story about ultrathin watches. "Thin watches are timeless classics". In its turn, classic is timeless modernity. Thereby, the classic thin watches will always be in fashion. It is proved not only in theory, but also in practice, as most of true connoisseurs of watch art love elegant, sophisticated and modest ultrathin watches. The thin watches will suit men with thin wrists, which the heavy chronographs don't always match. Some admirers of thin models don't prefer to boast the "full-featured" and, therefore, expensive complicated big wrist watches. Maybe, instead of boasting the watch, it would be better to be proud of the achievements of children or ones own capabilities, for example, a virtuosic saxophone play or speaking several foreign languages, wouldn't it? And boasting the watches is an indisputable prerogative of genius watchmakers. We don't belittle the advantages of "chubby" time meters at all, we just want to draw your attention to complicated simplicity and obvious comfort of ultrathin wrist watches. So, we'd like to tell you about Jaeger-LeCoultre, another watch company, which won admirers of such pleasant small things, as thin watches. This company has presented an incredibly thin collection of men wrist watches "Master Ultra Thin". The Swiss craftsmen of legendary house "Jaeger-LeCoultre" have started making thin watches since 1930. One of their creations they can safely "boast" is the pocket watch of Jaeger-LeCoultre. Although the Swiss wrist watches from "Master Ultra Thin" collection, as many simple thin watches, are not loud, they still attract the attention by their miniature case. The round case thickness of this wrist watch makes up 4,2 mm, the classic diameter – 35 mm. The thinnest "brain center" of this watch of only 1,81 mm "height" is an indisputable proof of possibility to combine advance technologies and sophistication even within limited space. The manual-winding movement of Jaeger-LeCoultre Master Ultra Thin wrist watches of caliber 849 works on 19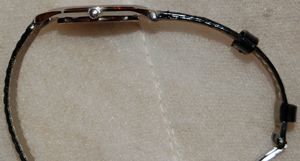 jewelries with 21 600 alterations per hour. The sapphire glass transparent back case of Master Ultra Thin watch let his owner literally penetrate into the case, even if only visually, and examine the magic work of excellent movement, made in minimalistic style. In order to achieve the highest level of miniature watchmaking, the Swiss engineers and craftsmen put the grandiose "mechanical performance", lasting 35 hours (without winding), into 4-milimeter case of wrist watch and simply destroyed all borders of watchmaking. The watch case and dial are not provided with any specific features. Everything is simple and genius. The water-resistant at up to 30 m round case of thin watches from "Master Ultra Thin" collection is made of 18-carat pink gold or, as a kind of democratic variant, of stainless steel. The dial is silver; the time (hours, minutes) is indicated by thin hands and laconic indexes instead of numerals. However, the designers kept minimal number of Arab numerals in classic dial, protected by anti-glare sapphire glass – they are the numerals 12, 3, 6 and 9. The classic black strap of thinnest crocodile leather with double folding buckle completes the picture of mechanical men wrist watches "Jaeger-LeCoultre". So, the ultrathin manual-winding mechanical watches "Master Ultra Thin" are a quintessence of "sophisticated" art, without which no one watch collection of prestigious brand can't do. Even despite the fact that this collection of ultrathin watches includes a model with steel case, these watches are still precious, and even the steel thin "Master" is worth its weight in gold.

Zenith Elite 681 Ultra Thin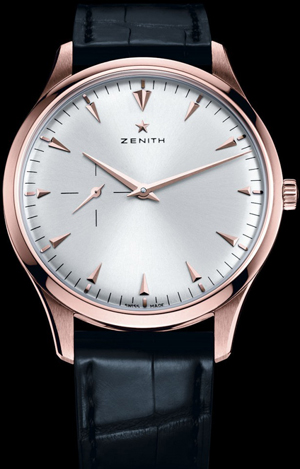 One can often notice that the classic ultrathin watches of different companies are similar to each other like twins. The same round case, simple marking of dial, in a word, everything so specific for "business" wrist watches without complicated functions. There are only insignificant differences in Swiss watches of various watch brands. No doubt, it's not easy, if not to say difficult, to create simple ultrathin watches. The watchmakers have to carry out many tasks: to get all movement details in thinnest watch case, to achieve the maximum accuracy and durability of time meter, to create something extraordinary and classic at the same time, something that would cardinally differ from enormous number of other brands' identical watches. We should admit that the Swiss watch company "Zenith" perfectly copes with these tasks. Jean-Frederic Dufour, Zenith СЕО from 2009, found the right path for the company and focused on classics that can't be criticized even by cynics. According to experts, this classic trend is not really new for Zenith, and Sir Dufour, probably, follows the eternal principle: "history repeats itself". So, the Swiss watchmakers presented a new model of men wrist watches "Zenith Elite 681 Ultra Thin" at Baselworld 2010. This model attracts rapt attention of Swiss watch admirers and fans of timeless simplicity due to its classic beauty and ultrathin case. The sculptural ultrathin round case of 50 m water resistance is crafted in 18-carat luxurious pink gold or practical stainless steel; the case diameter is 40 mm. The ultrathin self-winding movement of caliber Elite 681 is "viced" in thinnest case. The Zenith watchmakers made the movement "lose weight" up to 3,82 mm in thickness. Of course, the movement "lost its weight" together with case, which achieved the miniature size of 7,6 mm. Despite its minimal sizes, the small heart inside Zenith Elite 681 Ultra Thin beats at 28 800 alterations per hour and power reserve of 50 hours. Everyone would like to see with his own eyes how this simple beauty exists and to make sure in its minimal sizes. No problem – the curious owners can turn the watch and look through the transparent back case of sapphire glass. The tiniest movement, consisting of 128 details and working on 27 jewelries, is engraved with "Cotes-de-Geneve" and provided with tungsten oscillating weight. Now you can't take your eyes off, as the size of Swiss caliber 681 really fascinates. Nevertheless, let's tear ourselves away from magic minicaliber 681 for a moment and look at the amazing dial of thin men wrist watches of Zenith – an embodiment of classic excellence. The "face" of Elite 681 Ultra Thin is protected with double anti-glare domed sapphire glass. The spacious dial provides time readability; it "welcomed" the facetted hour markers, long sword-shaped hour and minutes hands as well as small second hand at additional mini-dial with four strip-markers at 9 hours. The dials of Swiss wrist watches "Zenith" from "Elite Ultra Thin" collection are presented in various color decisions: shiny silver, deep black, unique bright-grey and lacquered white. Do you like exclusive? The Swiss manufactory "Zenith" cared about that too, having released separate models of its thin watches in a limited number. The fans of "slim things" can buy the limited wrist watches "Elite Ultra Thin" with brown dial (250 pieces), silver dial with diamond markers (100 pieces), and black dial with diamond markers (100 pieces). The Zenith Elite 681 Ultra Thin men wrist watches are a synonym of elegance and aesthetic purity; this model emphasizes the craftsmanship of Swiss watchmakers in making small details and thin watch movements and marks out the perfect lines of design decisions. This elegant Swiss watch "embraces" the wrist with its black or brown crocodile leather strap, rubber-lined for more comfort. The pin buckle is made of steel or 18-carat pink gold. So, the Swiss thin watch "Zenith Elite Ultra Thin" with automatic movement of caliber 681 is not only an outstanding example of watchmaking timeless classics, but also, despite its simple appearance, a complex masterpiece of talented Swiss watchmakers in the field of timeless "miniaturism". The ultrathin Zenith may seem to beginners at elite watches to be similar to the models of other brands. But being classic sometimes doesn't mean being perfect and unique at all points. It simply means that a man created something really beautiful.



To be continued…