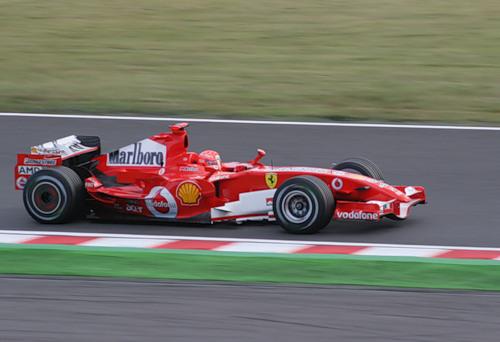 "Formula 1" races are fascinating power of motorsports. After all, any participant follows two aims: to survive and to show the best result. "Formula 1" is not a test of fantastic bolides, created specially to set up new speed records. In these races the drivers sit at the wheel of quick and power cars, able to darts off in a split second, pick up 100 km/h (about 62 m/h) in a couple of seconds, make 160 km/h and full stop in 5 seconds. On turns the drivers and their cars suffer from terrible overworks, like the pilots of fighters do.

Although the car manufacturers have been applying the technologies of popular races in their industry long since, and the drivers thrape over and over again, trying to be like their idols, they will never become like the "Formula 1" drivers, who walk on thin ice every day, playing with death. The "formula" cars as well as their drivers are a special sort: a "steel" will to win is the base characteristic of car and driver. The "Formula 1" fight is very intensive: a fraction of a second can help you win or condemn to disaster. During each heat the driver suffer from enormous psychic or physical overloads; he is always required to be extremely concentrated, save "steel" nerves, show overreaction and nice scent; the driver as well as his car must give one hundred per cent, otherwise there is a chance to blunder, and "Formula 1" does not tolerate mistakes. We can only admire by phenomenal safety factor of racing drivers, who risked not only to devote themselves to the most hazardous sport, but to win "their" place among the best. Audemars Piguet, which 15 thousand hand-made watch pairs, created by craftsmen up to this day, stroke the world by their youthful bold design, technological originality and most modern materials, closely collaborates with celebrities of motorsports. The world-known racing drivers: Michael Schumacher with his seven world championship titles, Rubens Barrichello and Jarno Trulli are among the admirers of brand – the Swiss watch trendsetter for more than 100 years. The watch models, designed for them, are made by hand from exclusive parts and tested under 10 ATM pressure. Each timepiece is engraved with individual number and original signature of craftsman, who made the watch. Ademars know firsthand about collaboration with world of motorsport. The company is a sponsor of Swiss races "Gstaad Classic", Belgian "National Classic Tour", French "Tour Autoin France".

***
"Two minutes are an eternity for those of us who are accustomed to fighting for tenths of a second". (Michael Schumacher)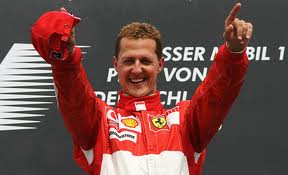 On 27th of November, 2010, in Dusseldorph, within an exhibition facility of classic cars, Audemars Piguet CEO Philippe Merk officially welcomed Michael Schumacher with his seven world races "Formula 1" championship titles to be an ambassador of company. Michael is one of the most successful drivers over the history of motorsports; Schumacher won 91 races and set an incredible record: won 15 seasons one after another! Audemars Piguet – a company designing Haute Horlogerie wrist watches – appreciated Michael's purposefulness and will to win. The "AudemarsPiguet Royal Oak Offshore" and famous driver have much in common: perfect accuracy and speed, participation in charitable actions and missions. So, Audemars created a foundation dedicated to preserving forest areas around the world, donating part of the proceeds from its sales to funding various environmental projects. In 2009, Audemars Piguet auctioned watch series of the limited number and donated the entire proceeds from this sale to ICM research institute.
Michael has his own charity foundation through which he has been able to provide aid to victims of the floods in East Germany or the Tsunami. In 1996, he became a UNESCO Goodwill Ambassador. The sevenfold world champion donates parts of his income to the ICM Brain and Spinal Cord institute, and he uses his image to benefit this internationally reputed research centre: "Those who are privileged in life owe it to themselves to help those who are less fortunate, and particularly those who suffer".
Safety, stability and calmness became the main characteristics, according to which the company chose its Ambassador. The "Royal Oak Offshore" collection is made in the company traditions, which Audemars adhered undeviatingly since the beginning of his activity: expensive, luxury watches, crafted with the use of the newest design developments.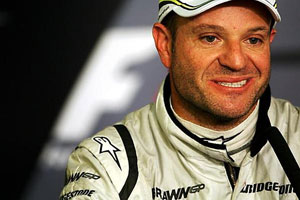 The Audemars Piguet craftsmen presented stylish men watches as a gift to the racing driver Rubens Barrichello.
An invariably successful driver Rubens Barrichello can be compared with sophisticated drink, which develops its flavor gradually. Among all "Formula 1" drivers Rubens is the most experienced: he has 15 years of competition under his belt, not including the time, when the popular driver shone in other cities with his father's driver license (they have the same names and dates of birth), because Rubens was too young that time. The driver reached incredible results in "Formula 1": 5 times he was among five leaders of world championship and two times (in 2002 and 2004) ranked the second place.
Being in "Ferrari" team with Michael Schumacher, he was among the three leaders 61 times, he gained 510 scores, 9 wins and 13 pole positions, although he haven't carried the palm yet. But we shouldn't forget that among the present staff Rubens is the last driver who managed to compete with such celebrities of "Formula 1" past epoch, as Ayrton Senna and Alain Prost. In May of 2011 in Turkey, Rubens marked his 257th heat as a "Formula 1" driver, having set up the world record of Riccardo Patrese (256 heats), who ran with it 14 years. In honor of that event Audemars Piguet presented an exclusive chronograph "Royal Oak Offshore Rubens Barrichello" to the driver. The ceremony was held in Istanbul, where in 2006 the first "Offshore" from Barrichello series was showed.
The gift "Offshore" hardly differs from the series one: the same caliber 2326/2840 with automatic movement is set inside, and it still presents a "motorsport" variant of usual "Offshore" – one of the manliest and stylish at the same time modern chronographs.
The watch case is crafted in red gold, and the ceramic rim prevents from damages and scratches. Many details remind spare parts of racing cars: 8 screws of rim are made in style of engine screws, rim joint with case reminds a ventilated brake disk, strap's joints are pedal-shaped, titanium crown with ceramic mounting reminds a gear wheel much, and ceramic buttons are made in the form of air intake. Besides, a ceramic medallion with engraved inscription "R.Barichello – 257 – New Grand Prix Record" is fixed on the back case.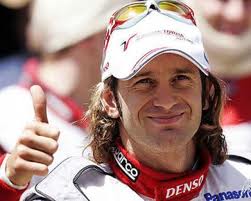 In October 6, 2010, Audemars Piguet presented its new watch model, which became a good addition to the "Royal Oak Offshore" collection. This watch continued the series in honor of famous "Formula 1" drivers. Jarno Trulli, collaboration with whom the company started in 2008, inspired for the model creation. Jarno's parents, fans of motorsports, gave him the name of Finnish motorcycle racing driver Jarno Saarinen, who tragically died at the motor racing track in Monza, in 1973. The future famous racing driver spent his childhood in competitions of carting, which he was actively fond of; he won the Italy championship of carting, then the Europe championship.
Jarno became a professional driver rather late, after winning the European carting heat he passed on to "Formula 3", that didn't prevent him from winning the German championship in 1996 though. Audemars Piguet celebrated its 135 birthday and partnership with the famous driver by the manufacture of "Royal Oak Offshore Jarno Trulli Chronograph" watch (ref. 26202AU.OO.D002CA.01).
The watch case – the company's pioneer development – is crafted in forged carbon of 42 mm diameter and 16,5 mm thickness. The water resistance made up 100 meters. The model's bezel is made of ceramic, the crown and buttons of chronograph – of sandblasted titanium. The back case is made of sapphire glass, engraved with the inscription "Royal Oak Offshore Limited Edition - Jarno Trulli". Besides, the sapphire is decorated with red autograph of driver himself.
The dial of "Royal Oak Offshore Limited Edition - Jarno Trulli" is made in anthracite-grey colors, with "Méga Tapisserie" finishing. The watch is provided with automatic movement 3126, which consists of 365 details based on 59 jewels. The balance frequency of model makes up 21.600 alterations per hour (3 hz), the power reserve makes up 60 hours. According to specialists, the model caliber is perfectly made in style of Côtes de Genève, with round graining and rhodium treatment. The strap is made of black rubber; the folding buckle is made of sandblasted titanium. The "Royal Oak Offshore Limited Edition - Jarno Trulli" watch is presented in a limited number of 500 timepieces. The model's price – $28.900.