Wrist watches for ladies
Beauty... when you look into a woman's eyes and see what is in her heart
Nate Dircks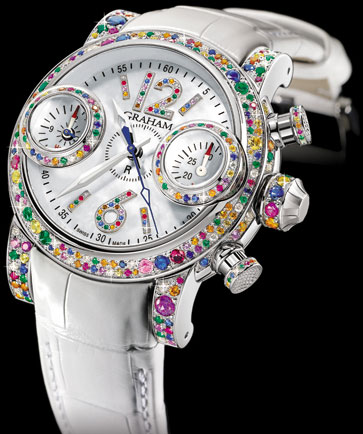 Woman! In ancient times men lost their heads and fought in duels for her; she is the reason wars broke out. Woman always was a source of inspiration, muse of art objects: music, films, and pictures, devoted to a woman. Such immortalized in the works of art women, as Mona Liza or Aphrodite of Milos, come up to mind. Despite an enormous number of brands, catering for men, women wrist watches take an important place at the world market. Speaking about women watches, we cannot but mention that the first wrist watches were created for women in the beginning of 19th century. No wonder they were designed for women. Since the beginning of time women have been trying to adorn themselves with various "glittering things": rings, bracelets, beads, hats, so on. Watch was another adornment for women of fashion in those times. Hardly men would agree to pin such «futile» adornments on their wrists. So, the first lucky owner of wrist watch appeared to be Frenchwoman – Augusta of Luxembourg. The watch was designed for her by order of Josephine, wife of Napoleon I, on the occasion of Augusta and Josephine's son wedding. In far 1809, one of the most famous jewelers in Paris crafted two golden bracelets with pearls and jewelries. One of the bracelets was provided with watch, another one – with calendar. But everybody knows that "happiness takes no account of time", maybe that's why that adornment didn't become popular with happy French people. Only since 1850 women wrist watches became popular in France. No doubt, the watches of the middle of 19th century can be hardly called "watches", comparing them in functionality and quality with nowadays watches. They were primitive devices with low accuracy level, drawing attraction only by bright and glittering design. However, the women, who owned such watches, didn't think it was an imperfection. Later, men used to be attracted by their functionality, while women paid much more attention to the design. That's why the best watches with jewelries – true masterpieces of jewelry art – were created for the fair. Nate Dircks's phrase "Beauty... when you look into a woman's eyes and see what is in her heart" reveals the creation of modern watch companies, which make watches for the most capricious and fastidious customers, difficult to surprise – for women. There was a rather interesting fact in the history of world watch giant Rolex. When the company produced series of water-resistant watches "Oyster", the first person, who tested that masterpiece, was a woman, Mercedes Gleitze. In 1927, a brave girl risked to swim over the English Channel. During 10-hour swimming a magnificent Rolex Oyster was on her wrist. The watch underwent the test brilliantly.
Starting making women watches, great watchmakers understand that it's not so easy to create time meters for a lady, as it must embody the femininity – to be sincere, tender, with a tip of delicacy – in a word, to be like a woman. Nevertheless, the genius of watchmaking, trying to please fair ladies, managed to meet even the most sophisticated women tastes at the cost of long and painstaking work. The watch giants create watches for the fair, which are worthy even of the princess' hand. So, famous Vacheron Constantin presented the princess Diana at her wedding an amazing wrist watch LadyKalla, made of white gold and encrusted with jewelries.
Nowadays, the market of women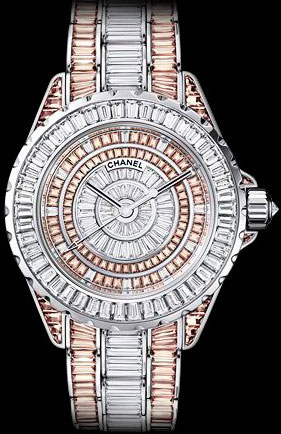 wrist watches changes rapidly, almost at "a rate of knots". Since a long time, the feminists have been fighting for their rights, for equality of men and women in all fields. It can also refer to the watch industry. Women watches acquire more and more "men" complications. While earlier women watches were considered to be an adornment more than a time meter, today accuracy and functionality have become trends of women watches. Just a few years ago all watch companies, including even the largest world brands (such as Rolex, Patek Philippe), which could afford crafting more "intelligent" watches, gladdened women solely with the simplest quartz models. Recently the main tendency in the manufacture of women watches is quest for excellence. The creation of great Breguet – tourbillon – became one of the first complications in women watches. It should be noted that today tourbillon is not a rare device anymore, it relates to classic ones. As the total "tourbillon mania" couldn't pass over women watches, this classic complication was used by famous Audemars Piguet in his women collection. The watch cases of this brand are crafted in gold, white or pink, with "girl's best friends" – diamonds. Besides tourbillon, so familiar to men, the watchmakers decided to complicate ladies watches more with a useful function – calendar. As it's know, calendar is not a novelty in the watch industry, and no wonder the manufacturers decided at last to gladden women with such a necessary function of wrist watches. So, the watch of Patek Philippe (Complicated Watches for Ladies), demonstrating lunar phases, week days and month, is a complicated women watch. However, Patek Phillippe couldn't resist encrusting its golden watches with diamonds, keeping up the best traditions of making women wrist watches. Besides aforementioned world brands, creating its masterpieces for the fair, Chanel is very popular with women recently. This company proved to be good at making watches as well as luxurious jewelries, clothes and perfumery. A specific feature of this company is the use of ceramics in watch making. According to manufacturer, this material is good aesthetically and practically, that's why the watchmakers of Chanel love it. Ceramics are antimagnetic and responsible for movement accuracy. No wonder modern women chose Chanel watches: besides that this company associates with Haute Couture, it also followed the tendency of "total complication" and presented watches with tourbillon. One more company "crazy" about ceramics is Rado with its most famous women collections Cerix, Xeramo and others, made in different colors: restrained grey, deep black and dazzling white. Christian Dior, favourite of all modern fashion women, also gains momentum in watch industry as well, making excellent water-resistant women watches from ceramics, adorned with diamonds.
Richard Of York Gave Battle In Vain! The same is in watch industry – all rainbow dyes are used in watches. The latest models of women watches are various in color range. Now the choice of bright colors' admirers is not limited by standard palette. And it shouldn't be, as there are watches of various colors, which would be suitable for any occasion and match with any suit. The famous world brand Hublot with its collection Big Bang Tutti Frutti is a perfect example of such watches. The manufacturer offers watches, which bezel is adorned with diamonds, topazes, amethysts, sapphires, citrines (depending on model). The strap of crocodile leather or natural rubber matches the jewelries. You can be sure that you won't be unnoticed with such variegated watch.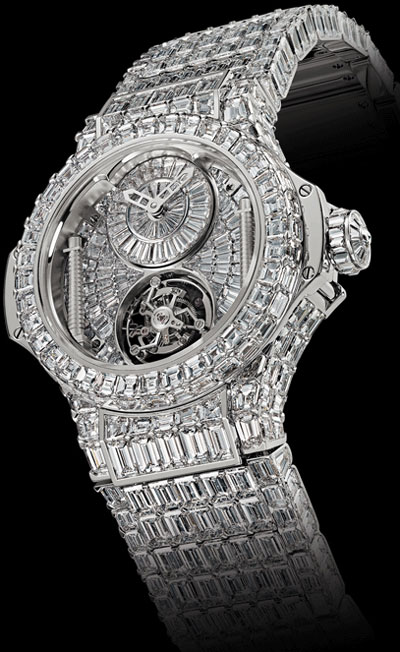 The case diameter enlargement of men and then women watches became another incredible "epidemic". The "gigantism" acquires incredible extents: today women buy watches of 40 mm diameter and even more to keep up with men, while earlier women watches were a miniature accessory of about 20 mm in diameter. The manufacturers, keeping this tendency in mind, started making large women watches (Audemars Piguet, Patek Philippe, Rolex, Longines, Azimuth, David Van Heim and others).
However, the requirements of modern ladies were not satisfied with that. Just like after the World War II woman finally got dressed in men trousers, now she is not limited in choice of such a necessary thing as wrist watch. Woman wasn't afraid and risked to wear man watch, challenging the opposite sex. But nimble and talented watchmakers kept their heads and, voila, offered unisex watches to favorite ladies. Dear women, your wishes are our order! It goes in the following way: the borders distinguishing men and women watches are gradually obliterated. And should they be at all? Here we can show many pros and cons. But our task is to let our readers into modern trends and novelties of woman watch fashion. Of course, unisex watches are good for both men and women; they are not so bulky and massive, as classic men watches, but not so striking and glittering, as women ones. Men and women can find perfect unisex watches in collections of Longines, Jacques Lemans, Rado and others. In Russia, for example, beautiful women wear watches "Rolex Daytona" more often. But purposeful modern woman went on. More risky representatives of "(not)weak" sex, disposed to extravagance, got interested in extraordinary watches. For example, in watches with unusual marking in casino style. The watch with "European roulette" marking of young Swiss company "Azimuth" is an example of such masterpieces. The crown is made in the form of dice. In watch industry such marking is not a rarity by all means, but the advantage of Azimuth is its barrel with cavity, thanks to which the watch looks like a real roulette very much. Similar watches in casino style were produced by such watch giant, as Flanck Muller.
There are watches, which can't be passed over. They are, for example, the most expensive women wrist watches "2 Million Euro Big Bang" (Ref: 305.WX.0099.WX.9904), issued by world-known company "Hublot". During 13000 hours 45 best watchmakers and jewelers conscientiously worked at this model. This masterpiece is crafted in 18-carat white gold and adorned with best baguette cut diamonds. The case of these women watches is encrusted with 72 diamonds, the total weight of which is 11,14 carat. The crown is also encrusted with 24 rose cut diamonds of 1,02 carat weight. The diamonds also "throne" at dial and bracelet. The front and back cases are made of antiglare sapphire glass. You can't but agree that such beauty makes you feel choky! And the price on this watch is special. As you guessed from the name (2 Million Euro Big Bang), it costs 2 million euro.
One more point that we would like to pay attention to is men and women watches sales data. In post-crisis period the volume of Swiss watches sales in the world starts increasing. So, in 2010 the sales volume increased at 16,6%, therefore, the indexes returned to the 2007 level. It is interesting to know that women watches sales makes up 30% of watch companies' products total volume. Although who buys women watch models – men or women? Maybe, rather well-off men buy watches for their loved women to make them happy? Men notice neither money, nor time, spent on their lovely ladies. Stephen Stills rightfully mentioned once: "There are three things men can do with women: love them, suffer for them, or turn them into literature".
Taking all the aforesaid into consideration, we can make a conclusion that modern women became pickier about women wrist watches, which are not only an accessory, but also a multifunctional thing. It comes that women think of time more painfully: each life year is highly valued. "Lost time is never found back" (Benjamin Franklin). That's why women treat watches reverently, carefully choosing a necessary model. Woman is a "mysterious science". And today watch companies, making any model of women watches, are "running after two hares at once": after femininity of their watches and after their complication. And, we must admit… they catch up both.

Audemars Piguet Millenary Starlit Sky (ref. 77316BC.ZZ.D007SU.01)

One of the most famous watch companies Audemars Piguet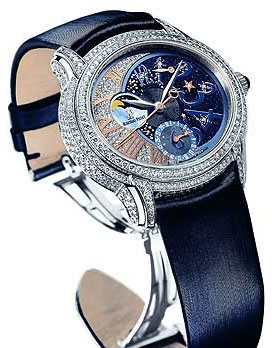 gained incredible success in manufacture and sales of different models of both men and women watches, which are distinguished for their smaller cases and movements, besides sophisticated design, keeping at that specific for this brand movement accuracy and reliability. The famous watch company Audemars Piguet was founded in 1875. Just then 23-years-old Jules-Louis Audemars met 21-years-old Edward-Auguste Piguet. They decided to start their business in small Swiss village La Vallee de Joux, and the company was named Audemars, Piguet et Cie. The «Audemars Piguet» trade mark was registered in 1882. The specific feature of Audemars Piguet watches is an ultraflat watch movement, showing a high technical level of watch movement as well as its compactness. The Audemars Piguet women wrist watches are designed specially to fascinate precious attention of women with their perfect forms. A luxurious model of women wrist watches Millenary Starlit Sky (ref. 77316BC.ZZ.D007SU.01) is just like that. Boundless spaces and indescribable beauty of night star sky became a source of inspiration for creating of this true work of art. A "step" case of this "night" watch of 34.50 mm diameter is made of 18-carat white gold and studded with 392 white diamonds of total 3.90 carat weight. The dial with off-centered dark-blue half-moon, on which the Moon, stars and stardust are presented by diamonds, is protected with reliable sapphire glass. You can watch the complicated movement 3123/3908 (based on caliber 3120) through transparent back case, covered with sapphire glass. This luxurious model is provided with Moon phase and power reserve indicators. The black satin strap with buckle of 18-carat white gold adds the last trait of elegance, uniqueness and mystery. The water resistance makes up 20 meters. Millenary Starlit Sky will become a true adornment of sophisticated woman wrist.

Hublot Gold White Full Pave (ref. 341.PE.9010.RW.1704)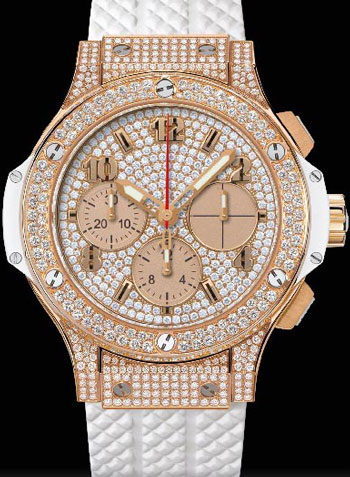 Despite its short history for watch industry, Hublot managed to win wide recongnition all over the world. In 1976, Carlo Crocco – a representative of old Milan watch dynasty, famous for Breil watches manufacture – moved to Switzerland and founded MDM Geneve (Montre des Montres) there. Soon he started designing wrist watches, strangely named "Hublot" (means "porthole" in French). As a result of his work, perfect Swiss mechanisms and Italian design merged, giving birth to world-known watch brand "Hublot". The first golden wrist watches of Hublot, created by Carlo Crocco, were released in 1980 and became a forefather of new trend in watch business. It was a sensation, as no one created wrist watches of noble metal with rubber strap before. Later this specific feature became the brand style and visiting card of Swiss watch company "Hublot". Besides luxurious models of men wrist watches, the company arraigned luxurious women wrist watches before the court of capricious representatives of the fair. The woman wrist watch Gold White Full Pave (ref. 341.PE.9010.RW.1704), rather amazing within its embodiment and the meaning of luxury, is an outstanding example of Hublot's "extraordinary rubber luxury". The round case of 41 mm diameter is crafted in "noble" 18-carat pink gold and completely encrusted with 198 white diamonds of 0.96 carat. Thanks to this encrustation the case shines with all colors of rainbow, being rather a luxurious adornment than an ordinary chronometer. The bezel is adorned with 114 white diamonds of 1.22 carat, and the dial – with 232 diamonds of 1.28 carat. Judging by quantity of used diamonds, we can speak about an overwhelming love of Hublot masters for the girl's best friends – diamonds. This "glamorous" chronograph is provided with self-winding movement HUB 4300. The bright red second hand is a design contrast element. The dial with diamond pave and 12-hour, 30-minute and 60-second counters is protected by sapphire glass. The white strap is made of rubber, strange though it might sound. Just this bold decision of materials combination is the main feature of Hublot wrist watches.

Rolex Datejust Special Edition (ref. 81339)

Today Rolex is one of the most famous and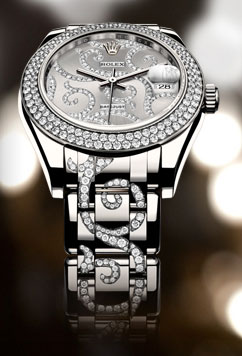 best watch manufactories in the world. Even if you are far away from watch industry, at the bare mention of famous watch company "Rolex" you will think about luxury, elegance, wealth and high social status. Everybody knows this brand, and such popularity is the main achievement of company today. No doubt the owner of original watch "Rolex" is a successful and wealthy man with sophisticated taste and perfect style. The famous watch company "Rolex" was founded by a perspicacious businessman Hans Wilsdorf in 1903, when he decided to establish his own business in London. In "pocket watch epoch" he took a risk: established the manufacture of wrist chronometers, which are justly considered to be ones of the best today. Apart from luxurious and status men chronometers, this company produces not less luxurious models women wrist watches, which charm the fair at the first look. The woman wrist watch "Rolex Datejust Special Edition" (ref. 81339) is one of such charming models. This is a rather sophisticated creation, which can be a perfect adornment of luxurious woman. An excellent round case of 34 mm diameter is made of white gold. A perfect movement is provided by self-winding caliber of Rolex. The bezel in encrusted with two rows of white diamonds. The silver dial with charming interlaced arabesque diamond patterns is protected with durable sapphire glass. The bracelet, adorned with encrusted diamond patterns as well, is made of white gold and provided with reliable buckle "Crownclasp". The model water resistance makes up 100 meters. The woman wrist watch "Rolex Datejust Special Edition" (ref. 81339) with many charming arabesque interlaces will never leave any fan of luxury, elegance and sophistication untouched.

Breguet Reine de Naples/ref.8909BB/VD/J29 DDDO/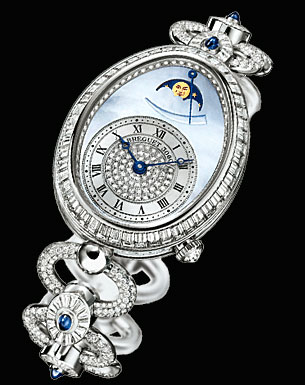 Breguet owes his unique position to inquisitive mind and creativity of its founder A.-L.Breguet. Universal standards, set by him in watch making, and talent of modern craftsmen change each model into standards of high watch art.
Breguet is famous for its luxurious and extravagant models of women wrist watches. The sophisticated watch "Reine de Naples" (ref.8909BB/VD/J29 DDDO) is one of the best models from woman collection. Such model can't leave any woman untouched. The oval case of model with soft smooth lines is made of 18-carat white gold. 86 baguette cut diamonds (about 6,85 carats) adorn the watch case ring and bezel, transforming the case into bright shining little star on the wrist of owner. The watch rate is provided with perfect self-winding movement. The dial guilloched by hand from silver-plated gold is adorned with 67 diamonds of 0,168 carats. The dial is partially made of natural light-blue mother-of-pearl and modified with moon phase and power reserve indicators. The original form of bracelet gives special piquancy to watch, and encrusted 650 diamonds of 3,661 carats, 151 baguette cut diamonds of 5,538 carats and 11 oval sapphires of 1,705 carats change the bracelet into sparkling spring current in infinitely pure rays of morning dawn. The transparent back case of sapphire glass perfectly complete the color idyll of noble metal and jewelries. The watch bracelet can be replaced by not less sophisticated satin strap (ref.8909BB/VD/864 DOOD).

Blancpain Saint-Valentin 2008/ ref.3363 4544 55B/

The watch company "Blancpain", founded
in far 1735 by Jean-Jacques Blancpain, is permanent in its choice of such important postulate in watchmaking as movement – this is the keystone of its success. Since the day of its foundation the company has been using only mechanical movements and doesn't accept quartz. Its collections were always loved and valued by true connoisseurs of rarities. The women watch lines, including Saint-Valentin 2008 (ref.3363 4544 55B) – sophisticated and vanguard model from tips of hands to valentine in the form of little heart, adorning the dial – draw special attention. Two rows of perfectly pure diamonds, adorning the traditional two-step bezel, symbolize absolute pureness and infinite elegance. The round case of stainless steel of 34 mm diameter ensures the maximum visuality and easy readability of dial. Due to screwed crown and back case, the watch can endure atmosphere drops up to 50 ATM. A bold combination of mother-of-pearl dial and slightly playful and pompous style of Arab numerals and watch markers and also extravagant hollowed cone-shaped hands create game of contrasts and materials. The moon phase indicator with colorful valentine comfortably took place at the lower part of dial. The movement of this sophisticated technical creature is provided with hand-wound caliber 6763 on 30 jewelries, consisting of 261 components. The strap made of alligator natural leather perfectly matches the case. A limited number of 99 pieces turns these watches into a dream for every woman.

Girard-Perregaux Cat's Eye Jewellry/ref. 99495D53B000-JK6A/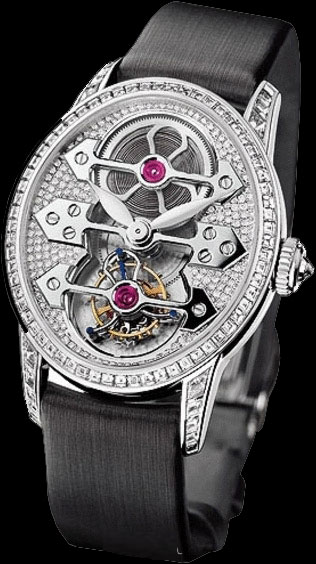 An old Swiss watch company "Girard-Perregaux" is one of the brands, which accepted the innovative adoption of 70s – quartz movements shaken all watch world. The company established mass production of quartz model, and its alterations frequency was taken as the world standard. In various lines of women and men wrist watches the woman wrist concept-watch Cat's Eye Jewellry (ref. 99495D53B000-JK6A), provided with a tourbillon on three golden bridges, strikes at once. A sophisticated case of 31.30х36.30 mm diameter of white gold is made in the form of big prolate oval and completely encrusted with 84 "baguette" cut diamonds of 2,12 carats. The dial is partially skeletonized and adorned with 208 diamonds of 0,55 carats. The perfect accuracy, provided by the brand hand-wound movement GP9700.0A, is not the only advantage of this model. The watch is equipped with complicated tourbillon, which is provided with showy small second hand of blue color. The dial is modified with minute and hour indications. The unique movement on 20 jewelries makes 21,600 a/h and ensures 72 hours of power reserve. The structured peak crown is adorned with a diamond of 0,2 carats. An elegant black strap of natural leather with smooth surface perfectly matches with the case. The low level of water resistance of only 3 ATM implies that this watch is a unique masterpiece of watch and jewelry arts.

Azimuth Round-1 Baccarat

Azimuth watches – a thought of creation was born due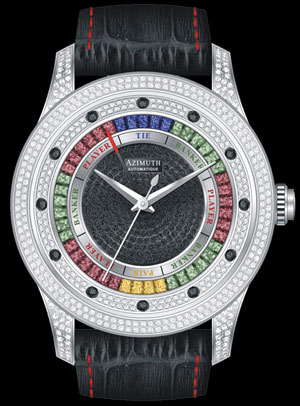 to contemplation of our planet. Azimuth originates from Arabic language and means "route taken by a traveler", that's why the Azimuth collection converge science and philosophy. The famous Swiss watch company "Azimuth", always amazing the watch audience with its vanguard chronometers, decided to gladden the fair with its beautiful model "Round-1 Baccarat". Founded in 2003, the watch company "Azimuth" diligently won the hearts of exacting fans by its unique and futuristic men models. And now, the turn of sweet ladies! However, Azimuth distinguished with its originality: the women wrist watches Round-1 Baccarat are based on four possible combination of card game "Baccarat": "player", "banker", "pair" and "tie". This model is a real festival: steel case of 38 mm diameter is completely encrusted with 800 white diamonds of 4.8 carat total weight. The craftsmen managed to create the case of a very comfortable form: curved structure of watch let the chronometer embrace the wrist entirely. This "festival" on sophisticated woman wrist is equipped with modified movement of Azimuth with frequency of 28.000 a/h and 42 hours of power reserve. It is also provided with modified by craftsmen version of card game "Baccarat". The screwed crown is adorned with button, changing card combinations, instead of cabochon. The dial, paved with various many-colored diamonds, is covered with durable sapphire glass. The black strap is made of crocodile leather and red stitches at sides that perfectly match the red diamonds on dial. The water resistance makes up 30 m. The woman watch "Round-1 Baccarat" costs from $5000 to 24.000, however, only 100 lucky ladies can buy them.
Despite the fact that the wrist watches of Azimuth are "serious watches for serious men", the company managed to prove that it is able to do any even the most unexpected thing.
ArtyA 1/1 Set – ladies watch of "divine color"!
Wrist watches ArtyA, and more precisely in this context, women's watches ArtyA are one of the most original and recognizable. Perhaps no one will argue with this loud statement, as if someone has ever seen this watch personally, he or she convinced of these words truth.
All this is no accident: the main mission of the talented designer and skilled watchmaker Ivan Arpa - founder of the watch company ArtyA - to change the normal understanding of traditional watch making through contemporary art. The name of the company fully meets the basic concept of the company: ArtyA literally means the art of Arpa. It can be safely argued that the mission of Arpa was possible, as he fully succeeded in changing the perception of ordinary watch art, creating a unique and inimitable attribute of self expression – wrist watch.
Time fades into insignificance in the watches ArtyA, opening space for a unique work of art. Agree that the beautiful half of humanity is pleased with this "situation", as the watch fundamental characteristic for them is design. That is why women's watches ArtyA won huge popularity among the women. The watch company ArtyA has became the founder of a new trend in the watch industry; the brand has won the segment of the vanguard watches. ArtyA watches are completely unique creation, as the case, dial and strap are made of very rare and original materials, as well as with using the most unusual and long-forgotten technology. Another attractive feature of ArtyA watches, which is fundamental for some people, is their uniqueness, as men's watches ArtyA, as well as women's watches ArtyA are presented in a single piece. The owner of these watches can be absolutely sure that his watch ArtyA is a unique accessory for a special person. Special in terms of such an unusual choice and single execution of watch, but not the price aspect, because, despite these characteristics, ArtyA watches are very affordable attribute with price range from 2000 up to 120,000 U.S. dollars. Agree that the pricing policy is quite reasonable for such luxurious and unique watches.
Among the wide range of different unique watches, perhaps, let look at exclusive women's watch ArtyA 1/1 Set. Like all watches by ArtyA this model is an exclusive attribute, which is striking by its unusual performance.
In addition to the unique and recognizable case, the feature of this women's watch ArtyA is the dial, or rather its color. However, all in its order. At first let to explain the essence of the recognizable case by ArtyA. The main tool for the creation of his unique buildings talented artist Ivan Arpa uses unusual for watch making instrument as Tesla transformer, respectively, designed and named after its creator Nikola Tesla. This instrument is a resonant transformer which produces a high voltage with high frequency. The device was announced by U.S. patent on September 22, 1896, as "a device for producing electricity of high frequency and potential." This instrument is used by the master to get the most intricate cases with unusual shape. The cases are subjected to the charge from 100,000 to 1 million volts. These cases are unique, as a result of the case production in this way the possibility of recurrence is completely excluded. It should also be noted that most of the cases are damaged, and only a small quantity of which is truly unique, then they become a wristwatch ArtyA. That's how the master does not change the case through a variety of typical for watch making technologies, and forces them to change themselves, getting a very unusual shape.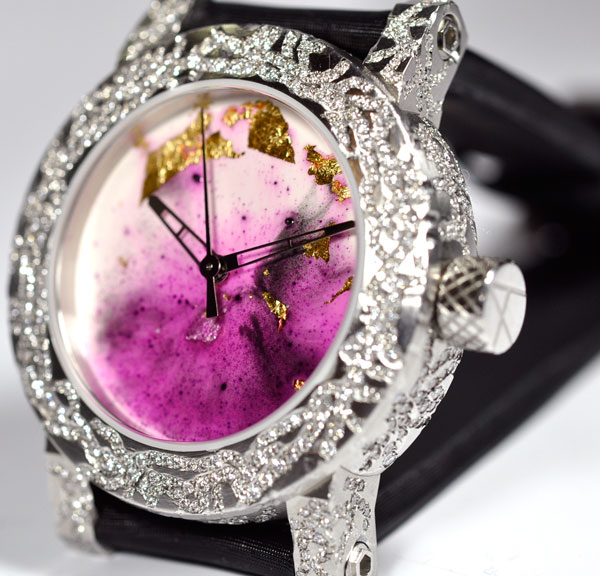 The creation of unique dials is done by master's wife - Dominique Arpa - Cirkpa, creating unique masterpieces in a tiny space. The dials ArtyA are miniature paintings, executed with extreme precision with the hands of a skilled master. Such uncharacteristic for watch making art techniques as collage, use of dyes and pigments, forging, etc are used in their creation. The dial of the model ArtyA 1/1 Set catches eye by its color - deep purple color. However, it is no ordinary paint, and a special pigment that is got in quite complex manner. The raw material for this kind of purple color is gastropods from the group of murex, which literally means purple snail of ancients. This kind of mollusk has a quite interesting shell, which made this type of mollusk, or rather its shell, item for collectors. The shell has a fairly high curl, with the growth the ranks are formed on the shell, folded, toothed or spiny nodules. Some species have a gland in the wall of the mantle; the allocation is changed its color under the influence of light, and is painted in various shades of purple. Two species of this mollusks' genus are murex brandaris and murex trunculus, and they have the gland, allocation of which was a legendary ancient purple. In Italy, in the locations of ancient dye works, find the mass of the shells remnants are founded. For the first time the issue of getting purple was started by Lacaze - Dyute - the famous French zoologist. He discovered that the allocation of purple glands of this mollusks first stained fabric in a yellowish color, but later under the influence of sunlight, the color becomes bright - yellow, green, and only at the end in purple color, but rather can be obtained different shades of the latest. This purple color and all shades had become the purple of the ancients. This color was considered very expensive and exclusive, which is why the ancient masters used it to depict kings, popes, and the Virgin Mary. Subsequently, the color was faded. Today, thanks to the efforts of the company ArtyA gives a unique opportunity to enjoy a unique depth of pigment on the wrist and feel ownership to anything special. Getting of the purple pigment murex is an extremely complex process. It is necessary more than 6,000 shells, which live exclusively in Morocco, to get only 50 grams of murex pigment. This fact makes this murex pigment so rare, unique and expensive.
In addition to the purple pigment, the top of dial is also littered with the golden petals that underline the depth of used color. All luxury of the dial is complemented by 725 white diamonds of various sizes with a total weight of 3 carats, which decorate a satin surface of the case made of stainless steel 316. The watch move is provided by quartz movement, fully developed and manufactured in Switzerland. An amazing piece of art on the dial is protected by durable sapphire crystal with anti-reflective coating, which is extremely resistant to various kinds of scratches. The black watch strap, which perfectly emphasizes the beauty of the case, inlaid with diamonds, is made of satin. Water resistance of the watch is up to 50 meters. The watch has warranty of 2 years.
ArtyA 1/1 Set ladies watch is a unique attribute for the special women that perfectly accentuate their individuality. This model will be a wonderful gift from a man to his lady. Buy watch ArtyA 1/1 Set you can from the official representatives of the company. This watch will never be seen on the shelves of mass watch stores, because their exclusivity and originality is above for the company. In addition to the bright model ArtyA 1/1 Set, among his collection have found their place women's watches with exotic dials decorated with iridescent colors of butterfly wings, but that's another story.
Ladies watch ArtyA Scissor Cut 1/1: luxurious ease of application
The watch company ArtyA is new, unusual breathing in the traditional watch industry. A talented artist Ivan Arpa was able to establish its own unique direction, creating a fantastic and unique design of his avant-garde watch creations. Today, wrist watches ArtyA are one of the most recognizable. It was not the usual set of circumstances, as the main driving force for creating of watches ArtyA became an art. It is no coincidence as the fact that the main mission of the talented designer and skilled watchmaker Ivan Arpa - founder of the watch company ArtyA - to change the normal understanding of traditional watch making through contemporary art. The name of the company fully meets the basic concept of the company: ArtyA literally means the art of Arpa. It can be safely argued that the mission of Arpa was feasible, as he fully succeeded in changing the perception of ordinary watch art, creating a unique and inimitable attribute expression - watch.
Wrist watches ArtyA are miniature works of art, in which time becomes insignificant. The unique design of ArtyA watches dictates the rules for its originality and uniqueness, which was the immense popularity among the ladies. Wrist watch ArtyA is a truly unique creation, because case, dial and strap these watches are made of the most rare and original materials, as well as using the most unusual and long-forgotten technologies.
In addition, one of the main characteristics of ArtyA watches is their single edition as men's watches ArtyA, as well as women's watches ArtyA are presented in single piece. Owner of watch can be absolutely confident in its uniqueness, that so important for beautiful ladies. ArtyA watch is a unique accessory for a special person. The case back of each model is decorated with the inscription «Artya unique piece 1/1." They are unique and unrepeatable not on their price, but their execution, because the price range of such unusual watch is only from 2000 - up to 120,000 U.S. dollars, which is quite acceptable for this original attribute of the self expression.
If you are looking for something unusual, coming out of the usual timing, the craftsman and talented designer has created a very interesting and original women's watch Scissor Cut 1/1. This model has become a kind of tribute to the art of cutting paper or paper application. This art originated in the 16th century in Switzerland. Already in the 18th century, this art was brought to colonial America by immigrants from Europe.
The Art of application was born long ago. Initially it was intended to decorate the clothing and footwear, household goods and tools. It is likely that the first impetus for the appearance of applications was the need to create clothing by sewing. Perhaps, the first stitch prompted our ancestors that in addition to sewing, clothing can also be decorated. Later, for this purpose they began to use bits of fur, felt a different shade or color. These parts are attached to the already sewn clothes. Appliqué has appeared. The main theme of applications is animals, birds, people, fantastic creating, beautiful flowers and plants, as well as hunting scenes and everyday life. Over time, appliqué had its logical development: in addition to leather and felt, colored beads, beads, wool yarn, metal engraved plates, all kinds of fabric - velvet, satin, silk also found its place. However, perhaps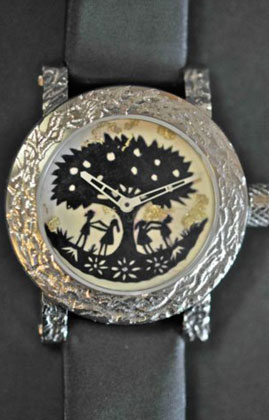 the most interesting and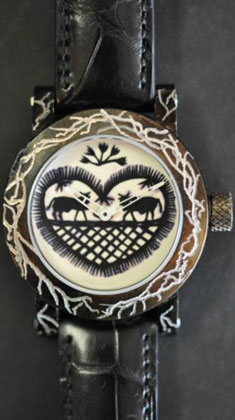 complex form of appliqué was paper application, which appeared immediately with the invention of paper. There have also been in the fashion paper applications - silhouettes cut from dark paper. They were popular as among the rich, as of the poor. They were highly skilled images. Translated from the Latin appliqué attachment means the imposition.
This forgotten art of decoration is embodied in such a tiny space like a watch dial Scissor Cut 1/1 with the help of a talented assistant Ivan Arpa - his wife Dominique Arpa - Cirpka, which cleverly creates intricate dials of ArtyA watches. Dial of ladies watch Scissor Cut 1/1 is truly a unique and unusual creation that shows various scenes from everyday life, as well as animal and floral motifs. On the white dial there are black figures, which together represent a particular topic. All made by hand from the finest pieces of paper.
Another distinguishing feature of this watch is its recognizable case, already managed to become a bestseller. The uniqueness of the case ArtyA lies in its unusual shape, which made in not characteristic way for the watch industry. The main tool for creating such unique form is Tesla transformer, respectively, designed and named after its creator Nikola Tesla. This device is a resonant transformer which produces a high voltage high frequency. The device was announced by U.S. patent on September 22, 1896, as "a device for producing electric currents of high frequency and potential." Pre-prepared cases with normal round shape are subjected to the charge from 100,000 to 1 million volts; in result the cases change their shape, gaining the most unexpected forms. Naturally, as a result of such a discharge, many of the cases have become unusable, but the survivors are truly unique. This method of obtaining housing ensures the uniqueness of each piece. The watch case of Scissor Cut 1/1 made of stainless steel has diameter of 38 mm. The watch work is provided by quartz movement, fully developed in Switzerland and which is fully exempt women from unnecessary worries. Yes, this non-traditional women's watch is equipped with a very traditional mechanism. Women's watch Scissor Cut 1/1 is equipped with a strap made of crocodile leather or satin.

ArtyA 1/1 Tropical Butterfly – natural beauty of the dial
A talented master, whom imagination has no boundaries, has created many beautiful and importantly most unique wrist watches ArtyA. Today the name of Ivan Arpa is widely known in the watch industry, and not only: even "unenlightened" and all those who are looking for a very unusual creation know him. To create his own unique watches Ivan Arpa uses the most unusual materials and the most uncharacteristic for the watch industry technologies. Some of the used materials just engaged the imagination: dinosaur feces, bullets, water. However, among such a variety of unusual decorative materials, such a beautiful creation of animal life, like a butterfly or rather of its wings found its worthy embodiment. They were the major ornament of watch dials from the Farfalla. From Italian "farfalla" literally means "butterfly." The models of this collection immediately won great popularity among the female half of watch lovers. Naturally, these unique watches have become a dressing of exceptional women's fine wrist. Special, because it underline unusual choice of its owner and because of its single execution. All watches ArtyA, whether it be men's wrist watch or women's wrist watch are created in a single piece. The case back of all models is decorated with the inscription «Artya unique piece 1/1", which is the key to the uniqueness of each model.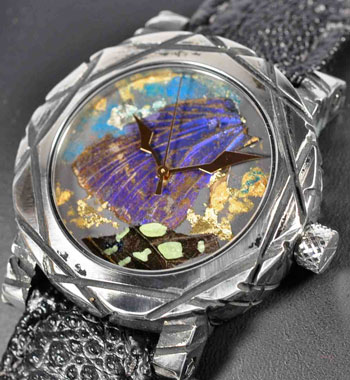 So, ladies watch Artya 1/1 Tropical Butterfly from the famous collection Farfalla. Naturally, the decoration of the dial has again become a peerless butterfly, or rather its beautiful wings. At this time the finishing material are not usual butterflies, but tropical, which, as its known, differ by their bright color and beautiful patterned on wings. That is why the watch ArtyA 1/1 Tropical Butterfly is so vivid creation, which will undoubtedly bring the brightest colors in the gray daily routine. We will not delve into the physiology and morphology of the butterflies, but only give a variety of interesting facts, trying to explain the special love of Ivan Arpa to these insects. To do this we need only recall the role of these beautiful insects in different cultures. For example, for the Aztec butterfly was one of the "tools" of the god of vegetation, spring and love Shochipili. The ancient Romans also believed that butterflies - is torn by the wind flowers, and the ancient Greeks, in their turn, saw the butterfly a symbol of immortality. In China, the butterfly is considered the embodiment of immortality, fertility, love and summer. But the Christians personified butterfly with life, death and resurrection, which is why in the hand of the infant Christ is often portrayed a butterfly - the symbol of the life cycle. Butterflies have their widely spread in the modern culture of every corner of the globe. Their image can be seen on the covers of books, posters, movies posters, as well as various products, including jewelry. It is no coincidence, since butterflies are among the most beautiful creatures on earth (of course, not as a pupa, or caterpillar, though some caterpillars often engage the imagination by their surprising and vivid color). Recently, the tropical butterflies have won great popularity, which are widely used as a non-standard and the perfect gift for many wedding and anniversary celebrations. These beautiful and exotic creations - tropical butterflies have become the main decoration of women's watch ArtyA. If you believe the legends, in addition to jewelry, they also serve as a kind of talisman: surely those women's watch Artya 1/1 Tropical Butterfly is a great talisman adorning the wrist, which does not allow forgetting the most precious - time.
If today people are trying to preserve the beauty of these creatures in various ways such as drying, creating special stained glass with placed inside butterflies, which often become the main element of interior design, so the craftsman Ivan Arpa has found a unique method of preservation, placing the wings of butterflies on such a tiny space, as watch dial and protecting them with strong sapphire glass. Master hand-selects the most beautiful butterfly wings to create his own watches. According to the master, his finishing materials are not exposed to violent death; he has been working with dead butterflies. Placement of a butterfly's wing on the dial is a rather difficult task to cope with a master use helping of his wife - Dominique Arpa - Cirpka, who, in fact, is developing watch dials of ArtyA. The company ArtyA has developed a special technique of treatment and placing wings on the dial. Pouring with different colors, shiny surface of each wing creates a unique creation of time and design art. Customer may retain the choice of dial color of his future watch and the master is left to choose the right wing of color that is not a difficult task due to the large color diversity of these creatures in nature.
Distinctive feature of ladies watch ArtyA 1/1 Tropical Butterfly is a case which has already become a "major hand" of the company ArtyA. Like all cases of ArtyA it has been subject to discharge a favorite tool of Ivan Arpa - Tesla transformer, which is able to generate an energy charge from 100 thousand to 1 million volts. As a result of this process the case has got the most intricate shapes. The advantage of such atypical for the watch industry technology is a single execution, which completely eliminated the chance of recurrence. Naturally, the beauty of this case is perceived by different people in different ways: it all depends on the individual aesthetic perception - to someone this case reminds a crumpled tin can, to anyone it is the apogee of design ideas. The case of the model ArtyA 1/1 Tropical Butterfly is made of stainless steel 316. 42 hour power reserve is provided by a Swiss-made self-winding mechanism. The watch comes with a black strap, which is made of cane toad skin, which is also quite uncharacteristic for the watch making material. Water resistance is up to 50 meters.