"Since my childhood I love the mechanics of things – be it in cars, planes, motors, - remembers the famous designer – but if you were born and grew up between Le Locle and place where you have an opportunity to get a technical education – La Chaux De Fonds, then school is the only place. Despite the fact that nobody believed in the future of Swiss watch manufacture in 1980s, I entered the watch school in La Chaux De Fonds. I was the only entrant". (Giulio Papi)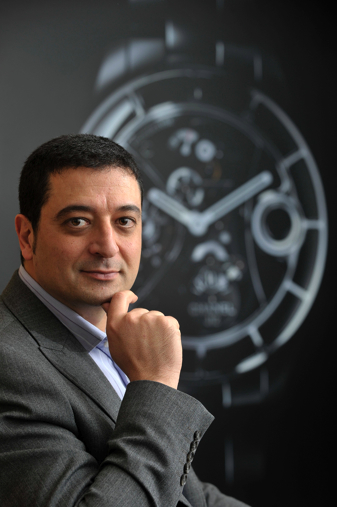 In quartz crisis times few people believed in the future of Swiss watch industry, and the future famous designer Giulio Papi was the only student in watch school in La Chaux De Fonds. Today the famous designer remembers how uncomfortable it was: sitting in the class all alone. However, entering that watch school became fateful for him, and Papi got a unique opportunity to acquire his profession. He appeared "face to face" with outstanding professors of that time, and the unique student "pumped" maximum knowledge out of each of them.
After graduating from school, Papi became interested in creation of movements, especially complications never had been created before. Fundamentally new tourbillons, minute repeaters and other high class complications required a thorough study of chemical engineering and metallurgy. The watch alloys, created by Papi, brought him success. The most famous is alacrity 602 – alloy of tungsten (5%), chromium (31%) and cobalt (57%), plus iron, silicon and carbon.
The main task of Papi in creating of this alloy became the retention of structure and properties of this alloy; it didn't have to be influenced by temperature differences and electromagnetic fields. A talented young man succeeded. The alloy was firstly used in the concept-watches "Audemars Piguet Royal Oak".
However, before the alloy creation, in 1984 Giulio obtained a diploma of watchmaker and knocked the door of Audemars Puguet – one of the largest watch companies in Switzerland. The 19-years old fellow brought a skeletonised watch with transparent case, newly designed by him. The leadership of company liked his idea so much that the young watchmaker was employed immediately. In 2 years of work in the company in 1986 Papi decided to leave it to found his own company with his friend, 27-years-old Dominic Renaud – "Renaud & Papi".
Papi left Audemars Piguet as a friend and continued collaboration, specializing in concept watch creation. In 2002 Audemars Piguet purchased the control packet of Renaud&Papi. Dominic had left the company by that time. He sold his shares in 2000; as Guilio notes, they didn't have contradictions, Dominic simply has a strong entrepreneur spirit and he is always looking for new challenges; if his business becomes prosperous, he quits it and starts new projects.
During 20 years of work many watchmakers have studied at school "Renaud&Papi", and many of them even created their brands, but Papi isn't going to found his brand. The designer notes that doesn't want to create movements under his name, he feels good collaborating with big watch companies. Papi tells that the movement creation starts with pencil and paper. The main task for him is a simultaneous combination of movement functionality, watch comfort and design beauty, as such combination is very difficult and rare.
Papi considers that functions, used in watches, must be ergonomic and convenient, but watches must be beautiful at the same time. There is one more feature the designer thinks extremely important while watch creation: it is not only beauty, functionality and comfort of created movement.
Giulio supposes the maintainability of watches is not less important feature, which a high class movement must have. Therefore, the famous designer often uses classic materials - gold and steel – while making functional details. Guilio refrains from making parts completely of silicon, saying that, perhaps, in 100 years there won't be any silicon in watch industry – how can one repair watches? That's why today Papi makes mountain plates from materials, less mechanically influenced; gold and steel are used for making functional details.
Working with Audemars Piguet, Giulio perfectly manages to keep up with classic traditions of company and conform to modern trends. So, the wrist watch "Jules Audemars avec échappement Audemars Piguet" has an antique look and ultramodern movement with record balance frequency – 43.200 vibrations per hour. The company obtained such exclusive movement due to joint development of new technology of oil use in watch escapement. Unlike other companies, limiting movements by 28.999 vibrations per hour, Papi and Audemars managed to overpass the problem of oil or dry lubrication spray and to create a movement of totally new category.
The famous designer has started his collaboration with Audemars Piguet since the beginning of his business: "If stating our collaboration in a qualitative ration, the products for Audemars Piguet makes up about 50%, - Giulio notes. – We also collaborate with such companies, as "Richard Mille", "Parmigani", "Cartier", "Chanel", "Harry Winston", "Frank Muller".
Papi admits that he seeks inspiration for watch creation in museums and antique watches, as they already have all complications. The problem for wrist watches creation became the diminution of details and solving tasks connected with it, as in this case, the movement simply doesn't have enough energy for performance. So, the designers had to make new movements to obtain the same work results, as the pocket watches had, and even much better.
Style was another source of inspiration for Papi. Making watches that after years wouldn't look time-worn, but elegant and recognizable is a problem he should overpass.
Papi considers the watch "Grand Sonnerie Dynamograph", made for Audemars Piguet, is one of his best works. The Dynamograph model with big and small stroke and carillon is provided with dynamograph – an indicator of main barrel tension force. The dynamograph, situated between "4" and "5", helps to define the best time for winding that result the accuracy. The indicator of stroke power reserve is at "1" hour and makes up 60 hours for small stroke and 20 – for big one.
Being a part of Audemars Piguet, Papi freely collaborates with other brands too.
In 2008, Giulio Papi won the prize "Best watchmaker" at the competition "Grand Prix d'Horlogerie de Geneve". In 2009 in Geneva Papi won the same prize for the second time. Nowadays Giulio is ready to work and make unique movements in a joy of high watch art connoisseurs.