Tourbillon is a complicated, rare and expensive mechanism. The creation of Great Breguet acquires new forms, as an imagination of modern designers and advanced technologies enable realization of the boldest and most incredible design ideas. Audemars Piguet is considered to be a leader in the sphere of complicated watches. Some wrist watches of this brand are even exhibited in the museums.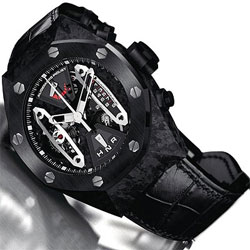 "Audemars Piguet": "Royal Oak carbon concept Tourbillon chronograph" – a hand-wound tourbillon chronograph (Caliber ÀÐ 2895) with selection indicator. Perhaps, this is a watch of future, at least, one of its real prototypes.
A wide use of carbon, of which the case and the most complicated movement with tourbillon are made, makes this Audemars Piguet novelty exclusively unique. A carbon mounting plate of movement performs the role of dial. The tourbillon carriage with massive bridge is at "9" hours, and an original linear chronograph minute counter with double scale is at opposite "3" hours. The power reserve indicator (at "12" hours) and the selection indicator (at "6" hours) are positioned symmetrically. Through the open back case you can see tourbillon details and chronographic movement with column wheel.

"Audemars Piguet" – "Royal Oak Tourbillon Chrono"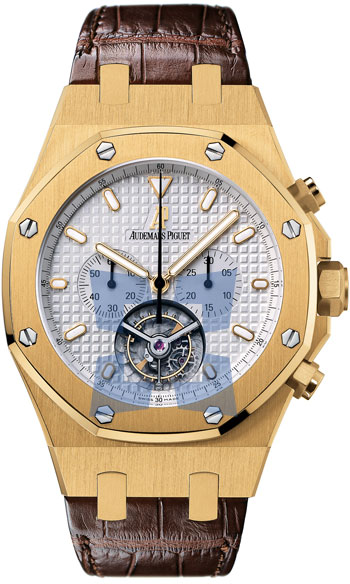 – a hand-wound tourbillon chronograph (caliber AP 2889) with two counters.
The position of tourbillon and indicators on dial is determined by tested and approved manufacture caliber 2889. This time it is installed in legendary "royal oak" case, crafted in pink gold and consisting of three parts. The case diameter is 44 mm, the thickness is 13 mm. The hexagonal crown and chronographic buttons are protected by protuberances of octahedron case, water resistant at up to 20 meters depth. The black dial is adorned in style of Grand Tapesserie.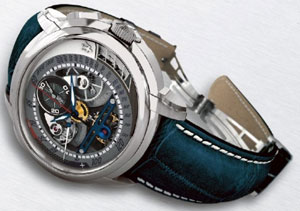 "Audemars Piguet": "Millenary MC 12 Tourbillon Chronograph" – a hand-wound tourbillon chronograph with two counters (ÀÐ Caliber 2884).
A new shaped movement with column wheel and tourbillon (the form of caliber was designed, considering the "Millenary" massive oval case) was designed specially for that model.
The 10-day power reserve, provided by two barrels, made of white gold and treated with palladium, became the main advantage of novelty. A careful finishing of barrels reduces effectively the spiral friction and, thus, provides the energy keeping. An unusual position of chronograph control keys – they are situated at "2" and "10" hours – is also a novelty. The price is about $ 335.000.

"Audemars Piguet": "Jules Audemars Tourbillon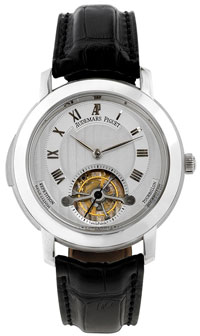 Repeater 10 minutes" – hand-wound movement (AP Caliber 2882) – tourbillon – 10-minute repeater.
A combination of tourbillon and minute repeater is rather often in complicated models, manufactured in Le Brassus. The Jules Audemars Tourbillon Repeater 10 minutes model appeared in 2006, keeping all specific features of predecessor – a repeater of 2005 with two hammers and two gongs – in diminished 39 mm diameter case though.
The repeater beats hours, minutes and tens of minutes at request instead of traditional quarters. A rather wide carriage of tourbillon created the necessity to move minute and hour indicators from the center, in which the designers succeeded. The model is released in two variants of case – of titanium and of pink gold (each version is made in 10 timepieces). The price is about $ 370.000.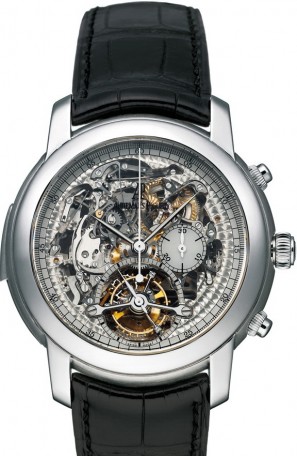 "Audemars Piguet": "Jules Audemars Tourbillon Repeater Gronograph" – hand-wound movement (AP Caliber 2874) – tourbillon – minute repeater – chronograph with two counters.
With a quite simple appearance of dial, this model – one of the most complicated in the brand catalogue – hides a virtuoso movement with tourbillon, minute repeater and chronograph inside its golden case of 43 mm diameter. The originality of this classic masterpiece of high watch art is emphasized by careful finishing of movement, hand-decorated in a style of Cotes de Geneve and Perlage and technique of Anglage. Central hands – "leaf", small second hand at the carriage of tourbillon, and plaited Roman numerals, as in case, are made of pink gold. The version of platinum is also offered. The price is about $ 427.000.

"Audemars Piguet": "Edward Piguet Tourbillon Power Reserve"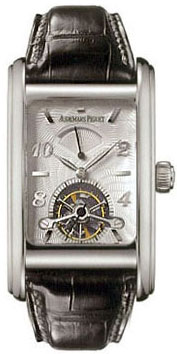 - hand-wound movement (AP Caliber 2878) – tourbillon – power reserve.
The Edward Piguet collection, appeared as a tribute to one of the brand founders Edward Piguet, was added with one more variant, complicated by tourbillon. The main difference of this version from the earlier model, provided also with hand-wound caliber, is the replacement of big opening of date with indicator of power reserve. A fan-shaped sector of this indicator, guilloched in soleil style, is at upper part of silver dial, adorned in flame style. The two-part case of 38x29 mm case of white 750-carat gold; the hands-"leaf",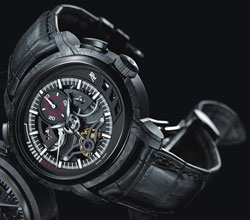 plaited Arab numerals and watch marks are made of the same material. The price is about $174.000.

"Millenary Carbon One Tourbillon Chronograph"
This watch is from the heart of scientific laboratory "Audemars Piguet", released in a limited number of 120 timepieces. The main accent of "Millenary Carbon One Tourbillon Chronograph" model is the use of carbon. A massive case and even fastenings of strap are made of 76% carbon and 24% of polyamide; the materials are pressed by 300 kg per square centimeter, while the total weight of watch is 69.44 g.
Crown, bezel and chronograph buttons are made of ceramics, back case – of carbonized steel. The water resistance makes up 20 meters. The case size is 47x42 mm. The 2884 watch movement is finished and adorned by hand. The power reserve is 240 hours.