"Ademars Piguet" is a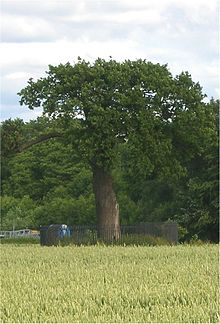 silent trendsetter of Swiss watch industry for more than 100 years; it keeps amazing and fascinating the connoisseurs of watches de-luxe.
Creation of wrist watches that would become a legend is akin to literary talent. The legend of "Royal Oak" collection starts in foggy Albion with oak, king and ship.
The story of "royal oak" dates back on 6th of September, 1651. Then the future king of England, Ireland and Scotland Charles II, trying to escape from mutinous troops of Cromwell, found his lodging and shelter on the branches of great oak and was saved. We don't know if it's true or not. But this episode provided the basis for the story of "Royal Oak" watch series of Audemars Piguet.
Later named "Royal Oak", that tree became a peculiar symbol of defense and safety of England. In honor of memorial event in the period of 1769-1914 the British Navy received four ships "HMS Royal Oak". The fore body, made of oak and reinforced with steel plates, and octahedron side gun hatches became their distinctive features. During 300 years once fierce "HMS Royal Oak" ships found their asylum at the bottom of ocean and plunged into the history's depth: "HMS Royal Oak", built in 1769, was rebuilt into floating prison in 1796; and the last "HMS Royal Oak" ship sank on 14th of October, 1939, after the torpedo attack of German submarine U-47.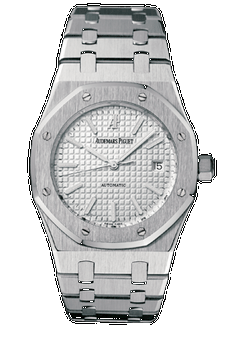 The time passed, and the technical progress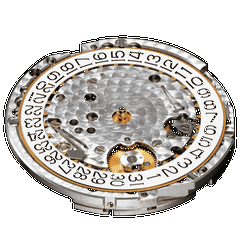 in Europe brought color TV sets, refrigerators, tape recorders, cars… It seemed everything favored the unclouded development of Swiss watch industry. But the famous watch crisis came. The first quartz wrist watches 35SQ of Japan "Seiko", made in 1969, unfixed all notions of watch values. Then, in 70s, all watch companies, even the biggest ones, such as "Vacheron Constantin", "Patek Philippe", and "Audemars Piguet", were at risk.
It seemed possible to turn a blind eye to a quartz expansion, however, with the use of previous methods the big companies could sell about hundred of exclusive watches, just because the quartz wrist watches flooded the market, supplanting the mechanic ones with their novelty and more acceptable price.
Audemars Piguet is one of first companies, which measured the gravity of situation and decided to struggle against quartz expansion by their methods. In 1972 the first water resistant sport de luxe wrist watches appeared. Gerald Genta, a legendary watchmaker, is the first creator of futuristic watches "Audemars Piguet Royal Oak", which became in fact the "foremother" of all "royal" series.
The watch design – monumental, bold and vanguard – is still so modern that the watches seem to have just appeared. Later an octahedral watch case and bezel, never been produced before, became the company's logo: the innovative screw-octahedron. The 38.7 mm case was tightly fixed by hexahedral screws through all its thickness (8 mm).
The model's case represented a solid "safe", the back part of which was provided with screw grooves. Such construction guaranteed a reliable protection of mechanism from nature elements that made the "Royal Oak" model invulnerable and unique.
The concept of bracelet creation also appeared to be new – the bracelet, integrated into the case, made a whole with it: the case was the first link of bracelet, smoothly necking to the buckle. The materials of bracelet and case also appeared to be principally new: matt steel in combination with parts from white gold (automatic winding rotor and those hexagonal screws). The "Royal Oak" hands design is also distinguished by novelty: round-shaped hands with outlines, identical with dial points, and "disappearance" of second hand.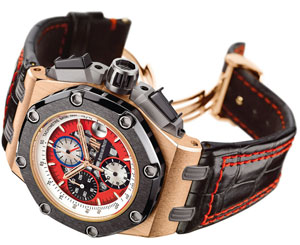 An ultrathin new automatic caliber 2121 of 3 mm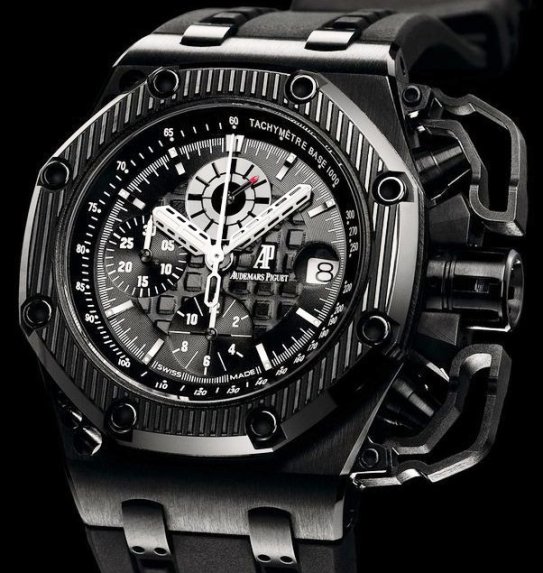 thickness became a unique event of its time. However, it's curiously enough that the Swiss public received the novelty quite coldly: a lot of 1000 timepieces was bought up by Italians. The leaders of company regretted about the partnership with Genta and wanted even to wind up the series production. But success was yet to come, and soon the company had to revive the manufacture, as even a notorious crisis of Swiss watch industry didn't hurt the growing army of "Royal Oak" fans.
As a result, the "Royal Oak" collection for Audemars Piguet became the same as the "Royal Oak" tree for England – a symbol of safe and power of the company.
"Royal Oak Offshore" is one of the best sport watches as for both design and technical parameters. The watch represents a mechanical chronograph with automatic winding; it is provided with date indicator with lens at "3" hours. The watch case is crafted in antimagnetic stainless steel. The strap of crocodile leather is provided with bracelet buckle. The water resistance of "Royal Oak Offshore" is up to 100 meters. The approximate price is 20.000 euro.
"Royal Oak Offshore Barrichello 257th Grand Prix" is a limited watch collection, named after the "Formula 1" driver Rubens Barrichello. Their cases are made of 18-carat pink gold. They are based on the automatic caliber 2326/2840, complicated with chronograph and date indicator. The other distinctive features are black-and-red dial, ceramic bezel, button mountings of white gold, back case of pink gold, decorated with engraving and ceramic mounting.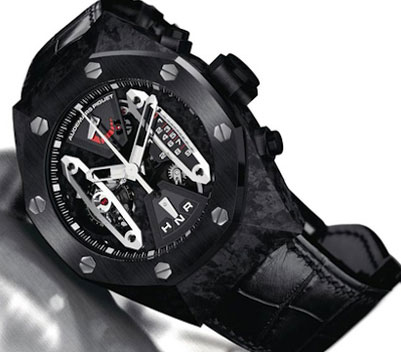 "Audemars Piguet" – "Royal Oak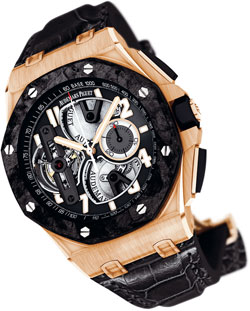 carbon concept Tourbillon chronograph" – a hand-wound tourbillon chronograph (Caliber ÀÐ 2895) with selection indicator. Perhaps, this is a watch of future, at least, one of its real prototypes.
A wide use of carbon, of which the case and the most complicated movement with tourbillon are made, makes this Audemars Piguet novelty exclusively unique. A carbon mounting plate of movement performs the role of dial. The tourbillon carriage with massive bridge is at "9" hours, and an original linear chronograph minute counter with double scale is at opposite "3" hours. The power reserve indicator (at "12" hours) and the selection indicator (at "6" hours) are positioned symmetrically.
Through the open back case you can see tourbillon details and chronographic movement with column wheel. Price: $ 280.250.
"Audemars Piguet" – "Royal Oak Tourbillon Chrono" – a hand-wound tourbillon chronograph (caliber AP2889) with two counters.
The position of tourbillon and indicators on dial is determined by tested and approved manufacture caliber 2889. This time it is installed in legendary "royal oak" case, crafted in pink gold and consisting of three parts. The case diameter is 44 mm, the thickness is 13 mm. The hexagonal crown and chronographic buttons are protected by protuberances of octahedron case, water resistant at up to 20 meters depth. The black dial is adorned in style of Grand Tapesserie. Price: $ 243.200.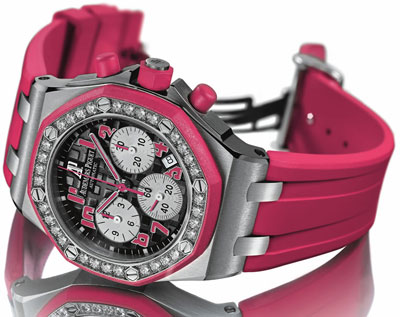 "Audemars Piguet – Ladyies' Royal Oak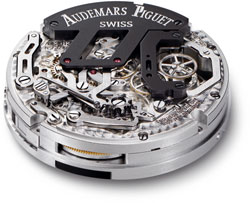 Offshore Ladycat Chronograph" - a hand-wound chronograph (caliber AP 2385) with three counters and date indicator. With this chronograph "in pink", the watchmakers from Le Brassus keep developing series of sport and expensive watches.
The novelty of everlasting "Royal Oak" collection, enrobed in specific steel case with pink rubber sealing and octahedral bezel set with 32 diamonds, is dedicated to women crew of catamaran "Ladycat".
The high-speed vessel, run by brave sportswomen and gathering a speed of up to 30 knots per hour, will participate in all major international sailing competitions. And Audemars Piguet, which name is typed on pink sides of high-speed vessel, will speed to victory together with "Ladycat". The series are limited by 150 timepieces. Price: $ 30.000.