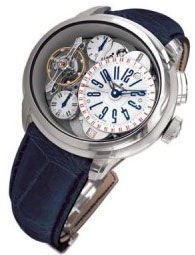 Perpetual calendar is likely to be one of the most practical and functional modern watch complications. In fact, this mechanic wrist mini-computer can become an irreplaceable accessory for businessmen, each minute of whom is scheduled for months ahead. Wrist watches with perpetual calendars belong to Haute Horlogerie. According to specialists, if you buy such watch, you should understand that you buy a watch-masterpiece of high watch art. Such watch shows not only time, hours and minutes and date or day of week – it is almost a miniature computer at your wrist.
Audemars Piguet succeeds in design of "perpetual calendars", which represent unique watch mechanisms:
"Audemars Piguet": "Millenary perpetual Calendar Cabinet ¹5" – a hand-wound movement (Caliber ÀÐ 2899) – date – day of week – month – year in four-year cycle.
The "Traditional d'Excellence" collection, appeared in 2006, was supposed to consist of 8 "wonders of the watch world". This model of perpetual calendar is provided with "Millenary" case and patented high accurate non-lubricant escapement. Its prototype was a mechanism, created by master R.Robin in 18th century. The device combined accuracy of spiral movement and durability of lever type.
The "AP" engineers developed Robin's idea and made it perfect. The fruit of their labor can be seen through opening on dial (at "9" hours). The power reserve makes up 168 hours. The collection is limited by 20 timepieces.

"Audemars Piguet": "Jules Audemars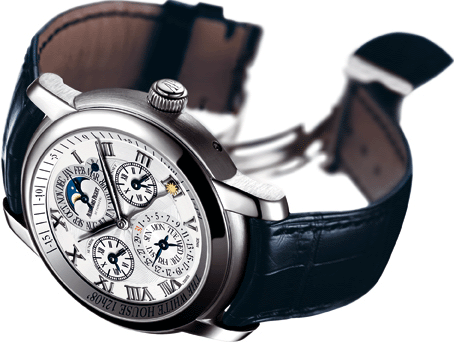 Equation of Time" – a selfwinding movement (ultrathin Caliber ÀÐ 2120/2808) – date – day of week – month – year in four-year cycle – lunar phase – equation of time – sunrise and sunset times
A combination of full set of calendar indicators with astronomic functions expands our imagination about course of time, its interconnection with motion of the Sun and geography of particular place. The model is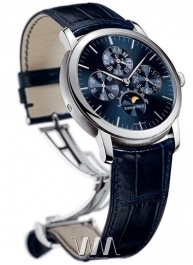 complicated with a rare function – sunrise and sunset times. The first function is showed on indicator at "9" hours, the second one – on symmetric indicator (at "3" hours).
The equation of time, demonstrating the difference between real time, solar time and conventional, earth time, is showed with the use of central hand with its Sun tip and scale inside of welt, oriented on particular city.

"Audemars Piguet": "Jules Audemars 30th Anniversary Perpetual Calendar" - selfwinding movement (ultrathin Caliber ÀÐ 2120/2808) – date – day of week – month – year in four-year cycle – lunar phase.
This model in platinum case, created by watchmaker from Le Brassus, marked the 30th anniversary of perpetual calendar's first model. The novelty of 1978 made a sensation by its ultrathin automatic movement.
The 2008 perpetual inherited all advantages of famous forefather and continued their list due to appearance of new indicator – number of year in a four-year, leap cycle. The calendar functions are controlled by buttons-correctors at the lateral surface of case. Glace by radial rays, the dial of "Tuscan sky" color is provided with plated watch marks and hands of white gold.